Your baby is 1! Being 1-year-old is an exciting time in any child's life. At 1-year-old, your little one is starting to transition from infant to toddler and learning all kinds of things–from walking to dancing and playing with new things. Whether your baby's first birthday is coming up or you're just looking for new toys to surprise them with, you might be unsure what to buy them. To help you out, we've compiled a list of the best toys for 1-year-old girls.
Even though all kinds of toys are fun for young girls and toddlers to play with, the best way to keep your child engaged is with age-appropriate toys they'll love. Keep reading to find out what 1-year-olds are learning at this stage and the best toys to help them grow and develop.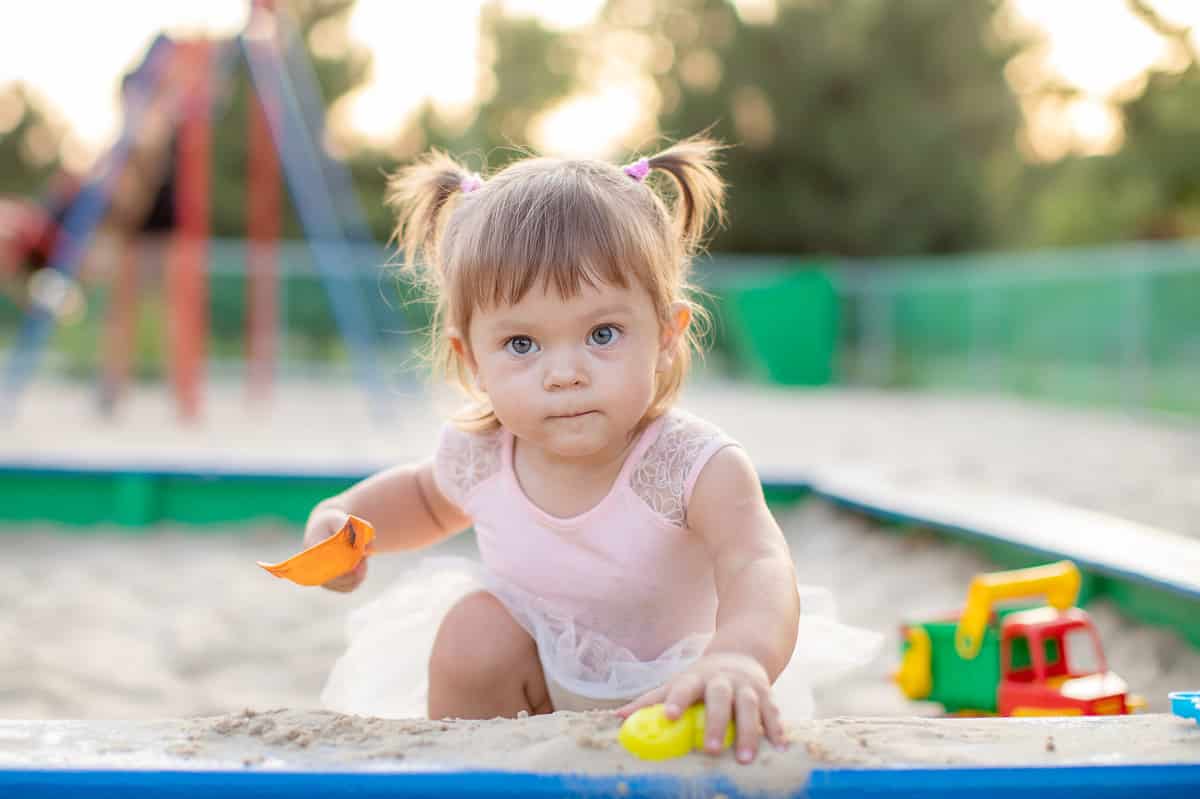 What Are 1-Year-Old Girls Learning?
At this age, your child might not have much of a preference for different toys or characters yet. In fact, you might find that they're more likely to play with random objects they find around the house than the toys you buy.
Before you purchase a handful of new toys, it's important to find out what your child is learning and what will be most engaging at their age. By 1-year-old, your baby will likely be able to:
Play simple games like peek-a-boo
Wave hi or bye
Say simple words like mama or dada
Understand the word "no"
Walk or cruise while holding onto furniture
Pick things up between their thumb and pointer finger
These are all important skills that your toddler is learning, and there are both fun and educational toys out there that can help them develop their fine motor skills as well as their social skills. Let's look at some of the toys your little girl will love.
LeapFrog Scout and Violet 100 Words Book
Scout and Violet from LeapFrog are the perfect introduction to your child's first 100 words. This interactive and educational toy is perfect for 1-year-old girls as they're learning to talk and communicate clearly. As the name suggests, Scout and Violet will introduce your toddler to 100 different words that are simple enough for little ones to learn.
Each page has an interactive aspect to it where your child can press to learn each word. The pages also include sound effects and fun facts. This toy is great even as they get a little older and it's a lot of fun for toddlers who are already eager to learn.
Fisher-Price Learn and Laugh Smart Stages Piggy Bank
It's never too early to teach your child about colors and numbers. This fun and interactive piggy bank is a great way for them to learn. The Fisher-Price Piggy Bank includes over 40 songs, sounds, and phrases that are appropriate for children between 6 and 36 months old.
When your child drops their coin into the piggy bank, they'll hear all kinds of songs and phrases. This toy also includes 10 colorful coins for your toddler to play with and there are 2 Smart Stages for children. The Fisher-Price Piggy teaches counting, colors, and even Spanish words.
Move2Play Feed the Fish Interactive Toy
This interactive Feed the Fish toy from Move2Play is great for young girls. It has safe, durable materials without any chemicals and it's easy to keep clean. This toy is not only fun but it also helps young children learn their colors and rhyming words.
While your child gets to feed one of the 3 fish, they're also able to work on their fine motor skills by placing the balls in each fish's mouth. The Feed the Fish Toy includes over 40 different phrases and songs, each one with a silly rhyme or pun.
VTech Prance and Rock Learning Unicorn
Get your little one out of their seat and moving around with the VTech Prance and Rock Unicorn. With a transformable base, the unicorn converts from a rocker to a ride-on toy as your child gets older. While it is bright, fun, and colorful, it's also an educational toy perfect for 1-year-old girls. They'll learn all about colors and songs with this fun and interactive toy.
This toy is best for children between 12-36 months. There are two different modes: learning and adventure mode. Even when they're not actively learning colors or phrases, this toy encourages imaginative play, which is great for their development.
VTech Musical Rhymes Book
The VTech Musical Rhymes Book is a classic toy that toddlers love. For young girls specifically, this book comes in a beautiful pink with various colored buttons. This VTech toy is an interactive book that includes pages your 1-year-old can easily turn.
This Musical Rhymes Book is a great way for your little one to practice songs, develop motor skills, and learn different phrases. It includes 5 colorful buttons, over 40 songs, and is visually stimulating for toddlers. It also has two different modes: music mode and learning mode so that the toy grows with them as they get older.
LeapFrog Spin and Sing Alphabet
LeapFrog does it again with another fun and educational toy for toddlers. This LeapFrog Spin and Sing Alphabet Zoo edition is perfect for young children. While they're enjoying spinning the game and watching the bright colors, they're also learning about letters and animals.
The Spin and Sing Alphabet Zoo teaches young children their alphabet as well as various animal names and sounds. There are three different modes for your child to play in: letter, animal, and music mode. When they spin and play with the toy, they're also developing crucial skills. 
VTech Care for Me Learning Center
What could be more fun for little kids than learning to care for animals? This VTech Care for Me Learning Carrier is great for 1-year-olds. Your toddler will have fun while practicing and playing pretend. It includes a plush puppy and an interactive pet carrier to safely carry their new pet.
The interactive carrier includes over 100 different songs and buttons that light up. It also introduces them to colors, shapes, and pet care tips. Additionally, it offers your little one an opportunity to care for their puppy and includes accessories such as a bowl, comb, and bottle.
LeapFrog Shapes and Sharing Picnic Basket
Shape sorters are one of the best first toys for young children and they're great for developing necessary fine motor skills. This LeapFrog Shapes and Sharing Picnic Basket is also the perfect way to introduce them to their shapes and colors.
The Shapes and Sharing Picnic Basket features 15 different play pieces for the picnic. They can learn to match the shape of the pieces with the shape sorter. Toddlers can also press the butterfly button to play different songs. To add to the fun, there are three different play modes and this toy offers children an opportunity to use their imagination.
Bubble Lawn Mower for Toddlers
Bubbles are always a hit with toddlers and you can't go wrong with this Bubble Lawn Mower toy. This mower is great for children practicing their walking skills and they'll love it since it includes a bubble blower machine as well. Additionally, it includes several sounds to make it feel like a real lawn mower.
While this beautiful pink and purple mower is perfect for little girls, the Bubble Lawn Mower also comes in green/blue and yellow/green. It's easy to assemble and is perfect for indoor or outdoor play with your little one. When playing outside, it's a simple way to keep them engaged and active.
Bobike Baby Balance Bike
If you're looking for a way to get your toddler ready to ride a bike, the Bobike Balance Bike is an excellent first step. The baby-friendly design comes with a comfortable seat as well as a strong steel frame. It also has closed non-slip wheels so you can have peace of mind knowing your baby is safe.
While young girls love the pink color, it also comes in 11 different colors for you to choose from. This is the perfect size for children up to 24 months and it helps them learn the basics of balance, walking, and beginning to ride a bike.
Picking the Best Toys for 1-Year-Old Girls
Toddlers are a bunch of fun and when your child turns 1, it feels like they're learning new skills every day. While there are numerous things they want to play with that aren't actually toys, it may be difficult to find toys that are both engaging and educational.
If you're looking for the best toys for 1-year-old girls, the toys on this list are sure to be something they'll love. Whether their birthday is coming up or you just want to surprise them with a gift, you can't go wrong with any of the toddler toys listed here.
The image featured at the top of this post is ©DementevaJulia/Shutterstock.com.