Montessori vs. homeschooling, how do they compare? The answer will vary depending on which model of education you are using to homeschool. There are many choices available for homeschoolers, including Montessori homeschool programs, but that hasn't always been the case.
The earliest European immigrants in North America homeschooled their children, but by 1917 public education had been made compulsory in the existing 48 U.S. states, as a means of combatting truancy. The truancy laws remained until 1972 when the case of Wisconsin vs. Yoder went all the way to the Supreme Court, which ruled that Amish parents had the right, (after the 8th grade), to educate their children at home. Twenty years later, homeschooling became legal in all 50 U.S. states.
Though fewer than 1 million children were homeschooled in the U.S. at the turn of the 21st century, as of 2021 that number had risen to 3.1 million, accounting for five to six percent of school-aged children. Many factors are at play in the rising numbers of families who are opting to homeschool their children. The lion's share, approximately 2/3 of homeschooling families, use a faith-based curriculum. Secular homeschool families cite safety as the primary reason for choosing to homeschool.
In the case of Montessori vs. homeschooling, you'll want to make an informed decision. Keep reading to determine which choice will best serve your family.
Key Points
Homeschooling can provide a quieter and safer environment for your child to learn in.
If you choose to homeschool, you'll need to be sure you have the means to provide whatever materials your child needs to learn.
By homeschooling, you can ensure your child is getting the exact education you want. However, they may miss out on critical social experiences.
Montessori vs. Homeschooling: Classroom
For the purposes of this section, we'll focus on how a home environment differs from a Montessori classroom.
Montessori
If you're not familiar with what a Montessori classroom looks like or how one functions, you can read more here, but, in a nutshell, Montessori is a child-centered education model. While tools of learning are provided, it is up to the child to determine how and when to interact with them.
Each classroom is unique, but the majority have the room divided into 5-8 separate areas or centers. From sensory and practical living centers for the youngest students to language arts and math centers for more advanced students, Montessori classrooms encourage students to follow their bliss and investigate their curiosities and interests.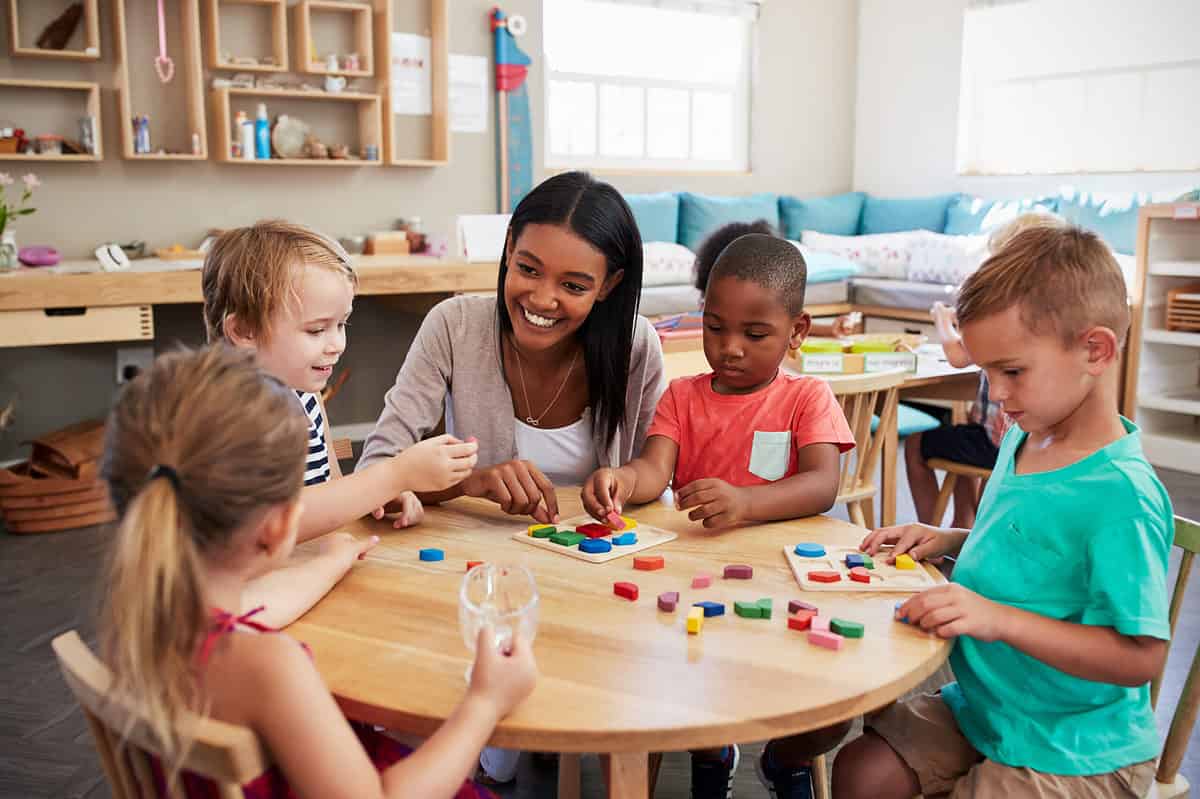 There is no curriculum. There are no lectures or tests. Montessori students are free to pursue their interests and discover their talents organically under the watchful eye of a gentle guide. And they are decidedly not alone in their quest. Dr. Montessori suggested that individual classes could accommodate 38 or more students. Large classrooms filled with nearly 40 children exploring their talents and interests can buzz with activity and noise.
Montessori classrooms are mixed-age affairs, spanning three years: 0-3, 3-6, 6-9, and 9-12. Maria Montessori recognized that not only can children teach themselves, but they are also capable of teaching other children through observation and modeling.
Home School
The homeschool classroom is rife with practically endless possibilities, with you as its primary architect. No matter your setup, it's important to have a dedicated homeschool space. This might be a specific room or the dining room table. Wherever you determine best suits your needs, it is imperative to keep the space uncluttered and organized.
If space is a commodity in your home, you can brainstorm ways to work around it. If the dining room table is the only space available, you can make it work with a bit of ingenuity. For example, if you're using a Montessori-based approach at home, you can rotate centers on an hourly or daily basis, allowing your child's interest to determine the best practice.
Whether you're attempting to recreate the Montessori vibe, or implementing a faith-based curriculum, outfitting and supplying a homeschool classroom can be a pricy undertaking. From the wooden blocks and glass tumblers of Montessori to more traditional supplies, homeschooling comes with a price tag.
Homeschooling does present accessibility issues for many families. This is especially true for single-parent homes, which account for 23 percent – or nearly 1/4 – of households with school-aged children. And even in two-parent homes, one parent is often forced to decrease their hours, if not to stop working altogether.
It is possible to homeschool on a shoestring, though it will prove more difficult and time-consuming. While those with deep pockets are adding another miniature wooden bookcase to their bursting cart with the click of a mouse (cha-ching!), the less affluent homeschool mom is scouring neighborhood sites and thrift stores for gently used items.
Montessori vs. Homeschooling: Temperament
It's difficult to recreate the hustle and bustle of a Montessori classroom at home, unless you'll be homeschooling a large brood. This brings us to our next consideration: Temperament. One of the most fundamental considerations of Montessori vs. homeschooling is the individual temperaments of all those involved: yours and your child's
Your Temperament
As we touched on, Montessori classrooms are at times beehives of activity. As they should be. Young children in the midst of self-discovery should not be hushed or stifled in any manner. There is no more delightful sound than the joyous cacophony of young scholars engaging in the experience of learning- if you're of a certain temperament.
If you have more of a hey you kids, pipe-down sensibility, the Montessori classroom is definitely not the place for you, and homeschooling might not be a good fit either, depending on how many offspring you'll be instructing.
Your Child's Temperament
On the other end of this arrangement, you have your child's personality to consider. Some children thrive in chaos, while others shrivel. Whether your child will benefit from being in a classroom with dozens of other children or will learn best in the solitude of home sweet home is a question best answered by you. And simply because a child might initially balk at the notion of being in a large unruly classroom with dozens of other students doesn't necessarily mean that's not the exact place they need to be. Not to muddy the waters, but sometimes counterintuitivity is required of parents.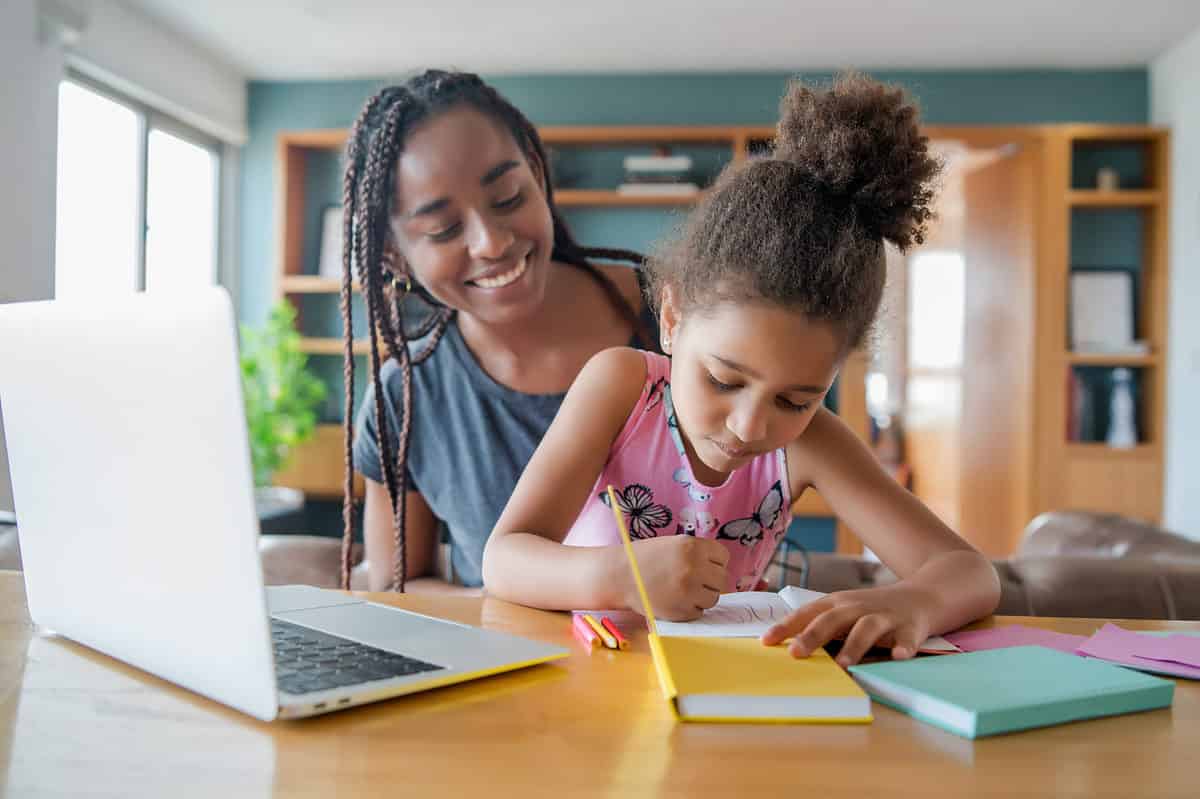 The Parent/Child Bond
The primary relationship that needs to be addressed, however, is the relationship between you and your child. Beyond educating your child, homeschooling presents an opportunity to create a super-bond with them. By the same token, it presents an opportunity for you to totally destroy any chance of having a functional relationship with your child. No need to feel less than if you envision the latter scenario.
Teaching is not for everyone – it's a calling that requires a special disposition. Kudos to those who have it and kudos to those who don't. If you're not feeling led to teach, homeschooling might not be a good fit for your family, but it doesn't make you a bad person. It simply makes you a person who is aware of their strengths and their non-strengths.
Montessori vs. Homeschooling: Success
Whether you choose Montessori or homeschooling for your child, you'll want the experience to be a positive one for both of you. So, what are some of the hallmarks of a successful educational experience for your child?
Parental Alignment
The first is that both parents are on board with the decision regardless of their relationship status. It's important to discuss your child's educational goals and how to best achieve them. When parents are aligned it improves the chances of success. It's optimum to have all of the adults in your child's life to be invested, but different generations can have preconceived notions and ideas regarding anything outside the norm. This makes it that much more important for parents to present a united front.
If you choose to homeschool, decisions regarding who will step back from the workforce and assume the teacher role will need to be discussed. Budgets may need to be trimmed or reallocated. Budget trimming could be a necessity if Montessori seems like a better fit for your family, too. Unless your district has a public (charter/magnet) Montessori-based school, Montessori comes with a price tag.
Preparation and Planning Ahead
Preparation and planning ahead will help your child's school experience be a success. If they will be attending a Montessori school, you can help prepare them by visiting the school regularly before their first day. Have your child's teacher over for afternoon tea or an early dinner. Be certain to discuss your child's daily routine with them. Knowing what to expect will help alleviate any anxiety your child may experience, especially if this is their first foray into education.
If you're going the homeschool route, there is a lot more to prepare. From defining the space to furnishing it and supplying it with the tools of learning, preparation is the key to success. Knowing their daily routine and what to expect is just as important to your child's confidence when you're homeschooling. Create a schedule and stick to it. Young children especially adapt well to routine. If you are implementing a third-party curriculum, be familiar with each lesson, and keep ahead. Make contingency plans to accommodate any unforeseen blips on the radar.
It Takes a Village
The final hallmark of a successful school experience for your child is not to go it alone. whether you choose Montessori or homeschooling, support is key.
If Montessori is the best fit for your family, reach out to other parents in the school. Arrange playdates for your child with classmates. Creating bonds that extend outside of school can make the transition smoother.
When homeschooling, seek out the advice of more seasoned homeschool families. Don't be afraid to ask questions. Many who have traveled the homeschool road before you will be happy to share their insights, allowing you to sidestep some of the obstacles that they encountered.
Socialization is Important
If your child attends a Montessori school, they'll easily get all of the socialization they'll need. Your child will constantly be around other students, with many opportunities to forge friendships and have crucial social experiences.
If you choose to homeschool your child, they may miss out on these critical experiences. Education is very important, but so is socialization! There are some things that children can only learn from their peers. If you homeschool, it's important that you have a plan to ensure your child is adequately socialized. Simply interacting with their family is not enough.
Join homeschool groups that provide opportunities for your homeschooler(s) to socialize with other homeschoolers. From field trips to organized sports, there are more resources than ever available to homeschooling families. Take advantage of them!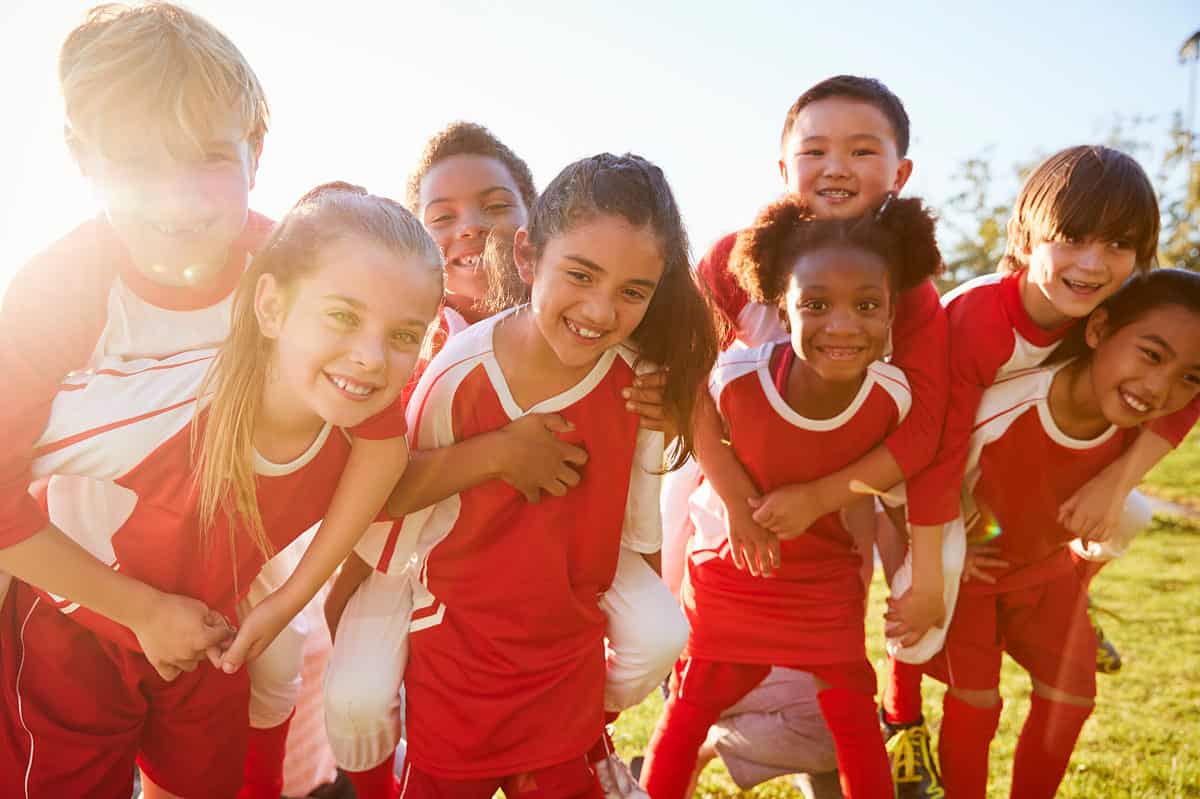 Communication
Regardless of which side you take in the case of Montessori vs. homeschooling, check in with your child often. Keeping the lines of communication open with your child is of the utmost importance. Incorporate opportunities to discuss how and what they're feeling with them. If they express misgivings or frustrations, hear them out. It is important for your child to feel seen and heard.
Likewise, it's important to communicate with your child's Montessori school teacher regularly to ensure that your child is getting the best experience possible. In the event that your child expresses a desire to change schools or to begin attending school instead of being homeschooled, hear them out. They may have perfectly valid reasons for wanting this change.
So, in the case of Montessori vs. homeschooling, which side you fall on depends largely on your family's circumstances and values. Both are proven models of education that can produce positive results.