Costco is well-known for its deli section that's filled with affordable cuts of beef, salmon, and chicken. However, if you're looking for meat-based snacks that last a while, are high in protein, and are ideal for low-carb diets like Keto, Costco is a top shopping destination.
I've long enjoyed different beef sticks and jerky from Costco. In the list below I've ranked my favorites from best to worst. Whether you're looking for the healthiest option or the most delicious, you'll find something perfect for your pallate.
Costco's Best Beef Jerky and Beef Sticks Ranked
It's worth noting that Costco is famous for being a treasure hunt. Different stores keep different supplies and some products are regional. That being said, it's likely you'll find most of these products in your local Costco.
Golden Island Korean Barbecue Jerky
Kirkland Signature Steak Strips
Country Archer Grass-Fed Beef Stick Minis
Duke's Original Recipe Beef Sticks
1. Golden Island Korean Barbecue
Serving Size: 1 Ounce
Calories: 90
Protein: 7g
Added Sugars: 9g
Let's just get this out of the way, I'm starting with the unhealthiest option on this list because it's absolutely delicious. Golden Island Korean Barbecue jerky is marinated in a blend of garlic, sesame, soy sauce, and brown sugar. That adds about 9 grams of sugar per ounce, which other jerkies on this list won't have.
For that reason, if you're on a diet like Keto, I wouldn't recommend Golden Island. However, if you're looking for a snack in your house that's generally healthy and still packs a good amount of protein, then you should definitely try Golden Island's jerky. The texture of the jerky is less harsh thanks to the marinade, and this jerky also avoids the dryness found in many other options. As far as taste, Golden Island is also significantly less "game-y" than other jerky options. It's become a favorite snack in my household.
2. Kirkland Signature Steak Strips
Serving Size: 1 Ounce
Calories: 60
Protein: 9g
Added Sugars: 4g
Costco's Kirkland Signature Steak Strips retain more moisture than most jerkies you've tried. This gives them additional flavor and tenderness. However, these Steak Strips have 4 grams of sugar per ounce, which is less than half the level of Golden Island's Korean Barbecue jerky. That makes them acceptable (in moderation) on lower carbohydrate diets.
One important note is that this jerky must be refrigerated after opening. If you don't, the strips can mold, become slimy, or even rancid. If you're looking for healthier snacks or lunches steak strips pair particularly well with some cheddar cheese.
3. Country Archer Grass-Fed Beef Stick Minis
Serving Size: .5 Ounce
Calories: 50
Protein: 4g
Added Sugars: 0g
Finally, we reach a beef stick that's perfect for diets like Keto. I almost always have a bag of Archer Grass-Fed Beef Sticks at my house for a few years.
They're Snack Sized: Sometimes it can be hard to know how much jerky you're eating. You start eating it because it's a "healthy" snack and the next thing you know you've finished half a bag. When you eat Archer's beef sticks you know exactly how many calories you're eating since they're individually wrapped at just 50 calories per beef stick.
No Refrigeration: A lot of beef jerky products go rancid if you don't refrigerate them after opening. Individually wrapping each Archer Beef Stick means you can open the bag without needing to take up valuable space in a refrigerator. In addition, they're a great option for travel.
Great Ingredients: Archer Farms Beef Sticks are made of 100% grass-fed beef. In addition, there are no artificial ingredients to find objectionable. Other than grass-fed beef, you'll find mostly powders for flavoring.
4. Duke's Smoked Sausages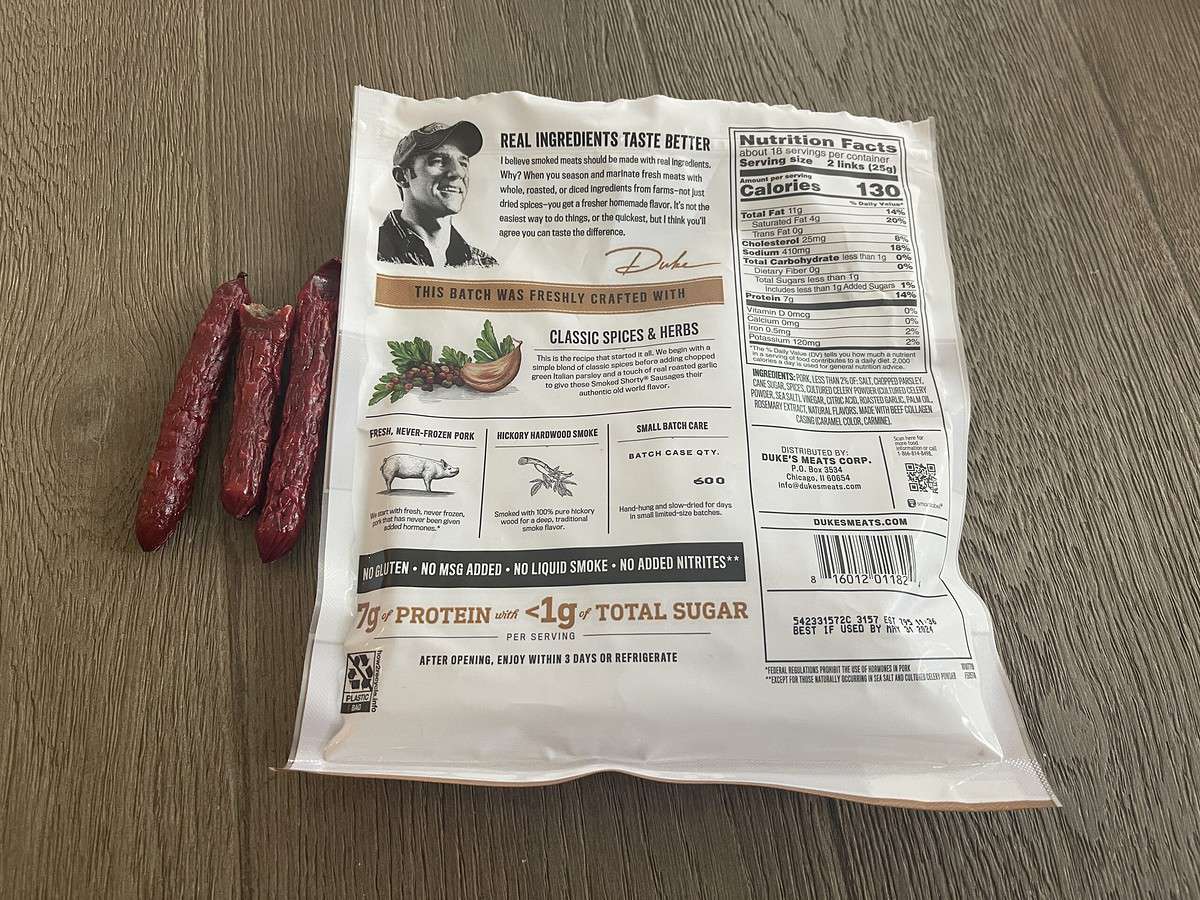 Serving Size: 25g (about an ounce)
Calories: 130
Protein: 7g
Added Sugars: <1g
Duke's is another great option for low-carb diets. The beef sticks are smokier thanks to being smoked with hickory wood. Another important difference is that these beef sticks are much higher in fat content, which gives them a richer flavor.
For example, the Archer Beef Sticks are about the same size and each has 3 grams of fat while an individual Duke's beef stick will have 5.5 grams of fat.
Duke's might not be the highest ranked on this list, but it's still an excellent option that's extremely tasty. Comparing it to Archer Beef Sticks, I prefer that they're individually wrapped. One reason is that you'll need to refrigerate Duke's Smoked Sausages after opening them, which takes up additional refrigerator space.
The image featured at the top of this post is ©MomsWhoThink /Eric Bleeker .