When it comes to savory breakfast and brunch foods, frittatas and quiches are two well-known egg dishes. Because both of these recipes are made with eggs and can be combined with various vegetables and meats, they may seem like the same thing. But frittatas and quiches are actually quite different from each other.
For starters, frittatas are partially cooked on the stove before finishing in the oven and the ingredients call for more eggs than dairy. On the other hand, quiches are fully cooked in the oven and have a creamier texture due to more dairy than eggs in the recipe.
While both of these hearty dishes appear similar and are delicious any time of day, they are not the same. Let's take a deeper look into the differences between a frittata and a quiche.
What is a Frittata?
A frittata is an Italian-based egg dish that has a filling similar to an open-faced omelet. Typically, frittatas are heavily focused on eggs with a higher egg-to-dairy ratio, even though most frittata recipes still include half-and-half or heavy whipping cream. Frittatas are also cooked without a crust.
When making a frittata, the combined ingredients will begin cooking in a skillet on the stovetop. Then the dish is moved to the oven or under the broiler until it's finished cooking and is golden brown. Common ingredients in a quiche besides eggs and dairy include cheese, meats like bacon, ham, and sausage, and vegetables like bell pepper, red onion, or spinach.
What is a Quiche?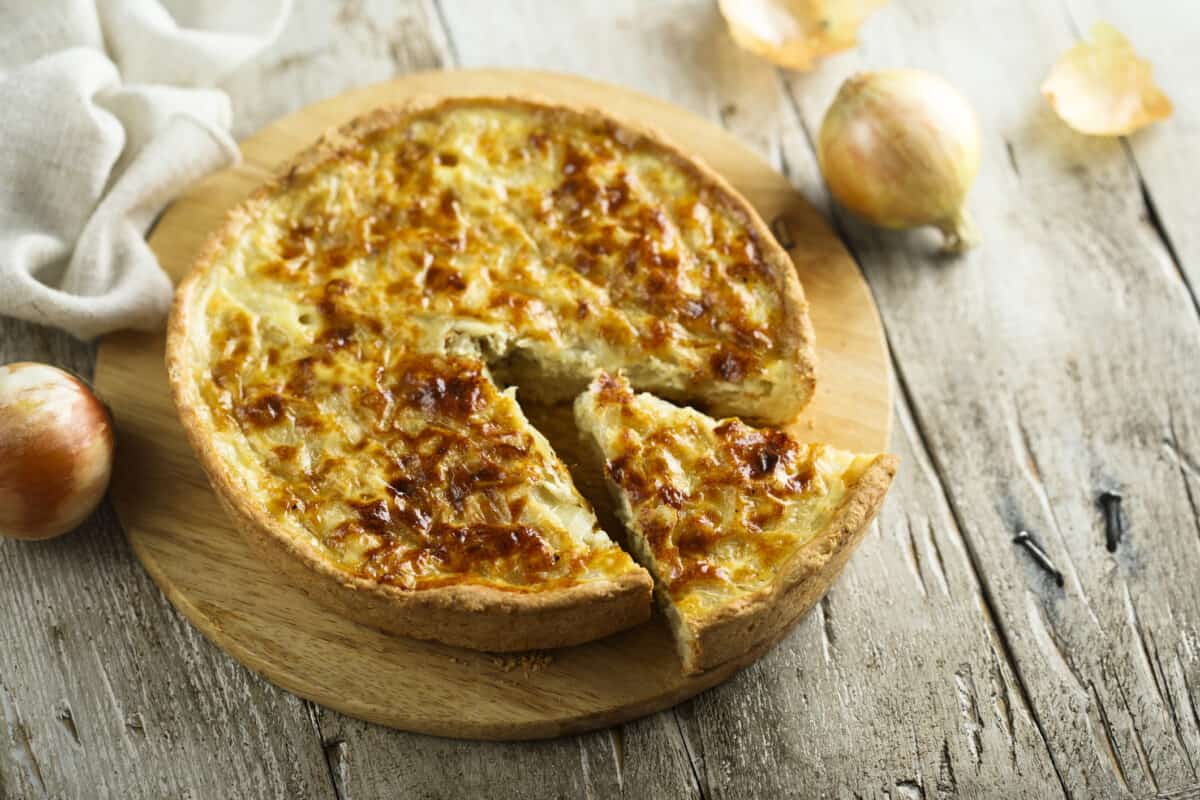 A quiche is a French-based egg dish that's similar to a tart or pie due to its inclusion of a crust. While quiches also include eggs and dairy, the ratio is different from a frittata. Quiches always call for more dairy than eggs. This ratio gives quiches their signature creamy and custard-like texture.
Like a frittata, various meats and vegetables can also be included in a quiche, but the similarities end there. Ingredients for quiche are combined together and then poured into a pie crust and fully baked in the oven. Perhaps you've heard of the popular French quiche recipe called Quiche Lorraine. This recipe is native to the dish's origin and calls for bacon, gruyere cheese, and caramelized onions.
Frittata vs. Quiche: What are the Differences?
As mentioned, both of these breakfast dishes are egg-based and can include similar ingredients. However, the egg-to-dairy ratio differs between the two, and quiches are more like a savory tart while frittatas are more closely related to an omelet.
Here's an in-depth look at what sets these dishes apart.
Country of Origin
According to KichenProject.com, the frittata is of Italian descent and is often referred to as the Italian version of an omelet. While the exact origins of this dish are unknown, its name comes from the Italian verb "friggere" meaning "to fry." This gives a nod to the traditional way a frittata is cooked beginning with frying a scrambled egg mixture in the skillet on the stove before moving it to the oven.
A quiche, however, has origins tracing back to what is now France. Interestingly, though, the dish's name actually hails from the German word "kuchen" which means "cake." It's believed that this dish originated in the German kingdom of Lothringen, which the French renamed Lorraine according to FoodReference.com. These origins also explain why the Quiche Lorraine recipe is popular and well-known.
Crust
One of the biggest differences between a frittata and a quiche is the use of a crust. As stated earlier, a frittata does not have a crust, while a quiche typically does. This distinction is what makes a frittata more closely related to an omelet while a quiche is known as a savory tart.
When making a crust for a quiche dish, a simple pastry crust or standard pie crust can be used. According to an article by TheKitchn.com, it's important to at least partially bake the crust ahead of time to make it more firm. This prevents the crust from getting soggy once the egg mixture is added.
Texture
While the base ingredient for both dishes is eggs, the egg-to-dairy ratios differ depending on which recipe you're making. This differing ratio gives each dish its own signature texture.
When making a frittata, Bon Appetit suggests using a half-cup of full-fat dairy for every dozen eggs. With this ratio, a smaller frittata that uses only six eggs would require only a quarter cup of dairy. Interestingly, frittatas can also be made without any dairy at all, though most prefer the fluffiness that comes from adding milk or cream. The heavy egg-to-dairy ratio of a frittata gives this dish a firm exterior and fluffy interior.
Quiches are made in the opposite fashion with a heavier focus on dairy than eggs. In fact, the same article from TheKitchn above suggests that a quiche recipe should include a ratio of "one part egg to two parts liquid dairy." This ratio gives the quiche a rich filling, similar to a custard. This custardy middle is combined with a flakey crust to give this hearty dish its' tart-like appearance.
Cooking Method
Because a frittata begins on the stovetop before moving to the oven, this dish is usually prepared in a cast iron skillet. It's important to have a non-stick pan when cooking a frittata because it finishes cooking in the oven. Additionally, when using a cast iron skillet, the heat from the pan will cause the dish to continue baking once it's removed from the oven, so it's best to remove the pan before it's fully finished baking. Frittatas do not have a crust, therefore no additional prep time is required, making frittatas a simple and fast breakfast dish.
Quiche, on the other hand, can take much longer to prepare. The dish is usually made inside a pie pan and, as mentioned, the crust should be partially baked before adding the egg mixture to it. Because a quiche's interior more closely relates to custard, it can take this dish longer to set up. This creates a longer baking time for quiches.
Frittata vs. Quiche: Nutritional Value
Due to the additional dairy and the use of crust in quiches, frittatas tend to be a healthier option. As you can see below, one slice of quiche is more than double the calories compared to a slice of frittata. Quiches are also higher in fat. Frittatas, however, are higher in cholesterol due to the higher number of eggs used.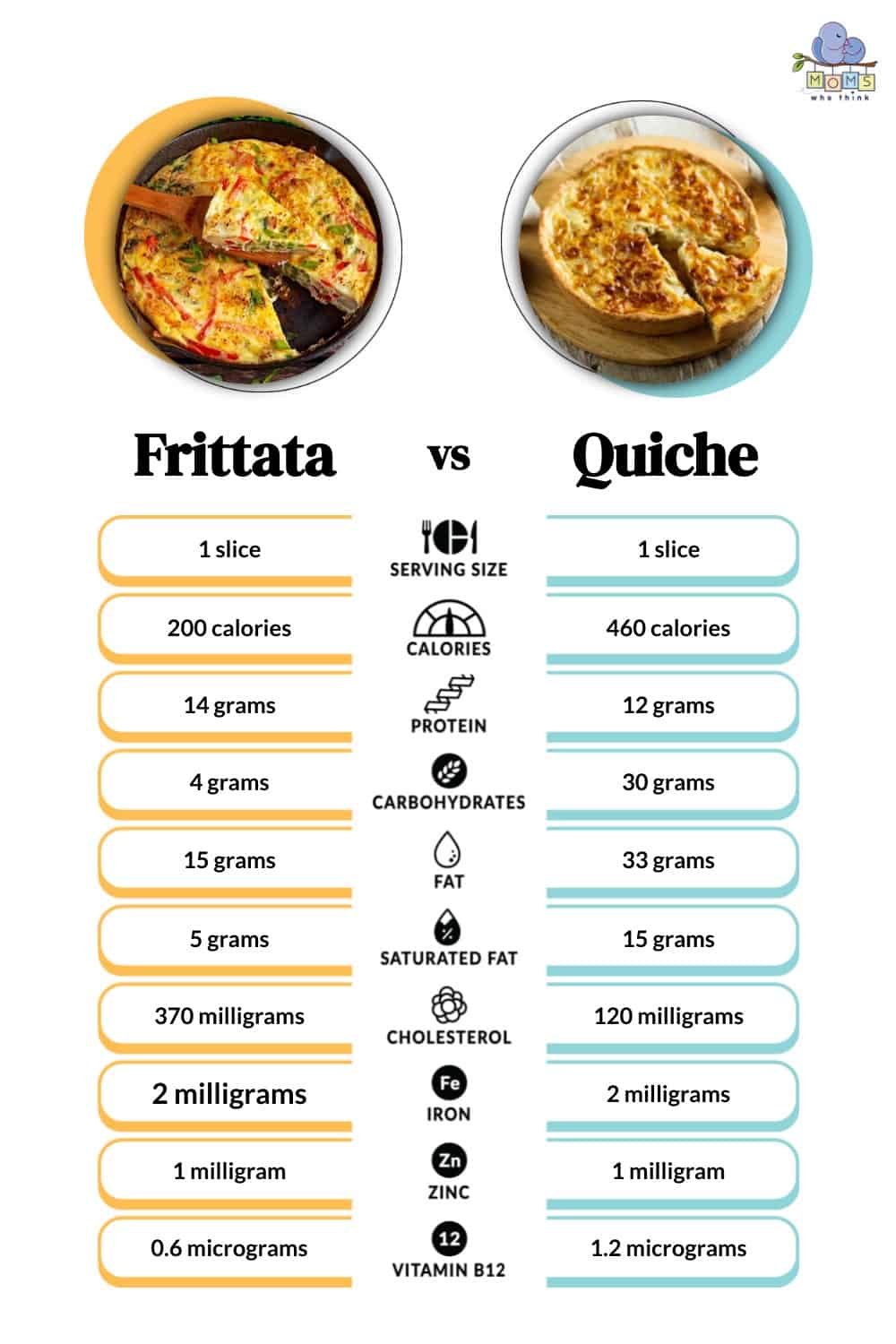 Keep in mind that both recipes leave room to add plenty of veggies. Adding vegetables to either frittatas or quiches can aid in lowering the calorie count, as well as add nutrients like fiber and B vitamins.
Final Thoughts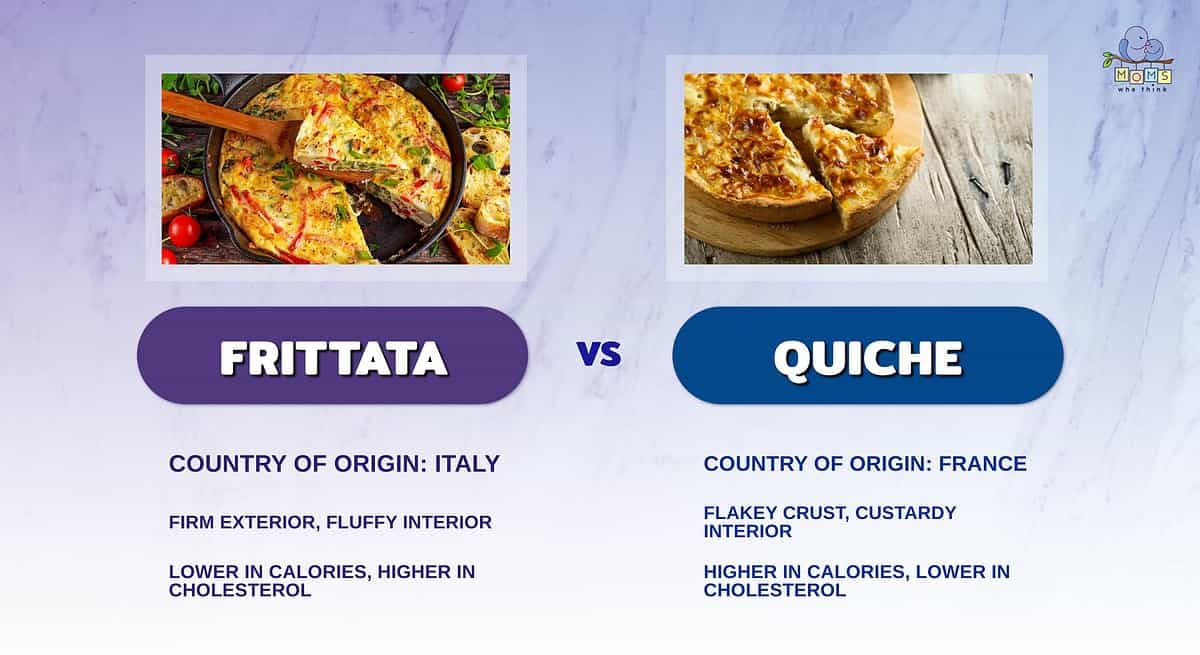 Frittatas are believed to be of Italian descent, while quiche originated in a German kingdom that once existed in what is now France.
The different dairy-to-egg ratios in each of these dishes give them their unique textures.
Frittatas are lower in calories than quiche, making them a good choice for someone on a diet.
While both a frittata and quiche are well-known and hearty breakfast or brunch dishes, there are many things that set these recipes apart. Frittatas are crustless, begin cooking on the stovetop, and have a higher egg-to-dairy ratio. Quiches, however, have a crust, cook fully in the oven, and include more dairy than eggs in the recipe. One closely resembles an omelet while the other is known as a savory tart. Whichever option you chose, both are delicious and filling choices that are sure to be crowd-pleasers!
Frittata Recipes
Quiche Recipes
Print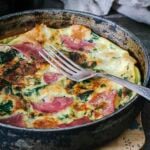 Ham, Brie, and Tomato Frittata Recipe
---
Author:

Total Time:

15 minutes
Description
Because a frittata is so egg-heavy, you can either serve it for dinner or make it for a late breakfast or brunch on a weekend. This versatile, interesting meal is something you definitely try.
---
2 tablespoons

butter or margarine

8

ounces

cubed cooked ham

1

small yellow summer squash, chopped

6

eggs, lightly beaten
Salt and black pepper

1/2

of an 8-ounce round Brie cheese, chopped

1

large tomato, seeded and chopped
---
Instructions
Preheat broiler. In a large broiler-proof skillet melt butter over medium heat.
Add ham and squash to butter; cook for 2 minutes.
In a medium bowl combine eggs, ½ teaspoon salt, and ¼ teaspoon black pepper.
Add egg mixture to skillet; cook for 1 minute.
Sprinkle with cheese and half of the tomato.
As the mixture sets, run a spatula around edge of skillet, lifting egg mixture so uncooked portion flows underneath. Continue until egg mixture is almost set.
Broil 4 to 5 inches away from heat about 1 minute or until top appears set. Sprinkle with remaining tomato. Cut into wedges.
Prep Time:

5 Minutes

Cook Time:

10 Minutes

Category:

Main Course

Method:

Broiling

Cuisine:

American
Keywords: green tomato frittata, cheese and tomato frittata