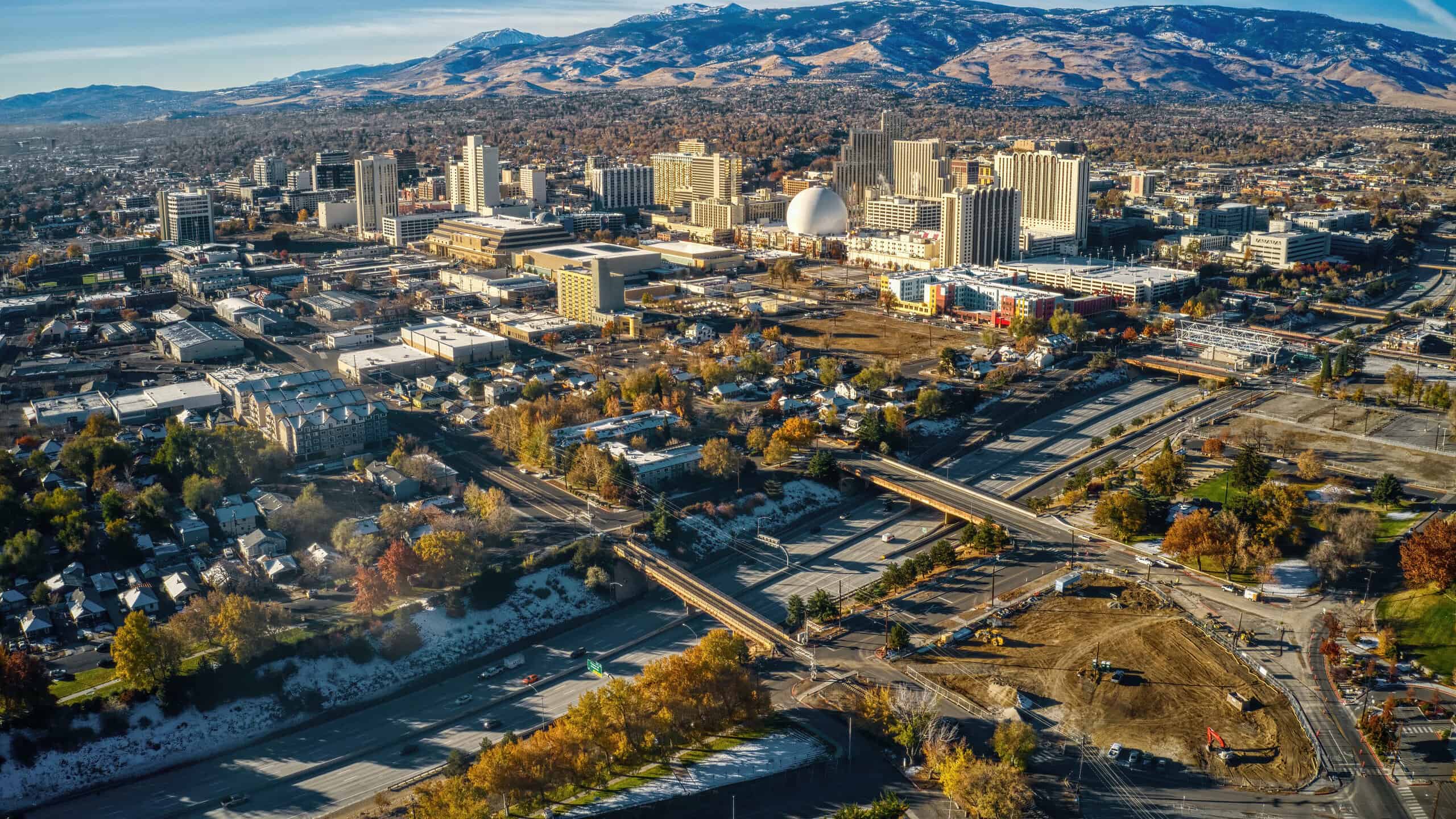 Reno is sometimes known as the "biggest little city in the world" so it's no surprise that there's plenty of activities to keep the whole family busy. Over the past 10 years, the art and food scene in Reno has significantly grown, making it a great place to visit with kids of all ages. If you're planning a trip and want to create the best itinerary for your family, check out the best things for kids to do in Reno.
10 Best Things for Kids to Do in Reno
Reno may be known for its tourism and sometimes for its casinos, but there are many things for families to do. From tasty restaurants to national parks, there's no shortage of places to stop during your trip. To help you get started, here are the best things for kids to do in Reno.
Truckee River Walk
One of the first stops when visiting Reno should be the Truckee Riverwalk. On a nice day, nothing can beat walking downtown beside the Truckee River. From coffee shops to restaurants, there are plenty of things to see and places to eat on the River Walk, not to mention the beautiful views of the river.
If you visit the Riverwalk on a Sunday morning, you can stop by the Riverside Farmers' Market. Here you'll find fresh, healthy food and baked goods from some of the best local vendors in Reno.
Animal Ark
If your family loves animals, take your kids to visit the Animal Ark. This wildlife sanctuary is open to the public and is a great place to spend the day in Reno. With over 38 acres of land, Animal Ark is a rehabilitation center and sanctuary for animals such as bears, tigers, birds, foxes, and more.
During your trip, you can witness staff feeding the bears and see plenty of the animals present in the park. The sanctuary also includes a large picnic and playground area where you can stop for a picnic lunch with your family.
The Discovery- Terry Lee Wells Nevada Discovery Museum
In Reno, the Discovery, or Terry Lee Wells Nevada Discovery Museum, is a well-loved hands-on science museum. The goal of this downtown museum is to be a place of fun, learning, and discovery for kids in Reno, NV.
New exhibits are added to the museum all the time, but some of the permanent ones include Mindbender Mansion, Inside Out: an Anatomy Experience, Under the Stars, and Cloud Climber. You can purchase memberships or one-day tickets to the museum.
Greater Nevada Field
Greater Nevada Field is a baseball field in Reno where your family can enjoy a minor-league game. The Reno Aces, the local minor-league team, plays at the Greater Nevada Field, and taking your kids to a game is a great tradition.
The Greater Nevada Field is a family-friendly venue with plenty of amenities for children. Kids under 2 don't need a ticket and little ones will love Archie, the Ace's fluffy mascot. There's even a Kids Zone where children can play if they get fidgety during the game. On Fridays and even some Saturdays, you can stay for fireworks after the game.
Sierra Nevada Zoological Park
The Sierra Nevada Zoological Park is a non-profit wildlife refuge in the Sierra Nevada Mountains. This zoo is home to over 40 different species of animals including lions, white tigers, monkeys, lemurs, and camels.
Kids of all ages will enjoy the petting zoo where they can feed the deer, goats, llamas, and other animals. It's also an educational trip for families since you can learn about the habitats and endangered species in the refuge.
Wilbur D. May Museum
The Wilbur D. May Museum has exhibits the whole family will enjoy. The museum holds Wildur D. May's private collection of artifacts. Wilbur D. May was a philanthropist, rancher, and world traveler who lived in Reno for over 50 years.
In the museum, you can see European glasswork, antique firearms, Chinese pottery, taxidermy, and more. There are different exhibits throughout the year, such as Expedition Dinosaur, which features fully animatronic dinosaurs and various stations with hands-on learning experiences.
The Puzzle Room
If you're looking for a fun activity to do with your kids, try out the Puzzle Room, an escape room in Downtown Reno. 2-6 players can participate in each room, so it's a great team building game that's fun for the whole family.
Even for younger kids, the escape rooms at the Puzzle Room can be an excellent way to learn and build critical thinking skills. To keep things exciting, there are different themes for each room, such as Valley of the Kings, Below Ground, and the Asylum. See if your family has what it takes to figure out the puzzles and escape!
Kimmie Candy Factory Tours
If you say the word candy, you know your kids will be on board. During your time in Reno, stop by Kimmie Candy, a local family-owned candy company. Unlike many candy manufacturers, Kimmie Candy is proud to be allergen-free with products that are gluten free, peanut free, kosher, and non-GMO.
At Kimmie Candy, there's something for everyone. Aside from taking some delicious candy with you, when you visit Kimmie Candy, you can tour the candy factory and see how the chocolate is made. Your family won't want to miss this delicious tour.
Great Reno Balloon Race
If you happen to be in Reno at the right time of year, you can catch the Great Reno Balloon Race. This race is the world's largest hot-air balloon event that takes place over three days. The race first begin in 1982 and has grown substantially over the years.
If you're visiting in September, you can watch over 100 hot air balloons of all colors float through the air. It's a beautiful sight and a great place to make memories with your family.
National Automobile Museum
There are few things cooler than automobile collections. Your family can check out some of the coolest cars in the world at the National Automobile Museum. Most of the collection comes from Bill Harrah, a gaming pioneer and founder of Harrah's Hotels and Casinos.
The automobile museum has been open since 1989 and has since been recognized as one of the top 10 automobile museums in the country. There are plenty of automobiles for everyone no matter what your style is, from the Speed Exhibit to the Batmobile Exhibit.
Best Parks to Visit in Reno
There's no reason to get stuck inside during your time in Reno and part of experiencing the city is getting outside to enjoy the weather and fresh air. Here are some of the best parks for your family during your trip to Reno.
Rancho San Rafael Regional Park
Rancho San Rafael Regional Park spans over 570-acres and includes a myriad of amenities for families. The Wilbur D. May Museum is located in this park, and the park is also home to the Wilbur D. May Arboretum and Botanical Garden, Nevada Farms, as well as numerous playgrounds, hiking and bike trails.
Wingfield Park
Wingfield Park has beautiful views of the Truckee River and holds several events throughout the year, such as the Reno River Festival. At this park, your family can play in the water, ride bikes, or enjoy a picnic. There are also opportunities for whitewater rafting and kayaking.
Galena Creek Regional Park
Galena Creek Regional Park is a gorgeous park to visit year-round in Reno. Your family can go hiking along the creeks or spend time skiing or sledding in the winter. You can see plants and wildlife local to the area or go fishing at Marilyn's pond.
Idlewild Park
Idlewild Park is home to over 49-acres of land along the Truckee River. The park includes several gardens including a Sensory Garden and a Rose Garden. There is also a playground, skate park, numerous other athletics fields, and picnic shelters.
Bartley Ranch Regional Park
Bartley Ranch Regional Park is located on a former ranch and provides visitors with information about the history of ranching in Nevada. Spanning over 50 acres, this park has hiking trails, an amphitheater, and a horse arena.
Takeaway
Reno has the perks of a big city without all the crowds and traffic. From parks with beautiful scenery to zoos and wildlife refuges, there's no shortage of activities for your family. When you're planning a trip to the biggest little city, check out these activities for some of the best things for kids to do in Reno.