Hiking with kids can be challenging. They get tired and bored easily, throw tantrums, and discover poison ivy with incredible dexterity. They also must be constantly monitored. However, when they spend time outside, they learn new skills, satisfy their insatiable curiosity, and gain independence. For many, this is reason enough to hit the trails with their kids.
Going into the wilderness with children, on the other hand, necessitates a little more preparation and planning than going off on your own. Don't let that discourage you. Follow these guidelines this season to begin a hiking ritual that the entire family can enjoy.
Key Points of What to Question Before Hiking with Kids
Who are you hiking with?
How far do you want to go?
Where will you hike?
What is the weather forecast for the day (check both where you're starting and ending, as they aren't always the same)? Check the weather forecast ahead of time, especially if you're hiking in the mountains, a desert gully, or a ravine. Ensure there are no flash flood warnings and that you are familiar with flash flood signs.
Things to Do Before Hiking With Kids
Before hitting the trails (especially with children in tow), it's important that you have a good idea of what to expect. This could mean knowing how much time you'll spend hiking, safety tips for kids, and how to keep your kids engaged. You'll also want to be sure you're not outnumbered — for safety and your sanity. Review this list of six things to do before hiking:
1. Choose Your Trails Wisely
As adults, it's easy to get lost in the history, magic, or nature of a special trail. Children, on the other hand, can be a little pickier about what they find exciting.
Look for hikes with a lot of variety and that include things for kids to explore, splash in, and climb on. Some children enjoy hikes that include ruins that they can play in and explore, such as an old farmstead with its foundations still intact. Better yet, something with a cave!
Water is another great novelty to look for on kid-friendly hikes. Shallow waters and streams where kids can throw rocks play and splash, or even better, bring a fishing rod and go fishing instead of pretending to will be a welcome idea for them. Spending time looking for unusual plants, interesting birds, or animal tracks gives your kids something to do other than deciding whether they're hungry or their legs are tired.
Choosing a hike with something interesting and fun to do along the way will allow you to spend more time in nature and allow your children to fall in love with the natural world around them.
2. Be Prepared
When it's time to pack, make sure backpacks are adequately packed and that you and the kids are ready for a day (or at least a few hours) hiking outside. Pack enough healthy and filling food or snacks, as well as clean drinking water, to last you and your family the entire hike, plus some extra. If your hike is delayed for any reason, make sure you have enough supplies to carry you through.
The amount of food you pack will be determined by the length of the hike. If it's only a couple of miles on a heavily-traveled trail, some trail mix and some backup energy bars should suffice. Pack sandwiches, energy bars, and trail mix if you're taking your older kids on a 10-mile hike through the mountains.
No matter how long or short your hike is, always bring some extra portions with you in case you get stuck somewhere for longer than expected. Bring more survival rations on longer hikes. A two-mile hike on a flat, well-trafficked trail would probably only necessitate a few extra energy bars. However, for the 10-miler, bring at least 1,000 extra calories per person in the form of something dense, such as chocolate. Your kids will appreciate special treats that they will only get while hiking, making the activity something they will look forward to.
It's also critical to ensure that everyone has plenty of water and is sipping regularly. Check in now and then to see when they last took a big gulp. If you have a tiny one in your hiking group, let them bring their favorite stuffed animal if it makes them feel better about going on a hike. Even better, if your children are older than three, give them their small backpack in which they can carry their supplies and snacks, instilling in them a sense of pride and ownership.
3. Be Realistic
Be truthful about your and your children's fitness, ability, and age. We all start somewhere, and there's nothing wrong with a trial run to ensure everyone has a good time. A shorter hike and one that everyone has fun on is much better than taking on more than your family can manage.
However, if you feel that everyone in your family is eager to hit the trail, devise an activity that will not only keep your family's interest but will also be challenging enough to be rewarding.
The more enjoyable the first hike, the more likely it is that your kids will enjoy hiking in the future. Firsthand enjoyment can help foster a natural passion for conservation and the great outdoors.
4. Make It a Learning Opportunity
Some kids may require more than the promise of playing next to cool streams and tasty snacks to keep them entertained on the trail. In that case, encourage a sense of adventure and learning. Let them bring pocketed vests to fill with plant or insect identification kits, binoculars, magnifying glasses, and small treasures like fallen leaves (but make sure to leave them behind larger items for other kids to discover). Print or buy nature bingo sheets and let the kids play them while hiking, looking for bright flowers, different types of trees, or animal tracks.
Also, don't be afraid to slow down and let the kids explore. Allow them to investigate that bug, scale that stump, and let their imaginations run wild. They live in a different world than adults do, and it's amazing to be able to share it with them. Adults can become overly focused on getting from point A to point B and lose sight of the journey.
National parks facilitate outdoor learning by providing age-appropriate activity books in visitor centers, many of which offer the opportunity to learn about the park while earning a junior ranger badge, providing an additional incentive to get out on the trail. Rewards like these give them a sense of purpose. National parks, as well as many state parks, offer ranger programs that include hands-on education for both children and adults, allowing them to learn about everything from native wildlife to rock formations. So, if you're going to visit, check the program schedule ahead of time or at a visitor center, and plan your outings around guided programs or hikes.
5. Practice Patience
Hiking with children can be difficult at times, and there will undoubtedly be times when you want to pull your hair out! It's important to remember that children move at a different pace than adults and need time to rest, explore, and take in the sights and sounds around them. Remember to take breaks when necessary and remain positive to create a more enjoyable experience for everyone involved. If you approach your hike with the mindset that it will be a slow stroll, you will be much more likely to enjoy it.
6. Teach Kids to Be Safe
It's also critical to keep a close eye on children when they're near potentially hazardous natural features like cliffs, lakes, waterfalls, and active geothermal areas. Make it clear to your kids that they must stay on the trail and close to you at all times.
Make sure children understand how to react to wildlife as well. Park rangers and hiking experts recommend that everyone, especially children, stay at least 25 yards away from animals such as deer, elk, and bison, and at least 100 yards away from wolves and bears. You should also teach your children not to throw objects or yell at wildlife, but rather to respect them, keep a safe distance, and never feed wild animals, including squirrels and birds. Keep children within arm's reach when in areas where mountain lions, moose, bears, or other predatory creatures live.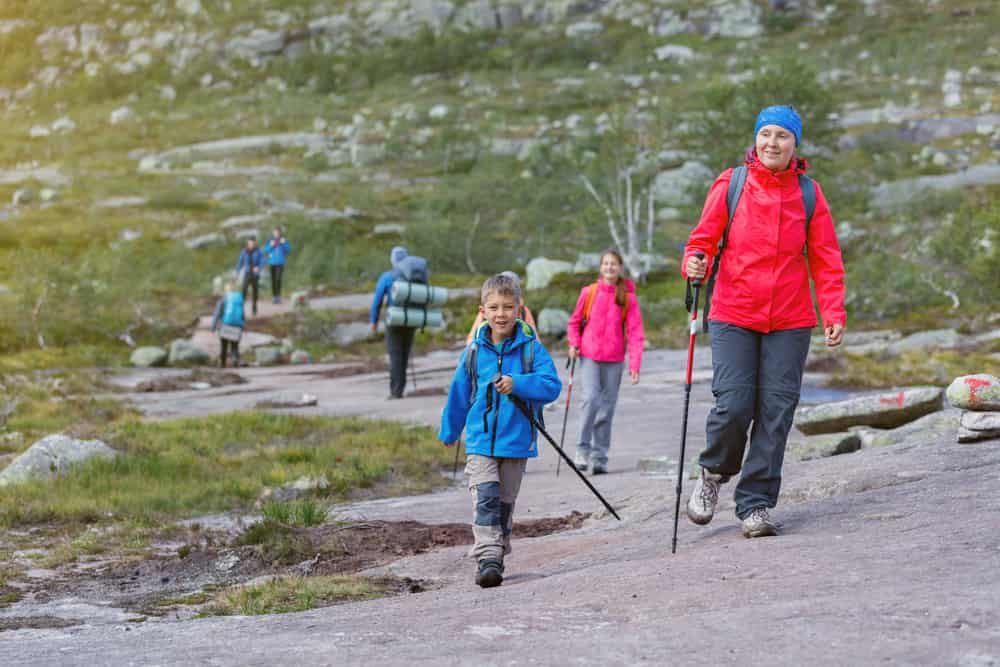 Hiking with Kids Checklist
Being prepared for your hike means carrying the necessary supplies and equipment to make your hike comfortable, safe, and enjoyable. When you add children to the mix, you must be even more prepared. Also, while you should bring enough water and layers of clothing, avoid overpacking. A lighter load will allow everyone to enjoy their time more. Here is a list of standard items to keep on hand during a hike:
GPS, compass, map of the area, and so on.
Comfortable daypack or backpack.
Weather and terrain-appropriate clothing: Be sure to pack layers even if you're going on a day hike in a relatively warm location. Keep in mind that you may have to stop for several hours, such as when someone gets hurt. If this occurs, sweat will dry quickly and the little hikers will cool down. Many hot places cool off significantly at night, with deserts experiencing some of the most extreme temperature swings. While you probably don't expect to be caught off guard overnight, being prepared is essential in any emergency.
Hiking boots or shoes with a grippy sole.
Plenty of food and water.
Insect repellent.
First-aid supplies.
Protection from the sun: sunscreen, hats, protective clothing, sunglasses, etc.
A multi-tool or a pocket knife.
Matches and a firestarter.
Shelter in case of emergency.
A flashlight or a headlamp.
Whistle (for each hiker).
Mobile phone (in case of emergency).
Families with younger children should also consider bringing:
Extra clothing for the child(ren).
Sling, hiking backpack, or child carrier (optional but makes the experience so much more enjoyable).
Small toy to keep your child entertained while hiking (optional).
Baby food, bottles, sippy cups, and so on.
Wipes, diapers, and pull-ups.
Hiking Safety Tips for Families
Once outside, safety should be your top priority. Teaching kids what to do in emergency situations is crucial, and can help to keep your child calm if an event should happen. Additionally, instructing children how to use first aid kits and other survival tools could save a life. Here are a few items you should always have on hand:
Survival and First Aid Kits
Many stores sell survival and first aid kits, but what exactly constitutes a good survival and first aid combination? It all depends on your hike. While you don't want to overpack, it's important to have the essentials handy. Here are some lists for various situations:
Triangular bandage, water for rinsing cuts, a knife to cut clothes away from a bad wound or cut, band-aids, antibiotic ointment, blister band-aids, survival bandage, EpiPen or inhaler if necessary, children's ibuprofen, sting and bite relief, and rain gear for shorter hikes (less than 4 miles).
For medium hikes (4-10 miles) bring with you all of the above, plus rehydration packets (powder containing electrolytes in the event of dehydration), hand warmers, and an ace bandage. Consider bringing a lightweight tarp in case of an emergency.
For longer hikes (more than 10 miles), carry all of the above with you, plus a shelter and an emergency bivvy bag.
Consider storing your first-aid kit and extra layers inside your backpack in a dry bag. When bandages are already wet, they are useless.
Hiking Staff
If you're going to be hiking in difficult or rocky terrain, each of you should get a hiking stick. It will improve your walking stability. If you can, pick up a large stick from the woods for each of you while hiking. If you want to make sure that everyone has a hiking stick, pick up a few adjustable/collapsible options before your trip. This way, if you don't need them, you can store them in your backpack.
Hats
Hats are essential for all hikers to keep the sun off their faces and heads. A baseball cap will suffice, but kids' hiking hats with straps/strings are the best option. That way, if your child doesn't want to wear the hat for a while, they can simply take it off and let it dangle on their back. This could reduce the likelihood of them losing it (and one less thing you have to carry).
Flashlight
Attach a small flashlight to each backpack. They are not only useful in an emergency, but they are also enjoyable to use for exploration! There are numerous low-cost headlamp flashlights on the market today for your children to experiment with. They're fashionable and will keep their hands free.
Whistle
Every hiker should have a whistle clipped to their backpack. A whistle can be used to 
Alert your child to your location (and vice versa).
Scare animals away.
In case of an emergency: An international distress signal is three short, loud blasts on a whistle. Teach your children the importance of this (and that it should only be used when necessary) and practice it with them before your hiking trip.
Eye and Skin Protection
When hiking with children, don't forget to bring sunscreen and bug spray. The clip-on bug repellent is a particularly intriguing product. In addition to regular bug spray, clip these to each of the kids' backpacks for all-day protection. You must remember to bring sunglasses for everyone! They don't have to be expensive, but they must provide adequate UV protection for the eyes.
Conclusion
Whatever the length or difficulty of your family hiking trip, these things to do before hiking with kids should keep you and your family happy, healthy, and safe. Explore the great outdoors with your children and watch them discover nature in new and beautiful ways. Remember to involve your children in the planning process, perhaps by letting them choose a trail or destination. This can help build enthusiasm for the hike. Finally, reflect on your hike with your kids and plan for your next adventure.
The image featured at the top of this post is ©Ground Picture/Shutterstock.com.