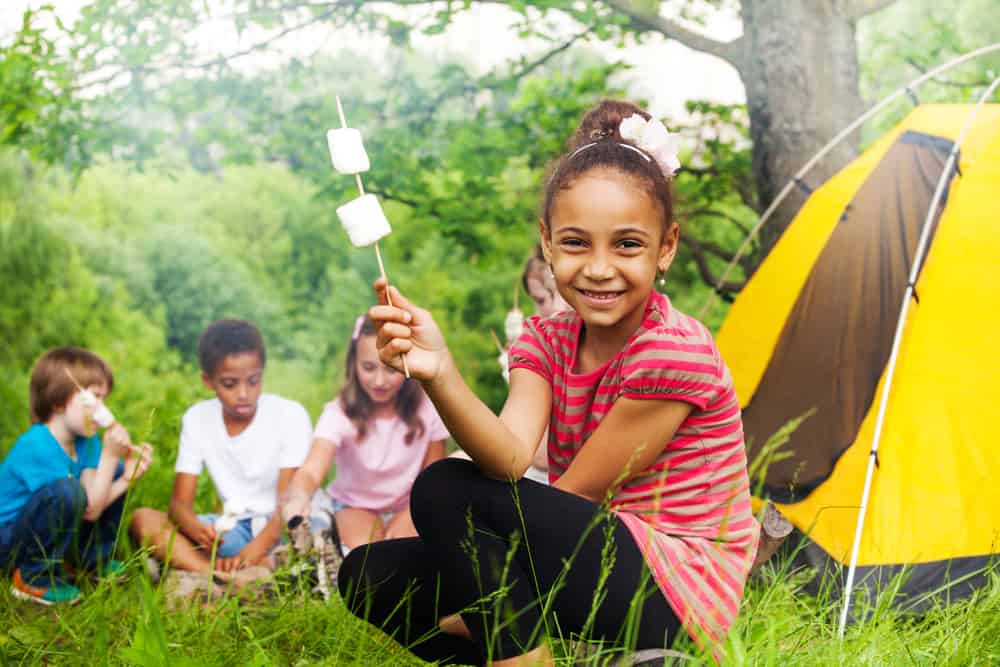 Are you thinking about taking the kids camping? Camping is not something you want to do on a whim when you're packing for a family! This is especially true if you are new to the game. If you weren't much of an outdoor person before becoming a parent, you'll want to know a few things about camping with kids before you get going.
Do you want to spend a night under the stars with your family? Here are a few things you need to learn before camping with kids.
Key Points
Establish the level of comfort you want before embarking on your camping trip. Is electricity a necessity? Running water? Are you comfortable with tent camping, or would you prefer a cabin?
Prepare yourself. Make sure you have the right supplies, and that you're prepared to deal with inclement weather or other unexpected occurrences. Remember that internet will more than likely be unavailable, and that cell service will likely be spotty.
Teach your kids about basic camping principles, such as Leave No Trace, wilderness safety, and fire safety.
5 Things To Know Before Camping With Kids
1. Practice Makes Perfect
Before your camping trip, practice using your stove and tent, first aid kit and batteries, and getting the hang of your sleeping pad, sleeping bag, and tarp – and have the kids help you. Setting up a campsite for the first time is much more difficult. Practice makes perfect when it comes to camping for beginners.
Begin with a backyard camping trip. Set up a projector screen and a tent outside and practice using them while watching a movie under the stars. Furthermore, it can be a fun way to get your kids used to being outside, especially if they are wary of family camping.
2. Campgrounds and Campsites
It's helpful to know what kind of comfort levels you're looking for when picking a campground for camping with your kids. Here are some questions to consider:
Is there access to electricity and fresh water for refilling drinking water bottles and cooking?
Is there a curfew at the campground? If you don't want to deal with all-night party crowds, this is essential for sleeping.
Is there access to showers and restrooms? Are the restrooms porta-potties or flush toilets?
Is there a store on-site where you can buy firewood, camping supplies, or food if you forget something?
Is there a play area?
How far away is the campground from your house?
Is hiking equipment, canoe or kayak rentals, or bike trails available?
Are the campsites private or do they have a social focus?
When it comes to planning your trip, start with finding a campground. Most national park campsites can be found and booked on recreation.gov; alternatively, check out nearby sites on Kampgrounds of America (KOA) or Hipcamp, or search state government websites. Provincial, national, and state campgrounds are usually run by the government. They typically provide a more rugged and private outdoor environment.
Non-serviced (non-electrical) and serviced (electrical) campsites are typically available. Government campgrounds are typically less expensive but provide fewer amenities. However, they frequently include access to beautiful environments with hiking and water.
Private campgrounds typically include restaurants, on-site stores, play areas, electricity, as well as play areas, on-site stores, and pools, and sometimes even organized game nights. They typically provide the most relaxed atmosphere, albeit at the expense of ruggedness and privacy.
You can try:
hiking to a remote camping spot (backcountry camping)
a campground cabin
camping in a national or state park
tent camping in a campground
a glamping or yurt experience
a camper or RV at a campground
3. Basics of Family Camping
First and foremost: If you intend to take your kids into the wilderness (even relative wilderness), make sure you all know basic camping skills such as Leave No Trace etiquette, how to build a campfire, how to filter water, wildlife awareness, first aid, and outdoor and fire safety. Not only will those skills come in handy, but you'll also be teaching your children how to be good stewards of public lands and the environment.
It might be a good thing to sign up for workshops and classes at your local outdoor outfitters. Look for and enroll in courses from your local parks and recreation department, and join organizations such as Outward Bound, or the National Outdoor Leadership School (NOLS).
4. Get Organized: Checklist for Family Camping
Camping with kids is a tough business that needs you to be calm and organized and know exactly what you need for your trip. So, how do you "get organized"? A checklist makes this, and packing, a whole lot easier. You can download one from the internet or make your own by dividing a piece of paper into sections such as shoes and clothes, entertainment, sleeping, kitchen, and activities around the campsite.
Keep a separate list of items you still need to borrow or buy so you can look for bargains or sales.
Camping Essentials
Here's a handy list of camping necessities:
Inflatable mattress, sleeping pad, and a warm sleeping bag: Temperature-related sleeping bag grades exist. If you sleep cold, aim for 30 degrees or lower, but if it's a hot summer night, you can get away with a blanket or even a lighter bag. Bring extra blankets and towels for the colder nights as well.
Tent, mesh netting, or waterproof cover and tarp: If you're not sure how to set up your tent, look for demos on YouTube or at an outdoor outfitter.
Extra garbage bags: You'll need these to transport everything, and they're also useful for keeping things separate and dry.
Headlamps, lanterns, and flashlights: There are obvious practical reasons for this, but you'll also need them if you want to stay up late telling scary stories!
Camp chairs or a camping hammock for unwinding: Whatever activities you have planned for your family camping trip, consider returning to camp while there is still plenty of light. Without stumbling around in the dark, you can get the lay of the land, start a fire, set up the tent, and get everyone ready for bed. Camp chairs are especially useful for sitting around the fire or if there aren't any picnic tables available.
Depending on the site amenities, a portable toilet, shovel, or WAG bag may be required: The location of your business is a significant transition for newcomers. Read up on Leave No Trace etiquette and talk to your kids about what this means for your family camping trip – and if you're not comfortable going in the woods or an outhouse, opt for a campsite with bathrooms or a glamping resort instead.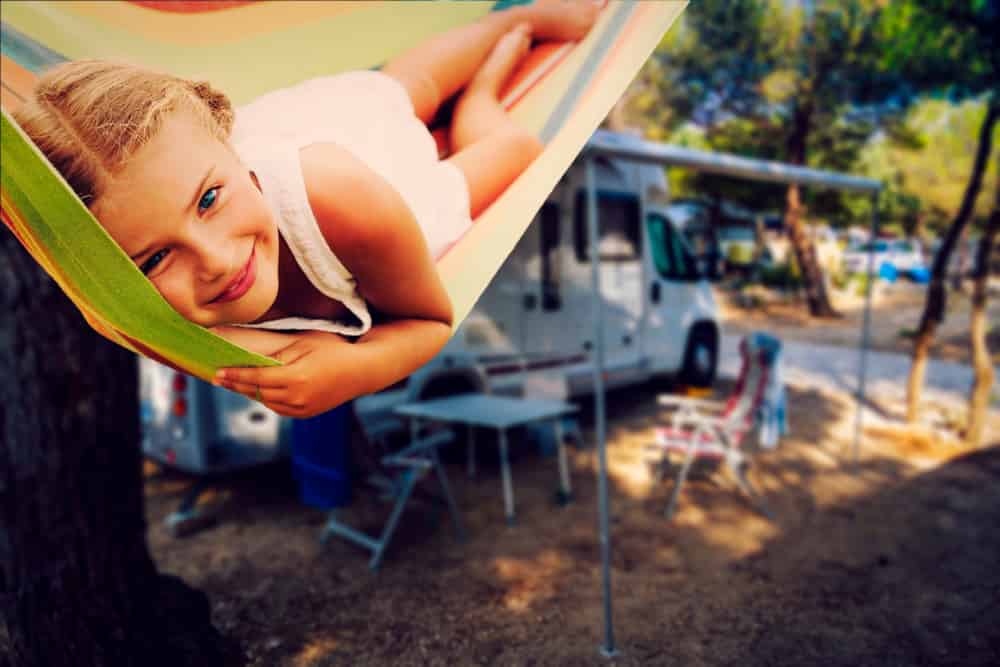 Extra toilet paper or paper towels: Bring a little more than you expect to need. You will not be sorry you did.
Everything tends to taste better in front of a campfire! Many locations have fire pits or grills, allowing you to cook directly over an open flame. Take note that some parks do not allow fires, so carefully read the rules and regulations before selecting your family camping spot.
You don't have to eat plain old cereal or dehydrated jerky for snacks or meals (unless that's what you want). Bring ingredients in individual plastic bags that have been measured and prepared so that everything is ready to go. Learn about healthy and fun meal ideas for dinner after a long day outside, as well as for getting your family up to a great start in the morning.
Kitchen Essentials
Here are the essentials for family camping:
Any food items should be stored in a plastic bin, cooler, or bear bag: Never, ever store uncooked food inside your tent. Keep everything in a closed plastic container or cooler in your car, or bring a bear bag if you're going backcountry camping.
Water bottles, filtration or iodine tablets, and a larger water container: Some campgrounds have potable water, while others do not. Never drink from a stream or lake without first filtering the water. Better yet, bring enough drinking water with you.
A propane stove, fuel, a large pot, cast iron skillet, cooking utensils, or griddle: Plan ahead of time what you want to cook and bring the appropriate cooking utensils. Camping is not the time to experiment with new recipes: Choose simple, hearty meals and kid-friendly favorites such as hot dogs, and hamburgers, and the classic s'mores and marshmallows for snacking later.
Mess kits: Everyone in your family should have their mess kit, complete with plates, utensils, and, of course, s'mores roasting forks.
Of course, the most enjoyable aspect of family camping is fun! Depending on where you're going, you'll probably spend your days swimming, fishing, climbing, or hiking. However, a few extra items can make the trip even more memorable – and help your children unplug.
Here are some additional items to consider bringing when camping with children:
Strong sandals and well-worn hiking boots for around camp
Beach balls or frisbees
Smaller kid's packs or child carriers in addition to your backpack
Shade cloths or blankets
Portable speakers for listening to music
If you're camping near a beach or lake, bring buckets, shovels, and pails for building sand castles.
Card games or board games
Journals or art supplies to record your discoveries
Also, make sure you have a first-aid kit before you leave. Many ranger stations and campgrounds provide basic first aid, but the further you go into the wilderness, the longer it will take for someone to reach you in the event of an emergency.
It's always a good idea to keep the essentials on hand just in case. These are some examples:
Prescription medications that everyone takes regularly or needs to have on hand
Hand sanitizer, gloves, and cleaning wipes
Antihistamines and allergy medications
Aloe gel and sunscreen
Bandages and gauze for cuts and scrapes
Cortisone cream and insect repellent
Sore muscle pain relievers
5. Sound Sleep
The most common concern you might have heard about camping with kids is how to get them to sleep in unfamiliar surroundings. Questions such as "what if they never fall asleep?", "What if they get too cold?", "What if I wake them up?, and "What if they wake up raring to go at 4 am?" are normal. The list of concerns is long, but the family memories are well worth it! Here are a few things to know about sleep before camping with kids to help you take control of things:
Make a plan for your sleeping arrangements ahead of time, and practice at home if possible. When you consider your camping gear, the use of a portable crib, and sleeping mattresses/pads, you may discover that a 4-person tent is simply not large enough to accommodate a family of four.
Warm, safe, and comfortable sleep is essential. Check the weather forecast and bring extra layers if necessary. If it's going to get cold, you might want to bring an extra blanket to put under and over your sleeping bags. Creating a safe and warm sleeping environment for babies and young children can be difficult. A sleeping bag designed specifically for children is an excellent choice for assisting them in regulating their body temperature at night.
Be flexible with bedtimes if at all possible. That doesn't mean you should abandon your routine, but with little escape from the sun, it may be difficult to get kids to sleep at their usual time. Allowing them to stay up an extra hour will feel like a treat for them and will mean less struggle for you when it's time to crawl into bed.
Tire them out! Because there is so much to discover, this is usually quite simple. Plan activities that will require a lot of energy, such as biking, swimming, or hiking.
Camping Tips for Families with Kids
Last-minute Preparations
Before you leave, remember to go over last-minute preparation points such as:
Prepare and pack ample snacks/entertainment for the trip there
Confirm and print camping reservations
Print and go over packing lists
Purchase enough groceries and supplies
Rent/borrow/purchase any remaining supplies that may have made it to your checklist at the very last minute
Make a comprehensive meal plan
Examine and record the weather of your planned destination for the time that you'll be staying there and make the necessary adjustments to your packing list
Stop receiving your newspapers and mail
Request that a neighbor or friend look after your plants and pets while you are away
Not Everything Will Go As Scheduled
Recognize from the start that not everything will go as planned! Things can change even if you have spent months planning. That's part of the fun of camping; how you deal with the unexpected can lead to interesting stories in the future. Simply go with the flow and enjoy your camping trip.
Accept the Dirt
When kids go exploring, they will get dirty. Encourage your children to go outside and play in nature, climbing trees and making new friends. If you want to keep your tent dirt-free, keep a bucket to wash your feet in and a towel at the tent's entrance.
A fitted blanket should be placed over your mattresses to protect them from in-ground sand, food, and dirt. Keep your sleeping bags rolled back during the day. This will keep you from having a restless night's sleep. Keep a lightweight broom and a dustpan on hand to remove dirt as needed.
Reverse-pack Everything
Pack your car in the opposite order that you'll need to access your camping gear. Consider putting the toys in first, then the clothes, then the food and cooking supplies, and finally the tent supplies. That way, when you arrive at the campsite with the kids, you can quickly set up camp without having to dig through the trunk!
Activities to Do with Children While Camping
There are a lot of fun things that you and your children can do together while camping! Some of these activities may not be available at every campground, so make sure you double-check their availability before making a reservation!
Hiking. Virtually every campground will be within convenient walking distance to an array of hiking trails. Aim to pick shorter ones if your children are younger, or if anyone in your family is an inexperienced hiker.
Biking. Bring your bikes along and enjoy some of the biking trails that many campgrounds offer!
Swimming. A lot of campgrounds have lakes that campers can take a dip in. Make sure you only swim in designated swimming areas, and that you teach your kids water safety first.
Bird watching. Heading out with some binoculars to look for various bird species can be a fun way to teach your kids more about nature and its inhabitants. This is also a great chance to teach your children respect for nature.
Fishing. A lot of campgrounds will have designated fishing areas. You may need a license or permit to fish in these locations, so make sure you check local laws first.
Conclusion
Things WILL go wrong when traveling with children. There will be stressful moments: you will almost certainly forget to pack something, someone will be hungry, and someone will complain, and that's fine! Those are the moments that make the best stories and family memories.
However, when you have a packing list and know a few things here and there before camping with kids, this will help make everything run more smoothly. You'll have a memorable, fun, and hopefully relaxing time outside if you manage your expectations, hope for the best, and prepare for the worst.