Camping is a fun outdoor activity that can be enjoyed nearly all year round, depending on where you live. Add kids to the mix, and your family camping adventures take on a new level of fun, but also a special set of things to consider, such as what to eat, what to pack, camping gear, planned activities and so much more. Here is your MomsWhoThink Ultimate Guide to Camping to ensure you are set up for success and that your family camping experience(s) create treasured memories that last a lifetime!
First things first. Where will your family sleep when you go on your camping trip? Well, a tent, of course! We have rounded up 12 amazing family tents perfect for all family sizes. From waterproof to extra-large to tents with separate rooms, here are your top family camping tent options!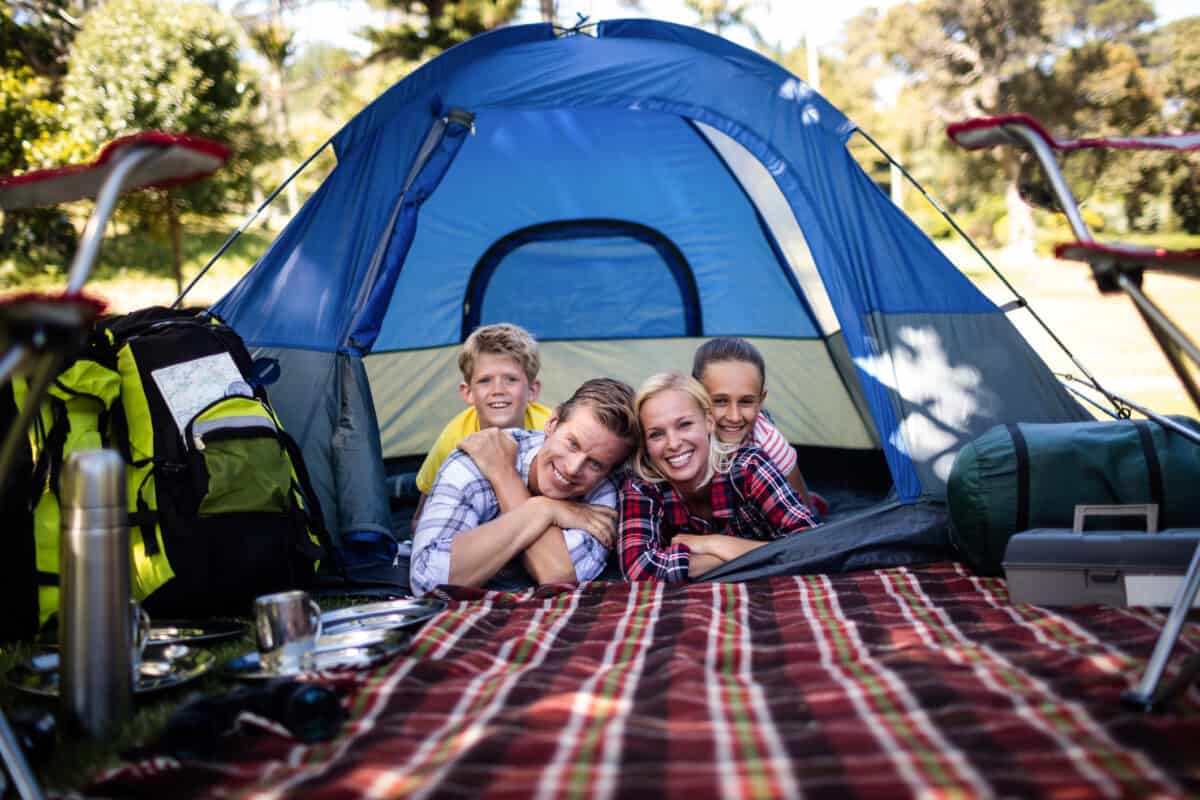 Consider this Camping With Kids Checklist your high-level look at the various things you'll need on your camping trip. From the obvious items like a tent and sleeping bags to the easy-to-forget things like a first-aid kit, consult with this list at the beginning of your planning and create your packing list accordingly.
If you're new to the world of family camping, fear not! It can seem overwhelming, but it doesn't need to be. Consult our "Family Camping for Beginners" article to get useful tips to get started.
Babies are always up for a new adventure. So if your family loves the great outdoors, then why not take the whole family — including your baby — camping? A little extra preparation may be needed, but it's totally do-able and will no doubt be a memorable experience!
Aside from perhaps the tent, food is an obvious part of your pre-camping planning. In addition to three meals a day, you'll need between-meal snacks and the must-have s'mores fixins. Check out this article featuring easy camping meals for families and you'll be all set!
From flashlight tag and Charades to Alphabet Hunt and scavenger hunts, these are the camping games your family will love!
We're big fans of adding a special touch to family affairs to ensure they're unforgettable. And family camping shirts definitely fall under that umbrella. From how to DIY to where to order, you'll find everything you need to add in this extra layer of fun to your camping adventures!
If you have a family member who is ALL ABOUT camping, this camping basket is a fantastic gift idea! You can completely customize it to their tastes and age, and it can even be a fun gift to give as you leave on your family camping trip to build the excitement.
Want great ideas for family activities, kid-friendly recipes, party ideas and SO much more? Subscribe to the MomsWhoThink weekly newsletter! Click HERE.
The image featured at the top of this post is ©iStock.com/omgimages.