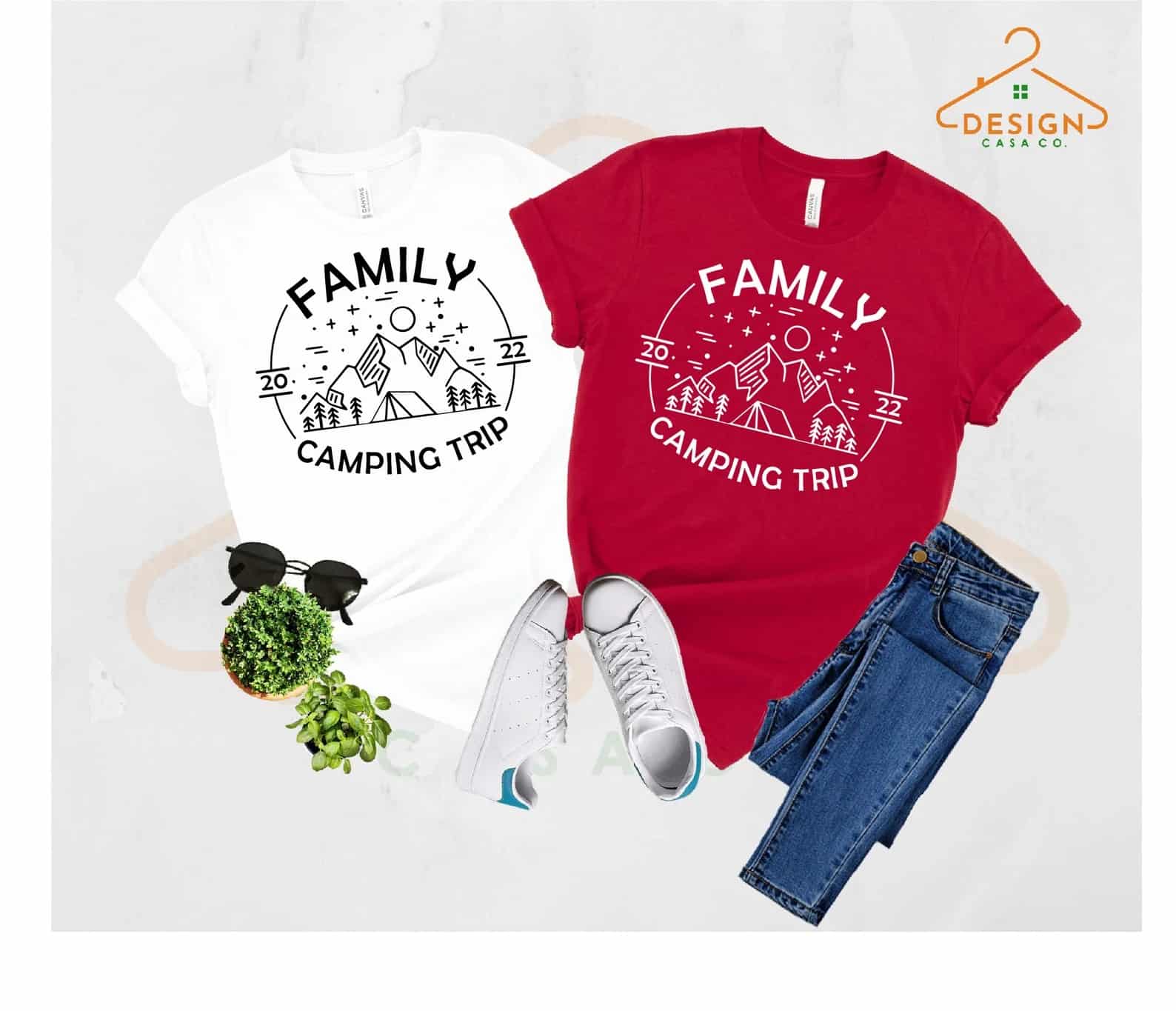 Camping is a great activity for families of all sizes — it gives you the chance to spend more time together and form strong relationships that your kids will carry with them for the rest of their lives. As you start gathering the items on your "Camping With Kids" checklist, make sure you don't forget some cute family camping shirt. Whether you DIY your family's tee shirts with the kids, or you order matching tops, this simple garment can bring a surprising element of fun to your family's camping adventure!
Let's take a look at some options …
DIY Family Camping Shirts
Start With the Tee
It can be a super-fun artistic endeavor if you make your own camping shirts — you can feature any design you have in mind (and so the kids), but it all starts with the shirts. Whether you opt for plain white or go with a bright, bold color, you'll be able to find both fairly easily both online and off. Michael's and Hobby Lobby along with other craft stores offer a wide selection of cute tees. And websites like Jiffy Shirts offer smaller or larger sizes.
Definitely opt for cotton shirts because they are breathable. When you're running around your campsite and playing with your kids, you don't want a shirt that weighs you down. In addition to simple tees, look for other styles that your family might love. You can pick out tank tops for the women and v-neck shirts for the guys. There are also crew neck styles along with baseball tees. You may even want to pick up some matching styles for your four-legged family members. It's easy to find cute styles that cost $10 or less.
Iron-On Transfers
When it comes to the designs, you have a few options. Many craft stores sell iron-on transfers that are easy to use. Options include both plain and colored sheets and more ornate choices such as glitter or glow-in-the-dark. You simply wash and dry the shirts ahead of time, and print out a design on the transfer (or purchase pre-designed transfers). Lay the shirt flat, place the transfer sheet on top of the fabric, and use an iron on a low setting. You'll run the iron over the entire back of the sheet, which transfers the image onto the tee. Voila! Your very own custom-designed family camping shirt!
When it comes to iron-on designs, you can let each family member pick out or make their own, or you can go the matching route. Both options are fun and will get the family excited for the adventure!
Tie-Dye and Fabric Paint Camping Shirts
Tie-dye is another popular option for family camping shirts. All you need are fabric dyes in different colors and containers to hold them along with some rubber bands. You'll divide the shirt into sections and wrap rubber bands around each one. Mix the dye according to the package instructions and dip the shirt into the dye, using just one color at a time. Once the shirt dries, you can remove the rubber bands and check out the fun styles you created. Wash them (by themselves or with dark colors) and dry before you wear them.
Fabric paint gives you another easy way to customize your family's camping shirts. Most craft stores have a wide range of paints that work on fabric. You can choose a paint that glows in the dark or dries to a metallic sheen or choose neon colors that help you stand out in a crowd. Make sure you read the instructions though. Some fabric paints require that you wash and dry the shirt after the paint dries to set the design. This ensures that the paint won't flake off. You need to make sure that your shirts are ready for all of the adventures you plan.
Purchase Matching Family Camping Shirts
Not everyone feels as confident in their crafting skills as others do, which is why you might decide to buy shirts that come already printed. While you'll often see matching tees at family reunions, family camping trips are another great place to flex that fashion. After all, it's hard for your teenager to roll their eyes and pretend they don't know you when they wear the same tee as you! If you have younger campers in the family, identical t-shirts can help you quickly find your kids at a crowded campground.
You have plenty of options when it comes to finding matching family shirts for your next camping trip. Etsy has tons of sellers that make matching t-shirts for all types of gatherings. Here is one shirt option on Etsy. And here's another option. Go to etsy.com, and search "family camping shirts" and find the design you love most!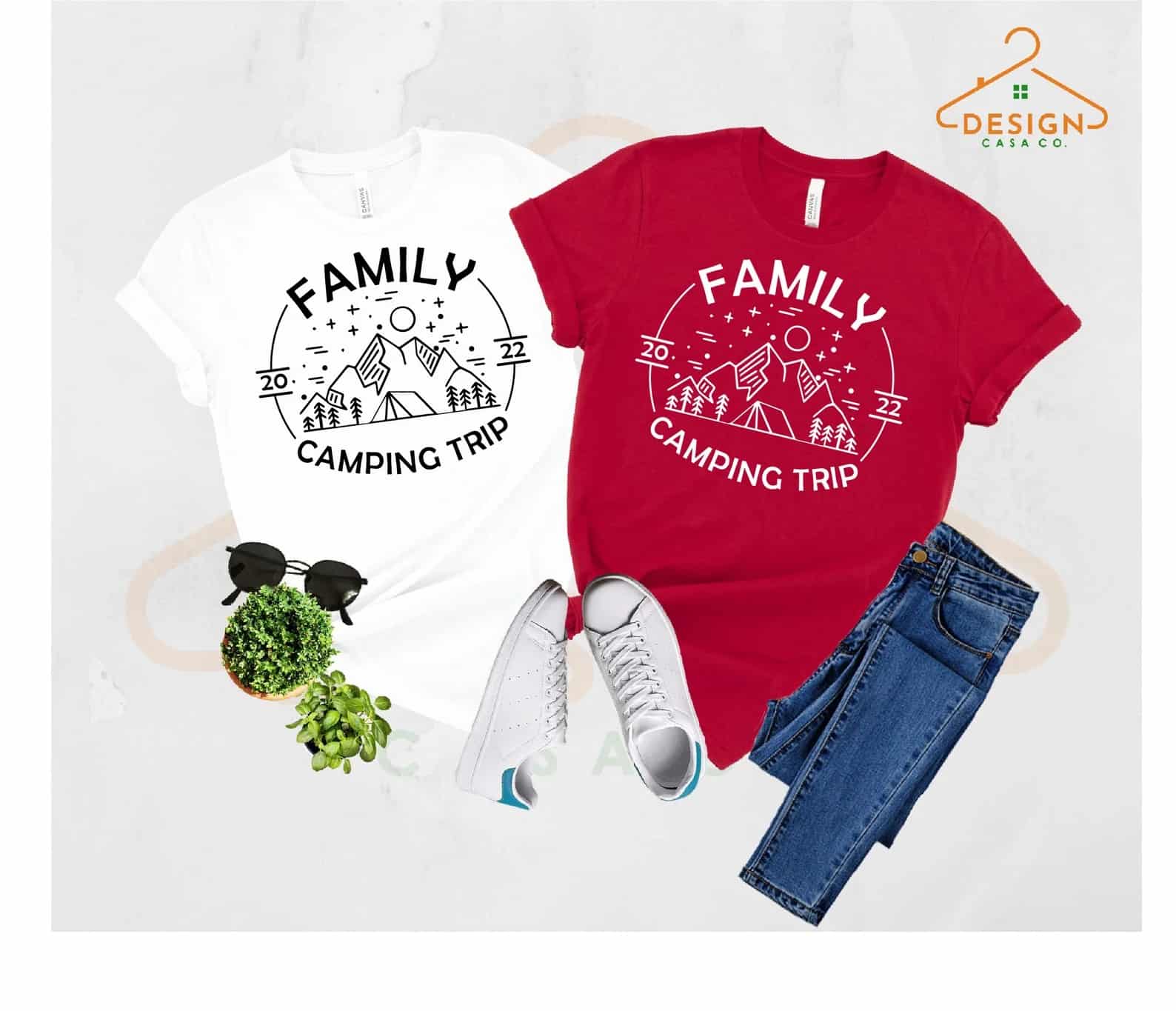 Amazon is another good source for family shirts. Though you can't customize the design, some options will let you add your family's name. Plus, you will find comfy shirts that come in different colors and sizes. If you have family who lives far away, you can share the link through email or on social media and let them buy shirts before you get together.
Custom Ink offers great designs for any type of event. One of the nice things about this site is that you can design custom shirts from the comfort of your home. You can add text to include the date of your trip and other info and add art that you saved on your device. If you already have a design that you want to use, Custom Ink lets you upload it and see how the design looks on a shirt. Plus, you can see how. much it will cost to have them print the shirts and deliver them to you. You can even talk to a rep over the phone to get help with your order.
Some of the other top places to order matching shirts include Redbubble, Walmart, and Zazzle. Whether you have a big family reunion coming up with members flying in from across the country or want to have fun on a camping trip with your kids, make the adventure a little more special than those you took in the past with matching camping tees you buy or make.