Your 'tween has a birthday, and you have a dilemma: Your child has totally outgrown Paw Patrol and My Little Pony, yet they still want to have a party, and you still want it to be a magical, memorable celebration. So what's a parent to do? Check out this extensive list and get some fantastic and fun ideas for both boys and girls. If their younger siblings are joining in on the fun then be sure to check out our other age-appropriate birthday party ideas!) Finally, keep scrolling to the end for 14 NO-FAIL GIFT IDEAS for tween boys and girls!
Key Points of a Tween's Birthday Party
This will most likely be the last planned party in the childhood sense. You're not so little one is most likely about to enter middle school or your education system's equivalent. Social circles and 'cliques' are going to be fairly developed. Having your child's input is vital as what works for a 7 or 8-year-old's party will not work at a tween's party.
Be especially mindful of who comes to your child's party. Your child's social circles are probably mostly formed and who does and doesn't get an invitation has a high chance of causing hurt feelings and stress the following day or week at school.
Thankfully you can be far more 'hands-off' for this party planning as your child's higher level of independence and interests will have them be the chief party planner.
Activities will depend on who is coming to the party. Be mindful of age groups and interests around the board.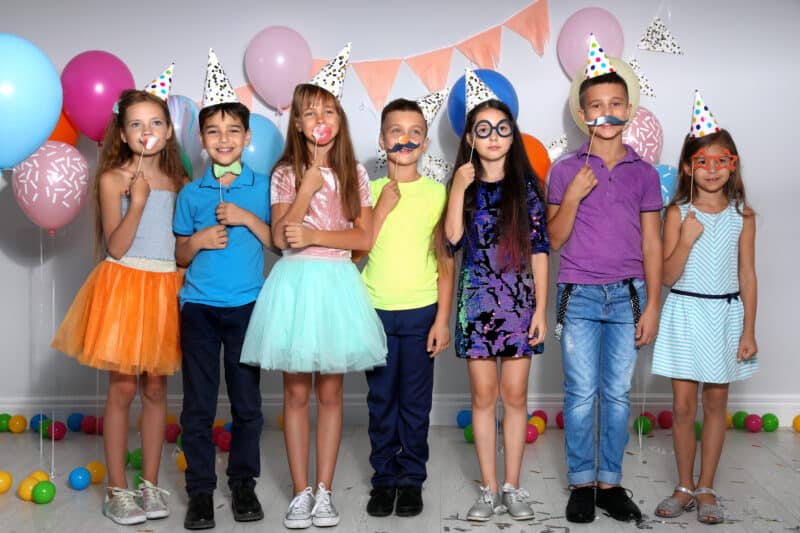 Planning the Guest List & Schedule of Events
First things first — let's review some obvious reminders that may bear repeating. First, be considerate of who is invited. Know your kid's friends and be thoughtful in regard to who gets an invite and who doesn't. Know that word spreads fast about parties, and there may be some kids on social media at this age (although the recommended age is 13+), which helps fan the flame. Giving a gentle reminder to your child that it's best to keep party conversations private may help avoid anyone getting hurt feelings.
While this seems to be self-explanatory tweens are quickly moving through their Eriksonian Stages. According to Scholastic, the Eriksonian Stages are the time between 11-13 when children are becoming around of their place in their world and the 'roles' they are supposed to fill. This, combined with the early stages of puberty can lead to a heightened level of self-consciousness and the ability to understand other points of view. Combining this with a certain classmate not receiving an invitation over another is a recipe for a rough daily school report. This may even end up with a phone call or text message from an upset parent.
Additionally, having a set schedule of events and activities will keep things moving nicely and will keep everyone engaged, which can keep things from getting too wild — or boring. Even if it's just an approximation of timing, if you have a general idea of activities and the order in which they'll be carried out, it will keep things flowing smoothly — which is always a party win!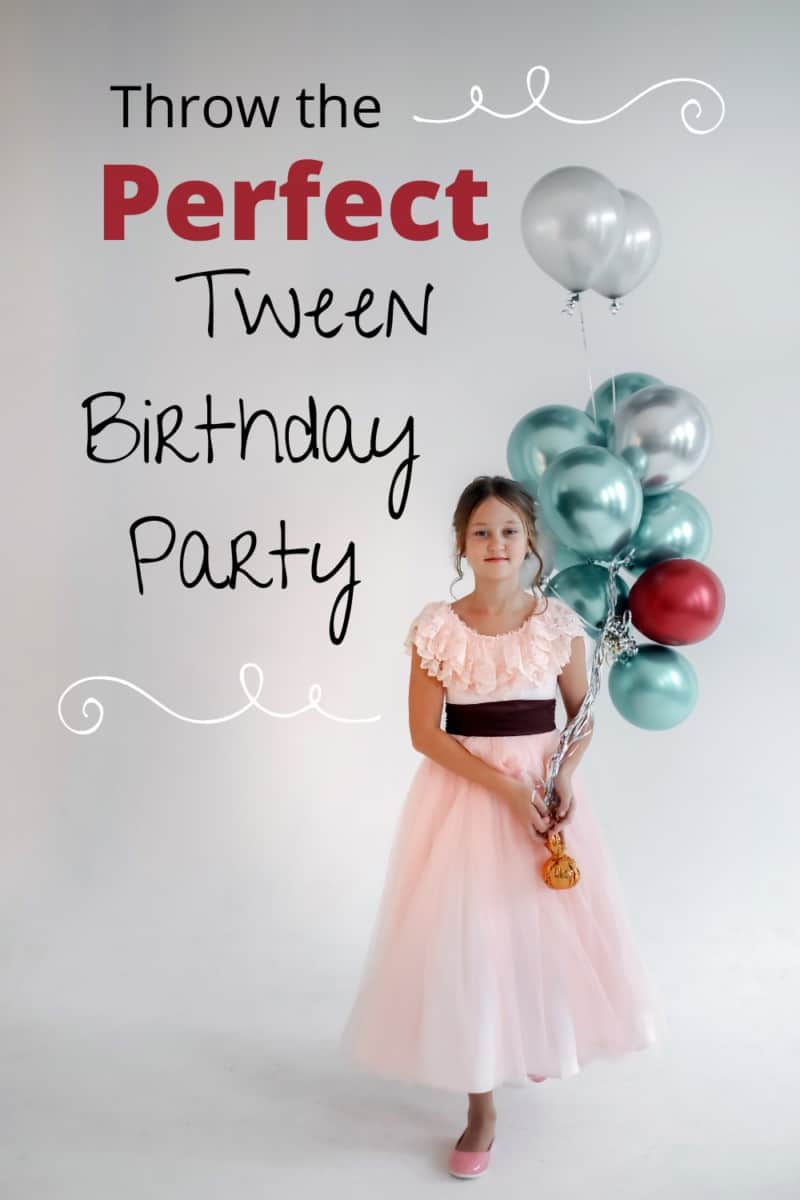 Themes & Party Ideas for 11-12-Year-Olds
Slumber Party with Movie Marathon
Nothing beats a good old-fashioned slumber party, and it's an activity that works for boys or girls. Clear space on the playroom floor for sleeping bags and queue up a list of entertaining movies that can be binged throughout the evening. To find age-appropriate suggestions, Common Sense Media offers a wealth of ideas and provides solid reviews by its vetted group of parent reviewers.
A fun twist on this idea could be a backyard camp-out. Hang a sheet up, and snag an affordable projector, and you can have a big-screen experience outdoors. To make it more personal have your child pick out a few different movies and host a double feature!
Round out the experience by purchasing inexpensive popcorn containers for each guest and a big bag of popcorn (or pop your own) to fill them. Also, swing by the drugstore to get some boxed candy, just like they have at the movie theater. And don't forget the drinks!
Scavenger Hunt
A scavenger hunt is a good team activity that you can do with as few as four kids with two teams, and there are two ways you can approach this activity. First, you can have a simple list of things each team is to collect, acquire or make and return to "base" by a set time. OR, you can pre-plan the hunt by stashing prizes and goodies at a pre-established set of destinations which will also have the next clue. These hunts can take place around the house or yard, around the neighborhood, around a park, or anywhere with ample amounts of space. You can even get some adults to drive the teams around if you want to make it a city-wide hunt. Get creative!
Party Around an Activity
Keep the action moving with a party that is centered around a particular activity — roller skating, go-karts, batting cages, mini-golf, escape room, arcade, bounce house, ceramics or painting place, or any destination with activities like these. You can often get a party package cheaper than individual tickets for each guest (depending on the size of your guest list), and oftentimes, the packages include a staff member who steers the party schedule. Be sure to find out how many guests can be included, whether cakes are provided or you bring your own, the length of time included in the party package, etc.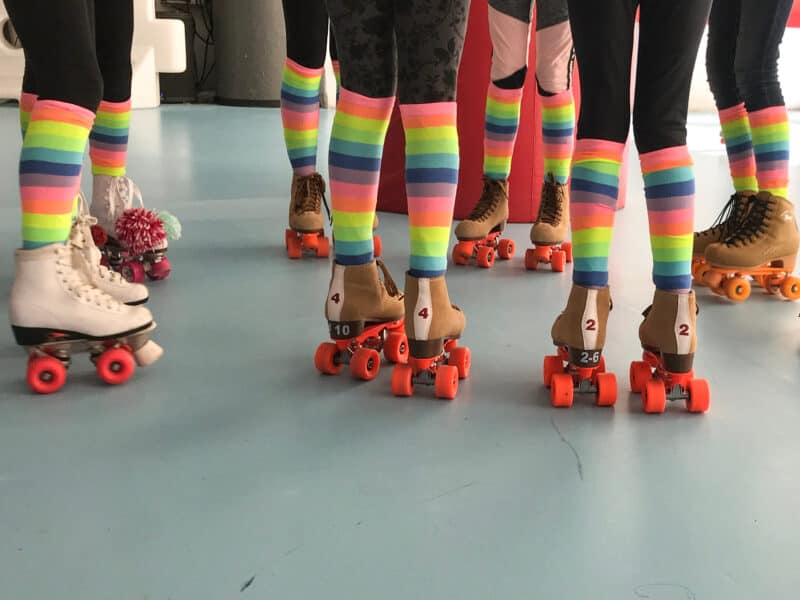 Menu Ideas
If you choose to have your 11-12 year old's party at a place ( a la go-karts, escape room, etc.), then pizza is always a sure hit. Be sure to get plenty of plain cheese and a smaller amount of pepperoni for the more adventurous eaters. If you're having the party at home, the options are ENDLESS! You can have a taco or nacho buffet where each guest makes their own just the way they like it. Or you could grill burgers and dogs and serve them with chips and slaw. You could even order a super-sized sub sandwich from your local deli and get a few different types for variety.
If you're eating at home, don't forget utensils, plates, cups and napkins. Disposable (ideally compostable) is easiest, without a doubt, but even durable plastic plates you can easily throw in the dishwasher are just fine too. A fun idea is to include a reusable curly straw, which can go home with the guests as part of their party favor.
Finally, LET THEM EAT CAKE! If you're a skilled (or passionate) DIYer and want to bake your child's cake, go for it! Otherwise, you can go to a big-box grocery and have a sheet cake customized, or do a quick Google search for a local baker in your town who can whip up something special and one-of-a-kind.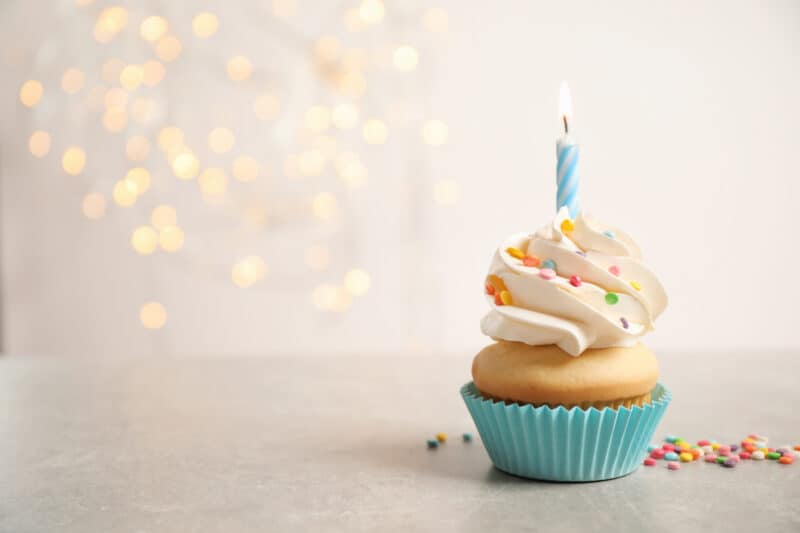 Goody Bags & Party Favors
While the phrase "goody bags" has a decidedly juvenile feel, everyone still loves a good party favor at any age. So give the people what they want! If you do a scavenger hunt, send the participants out on the hunt with a cloth bag with their name on it (iron-on letters for the win!!), and the goody bag can be built as they hunt — put the appropriate number of prizes or goodies at each stop on the hunt, and they can collect them in their bags. If you opt for the movie route, fill the popcorn bucket with candy and other small items that are relevant to the films being shown. Another fun idea that doubles as an activity is tie-dying an item — t-shirts, bandanas, socks … anything really! Or consider getting some paint pens and plastic picture frames. Let them each decorate their own, take a group photo of the party crew, and print off pics on your at-home printer or send an adult to print them at the drugstore. Each guest can go home with a treasured photo to remind them of how much fun they had!
Let's Talk Gifts! Ideas for 11-12-Year-Olds
Coming up with birthday gift ideas for 11- and 12-year-olds need not be difficult. There are a multitude of options available that range from educational to artistic to just plain fun! Here are some great ideas that are sure to delight you! However, this list is designed to give you ideas. The best gift will be the ones from your child's wishlist.
Daybetter LED Light Kit
Tweens are nothing if not into self-expression. Let them light things up and shine the light their way with this LED Light Kit from Amazon. Control the colors and light patterns via Bluetooth and the compatible app, and they'll be shining bright well into the night! Find these for $29.99.
Happy Face Pillow / Bluetooth Speaker
Every tween has their preferred music — let them be happy while they listen with this adorable happy face pillow with Bluetooth speaker from Urban Outfitters. The 14-inch-round pillow is Bluetooth-enabled to pair with their iPod or cell phone and has a playful checkerboard pattern. Find it for $38.
Tangle NightBall Basketball
The sports-loving tween of your home will love Tangle NightBall Basketball. Give a dribble, and the motion-activated LED lights illuminate to give the ball a celestial glow. Take the game well into the night with this unique sports gift. Find it at Fat Brain Toys for $25.95.
Kids' Chess Set
Inspire a love for a more slow-paced activity that challenges the mind with this Kids' Chess Set from Etsy. The portable set also includes backgammon so they learn two classic games at once. The solid beech wood board is handcrafted and varnished and can be personalized for an added touch. Included in the set are 32 chess figures and 32 playing pieces with velvet bottoms as well as a pair of dice, and it all comes neatly stored in a compact branded case. Find it for $259.99
Crosley Turntable
Retro is so now, which means your tween will LOVE to have their very own record player. This Crosley Radio Cruiser Deluxe Turntable blends the best of old and new as they can enjoy the classic sound of vinyl but with modern Bluetooth compatibility. Available in tourmaline or white sand color options, find the turn table for $69.95 at Nordstrom. You can expand on this gift by taking them to a local record shop and letting them pick out a vast array of classics that maybe even your grandparents enjoyed for often times less than a dollar a pop.
Dr. Martens Lace-Up Boots
For the fashion-focused tween, a new pair of Dr. Martens lace-up boots will be a celebrated gift. Available in tons of styles, colors, and leather finishes, we are particularly drawn to this pair of patent leather lace-ups. Available in blue, black, pink, and white, these durable boots are fashionable AND functional. Find them for $75 at drmartens.com.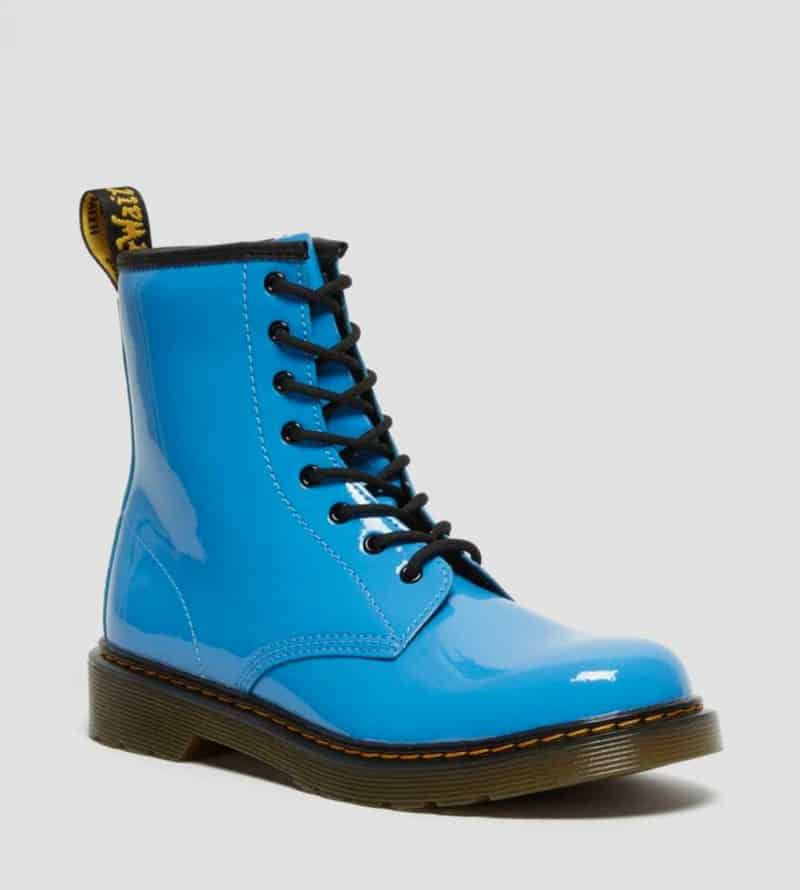 Craft & Beauty Box
If you have a crafty kid, this craft and beauty box from Etsy will be a thrilling gift to unwrap. The kit includes three crafts — a clothespin photo collage holder, a washi tape birdhouse, and a clipboard decorating project. Plus, when they're done crafting and ready to be pampered, they can dig into the spa components and relax! Find it for $43.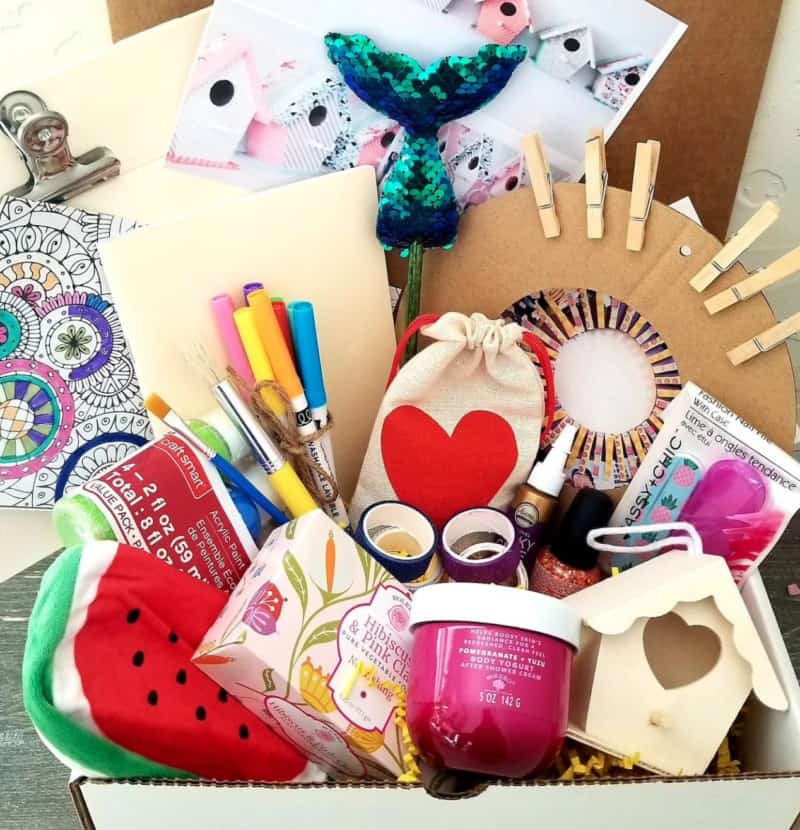 Wallet
Whether your tween is stashing birthday money or has lawn-mowing/neighborhood work earnings to keep up with, they will love this personalized leather wallet. The bi-fold design measures, when closed, 3-by-4-inch and can be ordered with or without personalization. Find it, starting at a modest $12.99, on Etsy.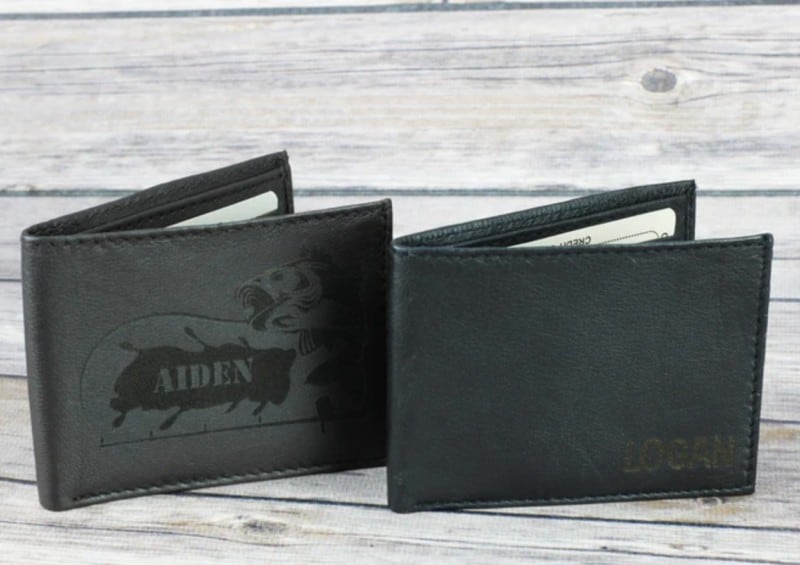 Necklace
For a dainty but delightful gift for her, check out this necklace we spotted on Etsy. The 100% sterling silver necklace is customized with two charms — one with the person's initial and the other with their birthstone. An adjustable length help determine the perfect drop length. Find it for $34.85.
Karaoke Mic
For the budding star or TikTok-famous tween, they will LOVE unwrapping the BONAOK karaoke mic. Available in 11 different colors, the microphone works wirelessly via Bluetooth or with a cable. Connect it to a phone or computer, cue up the music track, and sing your heart out! Find it for $31.99. Just be careful with where exactly they are allowed to use it as it can easily connect to more than just their bedroom speaker.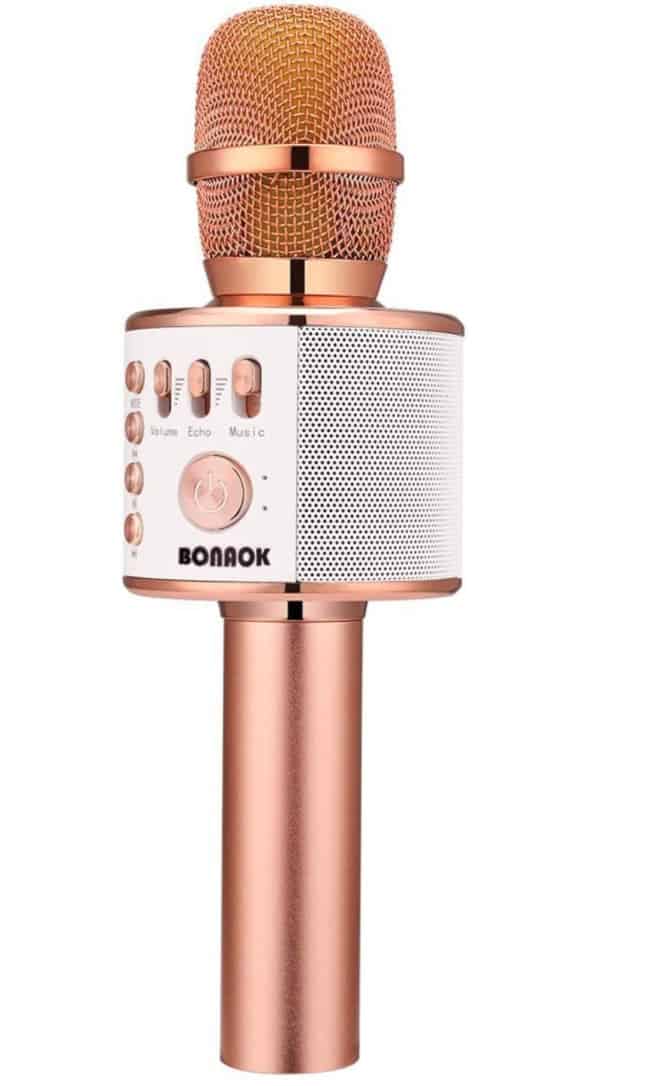 Custom Beanie
Every kid enjoys a one-of-a-kind gift that no one else will have. You can win BIG points when you gift your tween a custom beanie from ShXt That I Knit. Select the beanie style and the type of pom to go on top, and you'll have a custom piece they'll love. Pricing starts at a hefty $135, but you can't put a price on originality!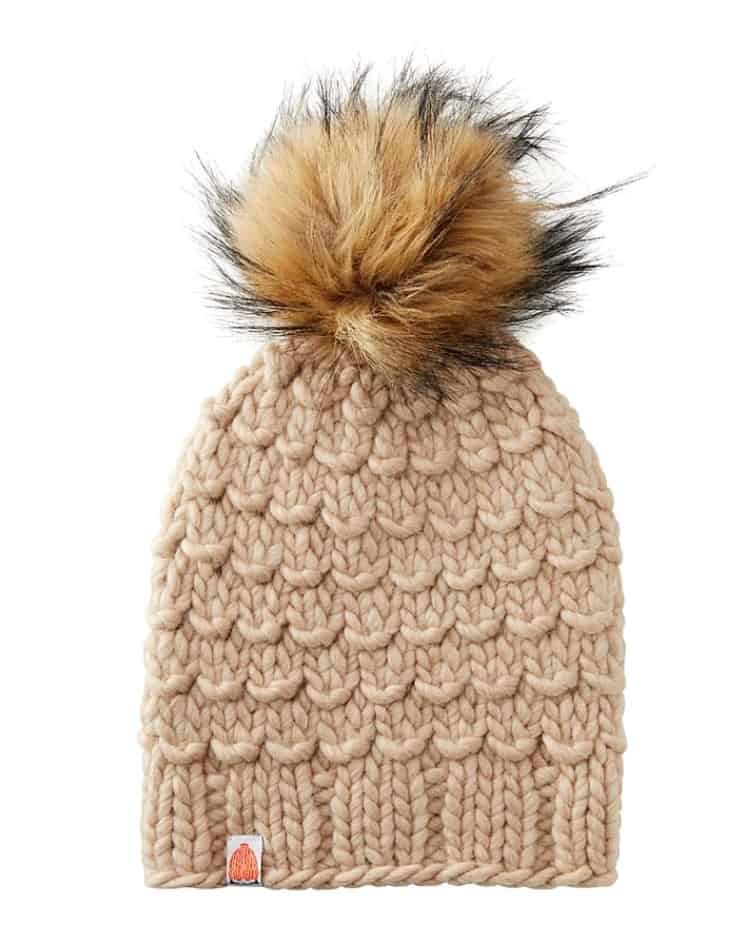 Spikeball
For the competitive kid, Spikeball will hands-down be a hit. The four-person game can be played indoors or out and is a tremendous amount of fun. Adjust the net to the desired tightness to increase the challenge. Find it for $69.96.
Happy Socks
From food themes to popular characters to cities around the world, Happy Socks has a pair for every person on the planet. Whether you buy one pair or a gift pack of multiples (12 Days of Christmas, 7 Days of the Week, etc.), you're bound to find an option that the most stylish tween in your life will love. Find them for varying prices.
Sherpa Throw Blanket
Your tween will love nothing more than to cozy up in their very own Sherpa throw. This waffle weave sherpa throw blanket from Pottery Barn is available in five different colors, and each features an incredibly soft sherpa backing. Find it for $79.
Follow MomsWhoThink on Pinterest for more great party ideas, baby names, family-friendly recipes, and more!
The image featured at the top of this post is ©Monkey Business Images/Shutterstock.com.