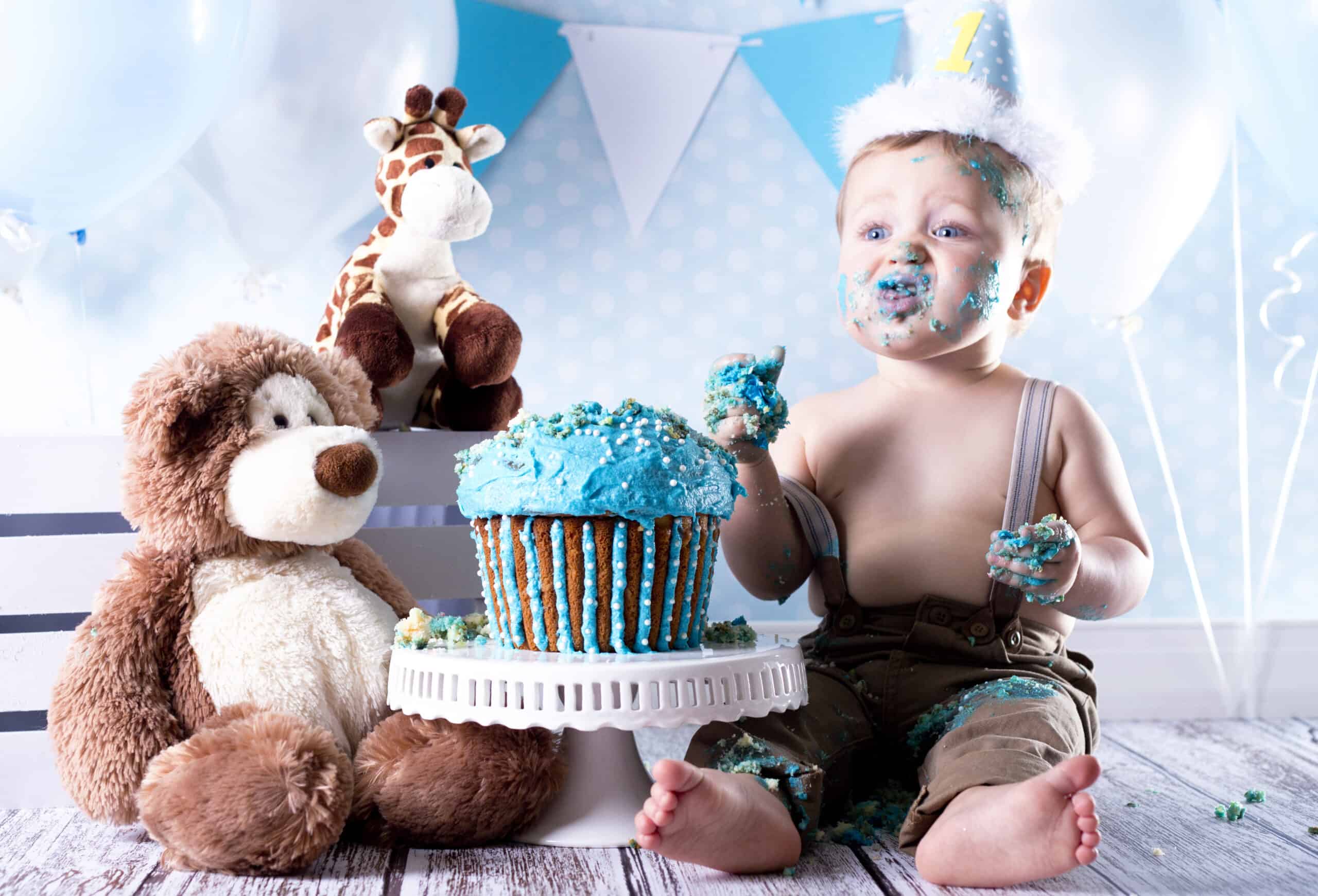 Birthday parties are a lot of fun, but planning them can take a lot of work. Planning birthday party for one year old babies is a big deal, and most parents are willing to do anything to make it perfect.
Here's everything you need to know about planning your baby's first birthday party including some simple first birthday party ideas. Remember to have fun and take in the moment while creating some fun memories.
First Birthday Party for Boys
If you have a special little boy in your life who is turning one, it's important to throw him a great party. Little boys are fun, and so are little boy birthday parties. When it comes to planning the perfect boy's birthday party, you can go several routes. You may choose a traditional type of party, or you may want to spice things up with something a little different or unique. Here are some adorable themes to consider:
Dinosaurs
Monster trucks
Race cars
Construction
Camping
Planes
Animals
Cartoon characters
First Birthday Party for Girls
Little girl parties are fun to plan. There are many ways you can celebrate the birth of a special little girl in your life. You can go with her interests, choose a color, or just celebrate with traditional décor and snacks. As long as you put your heart into it, you can't go wrong when planning a party for girls. Here are some girl first birthday theme theme ideas:
Baby dolls
Barbies
Princess
Unicorn
Glam
Kittens
Butterflies
Mermaids
Movie characters
First Birthday Party Schedule
Parties can be chaotic. There's a lot to do and a lot of people around. It's a good idea to have a schedule, so you don't forget to do anything, and so your guests know what to expect. The schedule doesn't have to be strict, but it should lay out your plan for how the party will unfold. You can make the schedule to keep for yourself or make a few copies and pass them out to guests as they arrive. A few things to consider adding to your schedule include:
Refreshments
Playtime
Games
Entertainment
Gifts
Cake and Ice Cream
Indoor Birthday Party Ideas for 1 Year Olds
If you are celebrating a birthday during the winter months or are expecting bad weather on the date of your party, you may need to play to have it inside. Indoor parties can be a lot of fun, and there are plenty of fun themes and ideas that work for them. Here are a couple of fun ways to celebrate inside:
Inflatables
If you are able to rent a large gymnasium or another venue, you can rent inflatables for your party. Kids love inflatables, and most are suitable for all ages. This is a great way to keep kids and adults entertained while celebrating an indoor party. Some inflatables can be matched with your party's theme.
Ball Pits
if you are looking for a way to entertain young babies, ball pits may be the answer. You can find them for an affordable price and set them up in your home during the party. This will keep the babies busy, and you can use them in most indoor areas. It's easy to tie a ball pit in with your party theme.
Outdoor Birthday Party Ideas for 1 Year Olds
If you are planning on celebrating in the summer or when the weather is mild, you can plan an outdoor birthday party. Having the party outdoors gives you more room for guests, games, and entertainment. It also makes it easier to keep the young guests busy. Here are some ideas:
Farm Theme
You can do this in your yard or field. Decorate with a farm theme and consider bringing in a petting zoo. You can also encourage the babies and kids to act like their favorite animals during the party. You can easily find or make farm décor and come up with foods that relate to the theme, as well.
Under The Sea
The theme can be used at a pool or in your backyard. If you don't have access to a large pool, you can set up small kiddie pools in your yard. Add sponges, balls, rubber ducks, plastic sea animals, and other toys that babies can use to splash and play. Choose décor and snacks to match the theme.
Unique Birthday Party Ideas for First Birthdays
First birthdays only happen once, so it's important to make sure you throw one that is memorable. If you have a unique birthday party idea for first birthday, it will not only give you plenty of photo ops and memories to share with your birthday baby, but it will also give your guests something to remember and talk about at future parties and events. unique birthday party idea for first birthday
Red Carpet Party
There's a good chance your child doesn't have an opinion about their theme. What could be cuter than a bunch of babies and kids dressed like Hollywood stars? You can have a lot of fun with this theme and even roll out an actual red carpet for guests to walk in on.
Drive-in Movie
For this theme, you can set up a little movie theater in your home or a venue with enough space for everyone. Make cars out of cardboard boxes, use a movie projector to create the large screen, and serve popcorn and candy for snacks. Younger guest and babies that aren't walking can also sit in their walkers instead of cardboard cars.
First Birthday Party Entertainment
If you are going to invite a lot of kids and adults to your party, you are going to need some entertainment. You want the entertainment to be something that one year olds can enjoy and something their parents can assist with. Keep in mind that toddlers don't have long attention spans, so it's probably not wise to plan for entertainment that lasts too long or costs a lot. There are a lot of different entertainment options, but here are some to consider for your party:
Clowns
Cowboys
Puppet shows
Gymnastic obstacles
Face painting
Balloon animals
Petting zoo
Bubbles
Singing and dancing
Games
First Birthday Party Food
Many people prefer to serve food at their birthday parties. You may just want to serve light refreshments, or you may want to serve your guests a full meal. It's a good idea to choose food that goes with the theme of your party. Since the party is for a one-year-old, and there will likely be other babies and toddlers in attendance, it's a good idea to choose foods that appeal to both kids and adults. Here are some foods that you may want to serve at your child's first birthday party:
Small sandwiches
Chips
Crackers
Cheese plates
Relish trays
PB&J sandwiches
Pizza
Hotdogs
Fried Chicken
Macaroni and Cheese
Tacos
Meatballs
Cocktail sausages
Vegetable trays
Dips
Cake
Cupcakes
Ice cream
Cookies
First Birthday Party Themes
When it comes to choosing a party theme, the possibilities are endless. You know what your baby likes, so you may choose a theme that says something about their interests or personality at the time. You can also choose a theme that you enjoy, or that goes with the time of year. If you are planning on decorating for the party, try to choose a theme that will be easy to decorate. Here are a few to consider:
Wild ONE: This theme focuses on wild animals and plays on the number one.
I Dig Turning One: This theme can either go towards construction vehicles or even a dinosaur dig.
Cartoon Characters: If your baby has a favorite cartoon or movie, you can try choosing a theme that focuses on those characters.
Favorite Toys: Many one year old have a favorite toy, such as a train or a baby doll. It can be fun to choose a party theme based on that favorite toy.
Pets: If your child has a pet at home, they likely love it. Choosing a party theme that is based on that pet will not only be familiar to the child but also give you the opportunity for some great memories.
First Birthday Party Venues
Finding the perfect venue for a party can depend on a lot of things. You should consider your budget, the number of guests you plan to invite, the age of the children who will attend, and whether or not you will be serving food made at home or ordering food. Here are a few venues to consider.
Pizza Restaurants
You can't go wrong with pizza, no matter what the age. Pizza places make it easy to arrange for food, and many have party rooms. You can still play games and have plenty of room for your guests. Who doesn't love pizza?
Themed Restaurants
Themed restaurants are fun for birthday parties. Most have some type of entertainment and activities to keep guests busy, which means one less thing for you to plan or worry about. It also makes it easy to plan for seating and food for everyone. Everything is in one place, which makes for a simple party.
Recreational Centers
If you have a local recreational center, you can see if it's available for parties. This will give you plenty of space for games, activities, and entertainment. Some rec centers may even be big enough for inflatables. Rec centers are also affordable.
Public Pools
A public pool can be a good place for a party. Babies love to play in the water, and as long as adults are nearby to supervise, they can do so safely. When you have a pool party, you don't have to worry about planning games and entertainment because most people will enjoy swimming for the duration of the party.
Gymnasiums
Gymnasiums are great venues for birthday parties because they offer plenty of space for guests. You can play games and have room for entertainment. If the gym offers pats and tumbling obstacles, you may be able to use them in place of games to keep babies and other young guests having fun at the party.
First Birthday Party at Home
You don't have to have your party at a venue. You may choose to have it at home. Doing so will give you more time to decorate and prepare food. It also makes it easier to get everything where you need it because you don't have to worry about packing your car with gifts or trying to get the cake to the venue without dropping it or worrying about it falling over in the car.
First Birthday Party Invitations and Thank You Cards
You can't have a birthday party without invitations. How else would guests even know to come? There are plenty of ways you can make or send invitations to ensure that your guests are not only aware of the part, but know when and where you have it.
Online Invitations
Almost everyone uses social media these days, and those who don't, probably communicate via email. Sending invitations online is the easiest and most affordable way to reach a lot of people. You can create online events and invite your guests. You can even communicate about the party on these event pages. You can also email your invitations to guests who may not have social media.
DIY Invitations
Making your own invitations is a budget-friendly option and also allows you to put a personal touch on them. You can make them on your computer, find software online that makes it easier to design your invitations to your liking. You can also use items you already have lying around your home to make the invitations.
Store-Bought Invitations
You can find plenty of adorable invitations in the store. You can find some that are made specifically for one-year-olds. You can also find invitations that are gender-specific. If you have chosen a theme for your party, there's a good chance you can find invitations to match that theme. You can find invitations at party stores, department stores, and office supply stores. You can also buy first birthday party thank you cards in most stores and online.
First Birthday Party Gift Ideas
One-year-olds can't tell you what they want for their birthday, so it can sometimes be difficult to pick the right gift. If you are shopping for your own one-year-old, you know the types of toys your baby likes and the things she needs. It's likely your guests will ask you for some gift ideas. You don't want to tell them all the same thing, so consider offering these ideas to them.
Learning Toys
Learning toys are a great option because they don't just entertain, they educate. One-year-old babies are the perfect age to start learning about shapes and colors. When you make learning fun, kids are more likely to enjoy it. There are many different types of learning toys, including color matching, electronic learning games, and games that help babies develop their motor skills by learning to use zippers, buttons, and Velcro.
Soft Toys
Babies love things that are soft. Soft toys are safe for babies and can be comforting for them. Soft toys are easy for one-year-olds to carry too.
Colorful Toys
Babies love bright colors, so toys that are colorful are appealing to them. Babies can lose interest in things quickly, but bright colors will catch their eyes and continue to spark their interest. These gifts can also help them to learn their colors more easily.
Toys that Make Noise
Kids love toys that make noise, even though parents may not be crazy about them. Noisy toys are often interactive, which keeps babies interested and can teach them various skills. They can learn to talk and make noises that mimic the toys.
Clothing and Accessories
Even though clothing and accessories may not be fun for babies to open, but they can make great gifts. Babies grow out of clothes fast, and it can be hard to keep up with them. Clothes are a practical gift that babies may not appreciate, but will still get plenty of use from.
When it comes time plan a birthday party for one year old children in your life, don't panic. Start planning early so you have plenty of time to get everything you need in time. Brainstorm first birthday party ideas and choose the one you like best. Once you have a plan, you will find that everything comes together pretty easily.
Before we go, here are a few closing thoughts very specific to your child's first birthday party:
A child's first birthday party is a very special time.
Their birth has certainly made the world a better place, and you want to celebrate that. But how do you make it special without going overboard? We've gathered birthday party ideas just for first birthdays. You'll learn how to handle presents, guests, and your schedule to make this a fuss-free day for your baby.
Keep the party fairly short; an hour is about right.
If you over-schedule your one year old's party with activities, games, and guests, your child may have an early and unhappy exit. You may have out-of-town guests that wish to have more time with your child. In that case, keep the formal parts of the party to a minimum, and let your child to have less structured time with extended family. Allow others in the house to go to different rooms for a while so your baby isn't crowded.
Work around naps to help your baby stay fresh and happy for visitors.
A late-morning or mid-afternoon gathering allows for daytime napping. Do everything possible to keep your baby's regular schedule for that day. Try to spread out your errands and preparation over a few days so the party day isn't overwhelming for everyone. Your child will read your frazzled mood and may pick it up themselves.
It is fine to have a few other babies or small children around (with at least a few other parents). However, the first birthday is too early for a children-only party. One-year olds don't appreciate extended social time like older children. Be considerate of anything that could be too overwhelming to your baby.
Instead of one enormous party, have just the immediate family and the grandparents.
Make individual visits to other family members (aunts, uncles, cousins, etc.) so the group stays small. This may not be popular with people expecting one large party. However, a small party is going to be easier for your baby to handle.
Usually, a birthday party includes a big session of opening presents. This is confusing and overwhelming to a one-year-old child. There is a lot of information to process, and they often get pushed along to get more new information with each present. Instead, allow each guest to have a few private moments with the baby to open their present. This could be spread throughout your child's first birthday party, or it could be done as each guest arrives.
Have a memory page for guests to write on sometime during the party. This is the party when memories of the child as a tiny baby will be the freshest. Encourage guests to add their memories so the guest page can be a keepsake for the child. Have a "dream box" with pieces of paper nearby. Each guest can write a dream or wish they have for your child's future.
There is no birthday like a child's first birthday. The memories of babyhood are strong in the minds of each guest. It's also hard to find another year where a child's growth is so obvious. When you celebrate your baby's 1st birthday party, the idea is that you help your baby have fun and stay happy for your whole celebration.