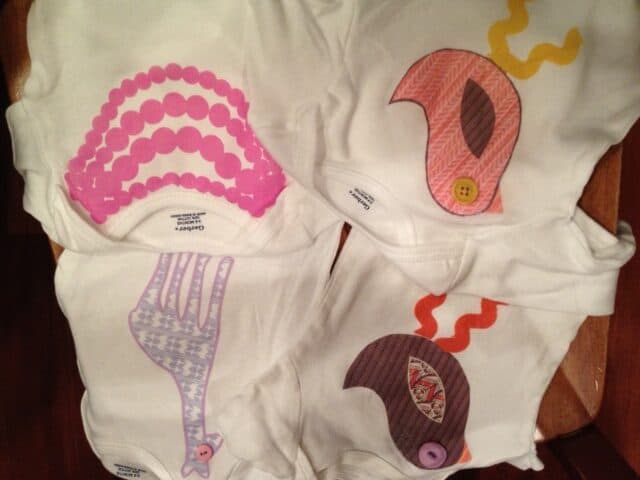 No-Sew Iron On Onesie Appliques
I've been really excited this week about these free applique designs that we made for you!  They can be printed from your own computer onto Iron on Fabric Transfers.  So where did the inspiration come from?  I went to a baby shower once where there was a "onesie station."  We all sat around with fabric paint and markers and decorated onesies.  I thought it was fun and an adorable idea, but none of the onesies turned out cute enough that the mom would actually put them on her kid.  I have seen some adorable appliques that you sew on, but I like to minimize sewing as much as possible!
Use the Free Applique Designs for A Baby Shower Onesie Station
The fun thing about these is they don't cost very much to make, and you can make them very quickly!  You can also customize them however you'd like , which would make them fun for a baby shower station.  I added iron on rick rack to the birds, and buttons for  eyes, and you can add bows or flowers to the necklace design.  We also included some 1-12 , month onesie appliques for keeping track of your baby's growth!  Don't pay for these on Etsy when you can easily print them off from your computer and iron them right on!  If you do these for a baby shower, you can either have the designs already ironed on and then let everyone customize and give them some "bling," or you can have a separate little area for cutting and ironing, and another for customizing.  We have free applique designs  for boys coming soon, so make sure and subscribe to the blog to keep updated.  Tie and suspenders anyone?
The birdie design before I added the buttons and rick rack
I used size 3-9 month onesies
Here are some tips:
*Fabric transfers:  If you buy these from your local store (I bought mine at walmart), make sure you get them from the office supplies section and not the craft section!  I learned the hard way.  The ones from the craft section do not work at all!
*Follow the directions.  Iron on a hard surface, and when you think its ready test one of the corners first.  The paper should peel away without too much force.
* Print onto computer paper to make sure everything fits on the onesie correctly before you use up one of your transfer papers.  If you are using a newborn onesie, you can use the snipping tool, or powerpoint, or whatever program you like to use to shrink things down a little bit.  On the pdf file, just go to "Edit", then "take as snapshot" and then paste it into your program.
*We are offering these to you for free.  We'd love it if you would like our blog on Facebook or subscribe as a thank you!
Have fun!  I'd love to see how you end up using them!
Free Applique Designs: Pearl Prints
Free Applique Designs: Tweet Tweet
Free Applique Designs: Four tweeters
Free Applique Designs: printed giraffes
Check out my post on using iron on transfer paper to make your own felt pieces for a flannel board!