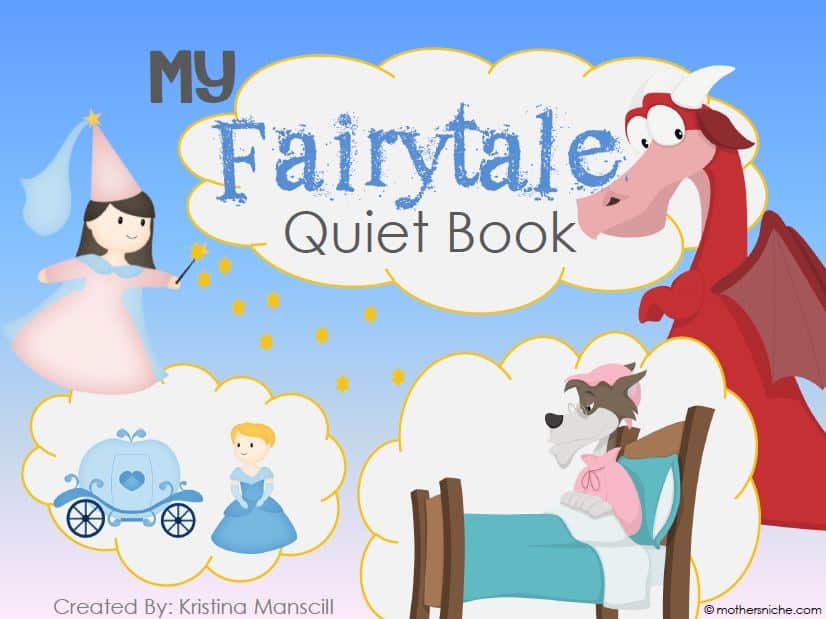 For those of you that have been asking: I'm very excited to present the 3rd printable Quiet Book!  This one was very fun for me to create as it is Fairytale version!  What kid wouldn't love that?
Help Snow White count the apples, Help the pig build his house out of bricks, Match the princesses with their silhouettes, color match the prince with the dragon, Help fairy godmother sort her pumpkins, and Mix and match granny, wolf and little red riding hood pieces! As you may have noticed, almost all of my printables on Mother's Niche are completely free with exception to the Quiet Books due to the time it takes to create them.  They are still super cheap though, so head on over to my Etsy shop and check them out! Here's a sneak peek of some of the pages:
Not sure how to put this together?  Visit my previous post on printable quiet books.
ATTENTION SEWERS:  maybe the correct word is seamstress.  Anyway.  If you love to sew and you have a blog, I would love to offer you the quiet book printables for free if you want to put a tutorial on your blog for making a cloth version.  I tested a few pages using t-shirt transfers onto felt and bound it with grommets and  it worked great!  I'm just not talented enough to feel comfortable doing a tutorial on the sewing part.  People will laugh at me.
IMPORTANT: if you end up going the t-shirt transfer method, MAKE SURE you remember to mirror the image so that the words don't end up backwards. I can't tell you how many times I have skipped this step and wasted a transfer sheet! 🙂
So if you're interested, shoot me an email under the "contact" section of my blog.
A couple of ideas:  You could attach the pieces with velcro or even use snaps.  If you find a way to do magnets, that would be fun too!
Here is my attempt at snaps.  I'm not even sure I did it right.  Again, this is NOT my territory.
I'd like to give 3 of these away for free.  How about we make this easy.  First 3 to comment below with the phrase "Pick ME!" 🙂
*UPDATE: I'm SO GLAD I did this giveaway! All this time I've been thinking people must not like my blog anymore since I haven't received a comment in weeks. HUGE THANK YOU to those  of you that have alerted me to the error you get when trying to comment. I'm working to get it fixed. In the meantime, thanks to Debbie Wyler, Lindsey F., and Kim Tippetts for being the first to comment. I will get you your book shortly 🙂