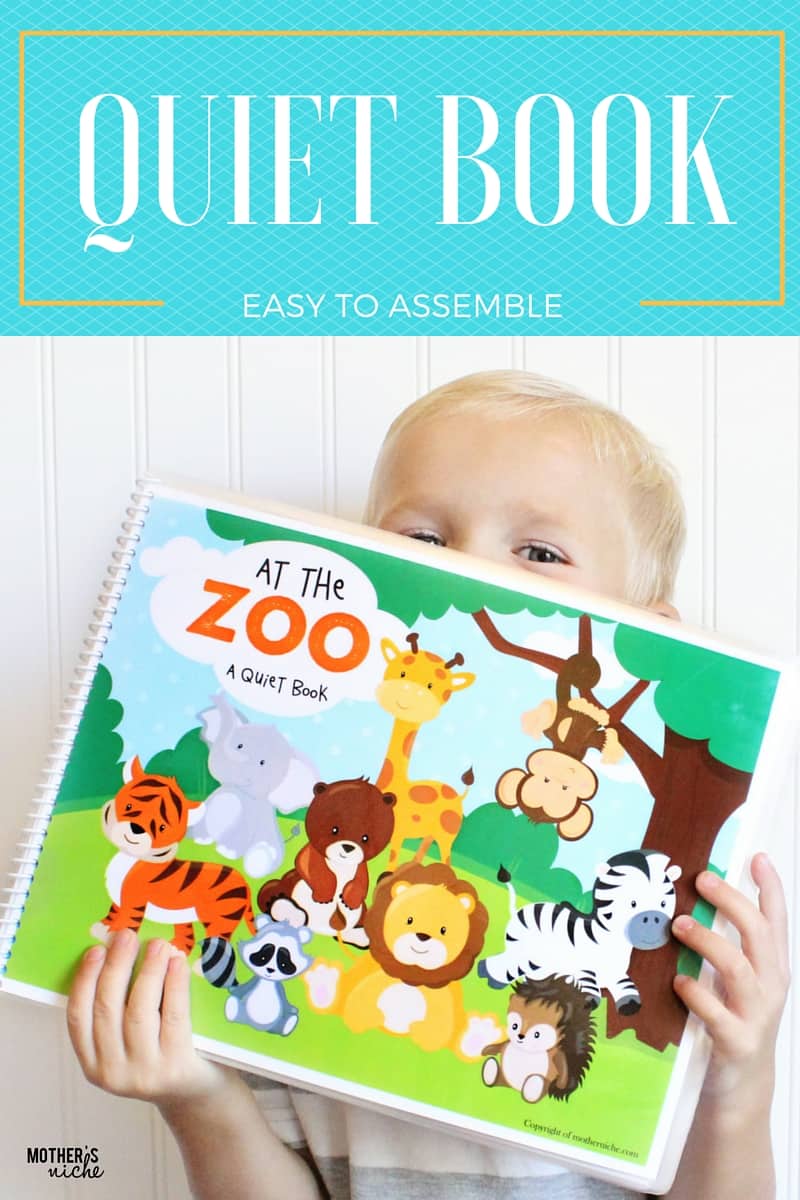 Let's Get Ready for Baby!
Sign up for our monthly pregnancy email series, and you'll get regular updates on your baby's development, helpful timelines to get ready for their arrival, must-have baby needs and so much more! PLUS, you'll get instant access to the MomsWhoThink "Ultimate Guide to Baby Naming in 2022."
CLICK HERE
to get started!
I'm so excited to announce another quiet book!!! It's "zoo" themed and it's adorable! If you haven't assembled my previous printable quiet books, go check out the video tutorial before you start!
The book includes 7 interactive pages and 42 pieces to teach hand to eye coordination, shape recognition, colors, patterns, animal recognition, animal habitats, problem solving. And it all this learning happens without them even knowing it! I am all about fun, stress free learning. The amount skills that they learn depend so much on parent involvement. After going through the book just once with my three year old and asking him 2-4 question on each page he blew me away! With counting and animal sounds, colors and shapes. The next time around he was playing teacher. "Okay, Mama. You tell me the animal and the noises he makes." And " which one is Orange, Mom?"  What?  Little smarty!!! Their little minds are incredible!
A Walk through the ZOO!
I printed each page on card stock, then laminated each page as well. After cutting out the activity pieces I attached both sides of the adhesive velcro to each piece. That way when I place it on the page right where I want it, it will match up just right each time. Much easier than eyeballing the center of the page each time.
Where Do they Live?
Learning about animal habitat. I asked my son why the tiger why he cant live on the ice. He told me they would slip around and would drowned if they fell in the water. I asked him why the whale can't live in the trees. He told me he would break the branches. Haha! After a good laugh we talked all about why animals live in certain environments.
Match the animals to their Shadows
Recognize animals and other shapes with out all the colors, patterns, and faces is an important part of learning. Some questions you could ask are: How did you know it was a giraffe? Which animal is the tallest? the smallest? which has a long nose? A long tail? Which animals run fast?
Matching Shapes and Colors
Matching shapes is the first thing you see when you see this page. But there is lots to learn from these elephants. Talk about the shapes. Ask which one has 5 points? Which has none? What shape is red? Which one looks like a kite? Which one looks like a ball? Practicing colors and names of shapes can be fun!
Help the Babies find their Dads
Aren't those babies adorable? Pull all the baby animals off the page and set them on the table. Immediately their little minds start recognizing similarities in colors and patterns. As they match them up and ask what noise the animals make? What colors do these animals have on them?
Counting
This page is great for counting practice and number recognition. Infants start counting outloud at a very young age but introducing them to what the numbers look like a more difficult to learn. I Have my son trace his finger along the number and say a little rhyme.
NUMBER RHYMES
1- A straight line from top to bottom, the number one is awesome.
2- Around the back to the railroad track, two two!
3- Around the tree, buzz like a bee, this is how to make a three.
4- Down and over and down once more, that is how to make a four.
5-Straight live down then around. Hat on top my fives a clown!
MIX and MATCH
Remove all the heads and ask your child to match the heads up with the correct body. If they struggle point out the patterns on the bodies and heads and see if they can match them up. Once they are all matched up, remove the heads again and ask them to mix them up. This is really fun! Once my son had done this I asked him which animals did he mix up? Then we made up names for the new species.  He said he made MonZee, Ellieger, Giraffkey, Zeeraff. Days later he would say, "Mom, remember the MonZee?"
Zoo Puzzle
Isn't this such a cute puzzle!?! I am in love with these animals.
Note: When cutting out the puzzle pieces make sure to cut right on the thin white line to ensure a perfect match. Also assemble each page completely before binding it to make sure that all the pages are all right side up. I didn't assemble my book at the time of binding and I made my puzzle upside down in my book and had to make a new page. Oops!
How to get the MOST out of your Book!
Just like any book your child will get the most out of it if you interact with your child!
Ask questions??? Lots and LOTS of questions!
What sound does the lion make? Which animal is the biggest? the smallest? Which one has spots? Stripes?  Which animal is grey? Yellow? Orange?
Play I Spy
On this page… I Spy something that is brown. Or striped. Or Climbs trees.
Counting Games
Beyond just the counting page ask your child to count the animals, the shadows, the giraffe spots, the clouds.
For Preschoolers
What is the first sound in TIGER? MONKEY? How many tigers are there in this book?
You can join the THOUSANDS of families who have enjoyed our books via instant download by getting it direct from our website by clicking here or from our 5-star rated Etsy shop, which you'll find here.