Today is a big day. This might be my favorite quiet book theme to date! I LOVE this cars quiet book so much! I guess it's more a "vehicles" quiet book, or "things that go" themed quiet book, since not all of the pages are cars. If you are new to our quiet books, you can see them all here. They are perfect for the diaper bag for all those moments when you are waiting at the doctor's, at church, or any other time you need to distract your toddler/young kid. I love to swap out the different themes so they never get old.
Cars Quiet Book
I'm going to include some pictures of some of the pages, but if you want to see all of the pages that are in this cars themed quiet book, just watch this video I made below:
Cars Quiet Book Video
<Hope that video got you all excited for the cute pages in this book. You can find the printable quiet book file here.>
If this is your first time putting together a printable quiet book, see the assembly instructions at the end of this post.
This gas station page is one of my favorites of all the pages. My 2-year old is learning his colors right now, so this is a perfect page for him!
I also really love the speed limit page. PERFECT for learning numbers and number recognition, and just plain adorable.
The Parking lot page is great for learning shapes and matching! What's great about these quiet book pages is that kids still have fun playing with them, even if they don't recognize shapes yet. This quiet book will grow with them as they learn 🙂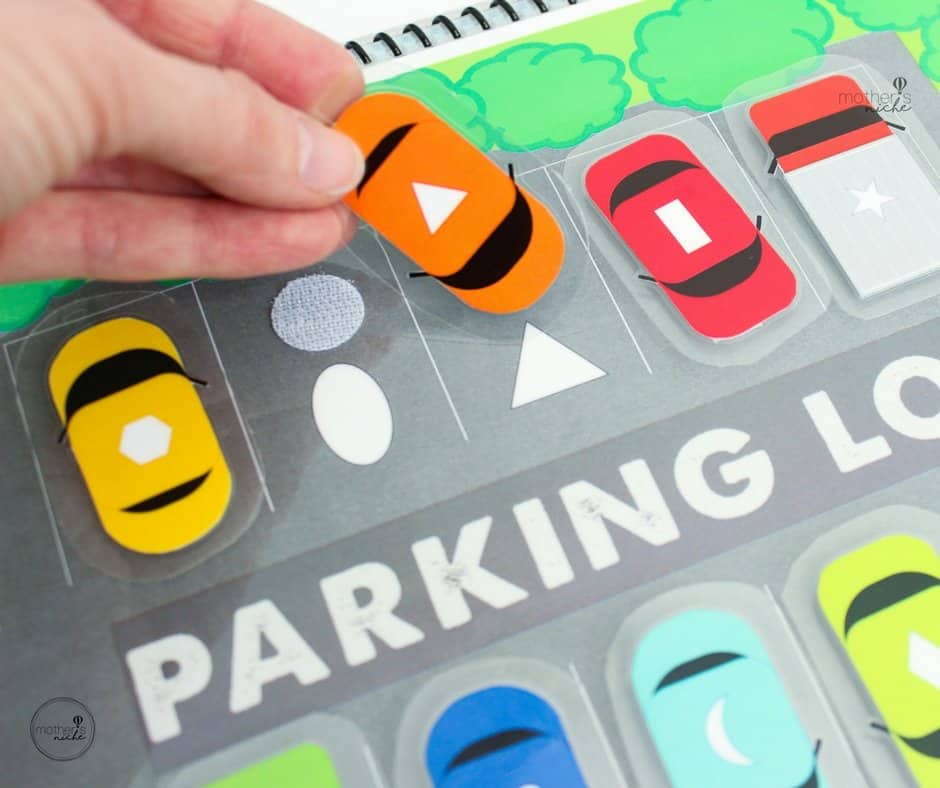 We also like to include some kind of "Free play" page in our quiet books, which is just for having fun and using your imagination. For the cars quiet book, it only made sense to do a "car mat" style page, just for driving the car around town!
How to Put Together Your Cars Themed Quiet Book
Print out all the pages
Put the pages to the quiet book in one pile, and the pieces to the pages in another pile
Laminate your pages
Cut and laminate your pieces.
Take your book to a local copy shop and have it spiral bound for a few bucks.
Attach the Quiet Book Pieces to the book using Velcro Dots.
***A note on Lamination: You can also have your pages laminated at a copy shop, but I have found it much cheaper to just own a laminator and do it at home. I got mine for around $25 and it has done SO MANY projects for me. Laminators are so affordable these days (see some good prices here) that it really pays off to have your own, especially if you are going to do more than one quiet book. I laminate mine with either 3 MIL or 5 MIL laminating pouches.
If you enjoyed this cars quiet book, you might like one of these ones too (we have a current special to get all 7 of our quiet books for $21.99):
Food Themed Quiet Book:
Princess Themed Quiet Book:
Pin this Cars Activity Book For LATER: