Baby showers are a special celebration of a new life. And if you are honored to host a baby shower, there are a few important things to know before you start planning and sending out those baby shower invitations.
In the past, baby showers were a formal affair specifically for women of the mother-to-be's inner circle of friends and family. But today, stuffy traditions have changed, and there are many types of baby showers, including co-ed, gender reveals, and informal baby showers. Even though the host is responsible for organizing and planning the baby shower, the mother-to-be must be included in the planning so the baby shower is exactly how she wants it.
When Is the Due Date?
Ideally, when planning a baby shower, you should plan to have it at about the beginning of the third trimester. This gives parents-to-be plenty of time to organize the baby's nursery and assemble their new baby gifts. So, before you start planning that baby shower, you will need to know the due date so you can plan accordingly.
In the case of twins or multiples, the baby shower should be in the second trimester because twins and multiples often arrive earlier than the due date. According to WebMD, twins and multiple can come as early as 34 weeks. Plus, pregnancy with multiples can be physically taxing on the mother-to-be, and the second trimester ensures she will have enough energy to enjoy the shower as the guest of honor.
Once you know the due date and consult with the mother-to-be about her schedule and the schedule of any out-of-town friends and family that she wants to include, then you can pick a date for the baby shower. When you have the date, send out the baby shower invitations four to six weeks from the baby shower date. This gives guests time to RSVP and consult the baby registry to find the perfect gift.
Some families prefer to celebrate the mother and baby after the baby has arrived. If you are throwing a baby shower that will include the baby, it is best to wait until the baby is at least four weeks old. This gives the family time to bond before introducing the baby to family and friends. And the new mother has time to rest before receiving guests and gifts.
How to Make Baby Shower Invitations
First, you want to decide on a theme for the baby shower. Consider whether the baby shower is for a girl or boy or if the parents want a gender-neutral theme. Some baby showers will use the theme in the baby's nursery for the baby shower.
Once you have a theme in mind, you can look for invitations that reflect the theme and style of the mother-to-be. You can find pre-made baby shower invitations available at many stores and online. Or you can get creative and design your own. If you are designing your own, consider the size, font, and photo.
Paper vs. Digital Baby Shower Invitations
There are two ways to send out baby shower invitations: the traditional way, on paper through the mail, or digitally through email or social media. Both methods are acceptable from an etiquette standpoint. Depending on your guest list, you may prefer to send some digital invitations to tech-savvy friends and paper invitations to more traditional-minded guests like the mother-to-be's grandmother and great auntie.
Digital invitations have a few bonuses that paper invitations don't. For example, digital invitations are going to be less expensive. Paper invitations on card stock can cost anywhere from $1 to $4 per invitation, and if you are throwing a large baby shower, it adds up quickly. Digital invitations are easy to make using free templates from online design websites like Canva or Shutterstock. Plus, you can send them quickly and not worry that they may get lost in the mail. Lastly, digital baby shower invitations are a greener and cleaner way to send an invitation.
Paper invitations are the traditional way to send out baby shower invitations. Paper invitations let the mother-to-be have a keepsake from the special day. If you decide to send out paper invitations, be sure to choose good card stock to make sure the invitations look elegant. And allow for enough time for the invitations to be received. Consider holidays, weather delays, or anything else that could delay your invitations.
What to Write on Baby Shower Invitations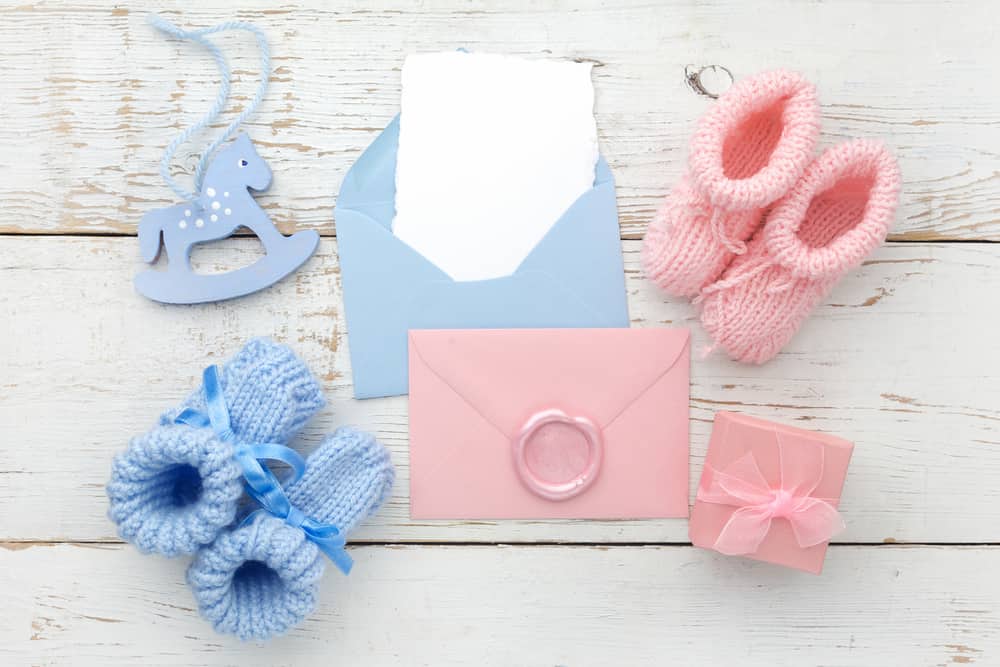 A baby shower invitation needs to have all the important information, including the mother-to-be's name and the baby shower host. You will need to include the registry information, the date, time, and address of the baby shower. Most importantly, include where to send the RSVP. Include other relevant details, for example, if the baby shower is for women only or if it is for both parents. Also, make sure any additional information like whether children are invited or if it is an adults-only event is part of the invitation.
If you are sending out paper invitations, be sure to include a card that is pre-stamped and addressed to the host to make it easy for guests to RSVP.
The baby registry should be included in the invitations. If the registry is online, make sure to include the exact URL of the registry. In some cases, the mother-to-be may prefer not to have a registry, and the invitation should state what the preference is for gifts. For a baby shower for a second or third child, often called a baby sprinkle, many mothers prefer to ask for diapers or other necessities.
The most important thing is that the baby shower invitation is clear so there are no misunderstandings, like bringing a toddler to an adults-only shower or a husband to a traditional female-only shower.
Creative Ideas for Baby Shower Invitations
Depending on the family's preference, some baby shower invitations include the name of the baby. Other families prefer to keep the name private until the baby arrives. The invitations should be fun and reflect the family. There are a lot of creative ways to spread the word about the baby shower and impending arrival. Here are a few ideas for finding the right words.
Gender Neutral Baby Shower Invitations
Come celebrate our bun in the oven.
We are over the moon to have you celebrate our baby with us.
Help us shower our new baby with love.
Baby Showers Invitations for Girls
Baby Girl is on the way. Celebrate with us.
Join us to celebrate our little princess.
Sugar and spice and everything nice! Celebrate our baby girl with us!
Baby Shower Invitations for Boys
Come celebrate our baby boy on board!
We are having a boy! Help us celebrate!
Our little boy blue is on the way!
Baby Shower Etiquette
Ideally, your guests will RSVP right away, and you will have an idea of how many guests to plan to have at the baby shower. But sometimes, people put off replying or simply forget. If you have yet to hear back from guests, sending a reminder after three weeks to ask them to RSVP is fine. It isn't considered rude. In most cases, the guests forgot or got distracted and will be pleased you sent them a reminder.
While a baby shower is a celebration and a party, many pregnant women tire easily. With that in mind, make sure the invitations have a clear start and end time for the baby shower.
Traditionally baby showers do not have alcohol due to the mother-to-be abstaining, but that tradition is not always followed. Defer to the mother-to-be whether alcohol should be included for guests or not.
Hosting a baby shower is a privilege. Making it perfect is the best way to honor the mother-to-be and make her feel special.
The image featured at the top of this post is ©Africa Studio/Shutterstock.com.