It's never easy to decide how much to spend on a baby shower gift. You want to get something that the parents will enjoy and appreciate, but you don't want to spend too much money. So, how much should a baby shower gift cost? A good rule of thumb for a baby shower gift is to spend around $50. This way, you can get a nice gift without going overboard.
This article will help you in determining how much to spend on a baby shower gift based on a few factors. Also, learn about the types of gifts you can give new parents and their new baby at the baby shower party.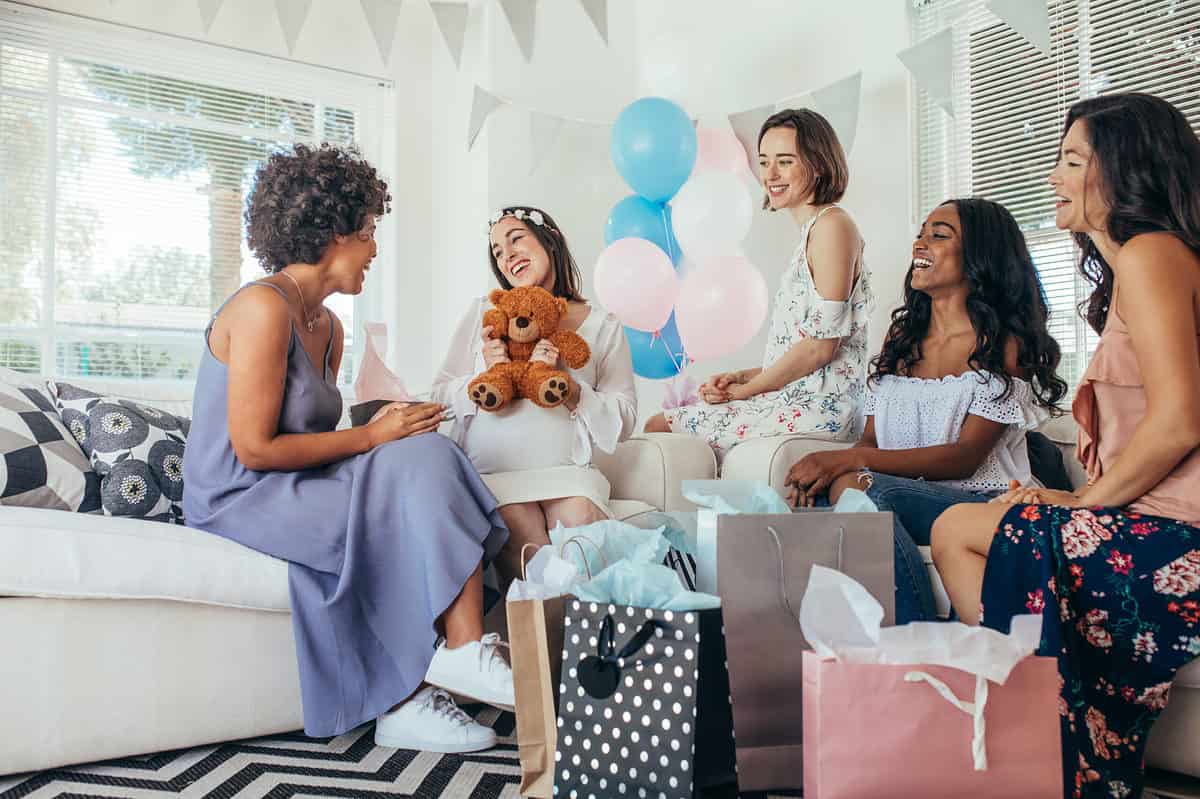 What to Consider When Deciding How Much to Spend on a Baby Shower Gift
Before you start looking around for that perfect baby shower gift that even your pockets agree with, read up on some baby shower etiquette and come up with a reasonable budget. There are a few important factors to consider when deciding how much to spend for this occasion:
Parents' Gift Preferences
When selecting a gift for the baby shower, one of the first things you should consider is any requests/preferences made by the parents-to-be. Most parents will likely create a baby registry or something of the sort to give baby shower guests a practical idea of what they would like as gifts.
If you are close to the expecting mother and she has not created a baby registry, why not ask her if there is anything in particular that she would like for herself and her partner, or her child?
How Many Children Do the Expectant Parents Have?
Because new parents are often overjoyed with their first child, they likely purchased a lot of items such as baby clothes and toys that their little munchkins will outgrow in no time at all!
If the baby shower is for the firstborn, a gift basket may be appropriate, but practical gifts are exactly what they require for the second or third. It would also be ideal for getting a smaller gift for the newborn while also including small items for the big brother or big sister.
Close relatives may be surprised to receive maid services or meal deliveries, but it can be a thoughtful gift and caring gesture if a new baby is on the way.
How Close Are You to the Soon-To-Be-New Parents?
A good rule of thumb is to consider who you're shopping for. Is this person a stranger, a coworker, a friend, or a family member? How much you want to spend will most likely be determined by your relationship with the parents-to-be:
Family Member or Close Friend's Baby Shower
This is likely to be the most common type of baby shower to which you will be invited, and you will also likely spend the most money on baby shower gifts that fall into this category.
If you plan on attending a baby shower for a loved one or a super close friend, you'll most likely spend between $80-$250, especially if you're celebrating a baby shower for a best friend. That being said, if you're feeling generous and want to spoil a special someone or best friend with an expensive gift for their baby shower, this is perfectly acceptable.
Baby Shower for a Distant Relative or Friend
You're likely to be invited to a baby shower that falls into this category several times in your life, and if your upcoming shower falls into this category, a price range of $50-$150 is more than adequate.
If you're unsure what to buy, it is a good idea to ask the expectant mother if she has created a baby registry. A baby registry is a great way to see what the parents need for the baby and to ensure that you buy a gift that the parents need.
If you're at a loss for what to get them, a gift card is an excellent option.
Baby Shower for an Employee, Client, or Coworker
If the baby shower to which you have been invited falls into this category, we recommend that you choose a smaller gift rather than a larger one. Why?
It's important to note that the people in this category aren't your immediate family or closest friends, which is why a smaller gift is much more appropriate. A baby shower gift for a coworker should cost between $25 and $50. However, to determine how much money is appropriate for you to spend on a baby shower gift, consider your closeness to the new parents.
If you can't seem to find the perfect gift for someone you know in this category, consider buying some useful items like diapers, or even a memorable gift that the parents will remember, like a small hamper or teddy bear.
Your Financial Situation
You should never go into debt to buy a gift for a baby shower or any other occasion. New parents usually appreciate a lovely gift. If you don't have extra money to spend on a baby shower gift, stick to your budget.
If the mom-to-be or parents-to-be know you well, they will understand that you are a student, just starting on your own, have a family to support, or are dealing with other financial issues. Most of the time, expecting parents will value your presence at their celebration more than anything else. Don't blow your budget on a gift if you can't afford it.
When deciding how much to spend, you should also consider how extravagant the baby shower event is. A backyard potluck baby shower may have slightly different expectations than a fancy country club event.
Finally, keep in mind that there are numerous ways to give a unique gift without spending a lot of money. A personalized or customized gift can be more impressive and appreciated than a high-priced one. Something personal or one-of-a-kind will demonstrate that you put thought and care into the gift rather than just cash.
Selecting a Gift from a Registry
Many expecting parents now sign up for online gift registries. This can help guide your spending if you only choose one or two items.
It is customary and there are expectations to select a gift from the registry. Most registries will have a variety of items in a variety of price ranges. They include small gifts that can be packaged together to make a basket, some midrange items such as outfits or snowsuits, and higher-priced items such as strollers and highchairs. Start with a price point that you are comfortable with and that you can afford without straining your finances when choosing a gift from the registry.
The purpose of the shower is to shower gifts on the baby and its parents. You are making certain they have everything they require for their new journey together. The parents, on the other hand, do not want or expect their friends, family, and well-wishers to overburden themselves. It is acceptable to purchase items that are not on the registry if you are unable to find a suitable gift on the registry.
When shopping off the registry, look for a gift that many new parents do not consider. Perhaps you discovered a useful item after the birth of your child, or a friend or family member has been raving about a new item they consider a must-have. If possible, purchase this item while also purchasing a smaller item from the list.
For example, if you hear about an easy-to-use, versatile, and safe baby bath but they do not have one on their registry list, presenting it to them with towels or facecloths from the list will ensure a gift that is within the expected etiquette for what to purchase or how much to spend on a baby shower gift.
Budget-Friendly Baby Shower Gift Suggestion Tips
Don't worry if you're short on cash and struggling to find anything affordable! Here are a few pointers to start you off:
Group Gifts
Group gifts are a great option when you don't have a lot of money but still want to give an awesome baby shower gift. Gather a group of friends or family members and decide how much money to spend on each. Then, look through the registry for a large-ticket item and split the cost.
This is ideal for purchasing expensive baby equipment that will be in use throughout a baby's life, often into toddlerhood and beyond. The gift registry can be a good place to start. Simply gather your closest friends, coworkers, or family members and select a group gift for the expecting parents.
DIY Baby Shower Gifts
Making something special can be a lovely idea. And just because they aren't on the registry doesn't mean they aren't wanted. Handmade gifts made with love can become cherished family heirlooms. Some people believe etiquette requires including at least one small item from the registry with a homemade item. Blankets, whether quilted or knitted, have been given as baby shower gifts for the longest time. Alternatively, you can add some small registry gifts to a gift basket. Include some homemade items to make something that any parent will enjoy.
Knitted clothing such as sweaters, mittens, booties, and hats are popular handmade or DIY gift ideas. Stuffed animals, car seat covers, quilted bedding, or blankets are also popular choices for baby shower gifts. Furthermore, these are frequently of higher quality than those sold in stores. Personalized scrapbooks designed to document the first years of a child's life can provide parents with an easy way to commemorate each milestone and create memories.
Buy On-Sale Items
As previously stated, if possible, avoid ignoring the registry entirely; instead, choose a smaller gift from the list to give alongside your DIY gift. Digital thermometers, nipple creams, and baby nail clippers may be cast aside in favor of more attractive and impressive gifts. They are still very important and probably not that expensive!
Photo albums and pajamas are some of the easiest gifts to find on sale. They are also two of the most affordable options in most stores. If you're looking for ideas for inexpensive and cheerful handmade gifts, consider assembling a themed gift basket and selecting small gifts that complement it within your budget.
For example, you could put together gifts for both baby and mum. Items to include are nipple cream, a manual breast pump, baby cups, bowls, baby cutlery, and bibs.
Only Give What You Can
You can give the ideal gift without going into debt. A registry almost always includes expensive items. The expecting parents do not expect everyone to buy cribs, changing tables, car seats, and rocking chairs. The most important thing is that you come and celebrate the arrival of a bundle of joy. Unless you are a close relative who has already promised large sums of money, only give what you can.
Conclusion
There is no set amount that you should spend on baby shower gifts. It all depends on your budget and what you believe the soon-to-be parents will appreciate. If you're on a tight budget, a basket full of baby essentials like diapers, wipes, and lotion is a nice gift idea. You can also be inventive and make your gift. If you're artistic, you could knit a blanket or create a scrapbook of memories.
Whatever you choose to give, the most important thing is that it comes from the bottom of your heart.
The image featured at the top of this post is ©Kzenon/Shutterstock.com.