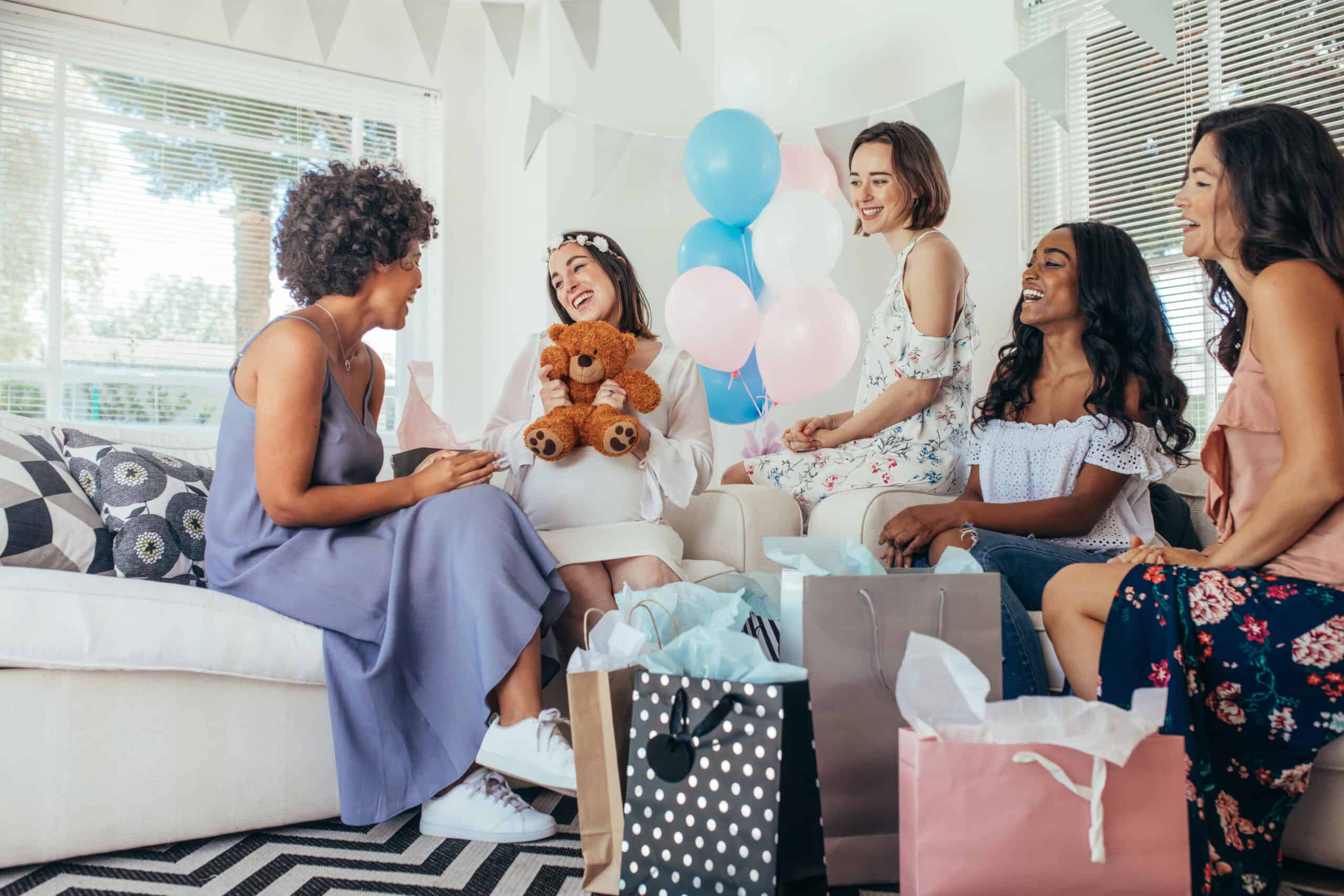 Baby showers are an exciting way to celebrate when a baby is on the way. Family and friends get the opportunity to shower the new parents with gifts, love, and encouragement. But like any event, planning a world-class baby shower takes time and preparation. Anyone who's planned a baby shower knows the entire process can be a lot of work!
The best way to plan a baby shower is to start early and stay organized. There are a plethora of different themes and ideas to get caught up in but focus instead on what needs to be done and keep the new parents in mind as you plan.
A baby shower is a special day for a couple as they prepare for the arrival of their new baby. Let's look at the best way to plan a baby shower that the parents-to-be won't forget.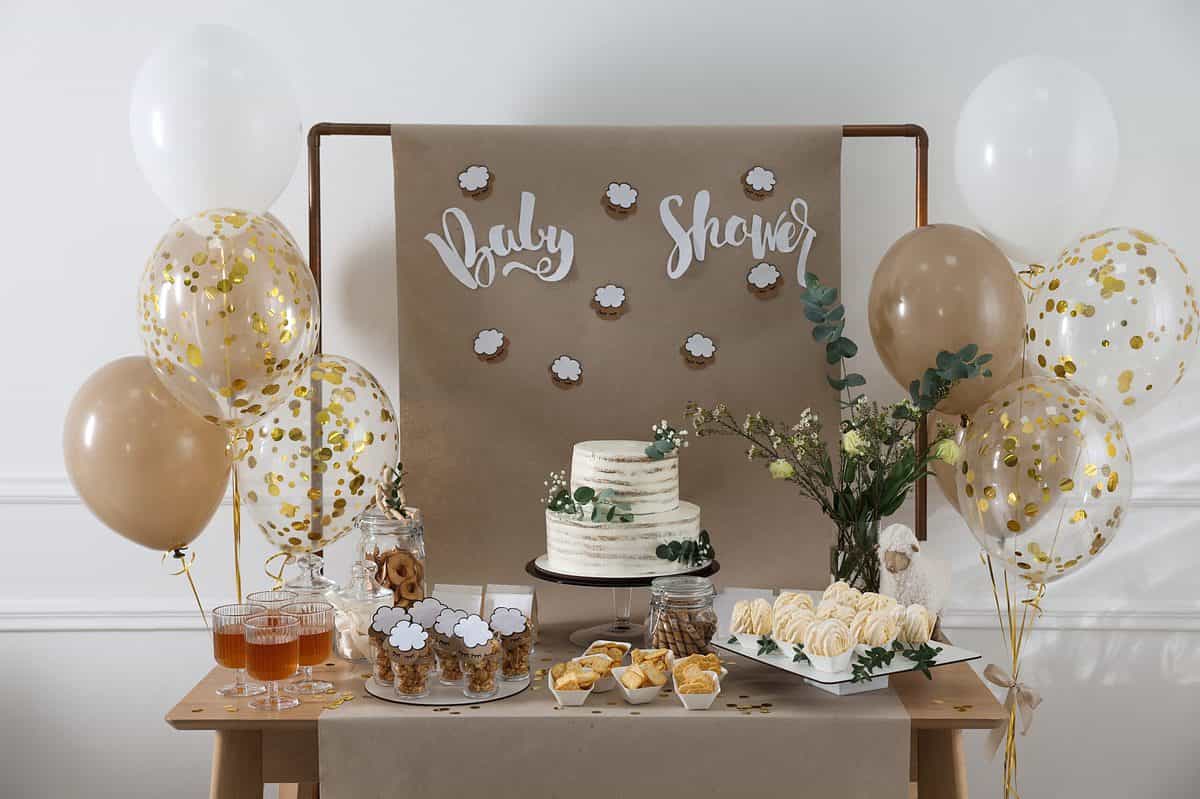 Key Points of Timing When Planning a Baby Shower
Hold the baby shower four to six weeks before the due date.
Send out invitations at least five weeks in advance.
Get a headcount and confirm with the venue the week before.
Set up and prepare food one to two days before the event.
Who Traditionally Plans a Baby Shower?
Most baby showers nowadays aren't necessarily traditional. In the past, baby showers were planned by a friend or more distant relative of the family. It wasn't considered proper etiquette for the parents of the couple to throw the shower since it may have looked like they were trying to get gifts for the family.
Nowadays, baby showers are thrown by a friend, relative, or parents of the couple. Some even throw their own baby shower! No matter who plans the baby shower, it's not something to be ashamed of. Having a baby is a huge milestone and it's okay to want the help and encouragement of family and friends.
What Is a Realistic Budget for a Baby Shower?
Planning a baby shower not only takes time and preparation, but it also requires a budget. Baby showers can become expensive, especially if there are a lot of guests. There are ways to keep your planning within your budget with careful planning.
On average, a realistic budget for planning a baby shower can be anywhere between $500-$1,000 depending on the size of the guest list. There are ways to minimize the cost such as making decorations instead of purchasing them or preparing them yourself instead of hiring someone to cater the event.
How Many Guests Should Be at a Baby Shower?
The number of guests can vary depending on the mom-to-be or couple. If you're planning a more intimate shower, between 15 and 20 guests may be appropriate. Keep in mind, the larger the baby shower, the higher the budget. However, if the soon-to-be parents have a long list of close friends and family, that may be unavoidable.
Who Should Attend a Baby Shower?
When you're preparing the guest list for a baby shower, you might wonder who should be in attendance. Traditionally, baby showers were an opportunity for friends and family to shower the new mom-to-be with gifts and love. They used to be considered a rite of passage for the new mom as she transitioned to motherhood. Some couples have held this tradition and made the baby shower exclusively for the mom and her female friends and relatives.
However, it's become more common for people to throw coed baby showers that include both the mom and dad. In these cases, it's appropriate for either male or female friends and relatives to be present.
7 Steps to Planning a Successful Baby Shower
Planning a baby shower for a friend or relative is a lot of responsibility. But by putting a lot of thought into the planning, you're creating a memory they will cherish forever. To make it easier, break it down into simple steps to ensure nothing is missed. Here's how to plan a world-class baby shower:
1. Select a Date and Time
It may seem simple, but the date and time of the shower matter. If you pick a date that's too late in the pregnancy, there's a possibility the mom could go into labor before the day of the event. On the other hand, if you choose a date that's too early, they may not know the gender yet, making it difficult to choose gifts. It also used to be customary to hold the shower in the last trimester when the risk of miscarriage was lowest. Ideally, the baby shower should be four to six weeks before the due date.

When choosing a day, it's standard to hold baby showers on Saturdays or Sundays to accommodate those who are working during the week. There isn't one perfect time of day to hold the shower, but around lunchtime or early afternoon works great. This will give you time to set up and give any visiting relatives time to arrive.
2. Choose the Perfect Venue
Selecting the ideal venue can be tricky and will depend heavily on the size of your guest list. You don't want to choose a venue that's too small that will lead to a crowded space. You also don't want to choose one that's too big since this will likely add unnecessary costs to your budget.

When you're picking the perfect venue, look for one that has seating or space to add tables that you rent separately. You'll also want to consider any games you have in mind to ensure there's enough room for them. If you're planning a more intimate shower, using the home of a relative or even renting a home for the day can give the event a more cozy feel.
3. Create the Guest List
Guest lists are one of the most challenging parts of planning a baby shower. You want to keep your shower within the budget but also don't want to leave out anyone important. If the mom-to-be is aware of the shower, you may want to consult her on who she would like in attendance.

If you're planning a surprise shower, consult her partner or another close friend or relative who knows the mom-to-be well.
4. Pick a Theme
Does your world-class baby shower have to have a specific theme? Not necessarily, but when it comes to celebrating babies, themes are a great way to make the shower more memorable. When you choose a theme all your decorations, food, and games can all tie together.

Baby shower favors are also a sweet way to show your guests you appreciate them coming. Keep your menu, decor, and favors in mind when you're planning. If your theme is too niche, it may be difficult to find food or decor that ties into the theme.
5. Plan the Menu and Decorations
After you've chosen a theme, you need a menu and decor to go along with it. Don't purchase any perishable decor, such as flowers, until you get closer to the event. Any other decorations can be bought or created ahead of time.

If you're planning a large baby shower and your budget allows for it, you might consider using a catering company for the menu to avoid managing food for fifty guests or more.
6. Plan Games and Activities
No baby shower is complete without an agenda full of games and activities for the guests. Group games and activities are a fun way to get everyone involved. However, to keep guests occupied without bombarding the mom-to-be, plan some activities the guests can do in smaller groups or independently as well. This might include having all the guests write an encouraging note for the mom-to-be or allowing guests to decorate a onesie for the new arrival.

When you're planning the agenda, be sure to include some downtime for guests to mingle as well as time for the mom or parents-to-be to open presents.
7. Send Invitations
Once most of the planning is finished, it's time to send out the invitations. Mailing them at least five weeks in advance is the best way to give out-of-town relatives a chance to attend. Even those in town will need time to plan for childcare or to request off work.

If you're low on time and missed the five-week mark, you might consider using digital invitations instead of physical ones. They will arrive in everyone's inbox the same day you send them, and it's a quick way to gather RSVPs as well.
Planning a shower is a lot of work, but it's worth it to show the new parents how much their community loves them. The key to a world-class baby show is planning and preparation.
What Should You Do Before the Baby Shower?
Once you finish all the planning steps, the baby shower may still be weeks away. You can celebrate the fact that most of the planning is done! But your job isn't over yet. As the big event approaches, there are some last-minute items you'll want to take care of.
One week before the baby shower, you should:
Get a headcount by checking RSVPs.
Delegate tasks such as helping with set up or taking pictures during the shower.
Confirm details with the venue.
One to two days before the shower, you should:
Shop for any food items.
Set up decorations.
Prepare food for the shower (perishable food should be last on your list to keep it fresh).
Pick up any necessary decor such as flowers or balloons.
On the morning of the baby shower, there will be lots to do from finalizing any setup to welcoming guests once the shower begins. Prioritize any task you can complete ahead of time. Even if it seems like a lot of prep work, you'll be glad you were prepared on the day of the shower!
Takeaway
As exciting as baby showers are, they're a lot of work to plan. It takes time, preparation, and a budget to plan a world-class baby shower. To make the process easier, it might be helpful to create a checklist of all the essential items needed. Whether you're throwing one for a friend or relative, the look of joy on their face when they see all your hard work will make it worth it.