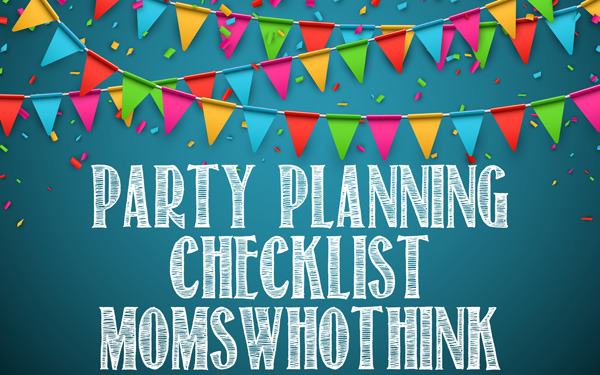 Party Planning Checklist
One Month Before:
Let's Get Ready for Baby!
Sign up for our monthly pregnancy email series, and you'll get regular updates on your baby's development, helpful timelines to get ready for their arrival, must-have baby needs and so much more! PLUS, you'll get instant access to the MomsWhoThink "Ultimate Guide to Baby Naming in 2022."
CLICK HERE
to get started!
1. Choose a theme for your party. Party themes make the party much more fun!
2. Create a guest list for your party. Pick the party date and what time it will start.
3. Order or buy party supplies and decorations. This may include balloons, streamers, banners, party favors, invitations, and partyware like plates, napkins, cups, etc.
2-3 Weeks Before:
1. Send out the invitations. Ask for RSVPs
2. Plan your menu, activities and games that you plan to use.
1 Week Before:
1. Contact the guests that have not responded There will
2. Order or bake your cake. If you are having a cake, now is a good time to order your cake if you are not baking your own, otherwise bake it and freeze it.
3. Make or bake other items that can be made Before hand. This is a big time saver and should be done if possible. Store foods in the freezer.
2-3 Days Before:
1. Buy any remaining food or supplies for the party This includes film, videotape, candles and matches.
2. Check batteries for the camera or the camcorder.
3. Take out any food you have made ahead of time from the freezer. This allows sufficient time for the food to defrost.
1 Day Before:
1. Finalize the cake. Either decorate it if you made it or pick it up if you ordered it.
2. Complete all food. Child-proof the area so the party is safe for little ones.
3. Decorate any indoor area.
4. Prepare any food and beverages that can be prepared the day before.
The Big Day:
1. Decorate any outdoor areas. Do this early in the day, unless there is threat of rain or it is windy.
2. Prepare foods and beverages that could not be made ahead of time.
3. Decide where the gifts should go. If this is a birthday party, have a table or some designated area for the gifts.
Party Supply Checklist
9″ Plates
7″ Plates
Luncheon Napkins
Beverage Napkins
Cups
Table Cover
Plastic Cutlery
Invitations
Thank You's
Blow Outs
Drinks
Hats
Streamers
Mylar/Latex Balloons
Cake
Candles
Confetti
Food
All "meal" items
Snacks
Ice Cream
Games/Activities
Items needed for game/activity
Streamers
Banner
Confetti
Door Sign
Centerpiece
Party Extras
Camera/Film/Charged Batteries
Pinata
Curling Ribbon
Balloons
Ice
Decorations
Courtesy of Moms Who Think –