Yeehaw! Is it birthday party time already? If you've got a horse-lover in your midst, keep on reading to learn exactly what things you need for a Western birthday. Bring on the cow print, the bandanas, and those fantastic boots! Be sure to get everything in order on the party planning side of things so that when it comes time to host, you're on top of the game. As for the birthday fun, preparing decorations and planning out party games is the best part of the whole process. Your child will be blown away by the work you put into planning their perfect Western-themed birthday, and their friends will have the best time at the coolest party of the year!
The Basics of Party Planning
When planning for any kind of event, it's so important to get the basics down so you can shift your attention to the more fun details. An easy way to approach party planning is to focus on the four basic aspects. These are: who you'll invite, where you'll host, when the party will happen, and what you'll do at the party! Get these down and you can get to the fun parts.
1. Who should be at this party? Talk to the birthday kiddo and see who they'd like to invite. Be sure to encourage inclusivity and figure out how many people you actually can host depending on where you decide to host this grand party. Another thing to consider when planning out invites is how you will invite party-goers. Will you get paper invitations that can be passed out or mailed? Perhaps it will be easier to communicate with parents in person or send out an email to give everyone a heads-up about the details of the party.
2. This brings us to the where of hosting a Western birthday party. Where can you host that will fit the theme and the number of people you want to invite? If you're planning to host in your living room or a general space of the house, that's easy enough to clean up and decorate. If you're hoping to host at a local activity center or venue, be sure to check with them to see how many people they can fit in. And then you'll need to be sure that they have space for when you want to have your child's birthday party.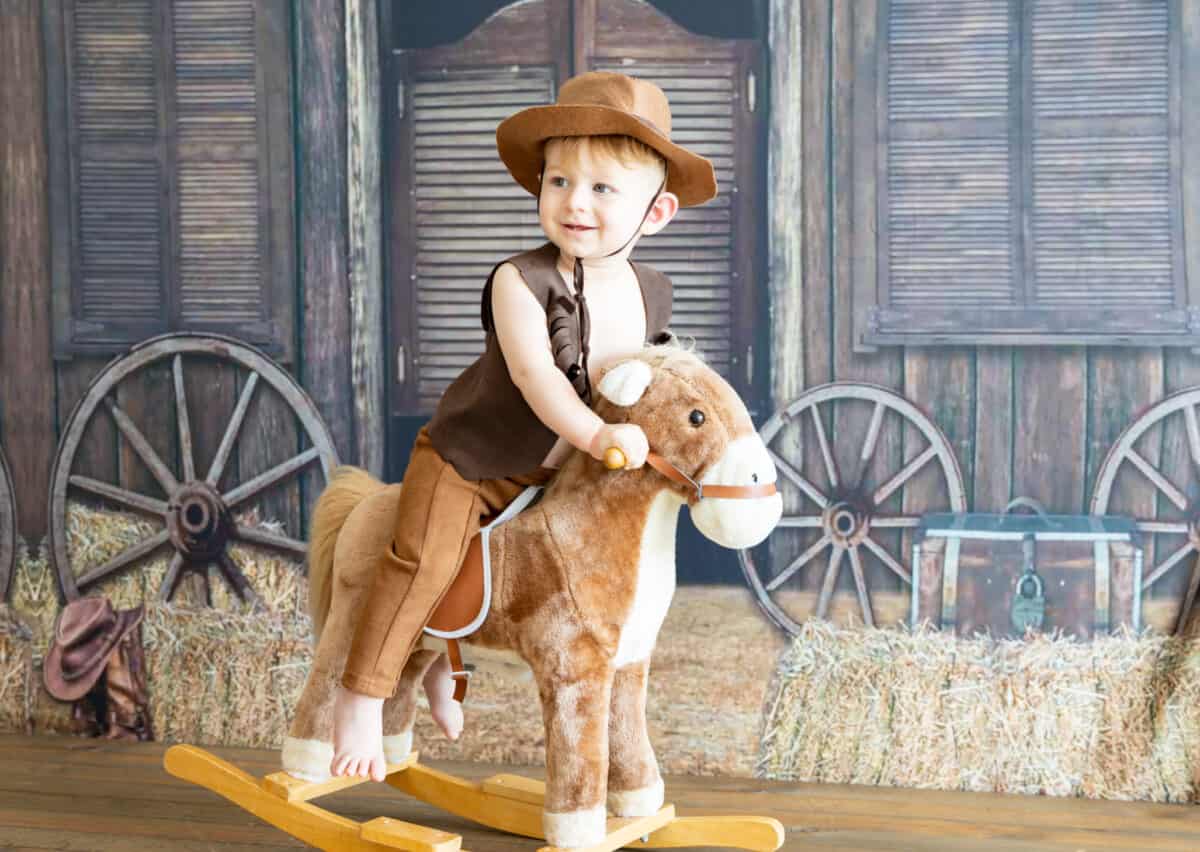 3. When is this party happening? Can it happen on the day of your child's actual birthday? If that doesn't land on a weekend and a weekday seems too hard to swing, perhaps picking a date before or after your child's actual birthday will be the best option. You want to be sure that everyone you'd like to be there can attend without a conflict.
4. And finally, and in some cases, the most important party-planning basic, what food will you serve at the party? Be sure to check in with parents for any dietary or ingredient restrictions. It's best to think about what you will be doing at your Western-themed birthday. If there's a big activity, maybe snacks and cake are all that's needed. Maybe you can make the snacks Western-themed? Bring some lemonade, figure out utensils and hey, you're halfway through the things you need for a Western birthday party!
The Specifics
Now that the basics of party planning are covered, let's get to the fun parts! How will you make this party feel like a truly Western affair? What will you do and how will you celebrate?
5. The first step in the specifics of a Western birthday party, is the decorations! Decorations can turn your living room into a proper Western saloon or bring some Western charm to a beautiful backyard. From cow-printed napkins to cowboy hat cake toppers, Amazon has got some great deals on decorations that'll knock your cowboys' (and girls') socks off! Check them out at the bottom of this page.
6. Host some Western-themed games! Pin the tail on the Rodeo Horse anyone? Maybe some NERF gun standoffs? It's a fun opportunity to set up a photo booth and have everyone come dressed as a cowboy or cowgirl! A cool activity would be to take your child's party to some kind of equestrian center or a ranch where they can be close to a cowboy's best friend and experience the thrill of riding horseback! Maybe local equestrian centers would even bring a horse or pony to your party to participate in the fun!
7. The cake! How could we ever forget the cake? A cool Western cake is one of the most important things you need for a Western birthday. Check with your local bakeries to see if someone can customize a cake that will fit your child's party perfectly. Whether it has grazing cows or a lasso-wielding cowboy on top of it, your child is sure to love it when their special cake comes out with blazing candles to blow out.