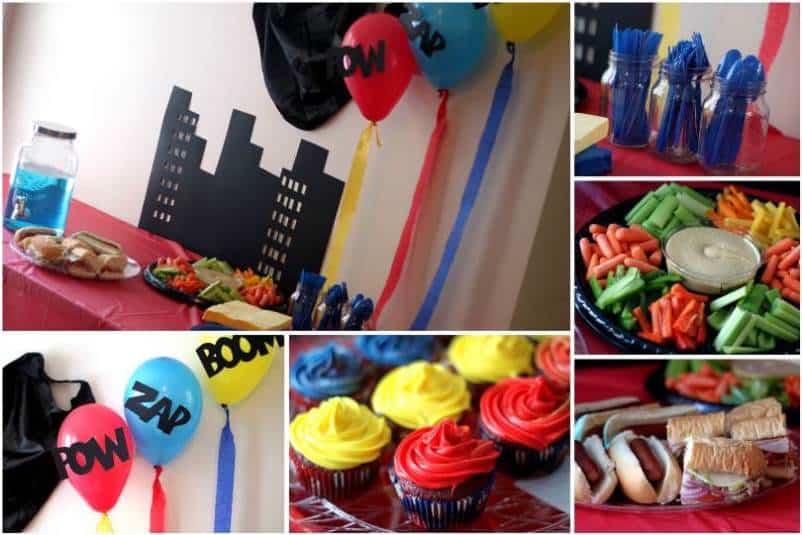 Superhero Birthday Party Theme
Let's Get Ready for Baby!
Sign up for our monthly pregnancy email series, and you'll get regular updates on your baby's development, helpful timelines to get ready for their arrival, must-have baby needs and so much more! PLUS, you'll get instant access to the MomsWhoThink "Ultimate Guide to Baby Naming in 2022."
CLICK HERE
to get started!
Clark Kent into Superman, Bruce Wayne into Batman, Diana Prince into Wonder Woman (yes we could only think of Lynda Carter too), Gotham, the fortress of solitude…The is no limit to the places you can go when planning a superhero party. Although a little research on superheros popular today will help you avoid losing cool points when you plan this birthday party theme.
Calling All Super Heroes!
Print your own comic themed invitations. If you're on more of a time crunch, try one of these Super invitations or This Picture-less Option.
Superhero Party Theme Venue – The Bat Cave:
Use streamers in bold red, yellow, and blue (or in colors that 'go' with your child's favorite superhero). Attach Super Hero logos to the ends of the streamers or action words, like POW!, BAM!, and ZAP!
Make cartoon bubbles from construction paper and attach to balloons.
Layer pages from comic books or the Sunday comics as place mats at the party table. If you give the children silly putty, they can lift the images right off the page.
Using cardboard, cut out skyscrapers and use as the backdrop to the foods table. Wooden letters painted in bright red or blue cans spell out action words.
Super Hero Fuel – Themed Snacks for Superheroes
Wonder Dogs with all the fixings
Hero Sandwiches
Veggie Tray for Super Strength
Fruit Tray for Super Speed
Power Punch
Captain America layered cake and ice cream cut into batman and spider man shapes
Super Hero Super Strength Tests – Games for everyone
Krypton Rock Toss – Toss bean bags; each hero gets three tries and the one who throws the farthest wins.
Big Bounce – Put an empty basket on a chair. Mark a spot six feet away. Each super hero stands on the spot and attempts to bounce the ball into the basket. Each player gets three tries and the super hero with the most baskets wins.
Dead Foot – Let each super hero try this trick: Ask one of your guests to stand sideways near a wall with his right foot and shoulder touching the wall. Now show everyone that you will put a dollar under his left foot. You then challenge him: If he can lift his left foot without moving his right shoulder or foot, he can keep the money. The trick is that no one can do this because the center of gravity of the body will not allow you to pick up the left foot.
Award the super hero with the most wins a trophy or medal of honor.
Super Hero Capes and Masks – The Favors
Give each child a cape and mask to wear during the party and take home with them. You can easily make them yourself out of rectangular pieces of fabric or purchase inexpensive ones. If you're handy with a camera set up a comic backdrop and photograph each of your super heroes in costume.