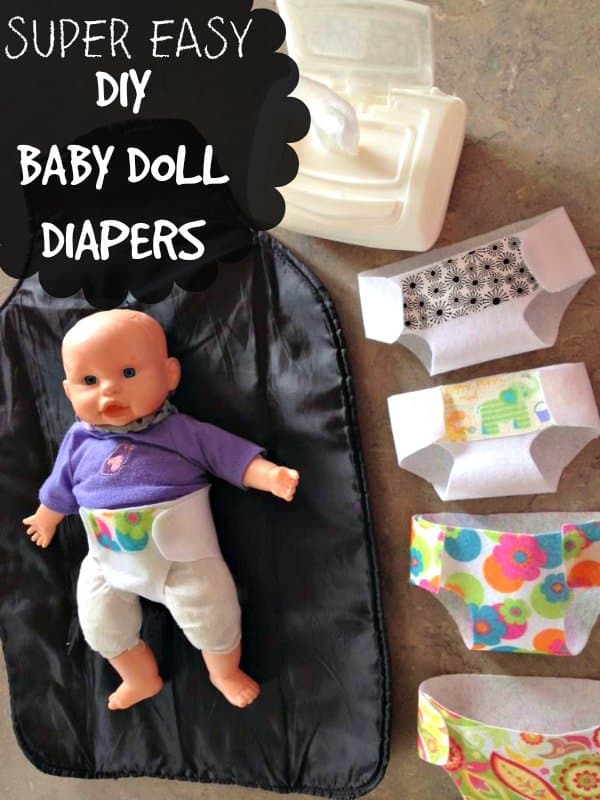 Why is felt so freaking fun? If you enjoyed my easy DIY felt pieces, today's tutorial is just as easy (or easier). My toddler is really into babies right now, and she's also really into routines. She loves putting her baby down for naps, and I recently caught her wiping baby's bum with some baby wipes.
As cute as it was, we do NOT have the budget for daily diaper changes for all the baby dolls in the house. So I finally gave in and made these cute baby doll diapers. They took less than 15 minutes and are very cute.
DIY Baby Doll Diaper Steps
I feel like there shouldn't really even be steps for this because all you really do is cut them out and attach a piece of velcro.
If you use felt, than you only need to attach Velcro to the diaper flaps and not to the actual diaper, because velcro sticks to felt. This is the best way to go because then your little girl doesn't have to try to match up the velcro circles.
You will want to fold your piece of felt in half and cut this shape out on the fold:
I just cut mine out and adjusted as needed, but if you want an actual template, you can find one here.
To make the diaper design, you can cut out a fabric strip and iron it to the felt diaper using Heat-N-Bond, or you can just buy printed felt sheets. You can see both versions in my picture. If you go with the fabric strip, just make sure it doesn't extend into the area where the velcro tabs will be, because they won't stick to normal fabric (just felt).
If your daughter insists on having wipes for her baby, you can cut out little white fabric squares, or you can use dried out wipes that your kid got into and left all over the house (oh wait. That's MY kid).
Voila! There you have it: DIY baby doll diapers. Easiest project ever.
Anyone else in a crafty/DIY mood lately? I think it's the sunshine lately. It gives me energy. 🙂