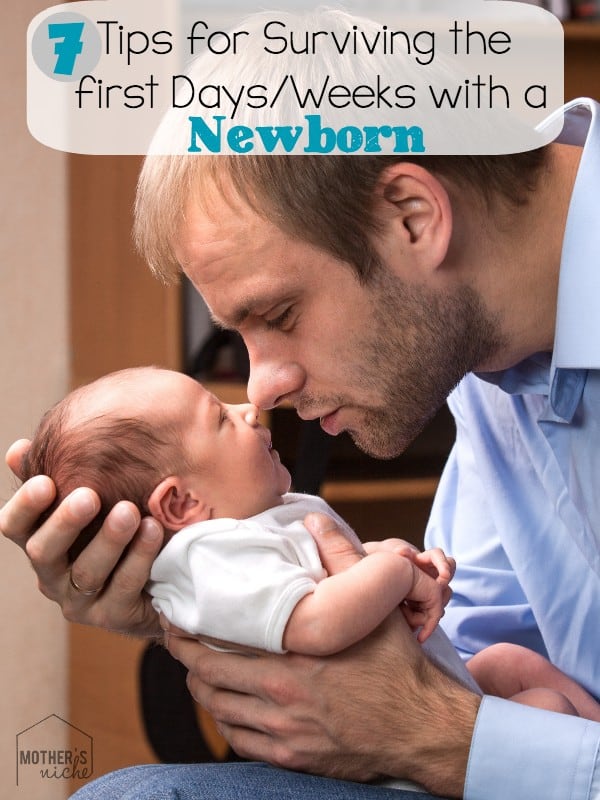 I'm so excited to be here at Mother's Niche as a parenting contributor! Last August, my husband and I welcomed a beautiful baby girl into our lives, thus making us first time parents. Today I'd like to share some tips and tricks we learned along the way to survive those confusing and frustrating, yet sweet, first days and weeks with a newborn. I hope they will help at least one family have some sanity, sleep or comfort!
Keep A Notebook Nearby! Mommy brain is real people! With little sleep and a physically demanding day, your brain can easily turn to mush. Keep a notebook and pen nearby so you can jot down thoughts, to do lists, grocery lists, meal planning ideas or anything that comes to mind. These late night scribbles might also serve as amusing reads once your sanity is back in full swing! 🙂
Accept Outside Food! If someone offers to bring you homemade food, say YES PLEASE! Feeding yourself and your family gets pushed low on the priority list once the little one is near. Take the food offered and you'll have one less thing to plan.
Accept Outside Help! If anyone offers to come over and help you do something, give it long consideration and accept! A friend or family member can hold/watch/walk the baby while you nap/shower/eat. They can put in a load of laundry or put the dishes in the dishwasher. Tip: create a sign near your laundry on how you prefer to have it done so they don't have to ask you a million questions but can follow what you've already outlined.
Create Mini Routines! The first few days and weeks are anything but routine but there are simple things you can do to help kick off a good flow. Each morning before work, my husband would check out stock of diapers by the changing table, high protein snacks near my spot on the couch and check with me on our plans for dinner in case anything needed to be defrosted. At night, while he got her settled and ready for bed, I'd clean the bottles or pumping equipment and empty the garbage pail. Repeat the same steps each day or night so things are somewhat in your predicted order when needed.
Go Hands Free! There were two items that came in handy A LOT those first few days/weeks and now months: a portable bassinette and a wearable baby carrier. I was able to put baby down in the bassinette and bring her into the bathroom to take a shower, in the kitchen to make food or near the computer when uploading her latest cute photos. My husband and I both wore her in the baby carrier so we could have two hands to clean, go grocery shopping or hang out at a family function. Bonus: wearing babies also puts them to sleep!
Get a Video Monitor! My daughter slept in a bassinette in our room the first six months, but we made use of the video monitor during daytime naps so I could get stuff done in the house. It's now in full affect every night where she safely sleeps in her nursery. TIP: Get a second power cord for the monitor screen. While it does have a long battery life, in the case of the model we chose, if we left it plugged in, the screen would stay illuminated and I could easily glance over at the screen from across the room. Without being plugged in, the screen shuts off to save battery life and I'd always wonder if that little whimper was a cute dream or a call for mom.
Send Dad to bed early! While I stayed home taking care of our daughter, my husband continued to work a full time job. In the first few weeks, after dinner, I'd send him to bed, even if it was 7pm! If I needed him to take a turn with the baby at midnight, I knew he already had 5 good hours and could get more after she was back to sleep.
Free Breast Pump. If you haven't already ordered a breast pump, get one for free and avoid the paperwork with your insurance company with the tips in our free breast pump with insurance article.
If you have any basic tips on newborn life for other expecting parents, leave me a comment!
If you're looking for more parenting advice, check out my first time mom advice series at my blog Spot of Tea Designs!