If you're planning to breastfeed your baby, then it helps to prepare ahead of time to ensure you're set up for success. We're here to help. From the supplies you'll need to handy resources to be aware of, this is the breastfeeding cheat sheet you've been looking for! Feel free to print this page out and use it as a checklist.
Key Points
There are some essential supplies, like a nursing bra and nursing pillow, that you'll want to have.
La Leche League is a great resource for mothers looking to breastfeed.
Breastfeeding isn't right for everyone. Make sure that you're suitable for breastfeeding before committing to it.
Breastfeeding Supplies
__ A nursing bra
There are thousands of nursing bras on the market. Just like any other bra, it is important that you try it on before you buy it. Look for one that is at least one cup larger and one inch larger around than your breasts pre-pregnancy. After delivery you may have some swelling of breast tissue and extra water retention, but within a few days your body will shed the extra water and you can buy a bra that better fits your new figure. Make sure your nursing bra unhooks and allows your breast to be free of any pressure while nursing. Sports bras can cause plugged ducts and breast infections due to the consistent pressure placed on your breasts. There are plenty of options for nursing bras, so take your time and look around! They can also be great things to add to a baby shower registry, if you plan to have one!
__ A nursing cover
If you're a modest breastfeeder or if you're going to be nursing in public, you'll want to get a nursing cover. This allows you to nurse with privacy. In a pinch, a baby blanket works as well. It might be worth practicing with your nursing cover before the arrival of your baby. Feeling confident with using this product will help to ensure you have one less thing to worry about once your baby actually arrives!
__ Nipple cream
Lansinoh is a great product for chapped or sore nipples. It is especially made for nursing babies, which ensures it is safe for a baby to nurse even right after it is applied. Medela also makes a highly-rated nipple cream. A great lanolin-free option is Bamboobies Nipple Cream. It's definitely possible that you'll experience sore or chapped nipples while nursing, especially if you plan on nursing long-term. Given this, it's a great idea to pick some of this up. Better to not need it and have it, than need it and not have it!
__ A nursing pillow
A nursing pillow allows for easier positioning of baby for nursing, and it can be especially helpful after a C-section or if you have multiples. There are many nursing pillows on the market. Many moms have said they prefer a pillow that snaps in the back because it allows you to position it where you want it and keep it there. Definitely read reviews before settling on a nursing pillow. You'll want to see what others have to say about comfort, adjustability, and longevity. The last one is especially important if you plan on having multiple children. A long-lasting nursing pillow can help save you money in the long run.
__ A breast pump
If you are planning to pump so that you can return to work or share the joy of feeding your baby with others, you'll want to get a breast pump. Look for a portable, lightweight, reliable and efficient pump that won't damage your breasts and nipples. As with the nursing pillow, make sure you read reviews on a breast pump before settling on one. Check reviews from multiple websites, since sites like Amazon can be rife with fake reviews. Take a look at what other consumers have said about the safety and comfort of the pump, as well as its longevity and how well it functions. Remember that you don't need a super fancy breast pump to get the job done!
Breastfeeding Support
Whether you're struggling with breastfeeding or you simply have a quick question about nursing, it's always nice to have resources available. Here are some reliable and reputable breastfeeding support resources.
La Leche League

La Leche League is an international nonprofit that works to promote the benefits and importance of breastfeeding. You can explore the La Leche League International website for resources, or you can find local resources near you on their location finding page. While LLL used to have in-person meetings, they began doing meetings virtually during COVID-19. Check to see if your LLL has returned to in-person meetings, or if they're still entirely remote.
WomensHealth.gov

WomensHealth.gov is a government-run website that has useful breastfeeding articles and other information that is essential to your health as a woman. It's a great resource not just for new mothers, but for women of all situations and backgrounds. Plus, you can rest assured knowing that the information on this site is backed up by thorough research from reliable sources.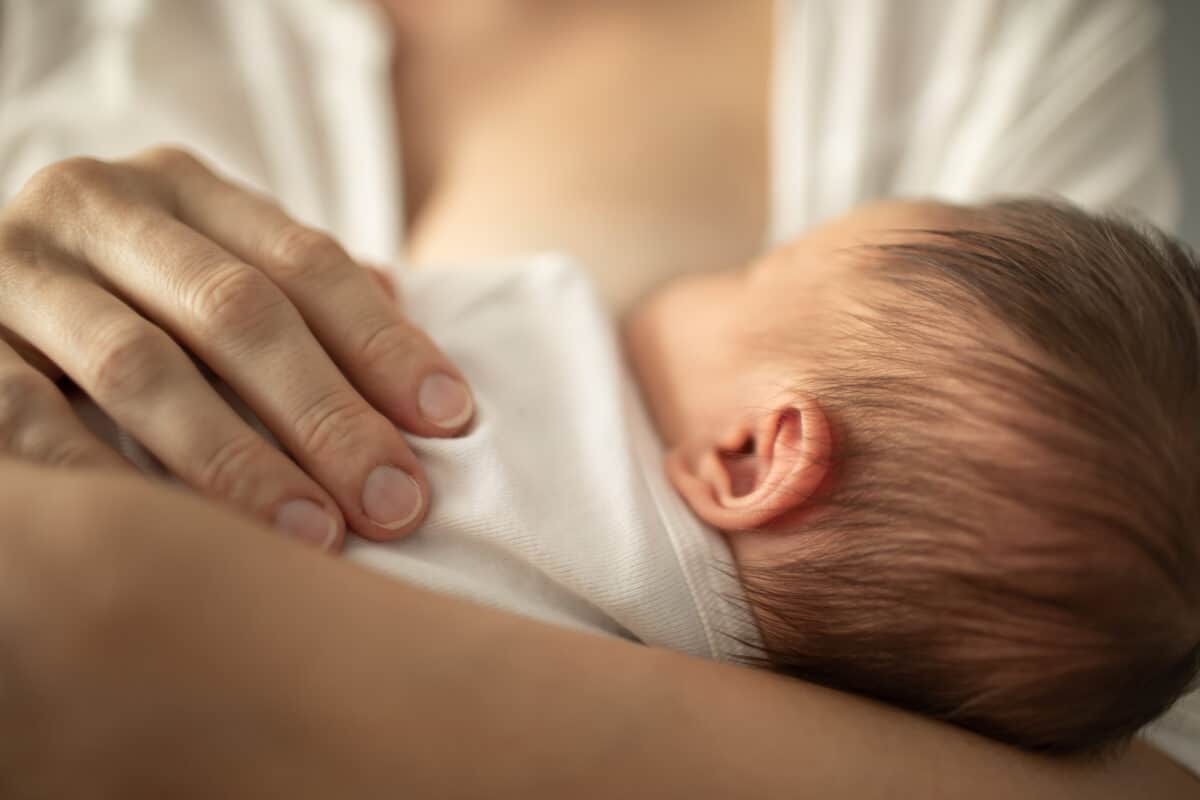 Getting Started With Breastfeediing
As you and your baby get used to breastfeeding, there are some things you'll want to look for and be aware of to ensure things are going as they should. During the first few days, your baby will be enjoying the colostrum, which is a thick, nutrient-filled fluid that is produced before the milk comes in. During this time, your baby will likely only wet their diapers two to three times a day. Once your milk comes in, though, keep the following things in mind:
Once your milk comes in, usually around day three or four, your baby should start making more wet diapers — around five to six a day. For BMs, look for two to five a day for the first few months.

Your baby should nurse 8-12 times per 24-hour period, and they will likely nurse anywhere from 10-20 minutes per breast — sometimes longer. Particularly in the early days, follow your baby's lead.
Signs that indicate your baby is hungry include crying, rooting toward your chest, or sucking on their hands or finger. When you see these signs, it's likely time to nurse.
Breastfeeding can burn between 500-600 calories per day. Keep yourself well-hydrated and eat healthy snacks between meals to ensure you're keeping your body in top shape to do this important work!
Be aware of what YOU eat and how it impacts your baby. Sometimes foods you enjoy may not agree with your little one. It can be helpful to keep a food diary in the first few weeks to identify the things that don't sit well with your little one.
Is There Ever a Time When I Shouldn't Breastfeed?
Breastfeeding isn't for everyone. Sometimes, feeding your baby formula makes more sense than breastfeeding. If any of the following applies to you, then you might want to reconsider breastfeeding:
You plan on resuming alcohol or drug use after giving birth. These substances can pass to your baby through breast milk.
You have HIV, T-cell lymphotropic virus type I or II, or untreated, active tuberculosis.
You plan to resume birth control.
You're taking certain medications, such as sleep aids, migraine treatments, or mood stabilizers.
You have diabetes or are underweight.
You have galactosemia.
The information in this article should not be taken as professional medical advice. Always seek the advice of a doctor for any medical questions or concerns. Moms Who Think is not responsible for any outcomes that may arise as a result of actions taken based on information we provide. It is your responsibility to do your own research and to take the appropriate measures to protect your health.
The image featured at the top of this post is ©iStock.com/kieferpix.