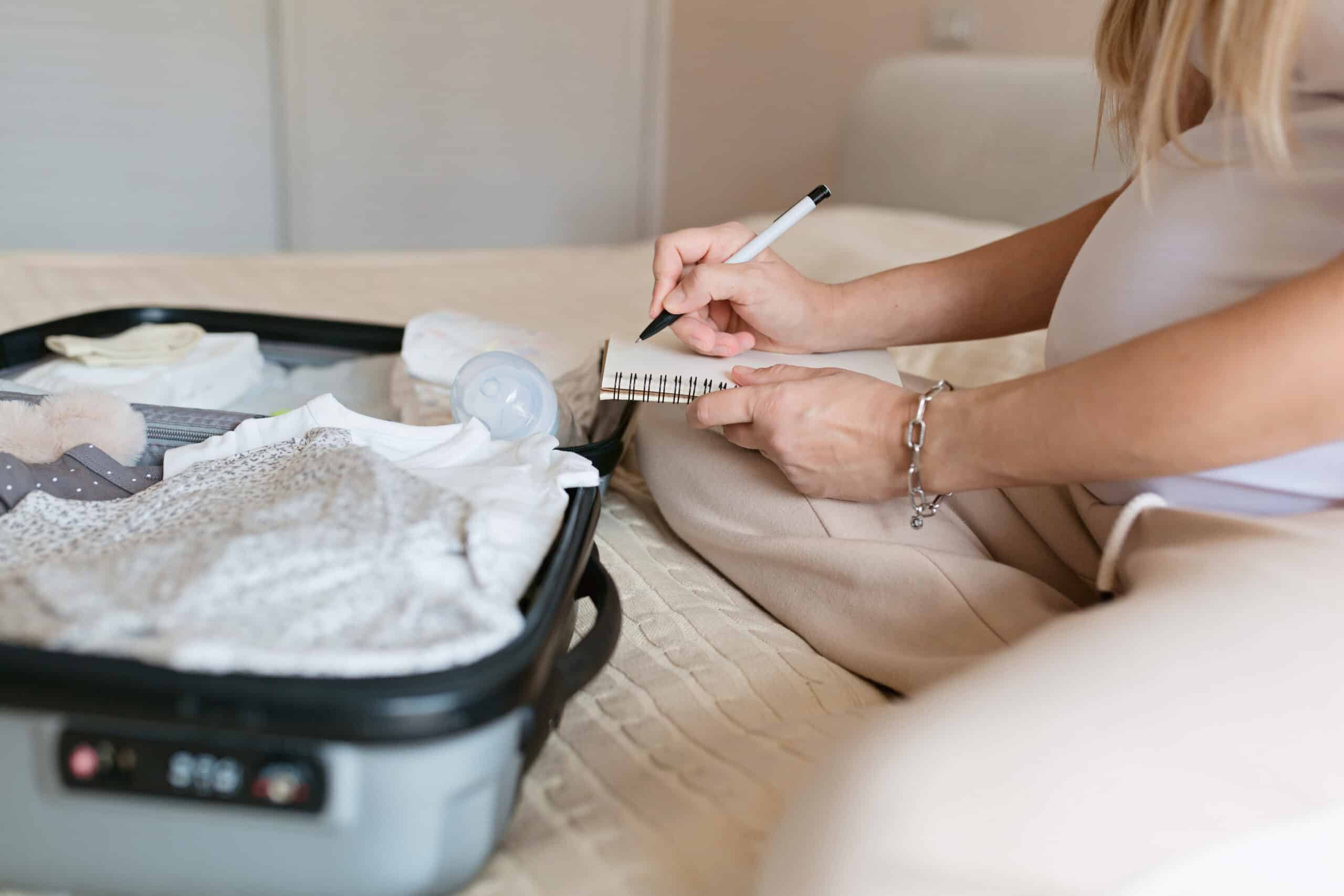 When it's time to deliver your baby, be prepared for the hospital with this handy checklist. You'll want to have all of the comforts of home to ensure you're not worried about anything and you're completely able to focus on the safe arrival of your new baby. That said, gather the items on the below hospital bag checklist, and have your bag packed at least a couple of weeks before your due date … just in case! OH! And don't forget your birth plan if you hav one.
Childbirth Checklist: What to Pack in Your Hospital Bag
CLOTHES
__ Nightgown and/or pajamas (if you're planning to breastfeed, bring either special nursing jammies or easy-access options
__ Slippers or comfy, sticky-bottom socks
__ Bathrobe or cardigan to keep warm
__ 3-6 pairs of panties
__ Bra/sports bra (nursing bra if you plan to breastfeed)
__ Going home clothes & shoes
TOILETRIES
__ Toothbrush & toothpaste
__ Hairbrush
__ Shampoo & conditioner OR Dry shampoo 
__ Hair ties/scrunchies
__ Face cleanser
__ Deodorant
__ Vitamins & daily meds
MISCELLANEOUS MUST-HAVES
__ Phone
__ Phone charger
__ Apple watch & charger
__ Earbuds or headphones
__ iPad or other e-reader (or books/magazines)
__ Water bottle (filled)
__ Snacks
__ Glasses/glasses case or contacts
__ Camera (if you're not using your phone for pictures)
__ Nursing pillow
__ Personal item or favorite pillow for comfort 
FOR BABY
__ Onesies or sleeper gowns (x4)
__ Socks (x2)
__ Going home outfit
__ Swaddling blanket/swaddler
__ Carseat
__ Carseat cover (if it's chilly)
__ Pacifier (x3)
Above all, savor this most miraculous experience that is childbirth!
RELATED: Check Out Our New Baby Checklist HERE
Courtesy of MomsWhoThink.com