We are getting ready for our Disney trip, and I thought I would share with you some genius packing tips that have saved us time and sanity. If you would like packing tips specifically for a Disney trip, see our post Ultimate Disneyland Surival Kit or  what to buy before a trip to disney.
Insanely Genius Packing Tips: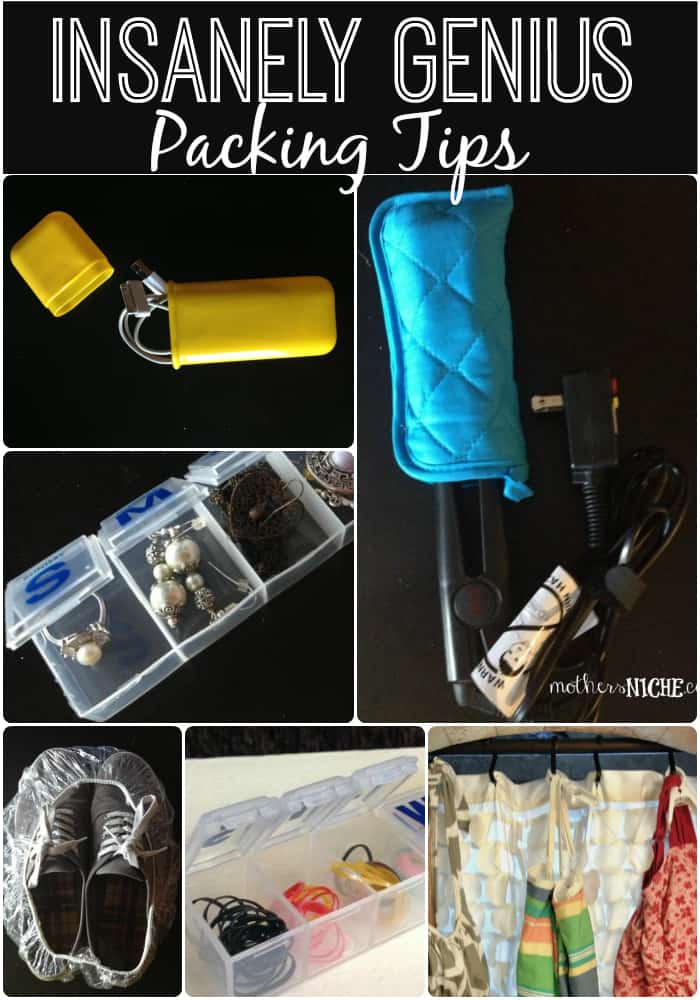 Store Earrings (and hair accessories) in pill containers. Use a tackle box organizer or bead box to store larger jewelry items (like necklaces).
Cover your shoes with a shower cap so that they don't get other things in your bag dirty. You can get them at the dollar store, and you can also get them on Amazon for pennies each.
Use a Clothes Clip to hang swimming suits when you are at a hotel. This will keep them from continually landing on the floor.
Use a BRA KEEPER for storing your bras (both at home and travel), so that they don't lose their shape or get lumps.
Make a Flat Iron Cover out of a hot pad. This will keep you from having to wait on your flat iron to cool down before you can pack it in your suitcase. It takes 10 min or less. Find a tutorial here: hot pad to flat iron tutorial
Use an Eyeglasses case to store cords and chargers. The picture below is not an eyeglasses case, it's actually a toddler utensil case, and it ended up not being big enough, so definitely use an eyeglasses case 🙂
Pack your kid's outfits in separate bags. If you don't apply any other tip, APPLY THIS ONE! it's a lifesaver. compartmentalize everything and you will get rid of so much chaos while you are traveling. Use packing cubes to keep things organized (socks, accessories, etc.) and pack outfits in separate bags (More about that on my post about packing for kids). It's also a smart idea to have a pop up hamper in your hotel room to store dirty clothes in. They store flat in your suitcase and then pop up as a hamper when you pull them out. When you are ready to pack things up, transfer everything from the hamper to a garbage bag. This will keep all dirty clothes far, far away from your clean ones. Trust me, you want them far, far away.
Other Great Travel & Packing Tips:
Wear your heaviest items (tennis shoes, etc.) through the checkpoint rather than wasting weight in your suitcase.
Umbrellas typically count as a carry on "freebie." Don't waste space in your bag (but check with your airline).
Take it easy on baby gear. Most hotels have cribs or pack-n-plays that you can use, and often you can find rentals for car seats if you are flying somewhere.
Print off a packing list and don't forget anything! Commonly forgotten items: chargers, umbrellas, feminine supplies, medicines and neck pillows.
If you are going to Disneyland, check out my Disney Travel Guide. There are some really awesome tips in there for making your trip extra magical.
If you haven't booked your trip yet, I HIGHLY recommend going through Get Away Today (ESPECIALLY if you are going anywhere Disney-related, or on a cruise, or to Hawaii). After some unfortunate situations in the past with what I thought was a company offering me a "great deal", they are the only travel agency I will use because they are honest and they really do get you the best deals. We are using them for our 3rd trip to Disneyland this summer. Tell them I sent you for some extra perks!
WANT MORE TIPS? See Round 2 here: Packing Tips for Happy Travels
What are Some of YOUR favorite packing tips?
You Check out some of our other travel posts: