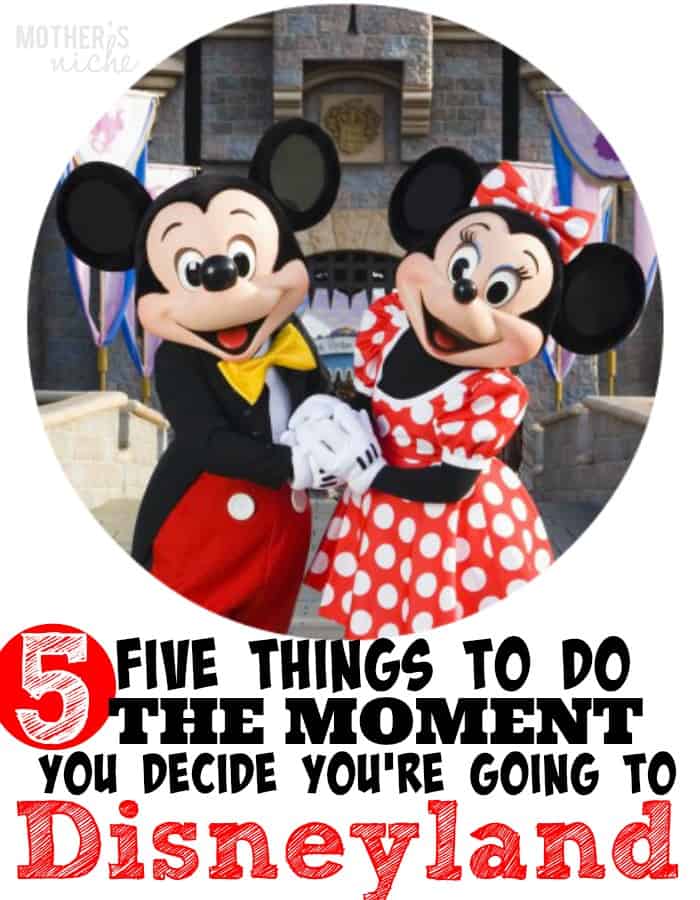 Let's Get Ready for Baby!
Sign up for our monthly pregnancy email series, and you'll get regular updates on your baby's development, helpful timelines to get ready for their arrival, must-have baby needs and so much more! PLUS, you'll get instant access to the MomsWhoThink "Ultimate Guide to Baby Naming in 2022."
CLICK HERE
to get started!
>>>>SPECIAL DISNEY BLACK FRIDAY DEAL ALERT<<<<
If you're thinking about giving the gift of travel this year, make it a much cheaper with a special deal I've got for you. While supplies last, you can now book a trip for your entire family, and every single person will pay kids' prices for their tickets. Sign me up right now please! Check out the details here. I suggest booking today before all discounted tickets are gone! 
---
I am already counting down the days to our Disneyland trip in a couple of months. I am so flippin' excited. We went last year and I had no idea how much MORE FUN it would be now that I have kids. My last memory was going in high school.
One of the best parts about our trip last year was going with my sister, who happens to be a Disney expert. She has had a season pass for the last 6+ years, and has been to Disneyland several hundred times! She knows all the ins and outs, and how to make the most of your time there. Today I wanted to share 5 things that you should start doing the moment you decide you are going to go to Disneyland!
First off, congrats on making that decision! I'm here to confirm you have made the right choice 🙂 Magic is awaiting!
5 Things to Do the Moment You Decide You're going to Disneyland:
1. BOOK THROUGH A TRUSTED TRAVEL AGENT.
For those of you that have never done this before, I always thought that going through a travel agent would cost more, because they make money off you, right? What I wasn't aware of until last year, was that they may make a small commission of your vacation package, but in the end you still save WAY MORE money that booking on your own, because they have access to discounts that only travel agencies have access to. I'm known for being able to get awesome deals and for the very cheapest possible, so I never gave travel agencies a thought until our trip last year. A family member recommended Get Away Today after I experienced a Disney deal gone wrong, and they made our trip AMAZING! They will beat competitor's pricing, plus if you book early enough, they have access to special hotel deals. We were able to book 4 nights last year and we got our 5th and 6th night free. Get Away Today specializes in Disneyland packages, so they are oftentimes able to get you other discounts, like free parking or shuttle to Disneyland (depending on the hotel). This really ads up just for the parking alone! They also gave us a Anaheim/San Diego coupon book with savings for restaurants, and discounts for other parks and activities in the area. Again, this is something I wouldn't have had access to had I booked my trip on my own. They even called me before and during my trip to make sure everything was going great and my expectations were met. I know this is getting wordy, but I cannot say enough about Get Away Today, we love them! My advice: Stay away from "Disneyland vacation deals" from any of the deal sites (Groupon, Plum District, etc.). Remember my mention of a deal gone wrong earlier? Yes. It was HORRIBLE. If it sounds too good to be true, it most likely is. Get Away Today beats any price (besides military discount) and then you can get an additional $10 off using this promo code: MOTHERSNICHE
2. Start reading up on Disneyland tips.
Trust me, you don't want to just "wing it" when it comes to Disneyland. You want to have a plan. That will be the difference between a magical time and a not-so-magical time! A good place to start would be this article on Disney Tips, and then the others in this Disneyland travel series. Remember my mention of my sister who has been to Disneyland hundreds of times? She will be adding all her expert advice next week to the Disneyland Travel Series, so stay tuned for that!
3. Buy certain souvenirs ahead of time.
This may not sound as fun as buying them in the park, but it will save you a LOT of money. If that doesn't seem as magical, let your kids pick ONE thing from the park, and surprise them with other things each morning on their pillow. Surrounding grocery stores near the Disneyland resort are a great place to get T-shirts and other items for much cheaper than the Disneyland resort. If your kids want to do pin trading with the characters, you can buy used ones ahead of time for fairly cheap, and then trade them for better ones while you are at the park. More on that in my article 15 Things to Buy Before Your Trip to Disneyland.
4. Start Thinking of Fun Ways to Build the Magic
Start off by announcing the trip in a fun way. If you need some ideas, see this article on Fun Ways to Surprise Your Kids With a Trip to Disneyland. Build the excitement by providing your kids with fun ways to earn "Disney Bucks" that can be used on your trip. Not only does this benefit you (better behavior and more chores done), but it will save you MANY headaches at the park. Here's why: Multiple families have expressed that this system keeps whining to a minimum. For the times that they didn't do the "Disney Dollar" system, their kids begged all day for various souvenirs and treats at the parks. When they went with the "earned" Disney Bucks system, the kids knew ahead of time exactly how much they had to spend at the park. Instead of wanting everything they saw, they were very selective about what they bought because they wanted to make sure their hard-earned money went to the very best things!
5. Start now and create a fun "Travel Kit" for your Kids
This is especially important if you are driving, or taking a long flight. You won't have time to compile something awesome the week of your vacation, so start now! I have rounded up some of the FUNNEST printables for traveling with kids. Visit the posts below for some really fun ideas:
And Make sure to pin these for ALL of your traveling: