We all know that Disneyland is the Happiest Place on Earth but it can also be one of the busiest! If you're not a big fan of crowds but still want to go to Disneyland, then this is the post for you. Here are some of the best tips of how to make the most out of Disneyland even during the busy seasons.
But first off, if you want to know if Disneyland will be crowded during your visit, you can check these crowd calendars here:
How to Enjoy Disneyland During Peak Season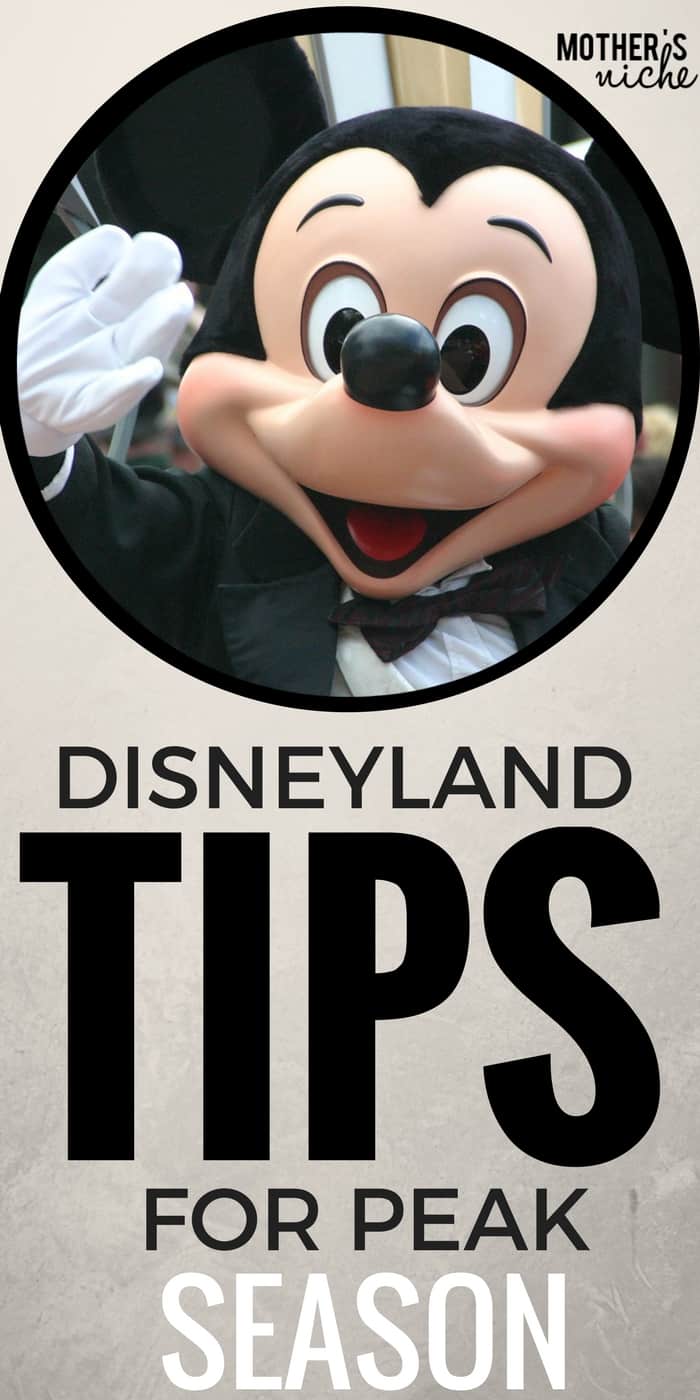 Book with Get Away Today & Get Magic Morning
The first tip is to book with Get Away Today. They are travel experts and love all things Disney. And if you use promo code MothersNiche you can get an additional $10 off your Southern California vacation package. Get Away Today offers 2-5 day discounted Disneyland tickets AND if you get a 3-day or longer ticket you will also get a Magic Morning! This gives you access into the park an hour earlier than it opens to the public. Take advantage of this opportunity to beat the crowds and maximize your time in the park.
You can get a Magic Morning every day if you stay at one of the Disney properties (see our Disneyland Hotel Guide to see if this is right for you)! Staying on property is also the only way to get in early to Disney California Adventure park. By booking through Get Away Today you will get a discount on all three of these great hotels. Think of all you can do with less crowds in the mornings! You'll definitely want to take advantage of this magical option, especially during Disneyland's peak seasons.
Plan Ahead
Another tip is to plan what you want to do at the park beforehand. Map out all of the rides and shows you want to experience and then create a plan of how to get to them all. Determine which ones have FASTPASSES and where each ride is located, whether at Disneyland or Disney California Adventure park. You can also print out a map or grab one at the park, so you can know the distance from each ride to the next. Not only will this help you know your way around the park but will also help you make the most out of your days at the Disneyland Resort.
Get a FASTPASS
Fastpasses are not only Disneyland lifesavers but they are FREE, too! These are magical tickets that can be printed off at various Fastpass machines and can get you onto a ride faster. Once you get a Fastpass, there will be a time printed on the ticket of when to return to that ride. Once you get to the ride you can skip the main line and go straight through the Fastpass line. Keep in mind that you can only have one ride and one show Fastpass at a time. At the bottom of your Fastpass it will give you the time when your next Fastpass becomes available. Whatever you do, be sure to get one to save time and have a blast even during the busiest times at the park.
In Line Entertainment
Since there isn't a FASTPASS option for every Disneyland ride, sometimes you end up waiting in a longer line than you would like. This can be hard, especially if you have little ones that get restless quickly. So how do you get around this when you're at Disneyland during the busy season? Simple, find fun ways to be entertained while in line and make it part of the fun! For example, have you ever looked for hidden Mickeys that may be spotted while you're waiting in line? Or how about a favorite game like Heads Up or 21 Questions while you wait? My favorite is grabbing a snack or special treat that's near the ride you are about to go on and eating it while in line! All of these are ways you can make the wait go faster and still have fun while in line.
Disneyland Wait Time Apps
Did you know that there are apps you can get on your smart phone that let you know the wait time for Disneyland rides? By getting one of these apps it will help you know which rides to go on and when. This way you can more easily map out which rides have the shortest wait times and jump on those while the longer wait time rides decrease. Doing this will not only help you beat the crowds and long lines but also help you maximize your time in the park by riding the most rides possible.
Catch a Show
One of my all time favorite thing to do during Disneyland's Peak Seasons, when everyone is getting hot, hungry or tired, is to catch one of the many amazing shows! Great way to rest and eat at the same time!
With so many ways to enjoy even the busiest seasons at Disneyland, you'll be sure to have a magical time whenever you go! Remember to book through Get Away Today and use promo code MothersNiche to get an additional $10 off your Southern California vacation package.
What are some of your best Disneyland Tips for Peak Season?!