Are you getting ready to travel with the kids? Take a look at our list of the best kids' luggage! Giving your child new luggage can make the experience unique for them and easier for you. There are many luggage sets with wheels to choose from on the market. In addition, there are luggage sets with wheels, hard cases, and soft cases, small enough to fit in the overhead compartment, or luggage sets with three or five suitcases. Whatever you are looking for, you'll find something for your child on this list. So, let's get started!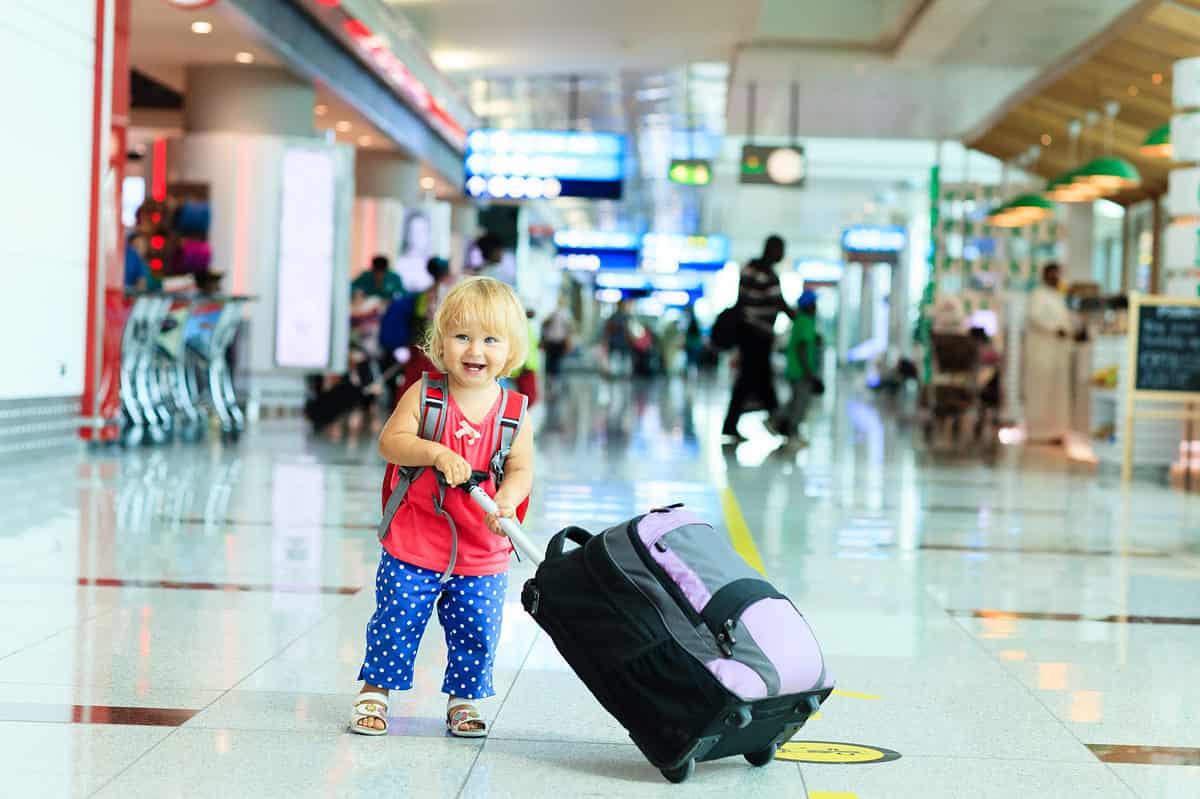 The 13 Best Kids' Luggage With Wheels
The luggage sets below are top-rated and highly reviewed by parents. The quality of the suitcases below will make traveling with your kids easier. Your child will feel like a big kid with their bags matching their style and personality!
Travelers Club Sky Luggage Set
The first item on our list is the Travelers Club Sky Luggage set. Although this is not specifically geared toward children, this set is still a practical choice for your child. It comes in many solid colors, like blue, red, purple, and gray. This luggage set is perfect for a family because it comes with three suitcases, a carrying bag, and a travel toiletry kit. The suitcase also has an ABS hard shell that protects your luggage and is lightweight enough to carry around. Many reviewers stated that this luggage is roomy and sturdy yet small enough that if you need it for a carry-on, you can use it. You cannot go wrong with this fabulous set.
Rockland Double Handle Rolling Backpack, Camouflage
The Rockland double-handle rolling backpack is 17 inches and is great for a child who is going on a short trip. This luggage set has wheels and comes in different styles and color options. There is a front pocket that has an organizer making packing easier for your child. It also has side mesh pockets that allow your child to store small items they may take while traveling. Reviewers stated that the handle is the perfect height for someone small, and it's not a flimsy suitcase. The padding is fantastic for shoulders and protects against pain. If you need luggage for a couple of days or a weeklong trip, this is perfect for your child.
Rockland Fashion Softside Upright Luggage Set
The Rockland fashion southside is a cute set for your child to carry anywhere. It comes with a suitcase and a tote bag. This luggage is fully lined on the inside and has wheels that allow your child to easily move the suitcase. It comes in several designs, like pink and white polka dots and black and white stripes with a pink lining—solid colors such as red, turquoise, and many more options. If you're looking for a lightweight luggage set that fits a lot of clothing and more, this is a great option.
iPlay, iLearn Kids Carry-On Luggage Set, 18″ Hardside Rolling Suitcase W/ Spinner Wheels
Iplay ilearn carry-on luggage set is 18 inches and has a hard side. However, this is a great backpack and suitcase for young toddlers or little kids. The design of choo-choo trains and construction makes a child love being able to walk this around.
American Tourister Disney Hardside Luggage with Spinner Wheels, Black, Red, 21″
If your child loves Mickey Mouse, this is adorable luggage to give to them. This black and white suitcase has spinner wheels, a cute design, and a hard shell. There are many different Mickey designs, including a Minnie mouse, silhouette cartoon Mickey and more. It comes with a ten-year, limited warranty, and cross straps. The large compartment has an interior mesh panel, making separating your items more convenient. Reviewers were pleased with this durable and adorable luggage.
Goplus 2PC Kids Luggage, 12″ & 16″ Kids Carry-On Luggage Set, Lightweight Spinner Suitcases for Boys and Girls
The Goplus 2-piece kids' luggage set is 12 and 16 inches, making it perfect for carrying on the plane. The hard shell is easy to clean, and it is also waterproof and scratch resistant. The suitcases are lightweight enough for your child to carry and come in several designs. These designs include the owls pictured, deer, flamingos, and zoo animals. In addition, the backpack can be stored inside the suitcase when you're not using it; kids love these adorable suitcases.
AGSDON Kids Suitcase for Girls, Cute Mermaid Rolling Luggage Wheels for Children Toddler
If your child loves mermaids, this is a cute suitcase for them to use. The bottom of the suitcase folds, making it easy to store and take up less space. The front has a pocket which is excellent for storing things such as toys or books. The space inside the top has a mesh fabric compartment and is very roomy. The wheels are durable and quiet. Reviewers love this suitcase because it is sturdy and easy for kids to pull around.
Stephen Joseph Classic Rolling Luggage
Another soft, rolling case is this Stephen Joseph, classic rolling luggage. It has many character styles, including shark, ladybug, flowers, sloth, and dinosaurs. This luggage is perfect for a carry-on. Also, it has pockets that store different things, such as toys, food, and snacks. The wheels make it easy for kids to roll, and it's lightweight enough that children will not struggle with it. Reviewers love the suitcase because it's roomy, has enough space for plenty of clothes, and is sturdy for children. The pockets and compartments are an excellent addition to traveling with kids.
Rockland Melbourne Hardside Expandable Spinner Wheel Luggage, Pink, Carry-On 20-Inch
The Rockland Melbourne hard-side luggage is simple yet sturdy and durable for children to carry with them. It comes in several different solid colors, and it's 20 inches giving plenty of room. There is a hard exterior that is easy to clean and has an interior zip pocket that is mesh. This is also great luggage to be used for a carry-on if needed.
American Tourister Kids' Disney Hardside Upright Luggage, Mickey Mouse 2, Carry-On 16-Inch
The American Tourister has an adorable Disney Mickey Mouse suitcase to choose from. But Mickey mouse is one of many options. There's also Frozen, Princesses, and Minnie Mouse. It is a 16-inch suitcase with a separate inside compartment to keep everything nice and tidy. There's plenty of space inside, and it's light enough for children to roll around in the airport. This is an excellent option if you are looking for a well-constructed piece of luggage that offers plenty of room for your child's clothes.
Rockland London Hardside Spinner Wheel Luggage, Mint, Carry-On 20-Inch
Rockland London Heartside wheel luggage is 20 inches and comes in many different styles. There's also an option to buy a set of three pieces of luggage instead of just one. The suitcase comes with a hardcover, extendable handle and expands an extra two inches in depth if needed. Reviewers posted that this luggage is easy to use. It has incredible quality and can take a banging on a trip and still be in excellent shape.
AMERICAN TOURISTER Kids' Disney Softside Upright Luggage, Frozen, Carry-On 18-Inch
If you are looking for a reasonably priced piece of luggage for your child, the American tourist suitcase is a great choice. It has several designs, such as princesses, Minnie Mouse, and Star Wars. It has cross straps for your child and also mesh pockets for storage. This luggage is lightweight and easy for children to navigate. The zipper is easy for a child to use with little help. This suitcase is also an excellent choice for an overnight bag for grandma's house or a sleepover.
Travelers Club Kids' 5 Piece Luggage Travel Set, Thumbprint Heart
If you are looking for a luggage travel set, look no further than this adorable suitcase set. It comes with five pieces, including carry-on luggage with a hardback. It also comes with a backpack, a lunch bag, a neck pillow, and a luggage tag. This is an excellent luggage set to gift your child when traveling on an extended trip. This luggage will fit all your child's items and comfort them with the neck pillow. Use the luggage tags to keep your child's name on the bags so they don't get lost. This luggage is easy to use for older kids and is very lightweight. It has several designs, including hearts, unicorns, and dinosaurs. If you're looking for a complete set to give your child that they will adore, this is a fantastic piece to choose from.
In Conclusion
No matter where you are going, whether it's to grandma's house or on a two-week trip, having durable and reliable luggage makes your travel even more manageable as a parent. Children will love these adorable luggage sets that can fit their unique personalities. These are excellent choices with several designs, ample compartments that make it easier for your child to carry their items, and extendable handles. In addition, the wheels make carrying their luggage around the airport even easier. Whatever you decide to give your child, these luggage sets are top-rated and exceptional options!
The image featured at the top of this post is ©Evgeny Atamanenko/Shutterstock.com.