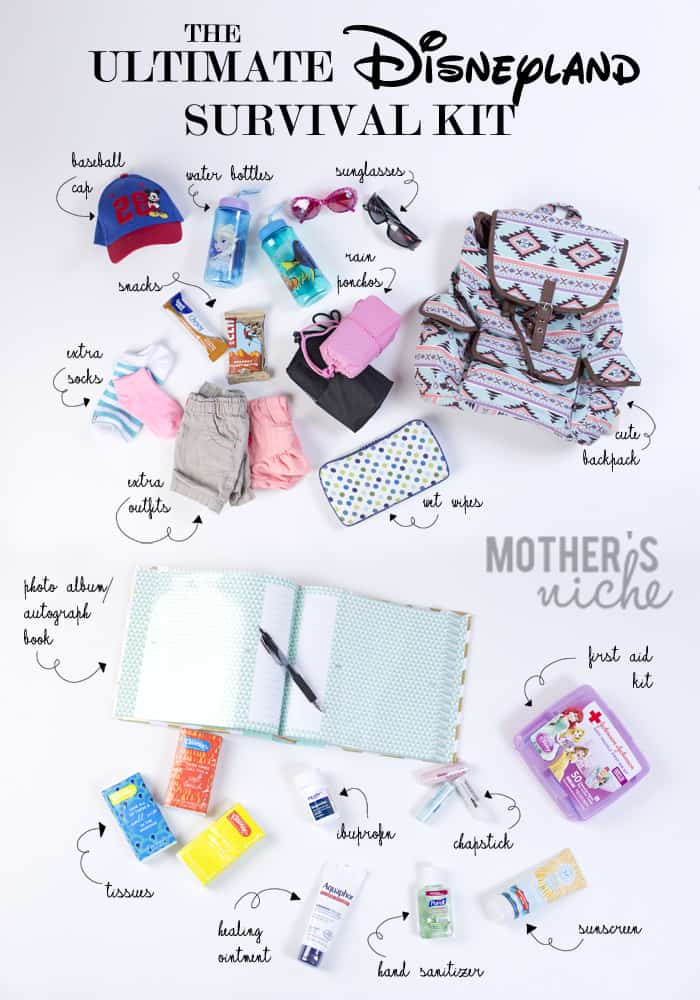 Your kids are so excited – you've just told them about the Disneyland vacation you've been planning for months! They're running around, jumping up and down, so excited that they finally get to meet their favorite Disney characters. You, on the other hand, are stressing to the max. Your to-do list is about a mile long, and OHMYGOSH, WHAT THE HECK DO I EVEN BRING TO DISNEYLAND TO MAKE SURE EVERYONE GETS OUT ALIVE?!?!? Well, we've got that covered for you. With the help of some Disneyland experts, I have put together the ultimate Disneyland Survival Kit. For some extra unique items to make your entire trip go smoothly, check out our post What to Buy Before Your Trip to Disneyland, also check out our Disney Travel Guide.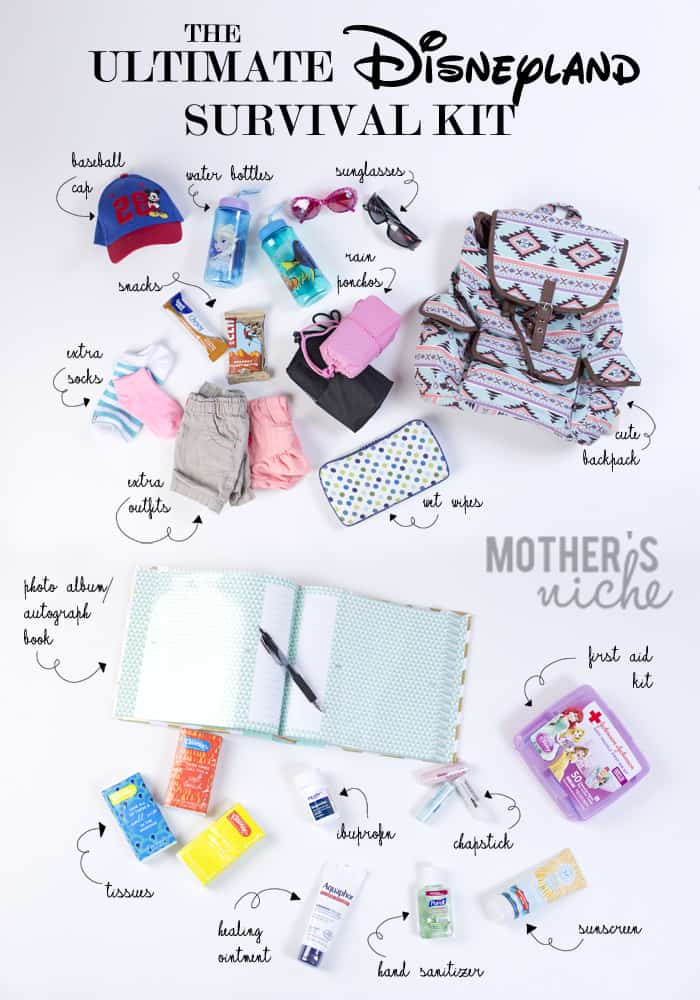 The best thing about the kit?! Everything in it fits into a medium sized backpack, and you can find it all at Wal-Mart or on Amazon (if you want to put yours together like… asap, we've included links for each piece of the kit).

It's a total mom win. I'm sure you're on the edge of your seat waiting to see what exactly is in our Disneyland Survival Kit, so without further ado…. here it is! 


1. Photo album/ autograph book. I know you can buy autograph books that are specifically for Disneyland, but I looked and just didn't see any that I loved. I really like the idea of having the characters autograph a section next to the picture. Once you print your pictures of your kids with their favorite characters, you'll have their autographs right there. Plus, for less than $10, it's a great deal!
2. First aid kit. Kids run. And kids are clumsy. Running + clumsy kids = scraped knees. This Disney Princess first aid kit is the perfect fix for those skinned knees and other boo-boos.
3. Chapstick. California is a desert, and prime vacation months are usually pretty warm and full of sun. Don't forget the chapstick! Nobody has fun when their lips are constantly burning! Grab this three-pack from Blistex to make sure you're never without!
4. Ibuprofen. Because headaches pop up at the least convenient times. Grab a travel size bottle of ibuprofen and you won't have to worry about a headache ruining your fun!
5. Tissues. Runny noses and allergies happen. And nobody like to use their shirt to blow their nose. Or maybe you do – and that's great, but I think I'll stick with my kleenex!
6. Sunscreen. No one's vacation should be ruined by a sunburn. Make sure you don't forget to pack the sunscreen! 

7. Hand Sanitizer. Because you never know who has touched those hand rails before you.
8. Healing Ointment. Chaffing happens, okay?!


9. Baseball cap. The sun is a wonderful thing, but sunburns are not so much. Throw a hat into the bag for everyone in your family. Bonus points if it's Disney!
10. Water bottles. In addition to these fun character water bottles for the kids, I'll throw a couple frozen water bottles into a lunch bag that will go in the stroller. That way you have cold water whenever you need it.
11. Sunglasses. Again with that dang sun! I don't know about your kids, but mine HATE it when the sun is cramping their style. Like, they have meltdowns and scream at the sun to go away. Throw a pair of Disney princess sunglasses on, and all is right in the world again.
12. Rain ponchos. Sometimes it rains in California, so these are a good item to have. It is also possible to get completely soaked on a couple of the rides, so, again, it is a good idea to have a poncho. You will thank me when you're not walking around with soaking wet skivvies.
13. Snacks. Because you will get hangry. And so will your kids. And lines are long and food is expensive! I love Cliff bars, but I'm too cheap to give that goodness to my kids, so they get a good old generic granola bar.
14. Extra socks. Like I said. You may very well get wet, and nobody likes squishy socks. Bring an extra pair for everyone in the family.
15. Extra outfits. I only do this for my kids, since I generally don't pee my pants in public. Seriously, though. Accidents happen, things get spilled, and it's always a good idea to have an extra outfit on hand.
16. Wet wipes. Even if you don't have kids in diapers anymore, I feel like wet wipes are a must-have item. Once you have experienced the happiness and cleanliness that a wet wipe brings, you will never leave the house without one (except when you do, and that's always when your kid shoves their face into a bowl of ice cream and rubs it all over their arms and hair… don't forget the wet wipes).
Not pictured: diapers, bottles, formula… the types of things you would have in your diaper bag if you have little ones. This is a pretty generic survival kit; definitely use it as a guideline and do more or less according to your family's specific needs.
Is there anything you can't live without when you head to Disneyland? Let us know in the comments! 
Also, get the best possible deals on your trip by going through Get Away Today! And don't forget, if you are doing a character dining experience, you can purchase your tickets ahead of time through Get Away Today and your taxes and tips will be included saving you up to 10% (which is a lot when it comes to Disney Dining)!