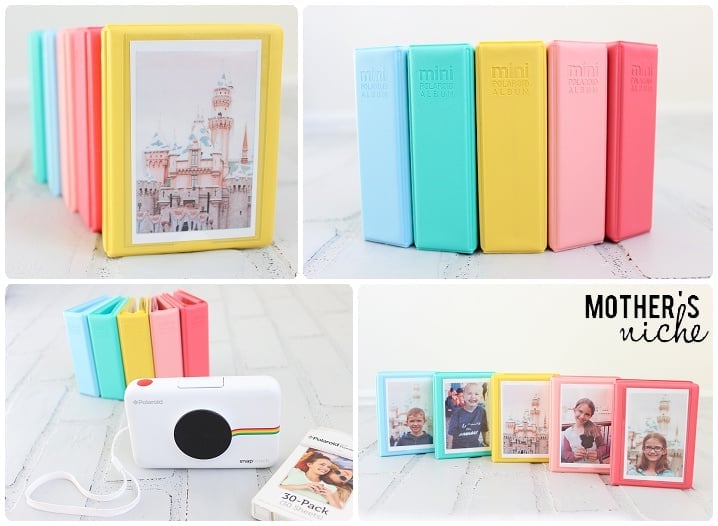 Getting Autographs from your favorite Characters at Disneyland is a MUST! But, wouldn't it be more fun to have a memory of that moment attached to the scribbled name? I have the perfect solution! Polaroid Snap Touch helps make the BEST DIY Disneyland Autograph Books.  We took this Polaroid camera with us one our vacation and it soon became one of my favorite things. It was easy to use and quick to design and print. Also, if you are headed to Disneyland, we have found the best place to get Disneyland Discount Tickets (as well as discounts on Character Dining). We've used them for 5 years now.
Here is how we did the DIY Disneyland Autograph Books:
Our Disneyland Autograph Routine:
We got a family picture with the Polaroid Snap Touch first thing when meeting each Character. While the Character was chatting with my kids my husband was taking pictures with his phone while I selected the picture, added a simple border and pushed PRINT. It took about 12 sec to Print and them I handed it to the Character to sign. It was so easy! I had so many people watching me and asking what camera that was and what a fantastic idea it was for autographs. Some of the Characters with paws, such as Pluto and Winnie the Pooh had a little bit of a tricky time signing on the tiny border but never complained and they did a great job.
The BEST DIY Disneyland Autograph Books
Here's how to make your DIY Disneyland autograph books:
When you insert a micro SD card into the camera it can hold hundreds of pictures that you can reprint and add borders to with no limit. You can also get the Snap Touch Pint App which allows you to sync the phone with your camera allowing you to print anything on your phone as a Polaroid! I loved that and used it a ton after our trip to print out pictures I took on my phone to go in my mini Polaroid albums. Don't forget extra film!
You can get these adorable Albums here. They were a really great price and shipped quickly. I stored all of the originals in my album and photo copied all the autographed pictures for the kids books. Here are some other great photo albums!
Then I added other pictures of fun times we had as a family and souvenirs such as their park tickets, and fast passes for their favorite rides.  They absolutely love their DIY Disneyland Autograph Books!
Also, don't forget, if you are headed to Disneyland, you can get an extra $10 off your vacation package with code "MOTHERSNICHE." See the deals here.
PIN THESE DIY DISNEYLAND AUTOGRAPH BOOKS FOR YOUR NEXT TRIP TO DISNEY!