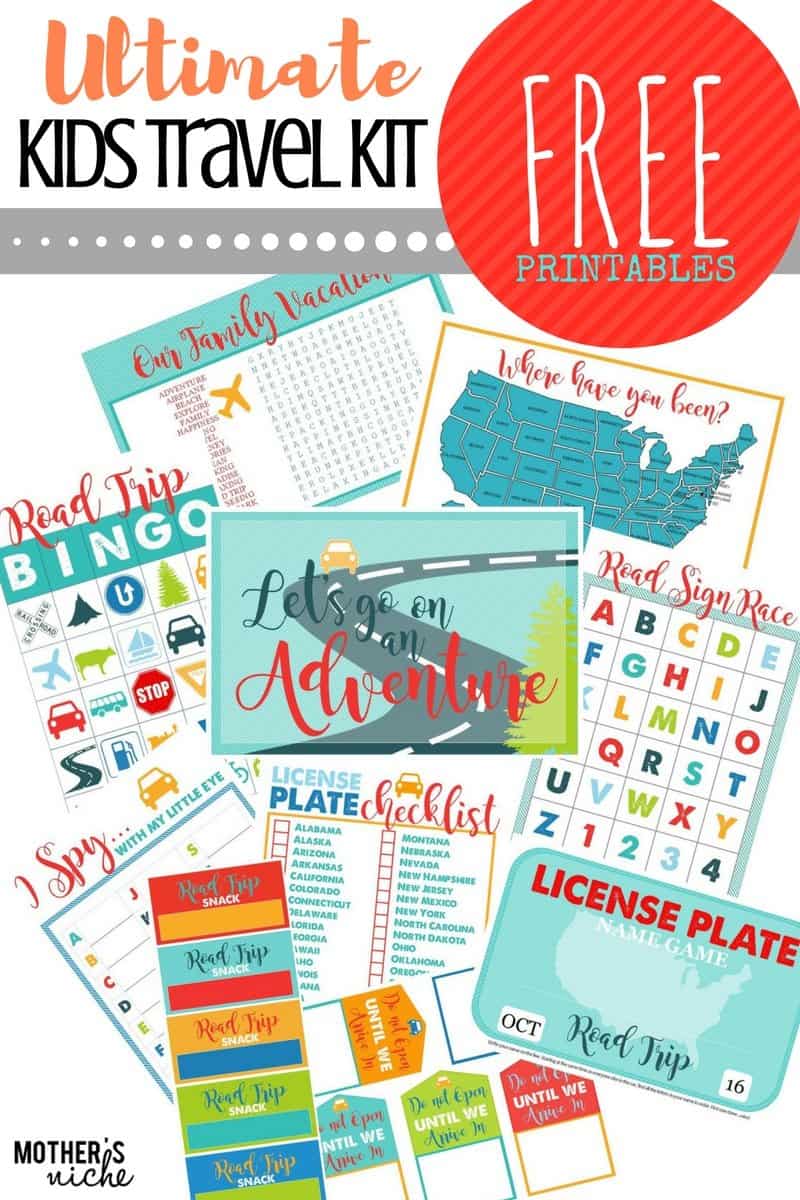 Let's Get Ready for Baby!
Sign up for our monthly pregnancy email series, and you'll get regular updates on your baby's development, helpful timelines to get ready for their arrival, must-have baby needs and so much more! PLUS, you'll get instant access to the MomsWhoThink "Ultimate Guide to Baby Naming in 2022."
CLICK HERE
to get started!
Find all the best travel activities for kids here! We have used these activities on several trips and it has made the car ride a breeze.  My kids were entertained the entire trip. Thanks to the snack tags my kids never had to ask when they got their next snack. These printables were literally a life saver! While you are here, make sure and check out our Insanely Genius Packing Tips, I Spy Photo Scavenger Hunt, What You Need When Traveling With Kids, Fun Ways to Surprise Your Kids with a Trip to Disneyland,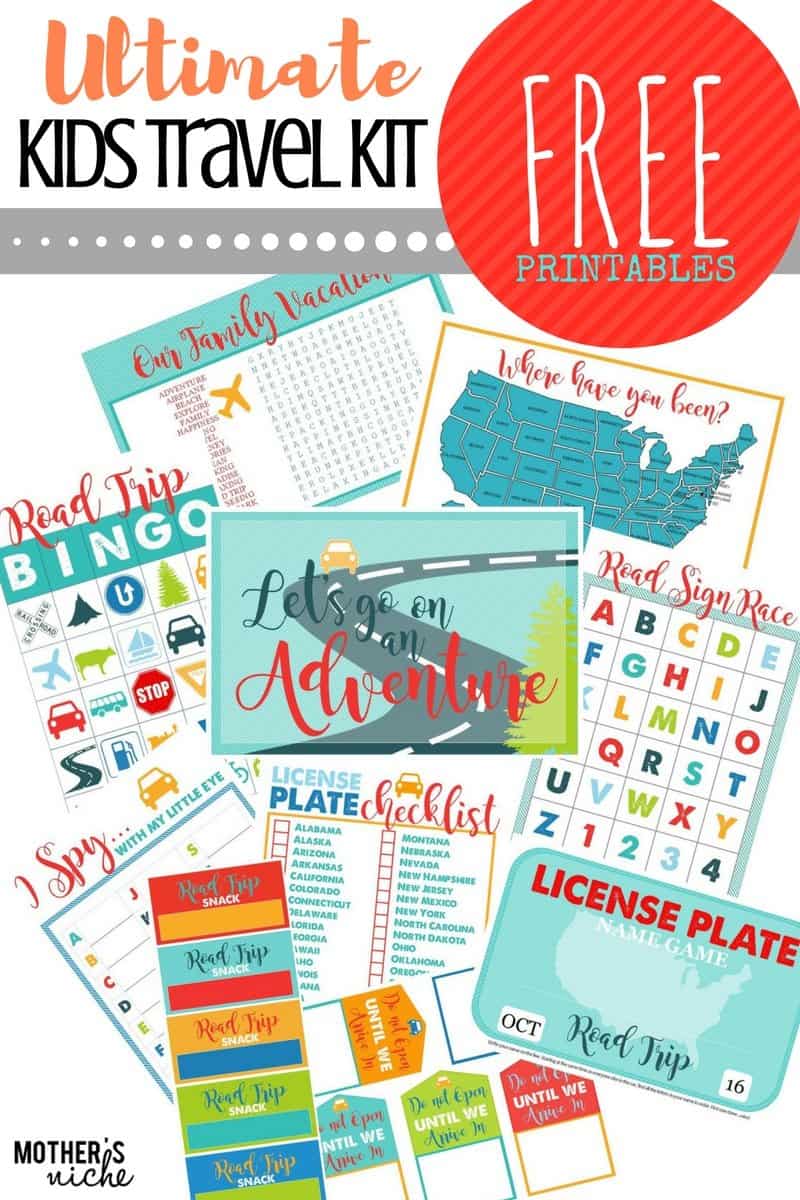 THE PREPARATIONS
I found these clear boxes with handles that turned out absolutely perfect. I printed and laminated all the activities (If you don't have a laminator, you can use write and wipe pockets). I filled the box with their favorite book and crayons, low odor dry erase markers, a clipboard and paper, a note pad, stickers and snacks.
I used a permanent marker to write the times for opening each snack with a little note. The permanent marker can later be removed from laminated labels with rubbing alcohol or even perfume 🙂  I chose to label all the snack tags to be opened on the hour. My kids were fantastic, two of the four can tell time so they helped the others, but just knowing that they would for sure get a snack on the hour worked well for us. I gave them a larger treat (Mike and Ike's) when we reached the halfway point. I used the DO NOT OPEN UNTIL WE ARRIVE IN ________ label and put the location of our half way mark.
Lucky you I have four kiddos so I made four different activity box labels. If you would rather use a bag you can use the box label as a cover for an activity book. Bind the activities together with string, metal clasps, key chain rings, wire ties, etc…
This is everything that I put inside of each box. I customized the books and stickers to the kids different likes but everything else in the kit was the same as all the others. This kept the kids from being jealous that someone got something they didn't. A peaceful car means happy mom and dad 🙂
THE TRIP
First off we booked our tickets through Getaway Today. It was quick and easy and they are always so wonderful to work with! Once I got our tickets we planned the rest (if you haven't read our Disney Travel Guide, you should. Getaway today is the way to go if you are doing a trip to California, Florida or Hawaii). They can get the best deals and the price match too!
My kids had never been to Sea World. My husband and I decided to surprise them on our drive. I found some cute alphabet magnets and some bright colored balloons. I spelled out SEA WORLD and put one letter into each of the eight balloons. Our drive was a little over 4 hours away. So the kids took turns popping the balloons every half hour of our drive.
The letters were slowly added to the magnet board. Once all the balloons were popped the letters were unscrambled by my second oldest daughter. My oldest daughter had figured it out after five letter but was really sweet and told me I could let her sister unscramble the words.  It took her about 10 minutes to figure out. But you can see their excitement!
The games were great and the kids loved all the activities!
Watch the blog for pictures of our trip, tips for beating the lines and FREE Sea World activities to do throughout the park and while you wait for the shows to start!
↓↓↓↓↓↓↓   Get your TRAVEL PRINTABLE PACK here!  ↓↓↓↓↓↓↓
HOW TO PLAY ALL THE GAMES
Cover: Choose from the four different covers and leave the activities loose with a clipboard or make them into a little book.
The License Plate Game: Keep your eyes open for license plates from different states and check the state off as you find it. Try to find all Fifty!
License Plate Name Game: Write your own name on the line and using the license plates you see on the road find all the letters in your name in order. Be the first one in the car to finish!
Road Trip Bingo: There are 6 different bingo cards. Play Bingo with the others in the car. Give a little snack or treat to the bingo winner for each round. Don't forget to print the card to draw out of the bag and call out to everyone in the car.
Road Sign Race: Start with letter A and going in order all the way to number 9, search for all the letters and numbers on road signs only. Mark the letters off as you find them. You can use one letter from each sign. Race the others in the car to see who will find all of them first.
Map: Mark off the states that you drive through on your trip and that you have traveled through before. Continue to mark them through all your trips. Maybe you will eventually see all 50 states!
Our Family Vacation Word Search: Search for all the words, related to a family trip.
I Spy with My Little Eye: From A to Z, write down words of things that you have seen on your road trip for each letter. Try to fill in all the blanks by the end of the trip!
PIN IT FOR LATER!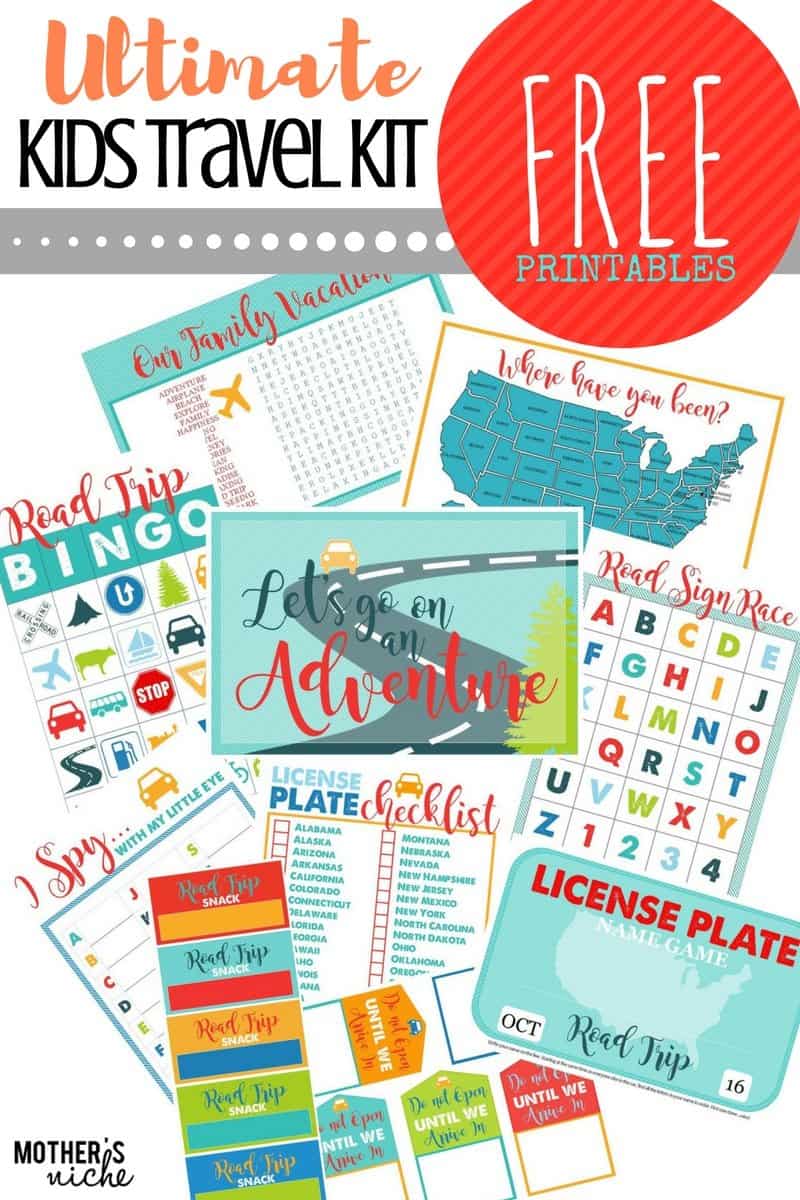 Do YOU have any games for kiddos on a road trip?!