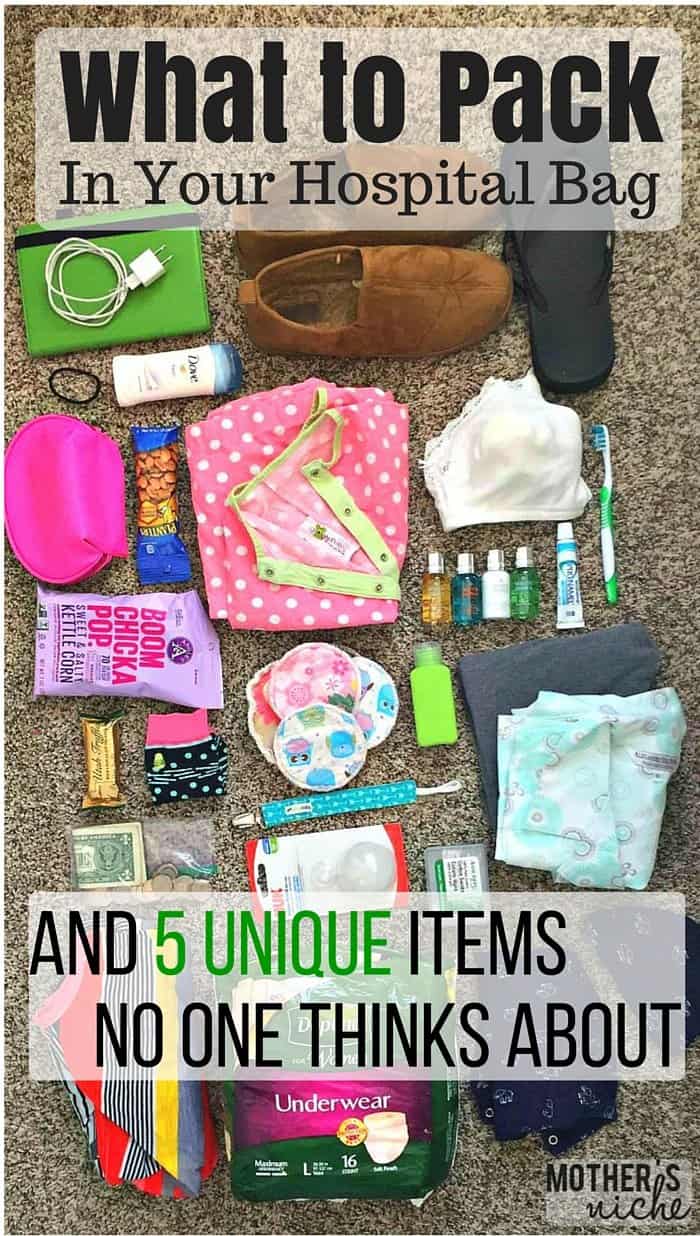 Are you nearing the end of your pregnancy and wondering what to pack in your hospital bag? Great question! What you pack in your hospital bag can make the difference of a positive or negative experience, so make sure you aren't packing last minute! If you are in your last 10 weeks, "what to pack in your hospital bag," should be a priority!
One of my favorite deal sites constantly has hospital bag items that are on this "what to pack in your hospital bag" list! Check out these categories to see what they have: maternity deals , nursing deals, baby deals
 Pregnant? Be sure to check out our Ultimate Pregnancy Guide for lots of great tips and ideas!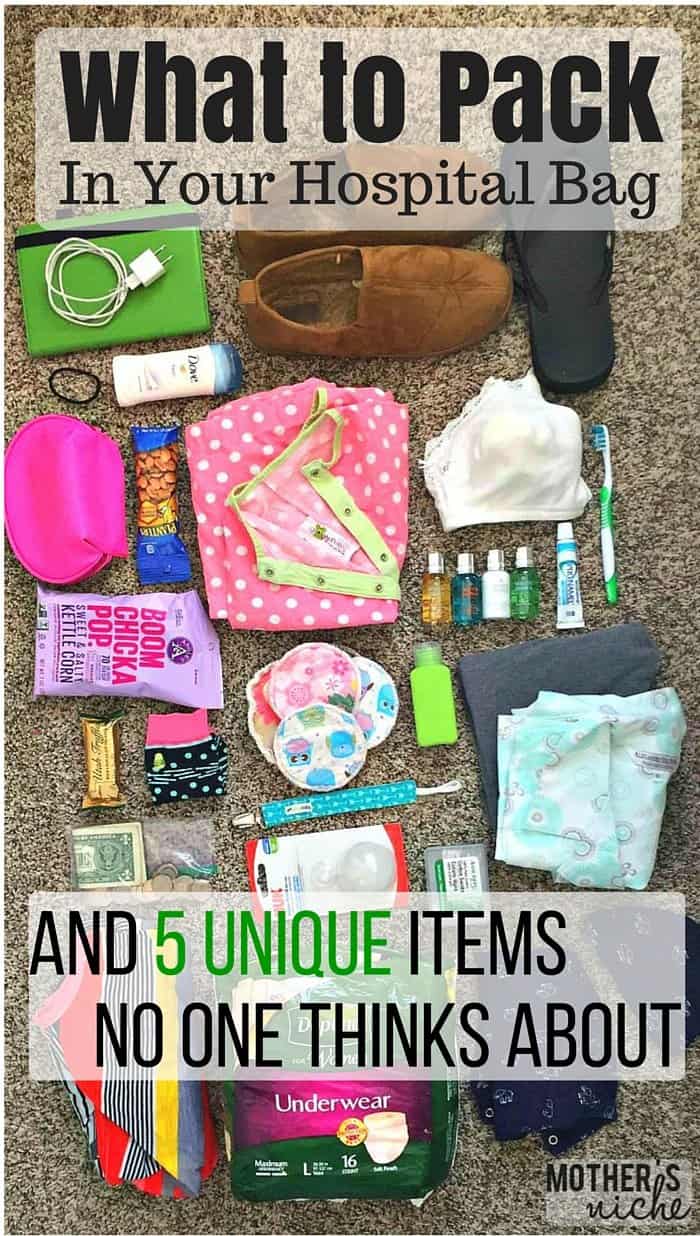 *Quick Money-Saving Tip: If you haven't already paid for a birthing class at the hospital, DON'T! You can do this course online for cheaper, and it's more in depth! It's done by my friend who is a labor and delivery nurse, and she really knows what she's talking about! Check it out here!
What to Pack in Your Hospital Bag:  for Mom
Hospital Gown With my first, I wondered if I would feel silly bringing my own hospital gowns, but I ended up being so grateful and am still packing them for my 3rd. I've also had several friends borrow them. Here's why they rock: I wore the normal hospital gown for birth, but it was so nice to put on something else afterwards. My particular gowns still allowed all the access points for hospital staff, and even had snaps in the front for nursing. However, instead of just tying in the back, they snapped so that I felt comfortable getting up and going to the bathroom when I had visitors (no bum flashing). They are also super cute for taking pictures with (I got mine here).
Post Partum Care
The first few items marked with an * are items you can get at the hospital, but you will still want to buy them ahead of time to have at your home when you return. Trust me, you don't want to have to run to the store. Think of everything you possibly can ahead of time.
Boy short Underwear or high waist underwear. Sexy right? Okay, maybe not, but totally necessary for holding those thick pads in place! Remember, tampons are a definite no-no. Those mesh undies at the hospital don't exactly cut it.
Coconut Oil. With my first baby I used the Lansinoh cream that everyone uses for breastfeeding. I also got Mastitis THREE times. I then read on a blog post somewhere that the Lansinoh cream can actually trap bacteria onto your boob, and that it was much better to use coconut oil with is great for the skin, but also anti-bacterial and anti-fungal. I've been using it since and have never gone back. I also use it on baby's skin. Make sure you get the organic extra virgin kind with no added chemicals. Keep it natural baby!
Nursing Pads. You can get a set of 8 for free right now using code MN10FREEPADS at breastpads.com (you still have to pay shipping, but it's not bad considering the amount of pads you are getting).
Nipple Shield. For me this is a MUST and I wish I would have known about it earlier with my first. Breastfeeding can really take some practice to get the hang of it (for mom AND baby), and if your baby isn't nursing good the hospital staff with start supplementing with glucose and formula. With my second, they almost had me stay an extra day in the hospital. I wish I would have had my nipple shield with me! Not only did it take away a lot of the pain for me, but it also helped baby latch on better. It's seriously the best $3-5 I've ever spent and I have made several trips to the store for friends that call me asking for nursing advise. Once you and your baby gets the hang of things, start weaning your baby off it by doing one nursing session a day without it, then two, then 3, and so on.
Depends. This is another MUST HAVE for me! I know, it doesn't sound pleasant and it does strip down your pride a little bit LOT to wear them, but they are WONDERFUL for postpartum care! First, your bladder may not be back to normal after wearing a catheter, so it will catch any embarrassing moments in that regard, but also because you have so much blood and junk leaking out of you for several weeks afterwards, that it's nice not to have paranoia that you are leaking through your underwear (because you probably will).
Lip Balm. Birth isn't light work. Chances are your dry lips will be very sad if you forget this item.
Hair band or elastics. In case you want your hair pulled back during birth or afterwards.
Camera, cell phone and chargers. If your camera requires batteries, don't forget them! If you will be having anyone attend your birth besides your husband, put them on the task of getting some memorable photos. I was able to capture some really touching ones for my sister, and she is so grateful for them. It portrays both of their reactions holding baby for the first time.
What to Pack in Your Hospital Bag: for Dad
What to Pack in Your Hospital Bag: for Baby
Swaddling Blanket. The hospital will wrap baby in a blanket, but it's not the best swaddling blanket. We were always having to re-wrap. You will be fine without one, but I plan to bring a blanket specifically for swaddling. Might also consider bringing one of the muslin newborn swaddles for pictures.
Going Home Outfit and socks. You might consider bringing a couple different things (one smaller than the other), in case one doesn't fit quite right. Pat Pat is one of my favorite websites for finding adorable (and affordable) going home outfits for baby. Most of the outfits average around $10. Also, If it's your first time using Pat Pat, use code tATW59 for 25% off your first order using this link.
Baby Hand Mittens. To help keep baby from scratching his/her face.
Newborn Hat. Again, the hospital will have a newborn cap for your baby to wear, but if you want a special one for pictures, bring it with you.
Carseat. Can't leave without it 🙂 I recommend installing it in your car once you reach the 3rd trimester, since you won't have any idea when you are going to go into labor and it's one thing you really don't want to be without.
Carseat Head Support. Make sure your car seat has infant head support since your baby won't be able to hold his/her head up yet and you don't want it slipping down. We forgot with our second baby and called a friend from the parking lot to see if she would bring us one. For our 3rd baby, we got the carseat cover that comes with a matching head support and blanket in minky fabric and I LOVE it so much. Use MNSAVE50 for $50 off the 5-piece set, or for a free carseat cover (plus shipping). I would go with the whole set and get the minky fabric. It's more expensive, but so worth it and probably cheaper than what you could make it for. This is the one I have:
Binky Clip. Most don't think to bring a binky clip! The hospital will give you a binky for the baby; and If you plan on using it (I have with ALL of my babies and it has NEVER caused nipple confusion), then you should probably bring a binky clip. All it takes is one time dropping that binky on the hospital floor and that binky is as good as gone. Do you know what kind of germs exist on hospital floors? I guess you could always ask the nurses for a new one, but you are going to want a binky clip later anyway, so might as well bring it with you. We use this brand.
Love Story For Baby Memory Book. If you ended up making one of these "Our Love Story For Baby" memory books, make sure you bring it to the hospital with you so that you can write down some birth memories while they are fresh on your mind!
IS THERE ANYTHING NOT ON THE LIST THAT YOU WOULD RECOMMEND PACKING IN YOUR HOSPITAL BAG?
Ideas for Sibling:
My daughter was 18-months old when our second was born, and I knew she would be ALL OVER the baby. I wanted to get her something to help keep her interest when I needed to pay attention to baby. Something you can do is get a baby doll, and some baby care items, so that they can "care" for their baby at the same time you are. Instead of saying you are busy, you could say "time to change our babies diapers!" or "Time to put our babies down for a nap!" I love the little baby doll wraps and backpacks that allow kids to carry their babies around with them like mommy!
There are lots of fun baby doll care kits out there that come with plenty of items to fed, bathe, and diaper little baby dolls!
Zulily is a great place to look for baby doll stuff too. They seem to always be having some deals on that kind of stuff (also lots of maternity, nursing and postpartum stuff).
Get more ideas from our Ultimate Pregnancy Guide: