The first week of your baby's life will be a whirlwind of joy and new experiences. Before you know it, it will be over. It helps to think ahead about what pictures you would like to be sure to capture; here are a few to get you started: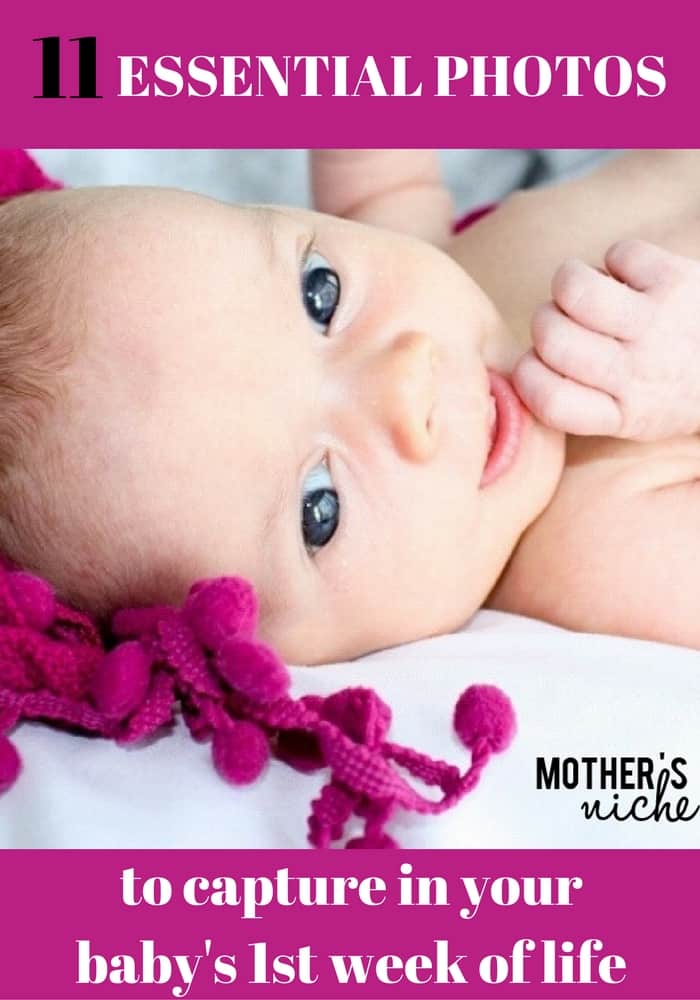 11 Essential Pictures to Capture in Baby's First Week
1. First looks: Seeing your baby for the very first time is the most surreal, incredible experience possible. If you have someone capture a photo, a series of photographs, or even a video of this special moment I promise you will treasure it forever. Not because it's glamorous (I'll tell you what–my cry face is ANYTHING but glamorous), but because it's raw and full of meaning. Whether you want to share these moments with the world or treasure them privately, they will allow you to re-live this special experience over and over. Be sure to capture Dad's first look, too! You can hire a birth photographer, have a family member or friend take them, or even ask a nurse (I really don't think they'd mind–my nurses actually offered to take pictures. I was so grateful because my photographer wasn't allowed to come when I was whisked away for a c-section).
2. Fresh out of the womb:

3. Detail shots: Newborn babies change so quickly. Make sure to capture all their sweet little features before they go changing on you.
Hands
Feet
Ears
Facial features
Leg rolls
Hair (many times they will lose their hair in the weeks following birth so it's fun to remember how much they were born with).
4. Proud Papa: First moments with mom and dad are must have pictures.

5. With Momma:
6. With Siblings: If you have more than one child, get some of when they first meet and some at home when they are a little more comfortable with one another.
7. First family photo: These are by far some of our favorite pictures; all of us together for the first time.

8. Sleeping: We have an abundance of these pictures but I treasure each of them!

9. Awake: Good luck getting any of these pictures but if you can, it's wonderful to have some pictures of their eyes because they will most likely change.

10. With important visitors: Friends and family alike may visit you at the hospital and you will want to remember some of the first people that met your bundle of joy. Be sure to snap some of those pictures as well!
11. Funny faces: Each baby will have a few signature faces that you'll want to capture. They will make some memorable ones especially during all the poking and prodding in the hospital; the first bath in the hospital will certainly get a reaction.
What are YOUR favorite moments to capture of your newborn?!?