If you have never been camping with kids, let us tell you two things: One, it can be super stressful, and two, it can also be insanely fun — as long as your well-prepared! Usually there is a mixture of both that happens on a camping adventure with the kiddos. As is the case with kids, there is never a dull moment to be had. Ensure that everyone's needs are met by preparing for your adventure with this "Camping With Kids Checklist." From the obvious items (tents, anyone?!) to age-related must-haves, this is the starting point for your camping trip preparations. (And you can find a more complete camping checklist here.)
The Family Camping Essentials
What are some of the biggest needs your kids will have going into this camping trip? Let's talk about the must-haves for any family.
1. Tent and Sleeping Gear
This one is pretty obvious, but a solid family camping tent is necessary for a true outdoor camping experience. You can either spring for a large tent for the whole family or get one for the adults and one that is just for the kids. For a more comfortable night's sleep, you can bring along sleeping pads for some added cushion. And don't forget the sleeping bags and pillows for each member of your family. Alternately, many people bring along blow-up mattresses for a more luxe night's sleep. Find 12 camping tents we love here.
2. Table and Chairs
Other gear to take with you includes chairs and a table since, let's be honest, you're going to want somewhere to sit aside from the inside the tent. Fold-up sports chairs take up the least amount of space in your vehicle's cargo area and can fit right in there with the tent and other gear. In terms of tables, many campsites feature picnic tables, but if you're going more rustic, a folding or card table is a great option.
MWT PICK: This Coleman Camping Chair (which also happens to have a four-can cooler built in) is a perfect camping chair option.
3. Flashlights and Lanterns
Bring some flashlights and a lantern or two. A lantern gives a more authentic, rustic effect and provides even more light than your average flashlight. Plus, they are way more effective for telling spooky campfire tales after dark. You can hang them from nearby trees to maximize overhead visibility too. Also, hanging lights with several feet of bulbs makes for a nice effect if you will be bringing the camper or want to string those up in a tree.
MWT PICK: This LE battery-powered LED camping lantern is a top-rated affordable option.
4. Camping-Appropriate (& Extra) Clothing
If your family plans to do some hiking, you'll want to have comfortable shoes and padded socks. If you plan to swim, make sure you pack towels. Definitely pack a sweatshirt for each person in the case of cool nights, and perhaps consider getting your family some matching family camping shirts just for fun. But over and above clothing that's relevant for your planned activities, you'll want to have extra clothing for little ones in particular. Kids are the masters of getting clothing wet and dirty, so it is okay to over-pack in anticipation of the need. Babies and toddlers will especially need extra clothes since they are more prone to bathroom and eating accidents, but older kids can also benefit from a few extras.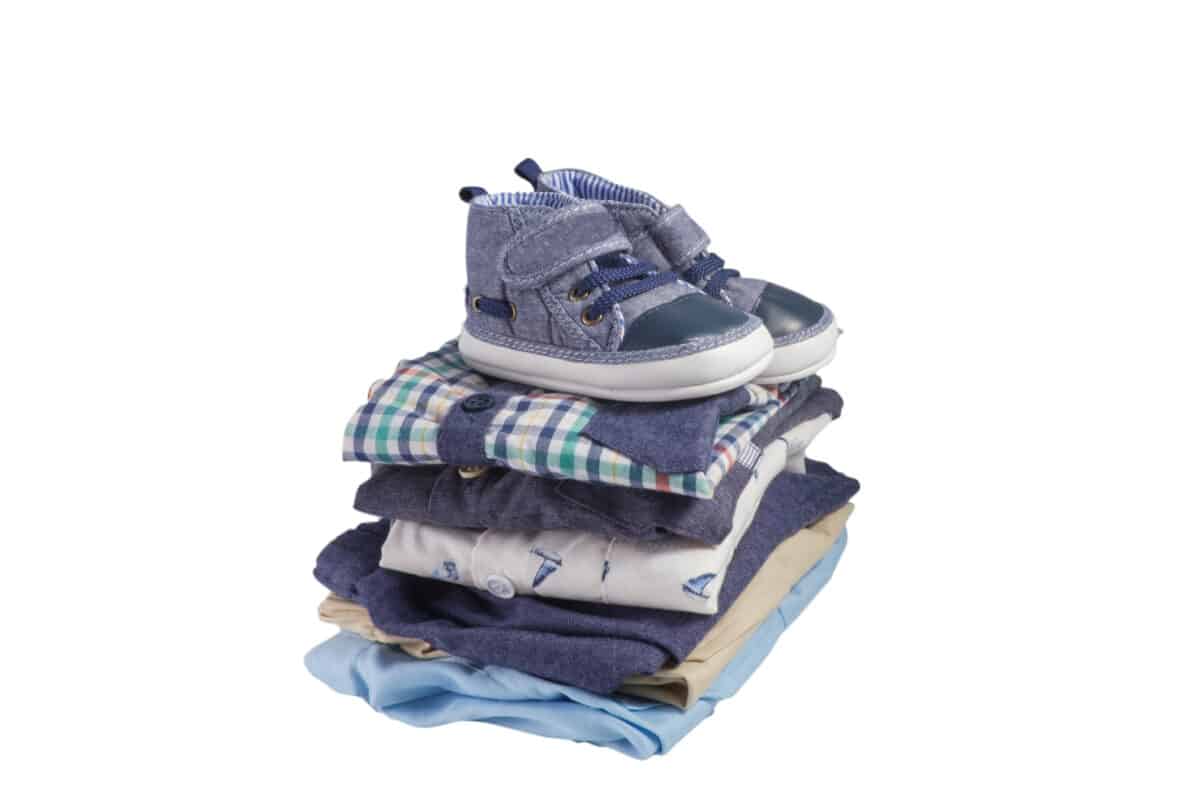 5. Interactive Activities
Without screens in front of their faces, your kids might find themselves starting to get — gasp! — bored. Keep kids entertained by packing some fun activities like card and board games or a musical instrument. Games can liven the mood and get you communicating more meaningfully with your kids. Games can also encourage teamwork and teach critical thinking skills, thereby making learning fun. Options like checkers and UNO are always a hit.
6. Dry Goods
Be sure to pack plenty of items to keep your site and your family tidy. Garbage bags and plastic grocery bags are great for stashing dirty or wet clothes as well as cleaning up your campsite. Disposable plates, silverware, cups and napkins are a must (bonus points for compostable products). A pack of toilet paper or moist wipes will be appreciated for bathroom breaks. And don't forget the paper towels and wet wipes for dealing with all the gooey messes camping snacks can make!
7. Camping Snacks
Let's face it, it isn't a camping trip unless you indulge in some s'mores. But you'll obviously want to hahve a variety of snack options on hand to keep the kids satiated — chips, crackers, string cheese, granola bars and the like.
8. Camping Meals
Family meals are tricky enough to plan at home let alone when you are roughing it out in the wilderness. Sure, sandwiches are easy enough, but they get boring quite quickly. And your family will want a little more sustenance than simple snacks can provide. Here are some great family camping meal ideas to help make your planning easier.
9. First Aid and Personal Care Items
It's always a good idea to have a first-aid kit on hand, but perhaps no time is more important than while camping. If not a formal first-aid kit, definitely pack a bag that includes Band-Aids, antiseptic/alcohol wipes, Neosporin, tweezers for tick or splinter removal, sunscreen, bug spray, aloe in case of sunburn, and age-appropriate pain reliever. Also, don't forget the toothbrushes, toothpaste, and soap and shampoo if you're camping for an extended time.
10. Age-Specific Items
There are some age-specific items that we need to mention here. Infants and toddlers have different needs from older children, teens, and young adults. These are the must-haves you should bring along for them.
For Babies & Toddlers
Babies and toddlers will obviously require a lot of potty-related items. Diapers/Pull-Ups, wet wipes, and diaper rash cream are all non-negotiables. But you should also consider bringing a small toddler training potty for your littles to practice their potty-time skills. If you have a toddler who is shy about toileting in an unknown place, this potty could help them feel more secure and confident.
Also, don't forget your little one's lovey. Nothing ensures a sleepless night like forgetting to bring your toddler's sleep friend.
For Older Children
For older children, be sure to bring fun, outdoorsy stuff to do. Pack a drawstring backpack with a mini lantern, bug-catching tools, binoculars, a compass, and an activity book. Your kids can feel like explorers while learning about nature.
For Teens & Young Adults
Teens and young adults won't need you constantly entertaining them. Encourage their artistic side with a digital camera and a journal for recording their experiences. They will also likely want to bring some books to read.
What's the one thing you didn't see on this list? Electronics. While they might help pass the time on the car ride there and back again, electronics take away from a family getting to enjoy each other's company and experiencing the many wondrous sites and sounds that nature has to offer. Enjoy your time together, but don't forget to pack all of the necessities and fun stuff to make your camping trip one to remember.
The image featured at the top of this post is ©iStock.com/LuckyBusiness.