There's nothing like the crackle of a campfire under a star-studded sky. Before you set out on your family camping trip, however, you'll want to make sure that you have the right equipment for a cozy and comfortable getaway! The first thing to consider is your tent.
RELATED: Camping With Kids? Here's Your Packing Checklist!
Family camping tents come in all shapes and sizes, and they can have an array of special features. Here are a few things to consider when buying a camping tent:
Size: Though dimension information (height x length x width) is readily available, tents are usually measured by "person" (one-person, two-person). You might also see tents labeled "family size" for large or extra-large groups.
Weight: Heavier tents can provide more protection from the elements, but they'll also be bigger and bulkier, which will mean more burden on you if you're backpacking.
Type: Camping tents come in several types, including "stake-in" and "freestanding" tents. You'll also find sub-types such as dome tents, ridge tents, and pop-up tents. Some are easier to pitch than others if you're a camping newbie.
Material: Tents can be made from canvas, nylon, polyester, and more. Different materials are suitable for different terrains and weather conditions.
Features: Special features on a tent can range from waterproof walls and room dividers to storage spaces to outdoor awnings. There's no right or wrong way to choose them; it all depends on what you're looking for in your unique camping experience.
If this seems like a lot to take in, don't worry! We have 12 family camping tents to consider.
Best Waterproof Tents
Many camping tents are waterproof by design, but there are different types and levels of waterproofing, which can impact things like price, durability, and ease of use in the outdoors. Let's take a look at a few examples of waterproof camping tents.
Clostnature Lightweight Backpacking Tent
The Clostnature Lightweight Backpacking Tent is a 1- to 4-person tent made out of weather-resistant polyester. Its floor has additional protection in the form of a PU5000 coating that wicks away moisture without sacrificing comfort and breathability.
Other benefits of the Clostnature Tent include an easy freestanding set-up, an emergency repair kit, and vestibules for pets or equipment storage on either side of the tent.
Mountain Hardwear Mineral King 3-Person Tent With Footprint
Perfect for the small family, the Mountain Hardwear Mineral King is a three-person tent that's light, durable, and easy to both pitch and carry. Its waterproofing comes in the form of taped seams around the rainfly and a bathtub-style floor that will keep moisture out. As a bonus, it also includes a footprint to provide another layer of protection between the ground and your body!
TETON Sports Waterproof Bell Tent
Made from canvas, the TETON Sports Waterproof Bell Tent is more expensive than your usual poly-blend tents, but it's also more stylish. Its bell shape gives it a unique design that'll be the envy of other campers.
There's more to the TETON than looks, however, including a spacious interior, removable floor, and collection of electronic access ports. Its waterproofing is also top notch thanks to a built-in weather skirt. Additionally, bell-shaped tents are known to be better at resisting mold and mildew, so you've got extra protection there.
Caddis Rapid 6 Tent
The Caddis Rapid 6 Tent is a three-season tent that can be used for most of the year. Whether you're camping under cherry blossoms or trekking across scattered leaves in mountain passes, it's a tent that will shelter you from wind and rain. Its floor and rainfly are made of waterproof polyester taffeta; its canopy is part polyester and part mesh to increase ventilation. On non-rainy days, there's a power port that can provide access for an extension cord.
Best Camping Tents for Large (And Extra-Large) Families
Larger camping tents are more expensive than smaller ones, so if you're looking for something that can squeeze in the whole brood, you'll want to make sure that it's worth the investment. Here are just a few large and extra-large tents meant for families.
Coleman Cabin Tent With Instant Setup
Available in four, six, and ten-person sizes, the Coleman Cabin Tent will have more than enough room for your family. The largest can fit four queen-sized air mattresses or almost a dozen sleeping bags!
Other cool features of the tent include waterproof materials, an optional room divider, and "dark room" technology that blocks 90 percent of sunlight during the day. As promised by the name, it's also quickly and easily pitched.
Eureka Northern Breeze 10 Screenhouse
Though it's called a "screenhouse," the Eureka Northern Breeze 10 Screenhouse is basically a really big tent. It offers 100 square feet of shelter that doesn't include the awnings extending from the front door and adding coverage outside of the main tent.
Another great thing about the screenhouse is its waterproof and sunproof fabric that rates UPF 50. If you're worried about the little ones in the sun, this tent could provide some extra protection.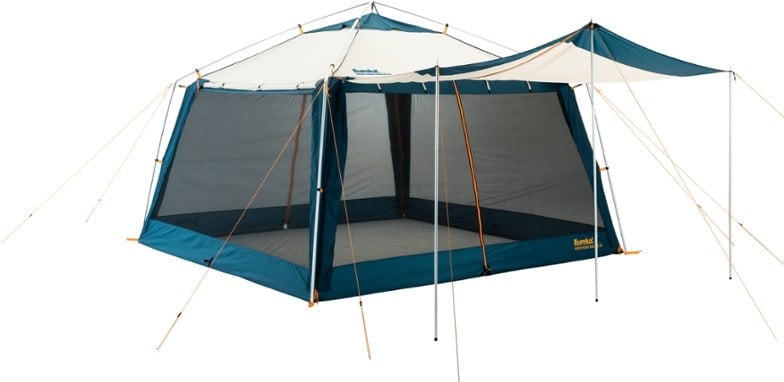 CAMPROS 8-Person Family Tent
Eight people can sleep like babies in the CAMPROS Family Tent. Not only is it nice and roomy, but it also boasts excellent ventilation in the form of polyurethane materials and mesh doors, windows, and tent tops. The breeze can come in, but the bugs can't!
Another fun fact about the CAMPROS: When you zip up the rainfly, it can be used as a projector screen. You can have family movie night right there in the woods.
Eureka Copper Canyon LX 6-Person Tent
If you're looking for a freestanding tent that doesn't skimp on floor space, you might like the Eureka Copper Canyon LX 6-Person Tent. It can fit either six humans or several humans and a pet or two! It's also made to last thanks to a strong combination frame made with both steel and fiberglass. It'll provide support, stability, and durability for your family during your camping trip, so you won't have to worry about a flimsy tent giving you any grief during what's supposed to be a fun time.
CORE 12-Person Instant Cabin Tent
The CORE 12-Person Instant Cabin Tent is a beast of a camping tent, but despite its size, it's surprisingly agile. It lives up to the "instant" part of its name by having pre-attached poles that just need to be unfolded and locked into place. It also comes with several room dividers if you want to partition off the central space, and there are even separate doors built into the walls so that no one will disturb anyone else as they come and go. If mom's an early riser or the kids are late sleepers, this tent could be ideal.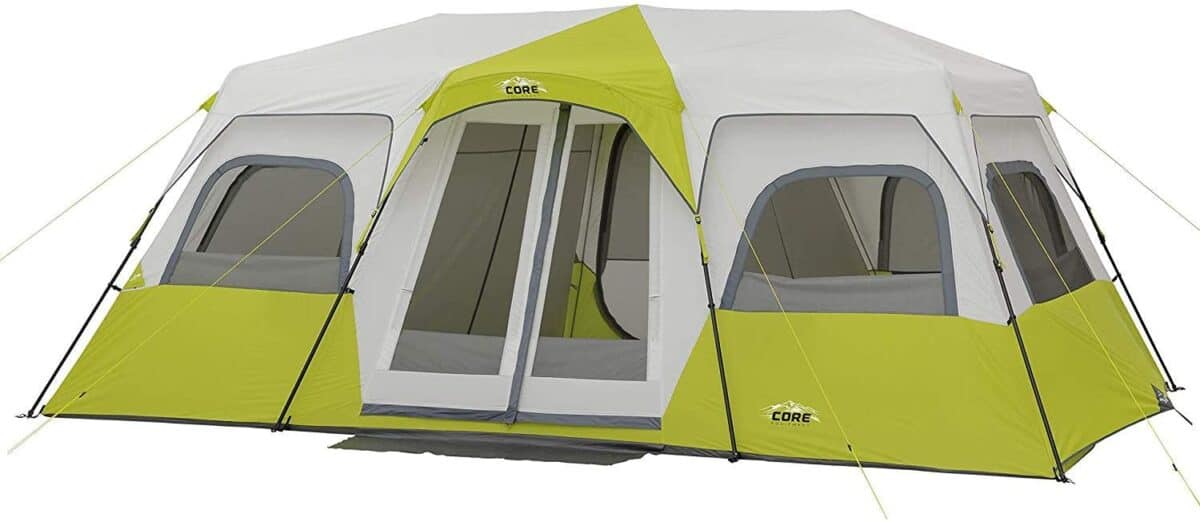 Best Tents With Rooms
Maybe you want to go "glamping." Maybe you need separate rooms to keep the kids from squabbling. Whatever your reasons for considering roomed tents, here are just a few good options.
CORE 12-Person Extra Large Straight Wall Cabin Tent
Stretching 16 feet across, the CORE Straight Wall Cabin Tent is a truly massive tent. Not only does it come with rooms, but they're arranged hotel-style in a straight line with multiple entry points, so everyone can have their own space. This could be a great tent for families with teenagers who value their privacy! Otherwise, everyone can collectively enjoy the extravagance of this camping, hiking, and backpacking tent.
UNP 10-Person Family Tent
The UNP 10-Person Family Tent is a tent that can serve your family for years to come. Whether you're camping, attending a festival, or just stargazing in the backyard, its double-layered walls will protect you from all kinds of inclement weather. As a bonus, it can be assembled in as little as five minutes, so even the kids can learn how to do it!
As for its design, it's another horizontal tent with rooms separated via privacy curtain. It's available in several colors if you're feeling stylish.
Dome Tent Ozark Trail 10-Person Family Camping Tent
With three separate rooms, the Dome Tent Ozark Trail Tent is a polyethylene dome tent that offers privacy as well as luxury. It takes a bit of effort to set up, but the end result will be a large, luxurious camping space that has all of the comforts of home, including an e-port for your electronics. You might also appreciate the storage pockets, removable rainfly, and cross-ventilating walls. You can even remove the dividers if you get tired of separate rooms and want to snuggle everyone together!
Camping is a great way to make lifelong memories with your family. Before you start hiking into the woods, however, it pays to do your due diligence about family camping tents. A little planning today could save you a lot of trouble tomorrow!