Christmas with toddlers is SO. MUCH. FUN, and we're ready to celebrate with the Best Christmas Gift Ideas for Toddlers Holiday Guide! They're old enough to appreciate more tactical toys and creative concepts, but they're not so old that they just want money or clothes (hello, teens!). Parents of toddlers typically want toys that keep children actively engaged while offering a touch of practicality. Not to mention, it is always an important bonus when toys encourage important physical and cognitive developmental skills. Here's a look at our 2021 Gift Guide for Toddlers — we think these selections will keep your little one happy and active all year long!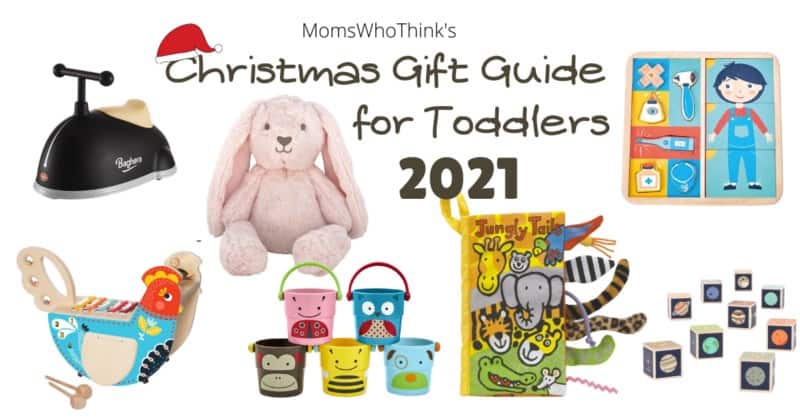 Christmas Gift Ideas for Toddlers
"My First Dollhouse"
Encourage your toddler to explore the creative world that a dollhouse brings with the "My First Dollhouse" from Pottery Barn Kids. The totally portable wooden dollhouse clocks in at just over 5 lbs and features five rooms that can be impeccably decorated (it is Pottery Barn, folks!) over and over and over. The dollhouse comes with a bookcase, table, bed and couch as well as a tiny plant to make it feel like home. Recommended for ages 3 and older, the dollhouse requires ZERO assembly, which is a gift of itself! Find it for $79.
Charlie Play Kitchen Collection
For a more life-size creative play experience, consider the Charlie Play Kitchen, also from Pottery Barn Kids. The stylish set up is available in three configurations — just the fridge ($349), just the sink and stove ($399), or all three ($748). The solid oak wood structures also feature satin nickel finish faucets and handles, and the paint is kid-safe and GREENGUARD Gold Certified. Imaginative play has never been more stylish!
Super Soft Bunny
Every toddler needs a furry friend, and this sweet and incredibly soft bunny by O.B. Designs is just the pal for your little one. Stuffed with recycled materials, it's also an eco-friendly bunny! The 100% polyester exterior is available in a variety of adorable colors — pink, navy, grey, white, mauve and many more. Find it for $28.95 at The Tot.
Zoo Stack & Pour Buckets
Whether you're headed to the bath or the beach, the Zoo Stack & Pour Buckets from Skip*Hop are hours of fun just waiting to be explored! Each of the five stackable buckets features a friend animal face, and the sprinkler effects ensure lots of splashing fun! Find them for $10.
Planet Blocks
Everyone is heading to space this year, it seems. Keep your little one's feet on the ground but their interest piqued with these adorable Uncle Goose planet blocks. Included in the nine-block set (yes, Pluto made the cut!) are sturdy basswood cubes that measure 1.75 square inches and feature delightful designs and include the planet names. And at a mere $20, it's by far the cheapest trip to space anyone's taken.
Twister First Ride-On
Give the gift of movement to your little one with this Twister First Ride-On toy by Baghera. Made of sturdy *anbd easy-to-clean) plastic material, the ride-on is multi-directional, making for ease-of-use for your toddler. And it's great for both indoor and outdoor use. Find it for $140.
Ouch Puzzle
Little ones love to mirror the same affection and care they receive, so give your toddler that gift via this adorable Ouch Puzzle by Tender Leaf Toys. The simple 12-piece puzzle offers not only the opportunity to fit shapes into spaces, but also opens discussions about the human body, what can sometimes hurt and what can help, and opens up the world of imagination as your child pieces together how to make the body feel better. Find it for $19.99.
Jungly Tails Book by Jellycat
Combine the love of a soft Jellycat plush with the excitement of a great book and you get this Jungly Tails book by Jellycat. Little ones will love the tactile experience of exploring the various types of tails you might find in the jungle, and parents can feel good about instilling a love of reading from a young age. Plus it has a handy travel loop to ensure it never gets lost! Find it for $16.50.
Hooded Towel
Give the gift of play and practicality at once with a delightful hooded bath towel. Choose from a variety of fun animals, including elephant, fox, lion, shark, rabbit, puppy, unicorn and more. Your little one will look forward to bathtime simply so they can dry off with a new fun friend. Find them for $38 each.
Portable Easel
Encourage a love for the visual arts with this pint-size (and portable!) easel from West Elm. The easel, which has two wheels for easy relocation, features a bottom storage shelf and a drying rack for fresh works of art. With paint cups and holders and a roller to keep the butcher paper coming, this is a gift that will grow with your artist for years to come. Find it for $199.
Sky Nook
Little ones love to hide out in tents or forts, so they'll love grabbing a good book and a soft lovey and climbing into this Sky Nook from Fat Brain Toys. The cozy encasement is durable — reinforced stitching ensures it's great for use both indoors AND out. Find it for $39.95 in two color scheme options — green/blue or orange/grey.
Musical Chicken
If you have a little one with an early appreciation for music, this colorful Musical Chicken from Manhattan Toy will surely delight. Comprised of five different instruments, this playful poultry invites toddlers to explore the various sounds each one creates. Find it for $53 at ManhattanToy.com.
Crate & Kids Wooden Activity Table
Keep little hands busy with this interactive wooden activity table from Crate & Kids. The bold contrast of the black and white color scheme entices young eyes, and the various activities encourage interactive play and strong motor skill enhancement. Measuring 27 inches in height, it's the perfect size for exploring! Find it for $199.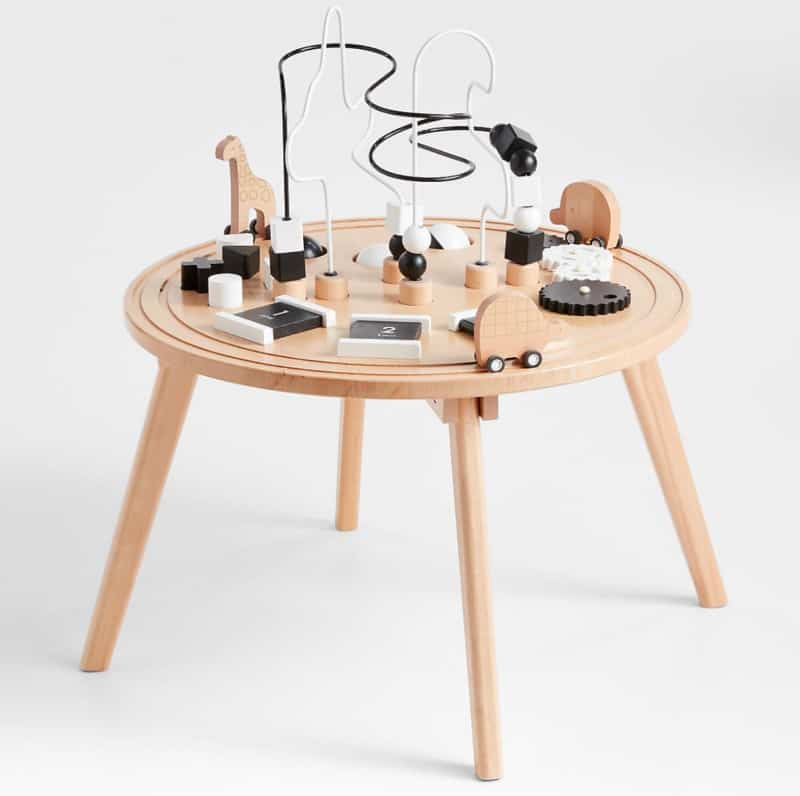 Giddy Buggy Tunnel
Little ones will get lost in adventure with this Giddy Buggy Tunnel. Durable enough for outdoor play, this nearly six-foot tube invites toddlers to get lost in the adventure of exploration. Plus, it easily folds up for inconspicuous storage. Find it for $37.79 at MelissaAndDoug.com.
Have a baby to shop for? Check out our 2021 Christmas Gift Guide for Babies for the perfect gift!
And keep scrolling to check out even more great toddler gift ideas …