Preschoolers are like butterflies bursting from their cocoons. They're curious and filled with excitement at all of the new adventures they get to experience. Help the little one in your life lean into that enthusiasm with some of these stimulating gift ideas for preschoolers. From STEM-inspired gifts to active toys to thought-provoking puzzles and books, here are some exciting options to put under the tree this year!
Christmas Gift Ideas for Preschoolers
Cocoon Alphabet Puzzle
Young learners will delight in the bright and colorful challenge of this Sweet Cocoon Alphabet Puzzle from Janod Toys. All 26 letters are present and ready to removed and replaced over and over again. The easy-to-grab solid plywood letters encourage fine motor skill development as well as the opportunity to explore the different sounds each letter makes. And for added fun, flip the puzzle over, and your preschooler can practice writing the same letters on the blackboard back. It's like two gifts in one! Find it for $27.99.
Mercedes Benz Ride-On
Riding in style transcends any age when you gift your preschooler a brand new Mercedes Benz. OK, OK, sure — it's just a ride-on, but it's pretty swank for a first car, don't you think? A pretty close replica of the Silver Arrow, this metal ride-on from Baghera features a functioning steering wheel and rubber tires, and it will no-doubt provide endless hours of fun! The car clocks in at 17 lbs and can support up to 30 lbs. Find it for $300 — quite a bit cheaper than the real thing, right?
Five-Piece Instrument Set
Encourage some early-age jam sessions with this adorable 5-piece musical instrument set from Janod. The set includes a guitar, tambourine, harmonica, horn and clapper, which come in a vibrant red with multi-color polka dots. Made of durable wood, plastic and metal, the set invites a the family to gather around for a house concert anytime the mood strikes. Find it for $59.99 at World Market.
Koala Crate from Kiwi & Co.
Budding STEAM fans will LOVE a monthly Koala Crate subscription from Kiwi & Co. Each month, your preschooler will receive a new "crate," which is a box filled with an interactive activity that encourages little ones to explore concepts and materials. Easy-to-follow instructions ensure it's enjoyable for both child AND adult, and with a monthly delivery, it's like Christmas all year round! Subscribe for $17.50 per month.
Oceano Playhouse
For the aspiring homeowner in your life, give them their dream home — at least for now! — with this ADORABLE Oceano Playhouse by 2mamabees. The just-over-six-feet-tall structure invites hours of make-believe play as your preschool sets up their home and embarks on a pretend journey of homemaker. The durable home is made from furniture-grade cedar and includes a built-in kitchen and garden as well as pretend food and child-sized cooking utensils. Perfect for indoors or out, the playhouse comes with a 5-year manufacturer's warranty — so it's an investment you can feel good about! Find it for (take a breath …) $1,850.
Stay-at-Home Play-at-Home Activity Gym
And if you have a house, you need a playset, right? Check out this inviting Stay-at-Home Play-at-Home Activity Gym. The all-wood climbing set ensures hours of active play as your little one explores the various facets and features, which include monkey bars, a climbing rope, ladder, swing, slide/climbing wall combo and a basketball hoop. That's a lot of bang for the buck! Find it for $799.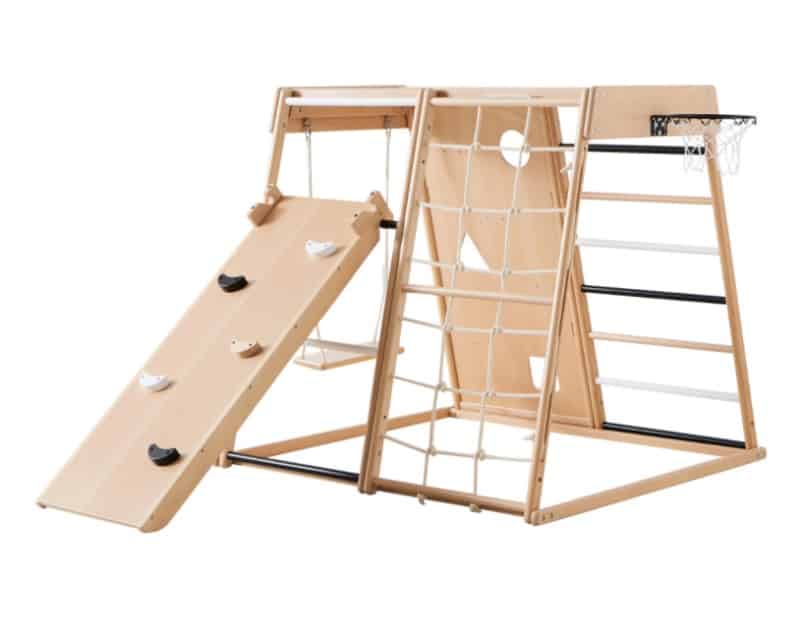 Wooden Workshop
For something a bit more affordable but no less engaging, try this 2 'N 1 Wooden Workshop. Part toolbench, part workbench, this toy is 100% perfect for preschoolers. Let them grab the hammer, wrench or screwdriver and get to work! Pre-drilled holes make for challenging (but not frustrating!) play and the opportunity to create with their imagination. Findn it for $69.99 at Maisonette.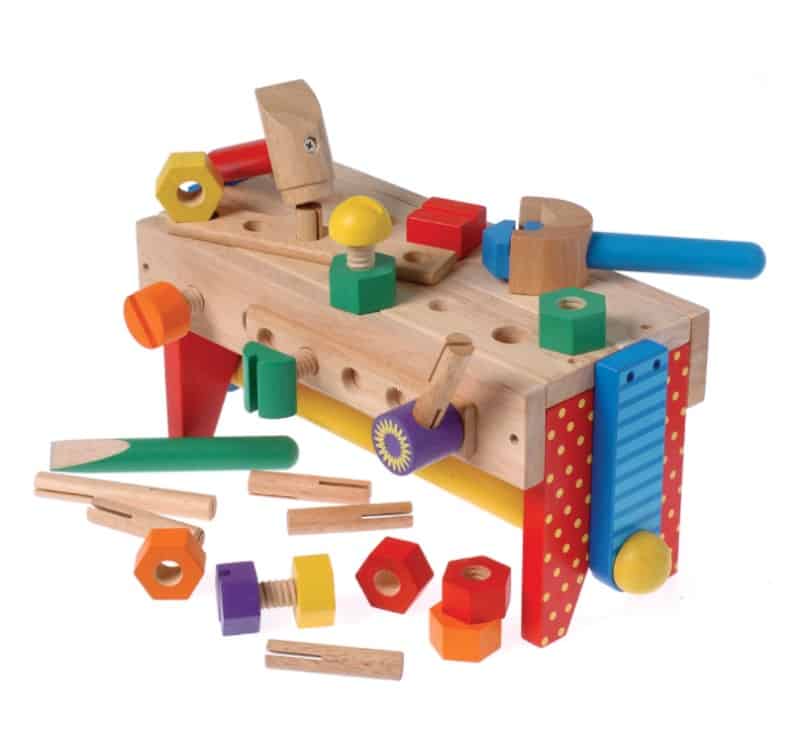 Highlights Preschool Big Fun Workbook
If your preschooler is looking for some entertainment with an academic twist, check out this Preschool Big Fun Workbook from beloved publisher Highlights. Your little one will enjoy exploring more than 250 pages as they search for hidden pictures, practice their writing skills, explore mathematical exercises and so much more. Whether they're already in preschool or preparing to head that way, this book will get them excited about the classroom experience! Find it for an affordable $5.60.
Family Mood Bears Puzzle
Preschoolers are filled with a variety of emotions, and they're natural curious creatures. So indulge both of these notions with this delightful Family Mood Bears wooden puzzle. The sturdy wooden puzzle invites children and adults to have thoughtful and meaningful discussions about feelings and emotions as they explore the four different mood options that each bear can wear. And because we love a toy that pulls double-duty, the puzzle pieces can be easily stored in the wooden box underneath. Find it for $22.99.
LEGO DUPLO Jurassic World
Budding paleontologists will be thrilled to receive this LEGO DUPLO Jurassic World set. The kit invites plenty of motor skills development as little hands snap together the pieces to create an incredible world of make believe. The 36-piece set allows for the creation of the Jurassic World fencing and includes a large T. Rex, a baby triceratops and an Owen Grady figure with motorcycle. Find it for $29.99.
Banwood Balance Bike
Burgeoning bikers will absolutely love the opportunity to test their two-wheeling skills with this thrilling Banwood Balance Bike. Preschoolers can skip the training wheels as they move straight to the two-wheel scene at their own pace. The steel-frame bike comes with a basket for storage and a bell, and the adjustable handlebars ensure the bike grows with the child. Find it for $189.
Medical Bag
Heading to the doctor is less scary when little ones have the chance to explore the tools of the trade in the comfort of home. This pint-sized medical bag includes a stethoscope, otoscope and various other tools of the medical trade, all of which store neatly in the cloth bag. Bonus points for the stethoscope, which makes heartbeat and coughing sounds for adding reality. Find it for $51.99.
Fast Track
If your little one has a need for speed, deliver on it with this Fast Track wooden track. Four brightly colored race cars can fly down five durable wooden slopes for hours and hours of high-octane fun! Find it for $89 at Maisonette.
We hope you've been inspired by these gift ideas for preschoolers and that this helps make shopping a bit easier this year!
Make sure you check out our other gift guides: