The state of Connecticut is known for many great things, from its beautiful fall foliage and famous schools to being the home of the ESPN work. It's a beautiful state that also has its fair share of incredible hotels, and today, we'll talk about the fanciest places and what you can expect if you get a room. These are the most expensive hotels in Connecticut that you simply have to see to believe.
Mayflower Inn & Spa
At about $700 per night based on the room, the Mayflower Inn & Spa is easily one of the most expensive hotels in Connecticut. This is a self-proclaimed exquisite country retreat that defies New England elegance, and it has an understated simplicity while also being quite grand. This hotel is located on 58 acres of gorgeous woodlands and landscaped gardens that you could spend hours exploring.
There's also the spa, which provides relaxation and great massages. You can focus on your skin health, try Eastern rejuvenation treatments, and you can take fitness classes. Afterward, hop in the huge pool and hot tub and relax for the night.
Rooms
The rooms at the Mayflower Inn are all impressive, and many of them are up to 710 square feet. The guestrooms are the lower price point, but they're still quite outstanding. Among the standouts is the Signature King Room with Balcony, which has a huge bed, a deep soaking tub, and a balcony where you can sit and watch the landscape. The Premium Guest Room has a king-sized bed, marble and mahogany bathroom suite, and a deep soaking tub. There are also mobility accessible rooms for guests who need them.
The Mayflower Inn is also famous for its selection of suites:
Mayflower Suite – Their trademark suite has a huge bed, a private balcony, a gas fireplace, and a full bath.
The Signature King Suite with Library – This room has a private entrance, a king-size bed, a gas fireplace, and a wood-paneled library.
Premium King Suite – It comes with a gas fireplace, balcony, a separate sitting area, and a marble and mahogany bathroom vanity.
Every room is quite stunning, and you can get out during the day and visit many of the tourist attractions that Connecticut has to offer.
Dining
The Mayflower Inn & Spa also has its fair share of amazing dining experience. There's a menu for every taste and pallet.
Tap Room – This restaurant has all your favorite comfort foods and your favorite drinks so you can relax and enjoy your meal. Visit on Monday through Wednesday to enjoy locals' night and meet new friends.
The Garden Room – This is their famous elegant dining space that overlooks the amazing Shakespeare Garden. It's a fine dining restaurant with many options, from steak to spaghetti.
The Well – At The Well, you can focus on your holistic health as you enjoy meals made of ingredients from the Connecticut countryside. A great restaurant for lovers of fruit, soup, and salads.
Winvian
Winvian is another $700 per night hotel that will blow you away. Technically, these are luxurious cottages, but they'll provide an experience you won't soon forget. Located 4.3 miles from Litchfield, this resort offers a number of individual cottages and farm buildings. The resort is situated on 113 acres, and in addition to the spacious cabins, there are also lakes and extensive woods, so you can enjoy the glory of nature. It's a resort with 5-star cuisine, incredible wines, and a great spa.
The Cottages
There are various cottages on the premises, and they all offer unique design and plenty of perks that will make your stay well worth the money. A few of the great cabins include:
The Artist – This is a spacious cabin that has multiple rooms and a screened porch so you can enjoy nature. It has a vast bedroom, love seats, and a brick fireplace.
Beaver Lounge – It's a rustic cabin that has a fireplace, a winding staircase, a view of the forest, and heated river rock floors.
Connecticut Yankee – This cabin resembles a king's chamber because it has a herringbone fireplace, exposed beams, and unique architecture. The cabin is also dog-friendly.
Greenhouse – A great cabin with a green interior that comes with a fireplace and a wet bar. There's also a great room completely encased in glass.
Hadley Suite – This cozy cabin has a steam shower, wet bar, soaking tub, and it's surrounded by toile wallpaper and family antiques.
Helicopter – You'll stay in a literal helicopter that's stocked with a bed, furniture, and a television. You can even hang out in the pilot and co-pilot seats.
Library – This is how it sounds. A comfy cabin with all the luxuries of a home, but it also has a reading room and library with books on shelves so high that you'll need a ladder to reach them.
Maritime – You'll enjoy a barrel-roofed bathroom that makes it feel like you're staying in a lighthouse and it's loaded with nautical colors and decor.
Stone – A cabin made of stone, so it's strong and elegant. There's a hidden sofa, a luxurious bathroom, and a concrete double sink.
Treehouse – It is as it sounds. This is an elevated house that floats above the ground, so it looks like the fort of your youth, but it has modern decor. There's a gas fireplace, a full bar, and more.
Just about any cottage you choose will come with a Nespresso coffee machine, BOSE stereo systems, flat-screen TVs, rainfall steam showers, and more.
Things to Do
There's a ton to do when you stay at the Winvian, including enjoying the many dining options.
Dining
You can check out Maggie's Tavern, where you can enjoy casual dining. But this is no ordinary restaurant as it's been rated as a five-diamond restaurant, so you're in for a treat.
For dinner, stop by the Seed-to-Table restaurant where you can enjoy fresh foods that are made with sustainable ingredients. Don't leave without trying some of the honey. Finally, there's The Restaurant, which is their fine-dining option where you can eat the finest meats and delicacies and try wine from 13 different countries.
Spa
Then, there's their famous spa, where you can be pampered all day and night. Get a massage, sit in the sauna, and sip organic tea. The spa offers 5,000 square feet of relaxation, and it's great for couples or individuals.
There's also an incredible 40-foot swimming pool that's crystal clear and the perfect temperature. You can swim all day, and between 3 pm – 5 pm, you can enjoy soft drinks, ice cream, and cocktails.
Madison Beach Hotel
This Hilton hotel is another of the most expensive hotels in Connecticut, and the Madison Beach Hotel is truly unique. The cost of this 4-star hotel will cost you around $500 per night. What separates this hotel from the others is that it's located along the shoreline, so many rooms have incredible views that you won't get anywhere else.
You have many great room options, including rooms with double beds and king beds, and many have separate seating areas. If you have a larger family or want more space, then you can get a studio hospitality suite, which has a walk-in shower, a dining room table fit for eight, a wet bar, cocktail tables, and more. There are also accessible rooms for folks with hearing and mobility disabilities.
Dining
There are also many great dining options at the Madison Beach Hotel. The main star is The Warf, which is a fine-dining restaurant that looks over the Long Island Sound. It's an award-winning restaurant that serves meat, fish, and more. You can eat in the dining room, or you can sit on the porch or The Crow's Nest, which is near the fireplace. If you're just stopping by for a drink, check out The Wharf Bar and get a fine wine, tasty beer, or specialty cocktail.
Spa
Finally, there's the exclusive spa that gives you a chance to relax and be pampered. The spa offers multiple services, including body scrubs, facials, and massages. You can also stop by the fitness center and the pool to relax.
Delamar Southport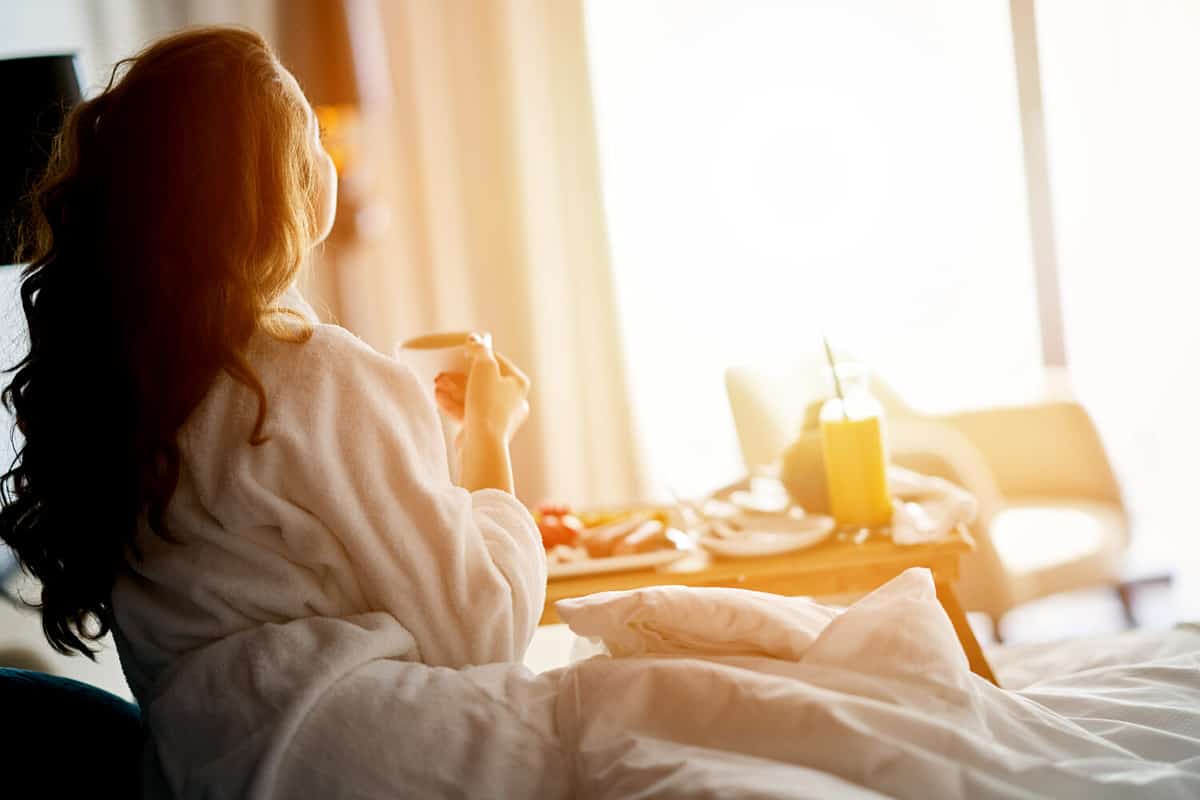 Our next entry on the list of the most expensive hotels in Connecticut is Delamar Southport, which offers a mix of modern and classic decor and incredible rooms that often justify the $450 cost per night. Every room has hand-crafted furniture, unique details, and plenty of perks.
The Rooms
Every room at Delamar Southport comes with awesome amenities, including slippers and robes, dry cleaning, a fireplace, and a refrigerator, among other perks. Some of the best rooms at the hotel include:
Deluxe Room – This is one of the smaller rooms, but it has a king-sized bed with Italian bedding and a marble bathroom.
Superior Room – An upgraded room that offers 520 square feet of luxury with a gas fireplace, a Nespresso coffee maker, and more.
Executive Suite – The executive suites are 710 square feet, and they include hardwood floors, separate powder rooms, and a marble bathroom.
Southport Suites – Kick it up a notch with these suites that are a massive 1,100 square feet. They have a separate bedroom, a living room, and a gourmet kitchen. There's also an in-suite washer and dryer.
Governor Suite – This incredible 1,200 square feet suite has the kitchen, two huge bedrooms, and a bathroom with a curbless walk-in shower.
Pequot Suite – This is a huge two-bedroom suite that has a breakfast nook, air tub, walk-in shower, and each bedroom has its own private bathroom. There's also a third room that can be used as an office or extra bedroom.
Woodward Newman Suite – The best of all is this huge 2,800 square-foot suite that has three bedrooms. That's larger than many people's houses. It has an eat-in kitchen, gas fireplace, double vanity, hardwood floors, and more.
Perks
Once you leave the room, you'll find that there are many other great perks about Delamar Southport that make the price tag worth the cost.
Dining
If you want to dine out, you can go to the Artisan Restaurant, where you can eat amazing American cuisine. Try everything, from the oysters and herb garden to the homemade pasta, and finish it off with a nice glass of wine. You can eat in the restaurant or have the food served in your room. Every morning, there's also an incredible complimentary breakfast that's miles above what you may be used to at more affordable hotels. This breakfast has homemade yogurt, farm-fresh eggs, fresh pastries, and more.
Spa and Fitness
When it's time to relax, make your way to the spa, where you can choose from an extensive list of treatments, including detoxifying body wraps, facials, massages, and aromatherapy, among others. Next, you can stop by the fitness room where they have just about every piece of equipment you can imagine. After that, visit the pool and get in your laps in a world-class facility.
Mohegan Sun
For something very different, book a stay at Mohegan Sun, which costs about $250-$300 per night. This hotel is separated into two towers: Earth Tower and Sky Tower. Both of them have incredible rooms and unforgettable amenities.
Earth Tower
The Earth Tower is full of rooms that have a contemporary design and stylish rooms that will give you a mental escape as you enjoy your vacation. There are several impressive room choices in this tower, including the Earth Tower Elite King room, which is almost 600 square feet and it includes a king bed, a sofa, and incredible views. There's also the deluxe king and deluxe double queen, which are both an impressive 365 square feet.
Sky Tower
The Sky Tower has an impressive 34 floors of elegant rooms that are all at least 450 square feet, and they include awesome amenities. There are some pretty impressive suites here, including:
Sky Tower Cove Suite – 845 square feet, and has one and half bathrooms, and a separate living room.
Sky Tower River Suite – 894 square feet, and includes a sit-down jetted tub, a spare living room, and more.
Sky Tower Sky Suite – 1,050 square feet with multiple rooms and incredible views.
Hospitality Suite – 1,800 square feet. Includes a big bathroom and a tub with a reclining back. Also includes a dining room table that seats 12 people.
Presidential Suite – 2,200 square feet. It has a huge living room, dining area, high-end jacuzzi, Bose surround sound system, and more.
Royal Suite – 3,500 square feet. This suite has it all. A plush king bed, butler pantry, limousine transportation, a steam shower, and more.
Guests at this hotel also enjoy a fitness center and an amazing swimming pool. You can also enjoy the massages, exotic scrubs, and therapies available at the spa.
The White Hart
Established way back in 1806, The White Hart is the final entry on our list of the most expensive hotels in Connecticut, but at closer to $300-$400 per night, it's also one of the most affordable. This hotel started out as a farmhouse, and over the years it became this premier destination that is just two hours out of New York City. In 2014, it was reimagined and reopened, and today, it features 16 rooms, three dining rooms, and a restaurant.
The restaurant has a fine-dining vibe, and you can try everything from sauteed chicken livers on toast and heirloom tomatoes to a NY strip steak.
Rooms
There are several different room categories at The White Hart, and they're all quite elegant. One is the John Harney Suite, which comes with a large sitting area, an eat-in kitchen, two king bedrooms, and two and a half baths. You also get your own personal complimentary continental breakfast.
The hotel also has many other suites that feature a king bed, a separate living room, bathrooms that are designed with Carrera marble, flat-screen TVs, and complimentary juice in the fridge. Suites come with a king bed or a double bed.
Conclusion
These are the most expensive hotels in Connecticut, and as you can see, they're pretty incredible. If you have the cash and want an unforgettable experience, book a stay and create new memories.
The image featured at the top of this post is ©Sean Pavone/Shutterstock.com.