To begin Nevada, also known as the Silver State is located in the western region of the United States. It has an estimated population of 3,104,614 million. It is bordered by Utah to the east, Idaho to the northeast, Oregon to the northwest, California to the west, and Arizona to the southeast. Carson City is Nervada's capital. Annually, there are over 50 million tourists that visit Nervada, which is why it is well-known for its lavish and deluxe hotels. These hotels offer a wide range of amenities and are beautifully designed. However, the most expensive hotels in Nevada are outrageous. In this article, we will discover some of the most expensive hotels, what they have to offer, and the best places to visit to make your stay in Nevada genuinely memorable.
Intimo Palms Place Penthouse
4381 West Flamingo Road, Las Vegas, NV 89103, United States
Price: $1000
The Intimo Palms Place Penthouse has a restaurant and bar with free Wi-Fi and stunning city views. It is 1.8 miles away from the Eiffel Tower at the Paris Hotel and 1.6 miles away from the Bellagio Fountains.
The accommodation is air-conditioned and features the following: a flat-screen TV with satellite channels. It showcases the beautiful city view and mountain view from the balcony. The kitchen has a refrigerator, toaster, microwave, stovetop, dishwasher, tumble dryer, and washing machine. The room has a sofa bed, dressing table, iron, hot tub, and beautiful tile or marble flooring.
The living area has modern seating and a dining area with a fireplace. The bathroom facilities include toilet paper, a bidet, towels, a bath, a spa bath, a toilet, free toiletries, a bath or shower, a hairdryer, and extra towels and sheets. However, there is an additional fee.
The swimming pool is available seasonally and includes a heated pool, pool bar, sun loungers or beach chairs, and pool/beach towels. The wellness center consists of a hot tub or jacuzzi, beach chairs or sun loungers, a fitness center, and a steam room.
Top Attractions Near Intimo Palms Place Penthouse
If you are looking for cultural attractions, somewhere to eat, or somewhere to relax, there is something for everyone to do near the penthouse.
Mob Museum
Wetlands Park
Simon Restaurant
Desert Breeze Park on Spring Mountain and Durango
The Neon Museum
Soyo Flamingo Restaurant
Henderson Bird Viewing Preserve
Bruce Trent Park
The Lion Habitat Ranch
Las Vegas Festival Grounds
Charlie Frias Park
Shark Reef Aquarium
Raku Toridokoro Restaurant
Bellagio Conservatory and Botanical Gardens
Flamingo Wildlife Habitat
CityCenter Las Vegas
Eiffel Tower at Paris Hotel
Bellagio Fountains
The ENGLISH Hotel
921 South Main Street, Las Vegas, 89101, United States
Price: $409-$900
The ENGLISH Hotel Las Vegas opened its doors on February 22, 2022, by 4-time James Beard Award-winning chef Todd English. It is an adults-only over-21 expensive boutique with 74 rooms. The hotel offers air-conditioned rooms, free Wi-Fi, an outdoor swimming pool, and a terrace. Experience the "Soaring 20s" rooms with original artwork and décor; each room is equipped with a private bathroom, toiletries, hairdryer, flat-screen TV, and linen. To further add to that, the spectacular mirror shower in the Delux King room gives you a gorgeous silhouette while you take a shower.
The Pepper Club
Located in the Arts District, The Pepper Club is headlined by Chef Todd's innovative Asian Ocean Fusion and Sushi Bar. Their menu offers a wide range of American or Asian cuisine to satisfy any taste. From stuffed French toast, chef's choice tofu scramble, bacon cheeseburger, pastries, salads, soups, and elegant desserts If you are in the mood for sushi, there is a wide variety. Maki Tamaki, specialties and raw bar, brunch combos, sharing meals, and specialty rolls. To further compliment your meal, you can choose from hot coffee and tea, cold beverages, cocktails, draft beer, wine, and champagne.
Furthermore, pets are welcome. For a fee of $75 per pet per night. You can take two dogs weighing a maximum of 25 lbs.
Activities Available at Additional Charges
Live music
Bicycle rental
Happy hour
Stand-up comedy
Live Sports events (broadcast)
Hiking
Bike tours
Top Attraction Near The ENGLISH Hotel
If you're a food lover or a history lover, there's something to do for everyone near The ENGLISH Hotel. Let's take a look at their top attractions.
Eiffel Tower at Paris Hotel
Shark Reef Aquarium
CityCenter Las Vegas
Wetlands Park
The Neon Museum
Bellagio Fountains
Henderson Bird Viewing Preserve
Bellagio Conservatory and Botanical Gardens
Las Vegas Festival Grounds
Bruce Trent Park
John S Park Elementary School Park
Flamingo Wildlife Habitat
Mob Museum
Desert Breeze Park on Spring Mountain and Durango
The Cosmopolitan of Las Vegas
3708 Las Vegas Blvd S, Las Vegas, NV 89109, United States
Price: $250-$2000
The Cosmopolitan was the most classy Strip resort built and opened on December 15, 2010. The Cosmopolitan has 3,033 stylish rooms that offer incredible views of the Las Vegas skyline, 100,000 sq ft of casino space, various restaurants, and a 3,200-seat concert theater. It is well known for its bars, lounges, and nightclubs, where guests party all night long. Next, the hotel also has a fitness center and spa, as well as a delicate rooftop pool deck. Further, up to two dogs can join you at The Cosmopolitan for an extra fee of $100 per night plus tax per dog. Let's take a closer look.
The Pool District
Depending on your mood, there are three separate pools for you to choose from. The Boulevard pool is located on level 4 of Boulevard Tower. Guests can drink, mingle, and eat together. It has an upbeat atmosphere with daybeds and lounge chairs. And then, during the summer, you can enjoy watching movies on the marquee.
The Chelsea pool is on level 14 of the Chelsea Tower. It features pool attire, sun care products, snacks, and drinks. The cabanas can house up to eight people and include two poolside lounge chairs, a couch, a safe, an HD television, complimentary soda water in the fridge, and complimentary fresh fruit.
Next, you have the bungalows, you must be over 21, which also have a three-story loft, terrace, living area, bedroom, and jacuzzi plunge pool. In addition, it also features a drink welcome package and butler service.
The Sahra Spa Salon & Hammam
Open your mind in their ritual area on a heated mother stone slab, which pays contemporary tribute to a sensual, centuries-old purifying process. It is a rejuvenating heat ritual that detoxes the body and includes a steam treatment and refreshing bath. Guests typically have a full-body massage after the hammam treatment. Prices range from $250-$600.
Next, restore your skin glow with radiant facials. Prices are between $190-$545. Further, you can try some skin enhancements (eyes, lips, etc.); these are priced between $30-$75. Relax in refreshing baths to ease your muscles with scrubs, oils, and essences; these are priced at $265-$410.
Fitness Centres
The Cosmopolitan has two fitness centers available, located on the Boulevard and Chelsea Towers. The Boulevard Fitness Center is 2,087 square feet and is located on level 15. Amenities and equipment include a free weight section and strength training machines with personal lockers. The Chelsea Fitness Center is 5,250 square feet and is located on level 14. Equipment and amenities include therapy recovery tools, lockers, single and double tennis courts, row machines, climbs, treadmills, synchro, pickleball court, cycle bikes, strength training machines, a free-weight area, a movement studio, a kinesis wall, a cable cross-over station, and a multi-power weight rack. With all of these options available, it's never been easier to keep fit and maintain a healthy lifestyle.
Shopping
Shopping on the Boulevard has always been an attraction for locals and tourists. The Boulevard is filled with an array of clothing stores to suit everyone's pocket and style. Let's take a closer look at the stores available.
Maceoo
Goldfish
Drybar
Reviv
Jason of Beverly Hills
Allsaints
Stitched
CRSVR Sneaker Boutique
Monogram
Skins 6/2 Cosmetics
Vitals
The Corner
The Goods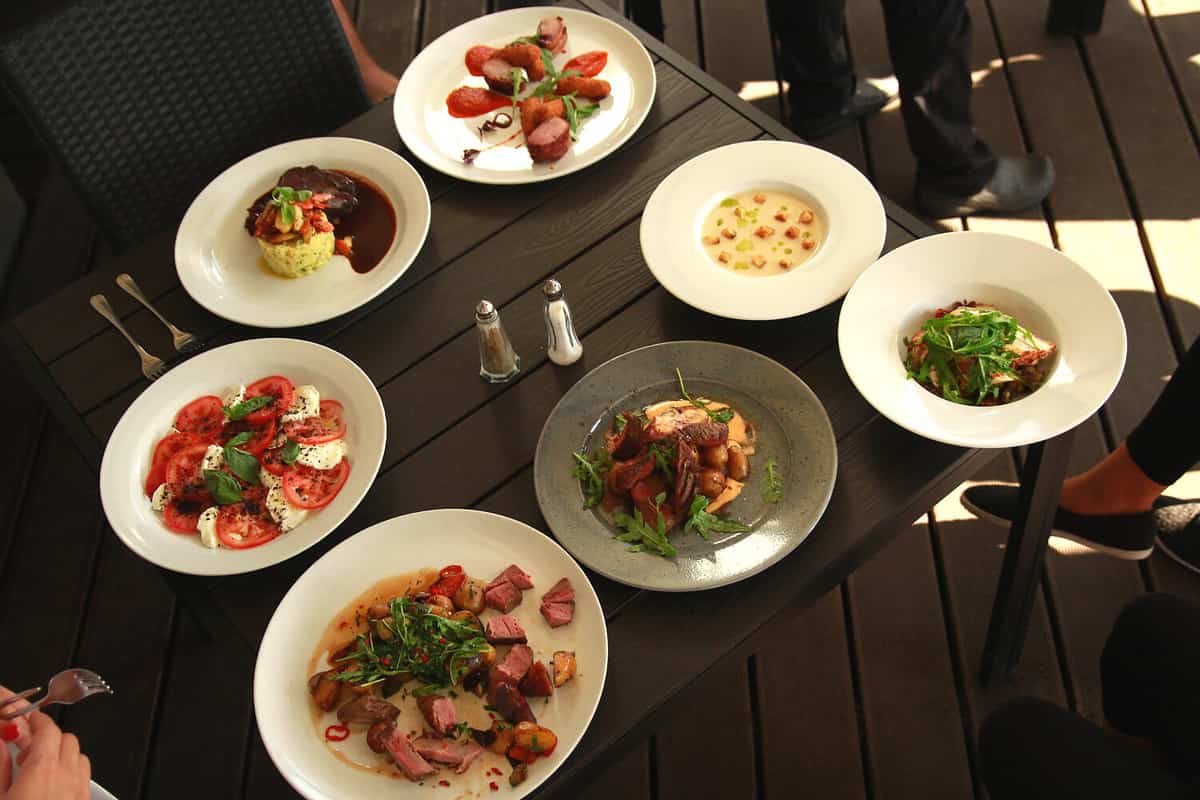 Bring Your Appetite: 1–14 Restaurants to Choose From
Meanwhile, when going to The Cosmopolitan, be sure to bring your appetite, where a world of mouthwatering flavors awaits you. Let's take a look at the restaurants available and the signature cuisine they offer.
Superfrico: Serving Italian-American psychedelic family relics and classic dishes.
Overlook Grill: This is an open-aired café just steps from the Boulevard pool that serves signature dishes such as a double-smashed burger and shrimp tacos.
Wicked Spoon: Offers a unique buffet dining experience.
Bāng Bar by Momofuku: Serves Asian-grilled flatbread sandwiches and rice for a quick snack.
Beauty & Essex: Hidden behind a pawn shop serving signature dishes such as oysters, Alaskan crab legs, deep-fried shrimp, smoked bacon, and grilled cheese dumplings.
Blue Ribbon: American cuisine serving oxtail marmalade, beef marrow, fried chicken, and mash.
China Poblano: Chinese and Mexican cuisine serving twenty vegetables, fried rice, and tacos with braised pork.
District: Donuts.Sliders.Brew.: Creative comfort food, signature dishes such as waffle cheese fries, pork belly sliders, beer, and the best donuts in Los Vagas.
Eggslut: All-day breakfast signature dishes include the gaucho sandwich, the slut, and the Fairfax sandwich.
É by José André: Avant-garde Spanish-serving Spanish paella grill.
Ghost Donkey: Mexican snacks and spirits, indulge in a wide spread of Mexican spirits, truffle nachos, custom cocktails, and more.
Hattie B's Hot Chicken: Southern flair, enjoy perfectly fried chicken hot, medium, or mild, created by Hattie B's Nashville family-owned business. Guests can take advantage of their complementary pimento mac and cheese and banana pudding.
The Henry: American cuisine, serving comfort food that will enlighten your senses with savory fragrances. Relish in pleasurable cocktails and late-night snacks. Recommended dishes include soft poached eggs with braised short rib and Henry's famous Brioche French toast with whipped butter, berry jelly, and fruit.
Holsteins: Serving mouth-watering gourmet burgers, their signature dish is the Gold Standard Burger. Furthermore, signature drinks feature a berry fresh and cookies and cream.
Bring Your Appetite the Next 13 Restaurants to Choose From
Jaleo: Owned by renowned award-winning José André and specializes in Spanish tapas. His signature dishes include croquetas de pollo and an exquisite dish prepared with a 48-month-cured ham from acorn-fed black-footed pigs.
The Juice Standard: Was set up by two best friends, Marcella Williams and Jamie Goguen. The cold-pressed juice bar features signature organic juices cold-pressed with nut milk and caters to clients who are vegan or have nut allergies.
Lardo: Features bold sandwiches full of flavor made with carefully crafted ingredients created by chef Rick Gencararelli. His menu features Korean pork shoulder, dirty fries, a mouth-watering dish, as well as beer on tap sourced from Portland.
LMP Restaurant and Bar: Get ready for the enjoyment of life, where you can experience the Mediterranean of the south of France and coastal Italian cuisine. LPM is well known around the world, from London to Dubai, bringing you elegant dishes to tantalize your taste buds. Signature dishes include caviar and marinated lamb cutlets with olives and pine nuts.
Milk Bar: Playful homestyle desserts, 2008 Award-winning chef Christina Tosi puts a twist on artisanal desserts. Today, there are 15 other stores in Washington, D.C., New York City, Toronto, Los Angeles, and Boston. Spoil yourself with salty-sweet goodness, milk bar pie, or fancy shakes that are alcohol-infused.
Momofuko: Asian American cuisine, founded in 2004 by chef David Chang, further expanded in 2017 and opened the doors of Momofuku at the Cosmopolitan of Las Vegas. Famous dishes include 5-spice roasted duck, mushroom ramen, and pork belly buns.
Red plate: Authentic Chinese cuisine; fill your belly with traditional authentic Chinese dishes. Signature dishes include whole pecking suc, King crab spring rolls, Alaskan King crab, and black truffle Xiao lung bao.
Scarpetta: Italian, means using a slice of bread to soak up all the sauce in the pot or on your plate in Italian. Home-made pasta is made fresh daily using only the highest quality ingredients. Signature dishes include tarragon with lobster and chili pasta, spaghetti with tomato and basil, and doughnuts filled with pastry cream and Nutella.
Starbucks: Baked goods, tea, and coffee, everyone knows Starbucks; grab a latte or frappuccino on the go and enjoy sipping on it whilst you wander through the Cosmopolitan.
STK: Steakhouse, Executive Chef Stephen Hopcraft, and The One Group bring a new look to steak. Well-known as a Los Vegas celebrity hotspot, you might catch a glimpse of your favorite movie star or singer. Signature dishes include mushroom pot pie, shellfish platter, and waygu beef in a special sauce on a sesame seed bun.
Tekka Bar: Sushi Bar, indulge in salmon, tuna trolls, blue crab, the freshest seafood, and more.
Va Bene Caffè: Pastries and coffee, this modern Italian coffee bar is way better than your average coffee shop. They have a variety of freshly baked pastries and coffees.
Zuma: Modern Japanese, founded by Rainer Becker, an award-winning world-class Japanese chef and cocktail master, is an international restaurant that brings you the true izakaya experience and a sushi counter. There is a wide selection of dishes to choose from that can be designed and shared at the table.
Conclusion
In conclusion, the most expensive hotels in Nevada are outrageous. From the ENGLISH Hotel to the Cosmopolitan, these lavish accommodations are prepared to provide you with world-class amenities and services. These hotels offer an incomparable level of luxury. Whether you prefer the vibrant energy of the Las Vegas Strip or the relaxing vibes of the Intimo Palms Place Penthouse, Nevada's most expensive hotels are sure to provide an unforgettable experience for you, your family, and your friends.
Relate Articles
The image featured at the top of this post is ©Sean Pavone/Shutterstock.com.