Five-star dining, spa relaxation, and a pool oasis are what you can expect from some of Oklahoma City's top three most expensive hotels. Ranging from $195-$300 a night, we're looking at how you can experience a luxury hotel and at what cost in Oklahoma City (OKC).
Omni Oklahoma City Hotel
Across the street from Chesapeake Energy Arena, OKC's downtown arena, the Omni Oklahoma City Hotel is Oklahoma City's number one most expensive hotel with an average of $299 per night. Offering skyline views of downtown, the Omni is a great option for a romantic getaway or a family vacation. They take pride in paying homage to the city's culinary history and have seven dining destinations to showcase the best OKC has to offer.
Even with all the beautiful modern furniture that fills the hotel, the pool is the hotel's shining feature. The Omni offers a rooftop pool and a terrace deck that overlooks Scissortail Park. Serving craft cocktails at the pool bar with a plethora of lounging chairs and private cabanas available to rent, this pool has everything you could want. Not staying at the Omni? Starting at $45, they offer day passes for the pool through ResortPass. Looking to host a group? Rent a private cabana for up to six people for $275. Cabanas include a shaded area with cushion lounge seating, a TV, a safe, a mini-fridge, complimentary fruit and water, and a dedicated server.
Other amenities the Omni offers include the Mokara Spa and the fitness center. The Mokara Spa offers various services including manicures and pedicures, facials, body treatments, and massages. The fitness center is a fully equipped space that's offered to guests with 24-hour access so that travel doesn't interfere with their fitness routine!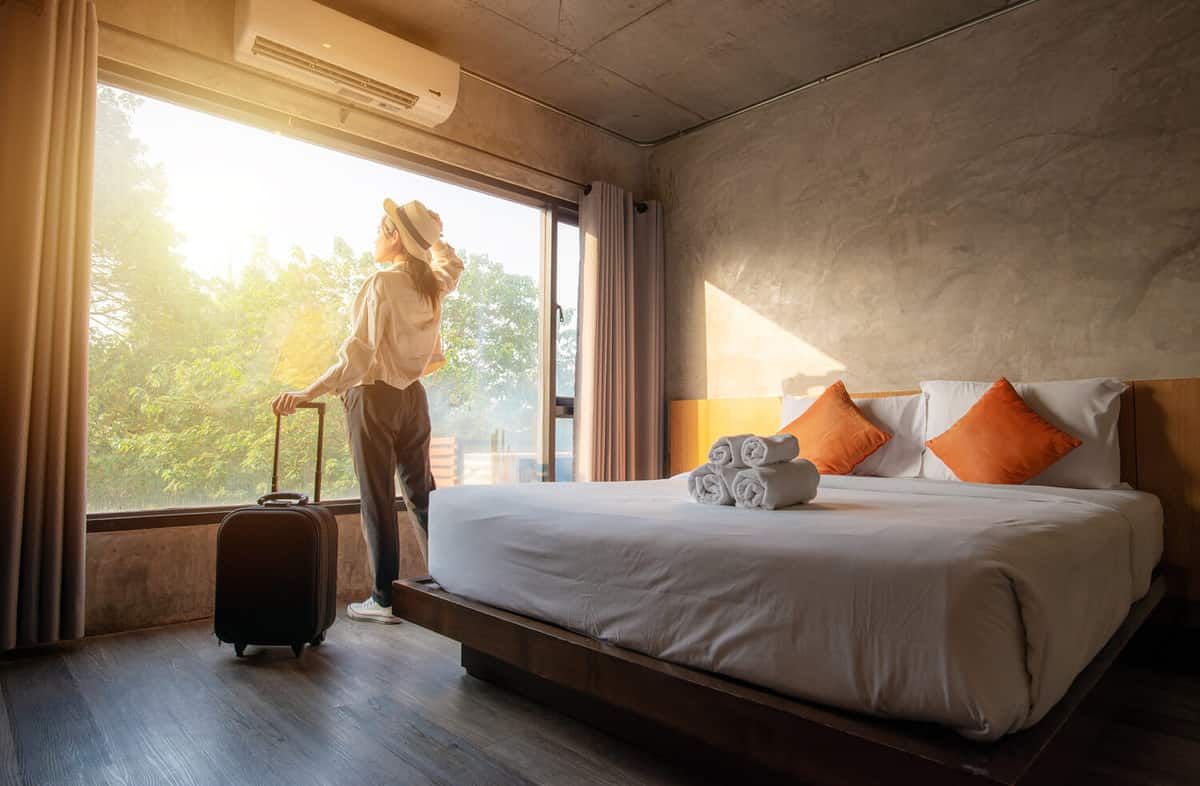 OKCCOL – Colcord Hotel
A boutique hotel by Hilton, the Colcord Hotel is the second most expensive in the city with an average cost of $232 per night. Directly across from the Myriad Botanical Gardens and a quick walk from the Chesapeake Energy Arena and the Oklahoma City National Memorial & Museum, this is another hotel with a great location. Offering panoramic views of the city from their restaurant or from the top of Devon Tower, this hotel has excellent scenery.
With the new standard of "hotel modern" furniture and decor it provides, there's no mistaking when you enter the rooms that this hotel is by Hilton. But, in the main entrance and the common areas you're surrounded by breathtaking marble ceilings and floors. The staircase banisters are full of character with wrought iron work. Gold chandeliers and fixtures add the perfect touch to make this hotel super chic.
Although the Colcord Hotel does not offer a pool or spa, they do have a restaurant and fitness center. Staying at the Colcord but want a spa experience? Their team is happy to provide you with several recommendations nearby.
The Skirvin Hilton Oklahoma City
Marketing themselves as "Oklahoma City's Most Charming Hotel", the Skirvin is a hotel full of history. With an average price of $195 per night, travel back into the early 1900s at the Skirvin. On the corner of Broadway and Park Avenue, this hotel is located near the Chesapeake Energy Arena, the Business and Art districts, and Midtown.
The Skirvin's History
Founded in 1911 by William Balser Skirvin, the Skirvin Hotel became a large meeting place for business conferences, family gatherings, meetings, and more. Perle Mesta, William Skirvin's daughter, became the ambassador to Luxembourg under the Presidency of Harry Truman. Truman was hosted at the Skirvin as well as some other large names including Dwight D. Eisenhower, Elvis Presley, Frank Sinatra, Jimmy Hoffa, and Bob Hope. Talk about history!
It was initially built with two 10-story towers, and 15 years later they added an additional 13-floor story. By 1940, all the towers were built to be 14 floors. When William Skirvin passed away, the Skirvin family sold the 500-room hotel to a hotelier. For 43 years the hotel was passed onto many different people. In 1988, the hotel closed its doors and was left abandoned for 19 years. It wasn't until 2002 when efforts came to restore the city that the hotel became known as one of the city's historical hotels. In 2005, interior and exterior restoration began on the Skirvin. These renovations included the installation of historically accurate windows, new guest elevators, and exterior design. With a whopping 50 million dollars in renovations, the Skirvin came back to life once again in 2007.
Although the Skirvin does not feature a spa, it does include an indoor pool and a restaurant! So, if traveling with the family, the Skirvin could be a great option for you. The kids would have an activity as well as easy access to dining.
Traveling With Family.
If you're visiting OKC in the future, make sure to check out these tips and tricks for flying with kids. Trouble packing? Check out these insanely genius packing tips. And once you arrive in Oklahoma City, enjoy your stay at one of these amazing hotels!
The image featured at the top of this post is ©Gerson Repreza/Shutterstock.com.