Denver, otherwise known as The Mile High City, is where outdoor adventure meets urban culture. In the Rocky Mountain region, you can enjoy the art, food, music, and sports in Denver City while also having the ability to explore the mountains for all they have to offer. Ranging from $260-600+ a night, we're looking at Denver's most expensive hotels; the Four Seasons, the Ritz-Carlton, and the Sheraton.
Four Seasons Hotel Denver
An urban retreat in the heart of downtown Denver, the Four Seasons is located near everything you need to enjoy sporting events, concerts, and family-friendly performing arts. Their basic room is the Superior room starting at $578 a night. To ensure you have a city or a mountain view, you can upgrade to a Deluxe room for about $650 a night, or if you need a little extra room you can get the Premier Studio for $761 a night. They offer multiple suite options, starting with the Executive Suite for $1,420 a night. Upgrade to the One-Bedroom Suite for $2,125 a night or the Premier One-Bedroom Suite for $5,291. They do also offer a one, two, and three-bedroom Presidential Suite, starting at $13,000 a night and increasing based on size.
The Four Seasons offers great amenities. Enjoy their gorgeous heated pool on the third-floor terrace that is surrounded by juniper, pear, and aspen trees. The spa that offers a wide range of services was designed with wood and stone to make you feel like you're surrounded by nature.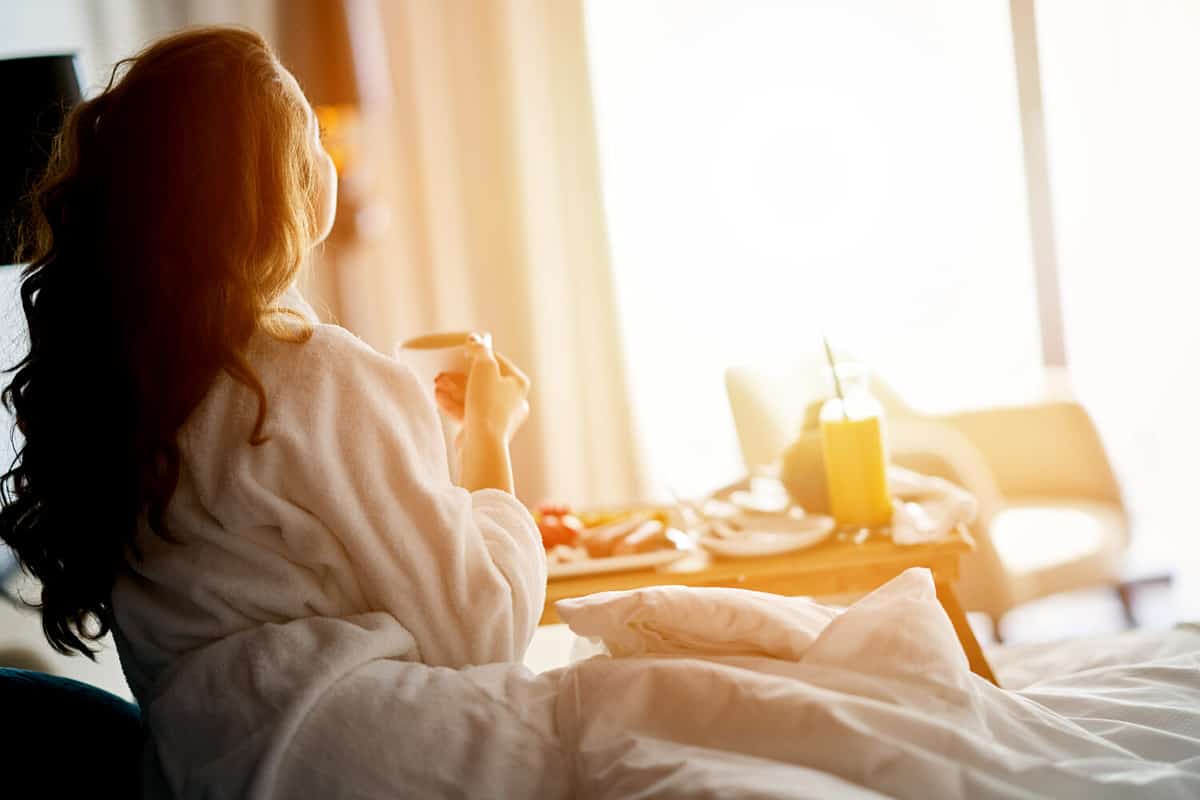 The Ritz-Carlton, Denver
As the city's first and longest-running AAA Five-Diamind hotel, the Ritz-Carlton, Denver offers a luxury experience and is located near LoDo, McGregor Square, and Larimer Square. Their basic rooms are about $550 a night. Want to be club-level? Club-level rooms with a city view are $620 a night. Although they have a limited amount of suites, if you'd like the extra room you can upgrade to the Executive Suite for $683 a night.
At The Ritz-Carlton, you are offered an experience at their spa where they say "wellness receives a Denver twist." Their 6,000-square-foot retreat offers signature treatments including a body ritual that incorporates craft beers to hydrate and tighten the skin. They also offer oxygen facials that fight dehydration which happens when your body is adjusting to a higher altitude.
Experience fine dining in their upscale steakhouse, Elway's Downtown. Serving breakfast, lunch, and dinner you'll be covered for every meal. You can also enjoy their happy hour before heading out on the town from 4-6 pm. At Elways's, you can experience USDA prime steaks that are butchered in-house.
Sheraton Denver Downtown Hotel
The Sheraton in Denver has made its way onto the list of most expensive hotels in Denver after its recent 80 million dollar transformation. As a AAA Four Diamond hotel, it's located on 16th Street and offers a great place to stay near the light rail that can take you to places like the Denver Zoo, the Denver Art Museum, or Coors Field. For their basic room, you can stay for $266 a night, or upgrade to a city view for $298. On the concierge level, you can get a room with a city view for $330 a night. The Sheraton also offers limited suites, but if you're looking for more room you can book a one-bedroom Execute Suite for $405 a night.
The Sheraton is a great option if you are traveling on a work trip or hosting a conference. They created workspaces that can meet the need of your team. With community tables for large groups, studios for small groups in a private space, and booths for a single person, choose any space that works for you. Need a break from work? Enjoy their rooftop pool with poolside cabanas or book a slot in their Topgolf Swing Suite.
Things To Do In Denver
Wherever you wake up in Denver, adventure awaits! Here are some things you can check out during your upcoming trip.
Red Rocks Amphitheater
Carved into the rocks is this National Historic Landmark. Enjoy shows with some of your favorite artists in the Red Rocks Amphitheater. Surrounded by the earth, this amphitheater has incredible acoustics for only the best-sounding audio.
The Denver Zoo
Enjoy the 80 acres and 4,000 animals that the Denver Zoo has to offer. With approximately 600 species to see, you'll have a day of adventure into the animal kingdom. Want to get intimate? You can schedule and book a 30-minute "Up-Close Look" with rhinos, elephants, llamas, giraffes, and/or tropical lizards.
Denver Botanical Gardens
The Denver Botanical Gardens are ranked in the top five gardens in the nation! Enjoy 24 acres of plants originating from all over the world, some of which are rarely seen elsewhere because of the high altitude Colorado offers. Traveling with your kids? These gardens offer a family-friendly space, the Mordecai Children's Garden, and is open year-round for events that everyone can enjoy.
The image featured at the top of this post is ©egvisuals/Shutterstock.com.