Houston, Texas is famous for its diverse food scene, sports teams, connection to space exploration, museums, and cultural institutions. As the fourth largest city in the nation, Houston should be on your list of destinations to travel to! Today, we are looking at the most expensive hotels in Houston: The Post Oak Hotel, the Four Seasons Hotel Houston, and La Colombe d'Or Hotel. Here's how much they cost and what they have to offer.
The Post Oak Hotel
Marketing itself as the only five-star hotel and spa in Houston, The Post Oak Hotel is gorgeous and offers great amenities. As a Forbes Five-Star hotel, they offer elegant accommodations with sophisticated amenities. For a minimum of $539 a night but typically closer to $599 you can stay in their basic room. Looking for a room with a view? Upgrade to get a downtown view for $799. Offering a handful of suites including the Executive, Concierge Executive, Club Executive, Club, Classic, Post Oak, Ambassador, Residential, and Presidential Suites you can stay anywhere from $799-$12,000 a night. At $125,000 a night, experience the massive 22,000-square-foot penthouse suite. Offering multiple rooms, five bathrooms, walk-in closets, a heated pool and hot tub, an outdoor kitchen, a basketball court, a theater room, and a fitness center, this suite has everything anyone could need and more.
Inspired by the diverse heritage of Houston, the spa integrates ceremonial rituals of ancient culture into its services. They are also the only spa in Texas to offer what is called the "Biohacking facial machine." This machine is the next evolution of technology that uses seven of the most advanced non-invasive modalities.
With award-winning chefs, experience many of the restaurant options that The Post Oak has to offer. Including Bloom & Bee, Craft F&B, Bouchee Patisserie, H Bar, Stella's Wine Bar, Mastro's Steakhouse, Willie G's Seafood, King Ranch Texas Kitchen, and The Cellar, enjoy American, Parisian, and local southern cuisines.
Four Seasons Hotel Houston
The Four Seasons Hotel Houston offers a luxury modern stay in the heart of Downtown Houston. For $675 a night, stay in one of their gorgeous deluxe rooms. If you need a little more space and would like a view, upgrade to a premier or corner room for an average of $740 a night. With 10 different suite options, including six residential suites and a Presidential and Penthouse suite, stay anywhere from $1,230-$18,000 a night.
With a large poolside area, enjoy the warm Houston days cooling off at the pool, enjoying games, and hourly treats. The Four Seasons also offers a state-of-the-art spa where you can receive nail services, facials, massages, and body treatments. Enjoy their special "Southern Scrub and Sip" massage with a body scrub infused with bourbon, brown sugar, and gingersnap-pecan. Love golf? They also offer TopGolf Swing Suites where you can swing on the virtual fairway and experience entertainment like never before.
For shopping, the Four Seasons offers two exclusive shopping experiences at Krigler and Vivrelle. Krigler is a perfume boutique that offers the Krigler luxury perfume brand. In business since 1904, Krigler is respected and known by many. As the first Krigler store in Texas, the hotel boutique has the full range of existing Krigler perfumes. This includes the scents that are known to have been favorites of Audrey Hepburn and John and Jackie Kennedy. Vivrelle is a luxury accessory store that the Four Seasons gives you complimentary access to. With brands like Dior, Gucci, and Prada you can "borrow" any of their vintage accessories whether it be for a night or throughout your stay.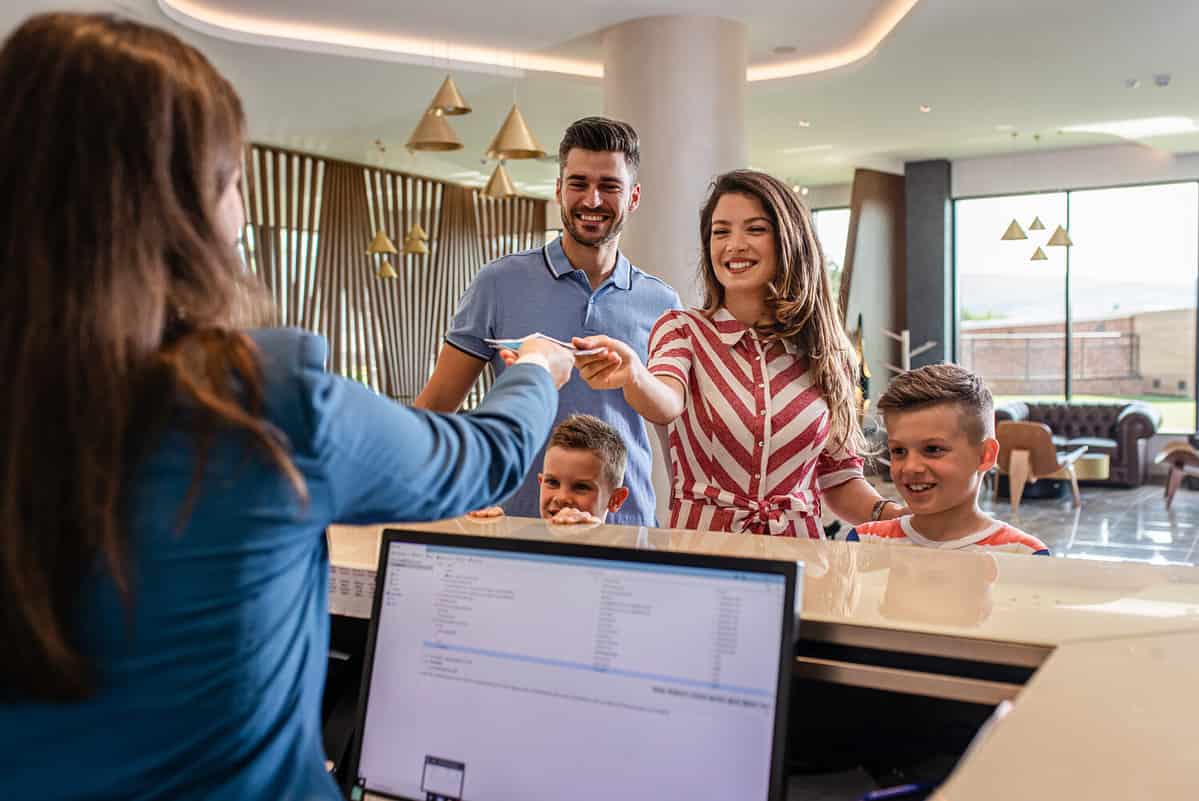 La Colombe d'Or Hotel
In the Houston neighborhood of Montrose, La Colombe offers an artful escape. With 425 pieces of original artwork, a park, a sculpture garden, and great dining, it is a very unique stay in Houston. They offer three different guest experiences for your stay. Choose from the historic mansion, the tower, or the garden bungalows. The mansion offers five unique suites all accessed by a winding grand staircase. Originally built in 1920, it has old-world sophistication with a modern touch. The tower offers a 21st-century modern experience. With 18 available suites, access the tower by passing through the garden near the mansion. Lastly, they offer garden bungalows. A whimsical experience, stay in one of the nine apartment-style suites that line the beautiful courtyard. Designed with antique tiles, artisan wall coverings, and custom sculptural furnishings, these bungalows offer a larger space to stay with full kitchens, living rooms, patios, and balconies.
In the mansion, you can stay in their basic room for $569 a night or upgrade all the way to their largest room for $731. In the tower, start in their basic room for $510 a night or upgrade to a suite ranging from $612-$1,020. The basic room in the garden bungalow starts at $612 a night, or you can upgrade to their largest bungalow suite for $824 a night.
The image featured at the top of this post is ©Sean Pavone/Shutterstock.com.