Love history? Washington D.C. has many attractions to offer during your visit. With national monuments, memorials, and museums, dive into history at our nation's capital. Ranging from $875-$1,500 a night, let's take a look at the most expensive hotels you can stay at in Washington D.C.; Four Seasons, Waldorf Astoria, and Rosewood Washington.
Four Seasons Hotel Washington, D.C.
Located closer to Georgetown, the Four Seasons is near D.C.'s political and social hubs. Known for hosting high-profile guests, the Four Seasons is a reliable choice. Their basic room starts at $990 a night, but if you need a little more space you can upgrade to a premier room for $1,075. Looking to stay in a suite? The Four Seasons offers 10 different suite options including the Premier Suite (East Wing and West Wing), the One-Bedroom Suite, the Capital Suite, the Royal Suite, the Georgetown Suite with Terrace, the Capital Suite with Terrace, the Imperial Suite, and the Presidential Suite (East Wing and West Wing). These suites range from $1,730-$8,500 a night.
The Four Seasons offers a handful of amenities. This includes their own art collection from national and international artists, a three-story fitness center, and a Forbes Four-Star spa. With multiple dining options at their restaurants Bourbon Steaks and Seasons, you'll have all your meals covered. Traveling with the kids? Take them to the indoor pool or set up a glamping tent in your hotel room! The glamping tent they offer glows in the dark making it a fun evening activity.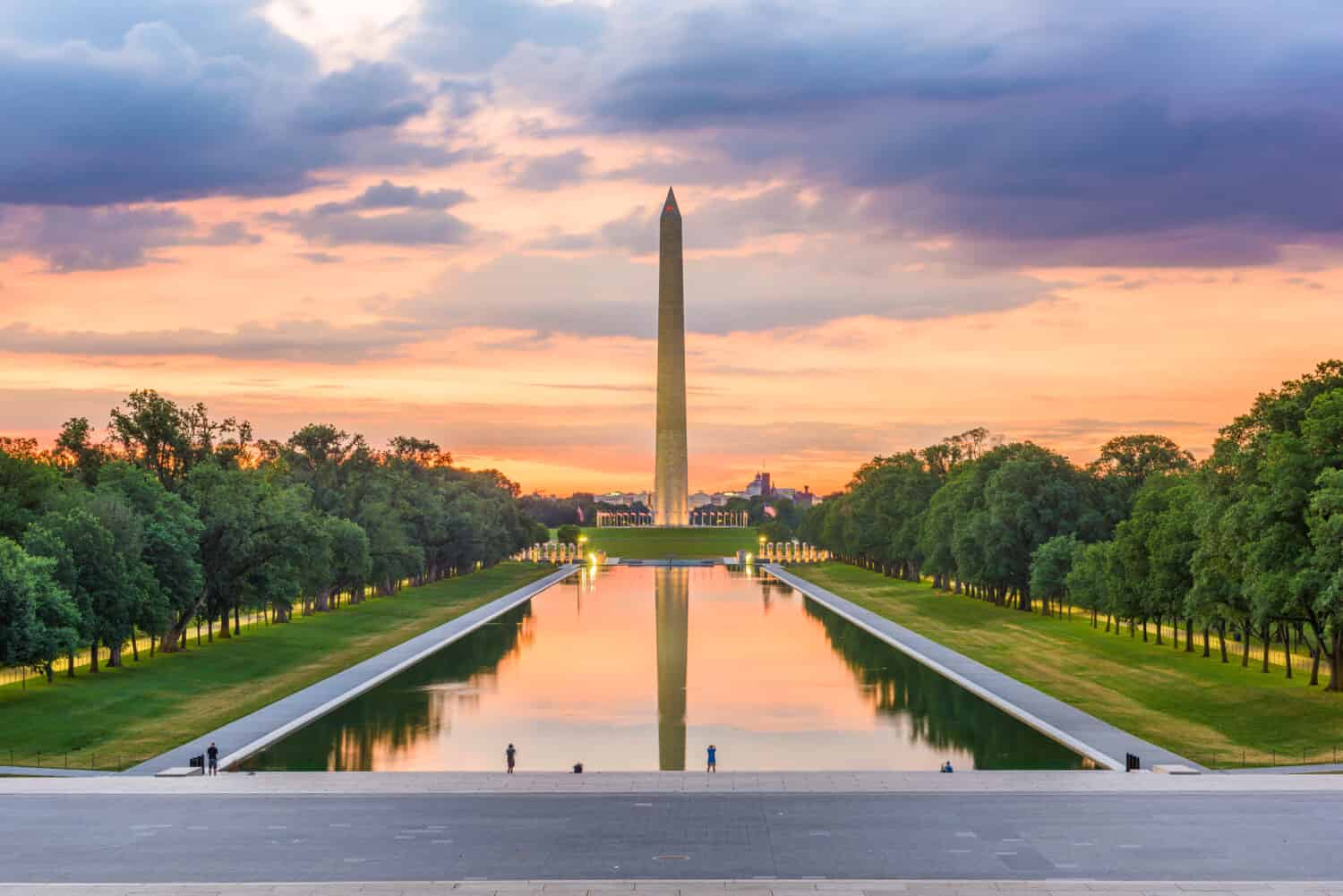 Waldorf Astoria Washington D.C.
The Waldorf Astoria in D.C. has a story to tell. What used to be an old post office was transformed into the beautiful and highly sought-after hotel it is today. Located in between the White House and the U.S. Capitol, it's near the National Mall museums, the Lincoln Memorial, and the Washington Monument. You can start in their basic room for $874 a night or upgrade to have a little more room for $999. Interested in staying in a suite? The Junior Suite starts at $1,082 a night or if you'd like to add an extra half bath you can get a Junior Suite for $1,749 a night. Other suites they offer include a One-Bedroom Suite, the Bi-level Loft with Library, the Franklin Suite, the Presidential One-Bedroom Suite, or the Waldorf Townhouse Suite ranging from $2,300-$25,000 a night.
With elegant and classic furnishings, the Waldorf Astoria makes you feel like you're in the heart of the nation's capital. During your stay, experience luxury in the spa where they offer a range of services. The spa includes a salt therapy room and a relaxation area with a serenity fountain and resting cocoons. If you're a foodie, the Waldorf Astoria offers The Bazaar by Jose Andres, a Michelin-star restaurant. Although this hotel seems to be the most expensive hotel in Washington D.C., they do offer some incredible amenities that can make it worth your while.
Rosewood Washington, D.C.
Located on a canal, the Rosewood Washington offers an urban luxury stay that feels like a private home in the countryside. For their basic room, you can stay for $895 a night, or if you'd like to upgrade for a little more space you can switch to the deluxe room for $995 a night. Offering three different types of suites including the Rosewood Suite, the Presidential Suite, and the Townhouse suites, you can stay for $1,095-$2,350 a night.
When you're ready to rest and relax after a busy day in the city, visit the Rosewoods Pool and Spa. Their beautiful rooftop pool with views of the Potomac River, Washington Monument, and Kennedy Center is accompanied by a built-in fireplace which creates an incredible ambiance. You can also enjoy snacks and refreshments at their rooftop bar and lounge.
Things To Do In Washington D.C.
Although these hotels are outrageously expensive, there are many other places to stay and so many incredible sights to see when visiting Washington D.C. Here are three options that are free and great to do with the family!
The White House and Washington Monument
During your stay, make sure to visit the White House and the Washington Monument. When visiting the monument, you can ride one of the monument's glass elevators and enjoy a city view from the observation deck. You can also take a tour of the White House! Tours are self-guided and scheduled on a first-come first-serve basis.
Smithsonian National Air and Space Museum
Bringing in millions of people a year, this museum has the celebrated aircraft of Amelia Earhart and the Apollo 11 Command Module. Experience flight simulators, an IMAX theater, and the Einstein Planetarium.
Lincoln Memorial
See the larger-than-life Abraham Lincoln and read his two famous speeches from the Second Inaugural Address and the Gettysburg Address. The architecture is a site to see, and if you want the best experience you should visit after dark when the monument is lit up!
The image featured at the top of this post is ©Orhan Cam/Shutterstock.com.