The state of Pennsylvania is a tourist's dream. There's famous architecture, amazing people, tons to see and do, and the chance to stay in some of the fanciest hotels in the country. There are some locations here that are incredibly pricey, but if you can afford it, then you're in for an amazing time. Without further ado, here are the most expensive hotels in Pennsylvania and the incredible facts that make them truly unforgettable.
Four Seasons Hotel Philadelphia at Comcast Center
One of the most most expensive hotels in Pennsylvania is the Four Seasons that's tucked away into the Comcast Center in downtown. The cost is just under $900 per night if you want to have one of the best experiences that the state has to offer.
The rooms in this hotel are incredible, and there's many awesome options to try, including the skyline corner suite, which has a living room, an oversize bathroom, and huge windows that allow you to see the Pennsylvania skyline. There's also the grand cityscape room and landmark rooms, which both provide floor-to-ceiling windows that offer the best views.
If you have 10 guests with you, then you can rent the presidential suite, which provides a view of the north and the south side of the city. There are multiple rooms in this suite, including a huge living room that's larger than those in many people's houses. In total, the presidential suite provides 2137 square feet of luxury
Amenities and Food
One of the best parts of a stay at the Four Seasons is a chance to swim in their world-famous infinity pool that allows you to swim right up to the windows and look over the city. It's a sight you won't get anywhere else, and it's only for registered guests.
The hotel is also home to amazing restaurants, including the Vernick Coffee Bar, which offers hot and cold beverages to start your day. There's also the fantastic Jean-Georges Philadelphia restaurant, which is a fine dining experience that cannot be missed. There, chef Greg Vernick creates some of the most unbelievable dishes that you have to try to believe. Other restaurants include Vernick Fish, which is a world-class seafood restaurant, and JG Skyhigh, an awesome cocktail bar. There's also unbeatable in-room dining options.
This is the best hotel to visit if you're in Pennsylvania and you want an unbelievable experience but know that it won't be cheap.
Nemacolin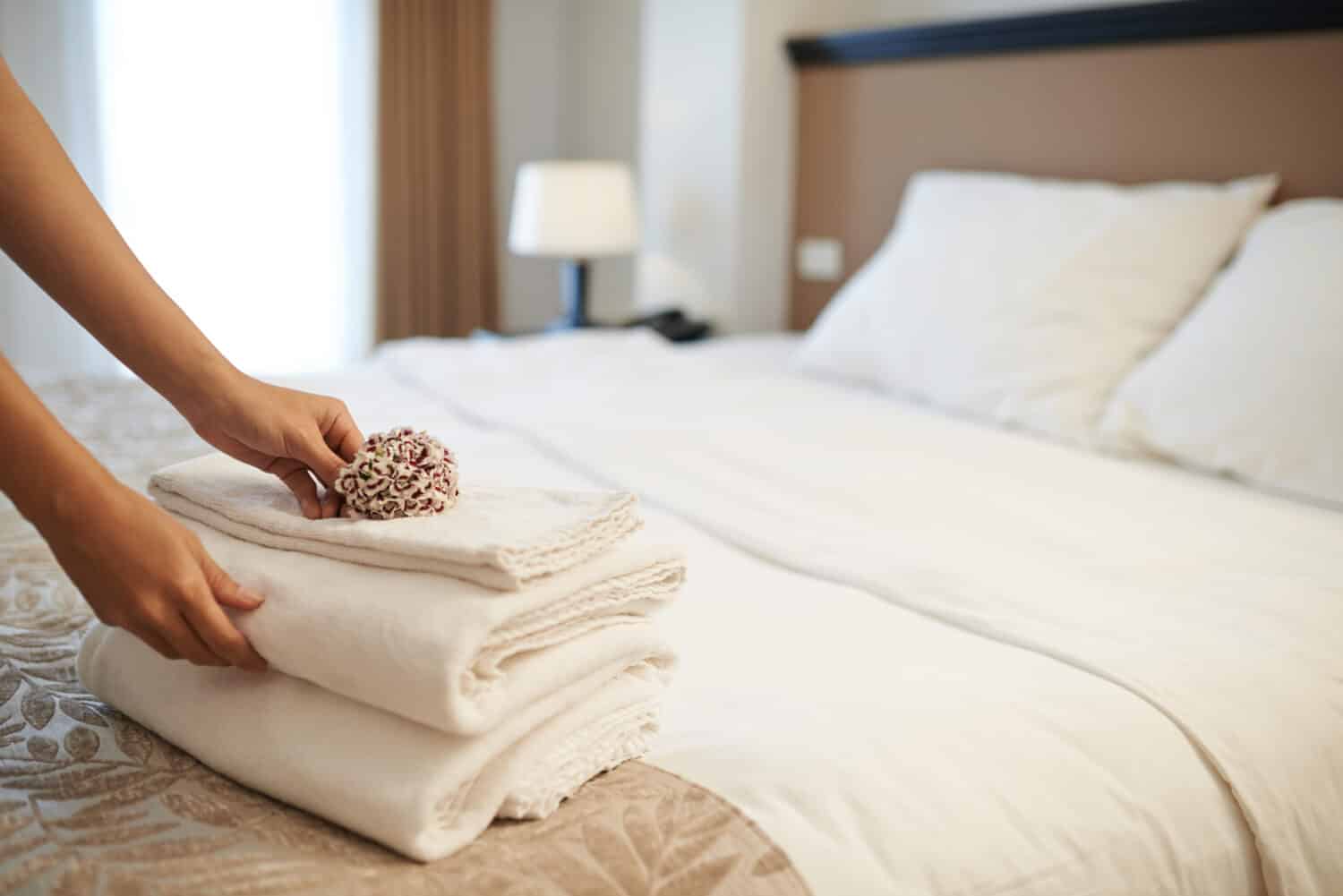 One of the grandest hotels in all of Pennsylvania is Nemacolin, which is a vast resort in Farmington, Fayette County, Pennsylvania. This is a truly expansive Disneyland-type resort that has hotels and activities for everyone. The whole hotel is on 2,200 acres of land that is located in the Laurel Highlands, which are in southwestern Pennsylvania. Nemacolin has been nominated for many awards over the years, including the Forbes Travel Guide 2020 Awards.
The cost to stay at Nemacolin starts at around $600 per night.
Before you even get to the rooms, you can enjoy both of the championship golf courses, the incredible spa and wellness center, fly fishing, snow sports, shopping, wildlife experiences, art tours, and more.
The spa offers rejuvenating therapies, a holistic healing center, a large pool, a gym, and more. The fitness center also offers private sessions to guests who want more personal care.
The Rooms
The hotel offers five different places to stay: The Chateau, Falling Rock, The Homes, The Estates, and The Grand Lounge. Each of these hotels are incredibly elegant, and they have some of the most incredible rooms you can imagine. Here are just a few examples:
Chateau King Suite – One king bed, a whirlpool spa, sleeper sofa, a sitting room, and incredible views of the grounds.
Falling Rock Luxury King – One king bed, in-room bar service, unique toiletries, and access to a private infinity pool.
Falling Rock Balcony King – All of the same perks as the luxury king but with access to a personal balcony.
The Grand Lodge Premium King Suite – This suite has a huge bed, a separate sitting area, and a private butler.
Grouse Glen – You can rent this small house that has four bedrooms, four bathrooms, and two gazebos.
Mallard's Landing – Located in The Estates, this is an estate that has four bedrooms, 4.5 bathrooms, and a modern look.
Food & Drink
Nemacolin is famous for its many restaurants and bars, including:
Aqueous – A seafood restaurant with tasty meals and a great view.
Rockwell's Bistro – It has finger foods and tasty food by local vendors.
Barattolo – An Italian-themed restaurant.
Lautrec – An incredibly classy restaurant with fine dining.
Fawn & Fable – A great steak house made with sustainable ingredients.
PJ's Ice Cream Parlor – Many flavors and icy treats.
Mulligans – A great burger joint that's a hit with golfers.
Sunset Terrace – Light meals that hit the spot.
The Patisserie – Gourmet bites to-go.
There are also many bars to whet your whistle, with options including: Amber Bar, The Hardy Room, Lobby Bar, Circle Bar, The Tea Room, and The Bleu Room.
The Lodge at Woodloch
The next of the most expensive hotels in Pennsylvania is The Lodge at Woodloch, which has rooms that start at close to $500 per night but can go as high as $1,100. This is another hotel like no other as it looks like more of a small town than a place to spend the night.
There are a number of different room choices at The Lodge at Woodloch, ranging from the veranda classic standard room to the junior deluxe room. Regardless of which room you choose, you get a private veranda, water closet, and a large television to enjoy. The rooms come included with an oversized marble shower, granite vanities, beds with triple sheeting, and a rosemary mint bath.
Of course, the rooms are just part of the story, as this hotel comes with many amenities and things to do. There's a huge fitness center with a large pool. The fitness center has yoga and pilates classes plus vibrational sound therapy, and tai chi classes. The grounds around the hotel are also spectacular. You'll be surrounded by nature, and you can even visit an animal sanctuary. Plus, you can enjoy archery, biking, fishing, hiking, garden programs, disk golf, hatchet throwing, stand-up paddle boarding, and more.
There's also an adventure sports area, where you can try a climbing wall, ice skating, a shooting barn, and other endless fun.
Finally, there are many amazing design options that allow you to enjoy everything from steak to seafood. You can even get personalized cooking demonstrations and wine tastings. Best of all, you can eat it outside in a luxurious garden.
The Rittenhouse Hotel
Considered to be the only independent Forbes Five Star hotel in Philadelphia, The Rittenhouse Hotel is easily one of the most expensive hotels in the state. Still, it's one of the more affordable options at around $350 per night. The great thing about this hotel is that you don't need to be attending a fancy occasion to justify the price. Instead, you can come if you're on vacation or hosting a business occasion.
The luxury rooms at The Rittenhouse Hotel are various and they include rooms with a city and a park view. There are king and queen rooms and also suites and accessible rooms. All of the luxury rooms have incredible perks, including:
Twice daily housekeeping
Big beds with fluffy pillows
Entertainment on-demand
Private bar
Glass-enclosed shower
Overnight shoe shining service
Luxurious marble bathroom amenities
Spa and Dining
One of the best perks of staying at this hotel is that you get to enjoy the famous Rittenhouse Spa & Club. In it, you can enjoy a spa that includes specialized facials, massages, and more. There's also the salon, where you can enjoy hairstyling, haircuts, coloring, and more. After that, stop in the fitness center, which includes just about every piece of cardio and workout equipment you can imagine. There's also a huge pool and a hot tub.
As far as dining, you have many options, and all of them will blow you away. The restaurants and bars at the hotel include:
Lacroix – A AAA Four Diamond award-winning restaurant which serves the finest food that is sourced from local ingredients.
Chef's Table – This is a chance to eat the chef's finest creations up close and personal.
Bar 210 – A sophisticated lounge that offers beer, fine wines, and specialty cocktails.
Library Bar – This is a more zen-like bar that serves finely crafted cocktails, rare spirits, and incredible rare books.
Mary Cassatt Tea Room – Incredible teas from around the world.
Scarpetta Rittenhouse – A fantastic Italian food restaurant.
Omni Bedford Springs Resort
At about $300 per night, we have the Omni Bedford Springs Resort. This is a gorgeous hotel located in the Allegheny Mountains, and this resort is famous for being one of the first to have an indoor swimming pool, and they were one of the country's first golf courses. The pool was built back in 1905. Back then, musicians would play to the swimmers from an opera box. You can enjoy all of that luxury, but it will cost you.
The rooms at this resort are simply stunning, and they offer many incredible amenities that you won't find everywhere else. You have several amazing options, including:
Deluxe Rooms – Provides gorgeous views, huge beds, and up to 355 square feet of space.
Resort View Rooms – Vintage decor, big beds, and a view of the pools, and up to 379 square feet.
Premier Luxury Spa Rooms – Have all the finishing touches, including marble sinks, walk-in rain-down showers, spacious porches, and up to 543 square feet of space.
Clay & Calhoun Suite – This is two suites connected together with a great view of the golf course. There's a huge balcony, pedestal tubs, a separate living room, and more.
James K. Polk Suite – This suite is located on the top floor, and it has views of the golf course, Cumberland Valley, and more. Includes huge beds, a large tub, and 2,000 square feet.
Donald Ross Suite – For the ultimate in luxury, try this suite, which is so large that even the porch is 2,000 square feet. Inside the room, there's a second bedroom, heated towel racks, and a large pantry. Overall, it's 4,279 square feet!
Almost all of the rooms offer luxurious comforters, marble floors, work desk, and large bathroom vanities.
Experiences
While you could easily spend all of your time enjoying the room, once you get out, you'll find tons of fun to have on the hotel grounds. They have one of the first golf courses ever created, and it's as gorgeous as ever. You can play a game of 18 holes, take lessons, visit the pro shop, and, if you love it enough, you can even become a member.
After golf, stop by the spa where you can be pampered and enjoy tons of fun activities, from meditation to morning yoga. Then, jump in the heated pool and try one of the fancy cabanas. Finally, stop by the fitness center and stretch or run on the treadmill to complete your day. It's truly an awesome hotel.
Conclusion
These have been the most expensive hotels in Pennsylvania, and they are truly remarkable. If you've got some money and you want to splurge, then book a room and see what luxury is all about.
The image featured at the top of this post is ©Gang Liu/Shutterstock.com.