The state of Iowa is known for many things, from its famous schools and rich Native American history to being the largest producer of corn. Iowa is also known for its hospitality, and they have many great hotels and resorts that make it a joy to stay in the Hawkeye state. Today, we'll tell you about the most expensive hotels in Iowa. We'll discuss how much they cost, what's included in that price, and other perks of booking a room.
Hotel Blackhawk
The first entry on our list of the most expensive hotels in Iowa is Hotel Blackhawk. Rooms in this hotel will generally be around $230. This is the highest-rated hotel in the Davenport, IA area, and it's rated as a AAA Four-Diamond Marriott Autograph Collection Hotel. It's a great hotel for vacations or passing through, and there are 130 luxurious rooms to enjoy. Part of the charm is that many of the rooms overlook the Mississippi River. It's been the landing spot for many presidents, international dignitaries, and celebrity weddings.
The Rooms
There are many great rooms from which to choose, and they all have varying price points, but they're all worth the money. A sampling of the rooms includes:
Two Bedroom Suites – The hotel has several two-bedroom suites that have 1,275 square space in the form of two bedrooms, two bathrooms, and a separate living room. The suites also include a washer and dryer, complete kitchenware, and space for up to six guests.
Executive Suite – A great suite with a separate living room, a balcony, and washer & dryer in the room.
Parlor Suite – A large 496 square feet room with tons of space and a balcony.
Large Deluxe Jacuzzi Room – A spacious room at 328 square feet that includes a huge jacuzzi.
Amenities
Hotel Blackhawk also has a fair share of great amenities that put the cherry on top of a perfect stay. Among them are the indoor pool, hot tub, and sun deck. This is a heated pool that's always the perfect temperature, and it is suitable for kids and adults. The sun deck is also a great perk so you can get a tan.
There's also a fitness center that is open 24-hours a day. There are complimentary chilled towels and water at all times. You can meditate, practice yoga, or try one of the countless exercise machines. If you need to fit in some work, then you can visit the business center that has computers, internet access, audiovisual equipment rentals, and more.
The Merrill Hotel
Located in Muscatine, Iowa, we have "the pearl of the Mississippi." It's The Merrill Hotel, and a room will cost you around $200+ per night. This is a 4-Diamond boutique hotel that's located right on the famous Mississippi River. The hotel is named after Stanley Merrill Howe, who was a business leader in the area during the 1940s. The name symbolizes that it's an important hotel and a business that cares about the local history.
The Rooms
Along with the more traditional rooms in the hotel, there are also several suites that show why this is one of the most expensive hotels in Iowa. The most impressive rooms include:
Chairman's Suite – This suite has two queen guest bedrooms, and an additional king bedroom can be added for larger parties. It includes a dining room table, a kitchen, a huge bathroom, and more.
Presidential Suite – Another huge suite, this one allows you to add on two adjoining queen bedrooms, or it can be made into one large penthouse suite. The room includes a kitchen, gorgeous views, spacious bedrooms, and more.
Junior Suite – This will be a corner room, so it has some larger square footage. The room has a large bed, an HDTV, robes, and a sitting area.
River View King – You can get this room with one king or two queen beds, and they offer many of the amenities of the junior suite plus a large desk.
There are also accessible guest rooms so everyone can enjoy the hotel regardless of their needs.
Amenities
There are other perks to staying at The Merrill Hotel, including their special packages that you can get for an additional cost.
Romance Package – Includes the room plus dinner and breakfast for two, chocolate-covered strawberries, and a bottle of champagne.
Bed & Breakfast Package – The package includes the room plus breakfast in the hotel restaurant for kids and adults.
Craft Beer Lovers Package – You get the room plus a welcome package with salty snacks. There are also gift cards and credits and a contrary beer crowler.
The hotel also offers many dining options, including a chance to eat at the hotel restaurant, which is operated by well-known chef Tessa Crookshank. You can order steak, ribs, and more. You can eat in the dining room and get a great view of the Mississippi.
The Current Iowa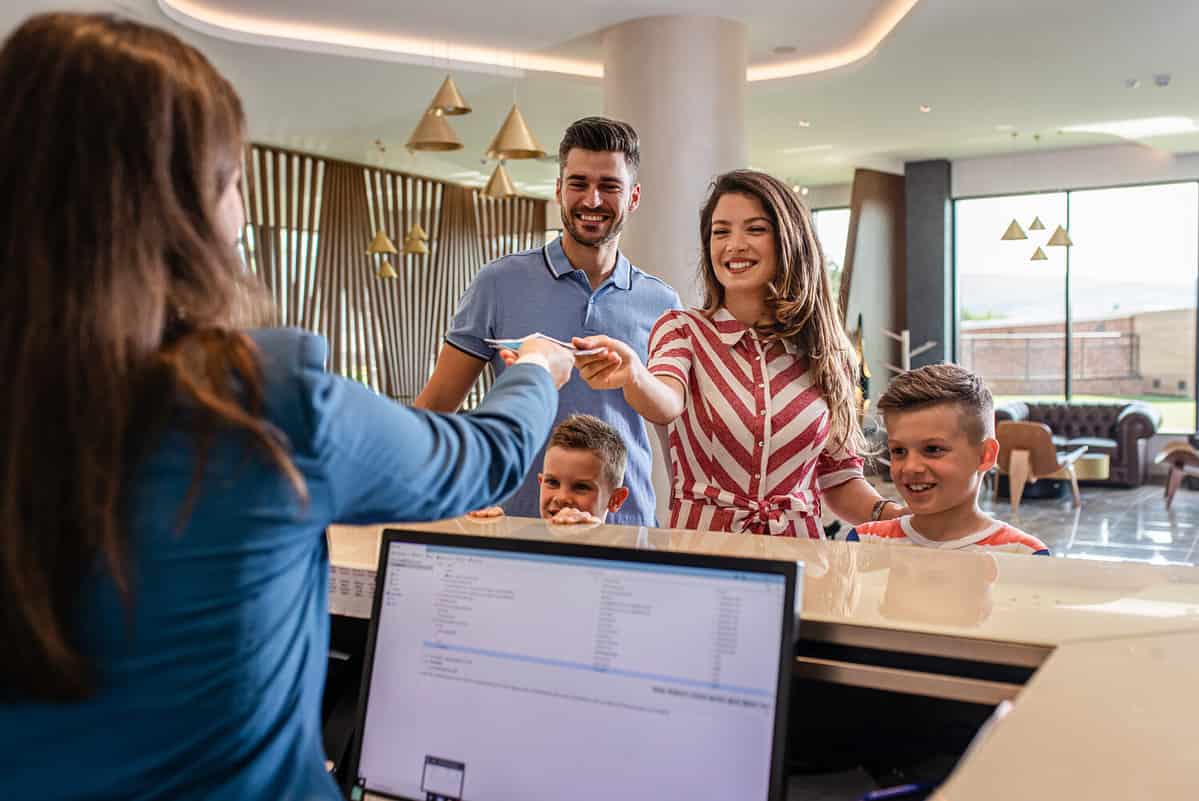 Travelers who have about $200 to spend per night and want to stay in a great location should check out The Current Iowa, which is another entry on our list of the most expensive hotels in Iowa. This is a modern hotel with a classical look, and it oozes elegance. It's a 4-Diamond rated boutique hotel. There are rooms of all sizes and there are great packages that make it a worthwhile cost.
The Rooms
The Current Iowa has many rooms of varying prices with two queen beds, a large king bed, etc. However, there are also a couple of noteworthy suites:
King Executive Suite – Offers a huge open floor plan, a big TV, luxurious robes, spa therapy toilets, lighted vanity mirrors, and more.
One Bedroom Apartment Suite – This is a spacious suite that has a separate living room area and bathroom. There's also a full kitchen, a sofa bed, a fridge, and more.
Two Bedroom Apartment Suite – A larger suite with multiple rooms, including the bedrooms, kitchen, bathroom, and living space.
Amenities
Like the other hotels, The Current Iowa has a fair share of elegant amenities, including their dining options. In addition to the spectacular room service, there are a couple of restaurants, including City Loafers, which offers tasty sandwiches, salads, and soups. There's also the Up Skybar, which is on the roof of the hotel. There, you can enjoy your cocktails and tasty appetizers.
There's also a spectacular indoor pool and hot tub that is surrounded by comfy couches and places to lay out. The hotel also has a fitness center that's equipped with free weights, exercise equipment, and more.
Revel Hotel
Finally, we have the Revel Hotel, which is costly, but still relatively affordable at $150 per night when compared to the other hotels on the list. The idea behind this hotel is that it's designed in the vein of an American farm landscape, and there are plenty of cool figurines and patterns around to represent that decor. This is a fancy hotel, but it's not so over the top that you can't enjoy the stay and have the amenities you need to have a good visit. The rooms are also situated in the right spot, so you'll always get the best view out your window.
Rooms and Amenities
The Revel Hotel has some of the typical rooms that you'll expect, including some with king and queen beds. There are also some impressive suites, including a two Queen Bed Studio Suite. The room has 460 square feet of space and two queen beds, plus a separate sitting area, a huge TV, coffee machine, and more. There's also a similar corner suite with more windows. This is a hotel that wants to cater to all guests, so there are many accessible suites for people with hearing or mobility issues.
There's a lot of tasty food available at the Revel Hotel, and you can get it delivered to your room, or you can stop by the Revel Lounge, which offers burgers, finger foods, and more. Plus, there's a pool table! There's also a breakfast prepared every morning that offers a mix of hot and cold entrees. Before you leave, don't forget to stop by the pool and fitness room.
Conclusion
These are the most expensive hotels in Iowa, and they have a lot to offer if you have the cash to spend. They all offer a mix of class and functionality that cannot be beat, and they're worth a visit if you're on vacation in the area.
The image featured at the top of this post is ©MDV Edwards/Shutterstock.com.