When planning a family vacation or a weekend getaway, one of the most stressful parts is finding a great place to stay. Hotel prices fluctuate depending on the city, amenities, and attractions that are around. Some hotels boast high price tags, and these expensive hotels in Dallas are no different. Is a pricey hotel worth the extra expense? The truth is, it depends. Sometimes a luxury hotel can elevate your family vacation and bring it to a whole new level; however, it all hinges upon the hotel.
Nevertheless, the expensive hotels in Dallas have luxury down to a tee. These hotels offer guests beautiful accommodations, delicious cuisine, and relaxing spas and pools. Aside from the top-notch amenities, some of these hotels feel like a home away from home. Below we will be looking at the most expensive hotels in Dallas; however, first, let's explore what makes Dallas so fun to visit!
Fun Attractions in Dallas
Dallas is a boisterous and entertaining city to see. This city has a deep history, such as being the place where JFK was assassinated and where the Old West was prevalent.
While in Dallas, you can experience delicious southern cuisine, lively music festivals, and a thriving sports culture.
If you are visiting Dallas as a family, seeing the Dallas World Aquarium, Zoo, Six Flags over Texas, or Legoland Discovery Center may amuse people of all ages. There is an overabundance of fun activities to participate in while visiting this energetic city. Of course, while here, you need a place to stay; one of these expensive hotels in Dallas may be just the right fit!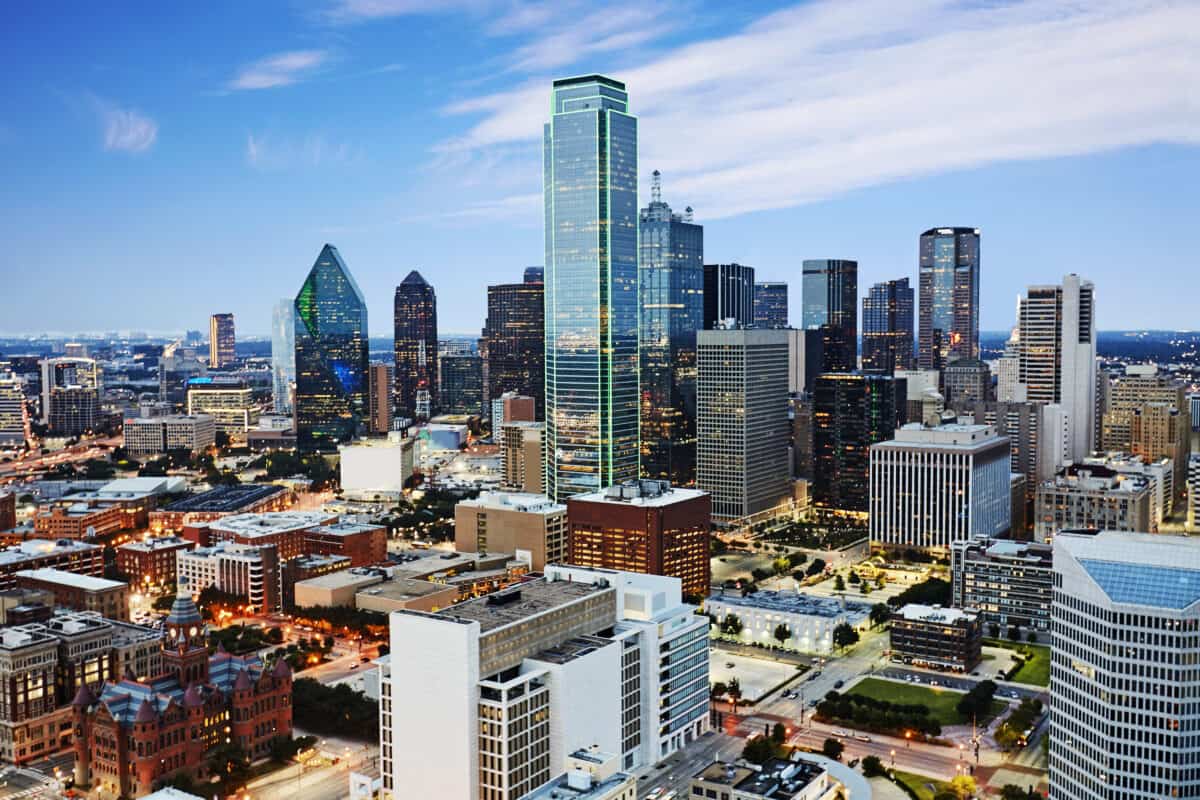 Most Expensive Hotels in Dallas
Below are the most expensive hotels in Dallas. They boast exceptional amenities, soothing spas and pools, and exceptional character. These attributes and more may be just the nudge to book a stay at one!
The Ritz-Carlton, Dallas
2121 McKinney Ave, Dallas, TX 75201
Price: $563
The Ritz-Carlton does luxury right, and the one located in Dallas is no exception. This high-scale hotel has many benefits for those visiting Dallas and those who want to enjoy the hotel amenities for the day.
One of the most popular sites at the Ritz-Carlton Dallas is the Fearing's Restaurant, although Dean Fearing's delectable cuisine is available at all of the restaurants here. The dining experience at this hotel is laid back and relaxing, making it easy to enjoy your evening and great food.
Another of the most popular spots that visitors flock to is the spa. If you are in dire need of a relaxing weekend, the spa is a great place to visit first. It offers guests the following services and more:
Waxing
Therapy bath
Scalp and hair treatment
Foot bath
Lap pool
Facials
Body scrub
Guests will feel refreshed and ready to take on whatever the day brings.
When you stay at the Ritz-Carlton in Dallas, there are plenty of opportunities to explore the thrilling city. You will be within reach of popular tourist spots such as the House of Blues and Nasher Sculpture Center; You can even book a tour to help plan exploring the city.
On top of all the beautiful ways this hotel aces pleasing the guests, Ritz Kids is specifically designed for the youngest visitors. Children are excited by the delightful activities and feel at ease while staying at this delightful and elegant hotel.
Rosewood Mansion on Turtle Creek
2821 Turtle Creek Blvd, Dallas, TX 75219
Price: $588
Rosewood Mansion on Turtle Creek is a stunning hotel that catches your eye as soon as you pull up to it. The luxurious sense that guests have while staying at this hotel feels like something right out of a storybook.
This hotel is near the Dallas Love Field Airport, making it a snap to get to and from. Upon arrival, guests will notice that the rooms and suites have a touch of home within them. The comfort and coziness each room emulates make guests feel relaxed.
When it comes to dining, you can anticipate impeccable options. The feel and character of this hotel will transport you to the early 20th century. In addition, the option for dining is considerable, whether you want to eat on the restaurant terrace and enjoy the beautiful weather or get cozy in the Mansion bar. The possibilities are endearing and unforgettable.
You can also enjoy the relaxing pool and refreshing spa and even drive a Lexus for fun.
The Mansion on Turtle Creek is in the perfect location, allowing guests to get out and enjoy amazing events and experiences while having a cozy and exceptional place to rest their heads at night.
Hall Arts Hotel Dallas Curio Collection
1717 Leonard St, Dallas, TX 75201
Price: $333
Hall Arts Hotel Dass Curio is a beautiful luxury hotel in the middle of Dallas. This hotel offers guests many amenities, including pet-friendly rooms, concierge service, and connecting rooms.
The hotel has one resturant, Ellie's resturant. It is beautifully adorned and offers guests mouthwatering dining choices. Additionally, a rooftop pool also makes unwinding after a long day pleasurable.
The Joule
1530 Main St, Dallas, TX 75201
Price: $317
The Joule is right in the hub of Dallas, giving guests access to all the beautiful sights and experiences. Immediately walking into the Joule, guests will be drawn to the captivating artwork on display and the unique architecture.
The Joule has a notable history dating back to the 1920s. This beautiful building was the Dallas National Bank when it was first built. The bank had a thriving life throughout the 20th century. However, its luck fell, and its course needed to be changed. Therefore, in 2008 the vision of the beautiful hotel it is today came to life.
The Joule has been rated as a Forbes Four-Star hotel. It offers guests and locals luxury at its finest. Amenities that the Joule is praised for are:
The top-notch spa and treatments
Concierge services
Delicious dining opportunities
Relaxing rooftop pool bar
Option to use luxury house cars
These amenities also include in-room dining, an electric vehicle charging station, and a unique hotel shop.
Guests and locals can't get enough of this luxury hotel and all the fantastic benefits of staying here.
Hotel ZaZa Dallas Uptown
2332 Leonard St, Dallas, TX 75201
Price: $351
Hotel ZaZa Dallas Uptown is a boutique hotel that offers guests a stylish experience. Each room and suite are intricately decorated and have its own distinctive style, whether guests want to stay in a room that gives them a Medieval feel or a Bohemian-style room. In fact, there are many different styles at the Hotel ZaZa Dallas Uptown. A few more of these choices include:
A Texas-style room
Bungalows
East Indies
A modern Chic suite
Zen style room
Apartment suite
Asian inspired decor
These are just a few of the many diverse styles of rooms that Hotel ZaZa Dallas Uptown offers. If guests are tired of visiting hotels that are always the same, the characteristics that this hotel puts into each room will make you smile.
Additionally, this hotel offers several different ways to enjoy its delectable cuisine. Those ways include by the pool or at the Dragonfly restaurant.
There is also a calming spa that guests can enjoy and leave feeling refreshed. While staying at this unique hotel, you may find that you want to stay.
Hotel Crescent Court
400 Crescent Ct, Dallas, TX 75201
Price: $365
Hotel Crescent Court bleeds luxury as soon as you walk through the doors. With the high ceilings, luxurious color scheme, and unique decor, you will feel like royalty at this hotel.
Additionally, while staying at the Hotel Crescent Court, you can enjoy the beautiful art collection from Rose Hunt.
This hotel also offers guests many dining experiences. In fact, there are twelve! Guests in the mood for afternoon tea can treat themselves in the Great Hall or try a casual dinner at the Conservatory. Whatever you are in the mood for, Hotel Crescent Court has plenty of options.
Aside from the spa, pool, and fitness center, this hotel also allows guests to host elegant events and weddings with delectable menus and elegant packages. While at the Hotel Crescent Court, guests will feel pampered, bringing their vacation to an all-new level of satisfaction.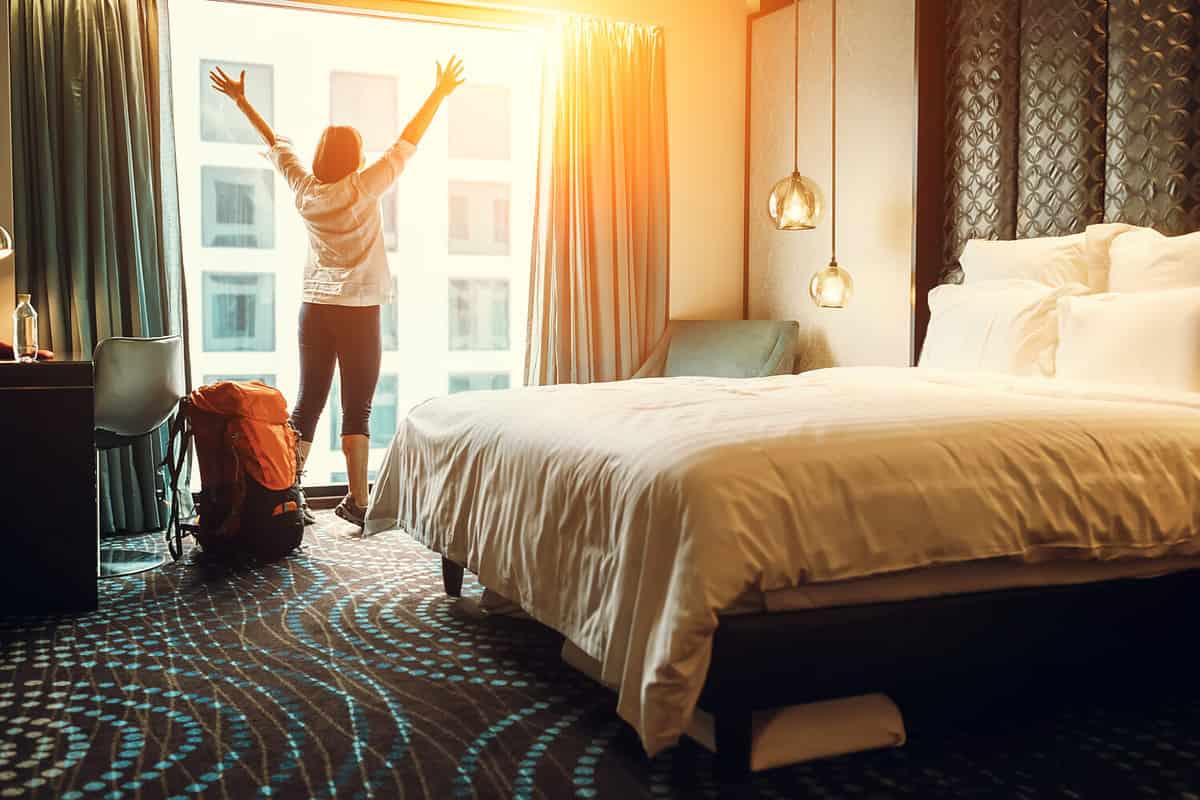 In Conclusion
It is important to note that each hotel has its own distinctive characteristics. The hotels on this list bring luxury to the forefront of a guest's stay; guests can feel indulged, comfortable, and at ease while staying in one of these luxury hotels. Furthermore, they are in the center of Dallas, making it easy to get to fun attractions and enjoy the city near your base. Regardless of where you stay on your family vacation or a weekend getaway, choosing one of these hotels will elevate your stay and make you never want to leave Dallas!
Dallas Posts
The image featured at the top of this post is ©Zoran Zeremski/Shutterstock.com.