Even though Idaho may not be the first place you think of when it comes to luxury hotels, there are plenty of hidden treasures throughout the "Gem State." In this article, we'll take you through the world of Idaho's finest hotels where you'll find incredible comfort, excellent service, and beautiful surroundings.
Whether you're a luxury traveler or simply curious about the best of the best in Idaho, this guide will show you the most exclusive places to stay. Get ready to embark on a journey as we reveal the height of luxury in the grand state of Idaho. Let's dive in!
The Coeur d'Alene Golf and Spa Resort
115 S 2nd Street, Coeur d'Alene, ID 83814
Golf, cruise, fish, and enjoy a plethora of other outdoor activities at the Coeur d'Alene Golf and Spa Resort. The focus of this hotel is to allow guests to enjoy any kind of outdoor adventure, no matter what time of year it is. Located directly on the North Shore of Lake Coeur d'Alene (one of National Geographic's five most beautiful lakes in the world), this hotel has an abundance of package options to choose from. Guests can choose from 5 different room options and enjoy amenities like:
Oversized bathrooms
Workstations in each room
Spacious living areas
Wall-to-wall picture windows
A golf course on the premises
The Coeur d'Alene Resort Spa
Boat rentals and water sports
Availability to book lake cruises
Complimentary bike rental
Outdoor infinity pool
Indoor pool
Fitness center
This hotel and resort also has numerous different dining options with several restaurants on the premises. If you're looking for a scenic, outdoorsy stay in the state of Idaho, the Coeur d'Alene Golf and Spa Resort is definitely one to check out!
The Lodge at Sandpoint
41 Lakeshore Drive, Sagle, ID 83860
Another lakefront hotel in Idaho can be found in The Lodge at Sandpoint. The Lodge is a boutique hotel that's situated along Lake Pend Oreille and offers stunning waterfront views. While this hotel offers contemporary conveniences, it's styled around old-world charm. Additionally, guests can enjoy over 600 feet of private lawn and beaches. Amenities include:
Two outdoor hot tubs
Fitness room
Complementary breakfast
A quiet reading room, complete with a fireplace, a view of the lake, and books and boardgames to choose from
The Lodge at Sandpoint offers a warm, welcoming environment for guests. And, just 5 minutes away across Long Bridge, is the 100-year-old town of Sandpoint which offers outdoor activities, shops, antique stores, and farmer's markets to enjoy. There's a little something for everyone with this cozy stay at The Lodge at Sandpoint.
Shore Lodge
501 W Lake Street, McCall, ID 83638
Listed as "the ultimate Idaho destination for sanctuary-seekers" is Shore Lodge in McCall, Idaho. This hotel offers a little bit of everything, from outdoor activities to quiet and cozy rooms, dining, and a spa. Shore Lodge has been serving guests since 1948 and sits 5,000 feet high in the scenic Salmon River Mountains, just two hours from Boise. Guests can enjoy amenities such as:
Direct access to Payette Lake
A heated outdoor pool
A theater in the hotel
2 outdoor hot tubs
An arcade
Turn down service with a sweet treat
S'more's by the fire
A marina with lake rentals
Bikes for touring
A fitness studio
Valet parking
The Cove Spa
This lodge also has numerous outdoor activities for guests to engage in, plus two dining options and a lounge for evening cocktails. There are also wedding and meeting venues on the premises. A stay at the Shore Lodge is perfect for everyone.
Sun Valley Lodge
1 Sun Valley Rd., Sun Valley, ID 83353
Located just a stone's throw away from scenic Sun Valley, is the Sun Valley Lodge. This hotel has been a destination ski resort for over 87 years. Guests can choose from 108 guestrooms ranging from single rooms to suites that include fireplaces. They can also enjoy all of the amenities on the premises, which include:
A 20,000-square-foot spa
Fitness center
Yoga Studio
Glass-enclosed outdoor pool
Pool cafe
The lodge also has various restaurants and is extremely close to all of the entertainment, shopping, and dining available in Sun Valley. And, with its location near the mountains, outdoor activities are easy to find and enjoy at the Sun Valley Lodge.
Knob Hill Inn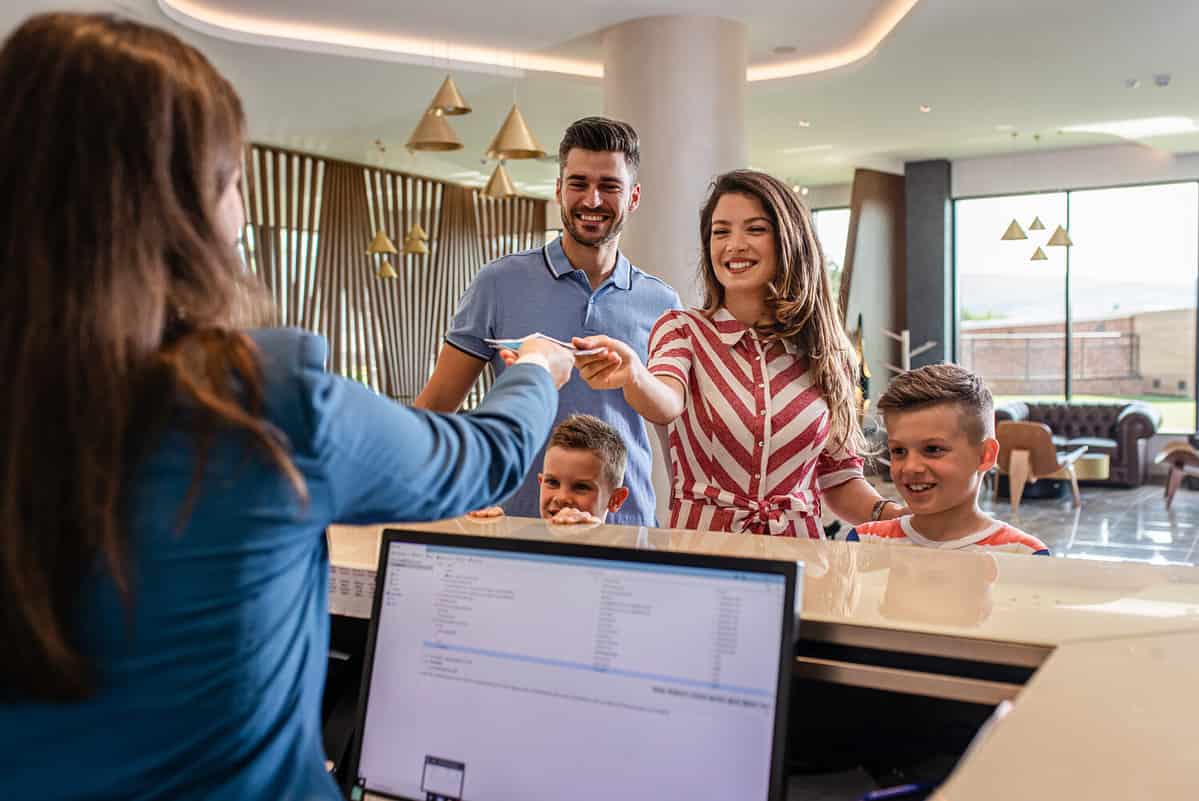 960 N. Main Street, Ketchum, ID 83340
Also located near Sun Valley is the Knob Hill Inn. The hotel was built in 1992 and is located in the heart of the Sun Valley ski community. With a focus on summer recreation and its close proximity to Silver Creek and Bald Mountain, there's plenty of fly fishing, hiking, and biking for guests to enjoy. Knob Hill Inn also received the 2022 Traveler's Choice TripAdvisor award. While staying at this hotel, guests can enjoy state-of-the-art amenities like:
Keepsake reusable water bottles
An indoor heated pool
Transportation to Sun Valley or Ketchum
Complementary breakfast
Pet-friendly rooms
Easy shipping and storage of ski equipment
The hotel also features dining at The Grill at Knob Hill where guests can enjoy Northwest cuisine and a Rocky Mountain-inspired menu. There's also space for weddings and events, complete with scenic overviews of Sun Valley. If you're looking for a comfortable and relaxing stay in Idaho, be sure to check out the Knob Hill Inn.
Hotel NoBo
500 North Main Street, Cascade, ID 83611
As part of the Tapestry Collection by Hilton, Hotel NoBo is a more contemporary stay in the heart of Cascade, Idaho. The name of the hotel comes from its goal to help guests enjoy their "Northbound adventures." The hotel was recently fully renovated and provides a high-end experience that guests won't forget. Amenities include:
New indoor heated pool
Hot tub
Fitness Center
Free Parking
A 24-hour marketplace
Touchless check-in and check-out
Complementary breakfast
Also on the premises is a wine bar and tapas called Checkpoint. With a fresh menu and a large wine and craft beer selection, there's something for everyone to enjoy. Hotel NoBo is also a central location in Cascade, just a short distance away from Lake Cascade and the Tamarack Ski Resort.
Limelight Hotel in Ketchum
151 Main St S., Ketchum, ID 83340
Located in picturesque Ketchum is the Limelight Hotel. This hotel offers 99 rooms and suites as well as 14 2-, 3-, 4-, or 5-room residences. With a resort-like feel, Limelight also provides complementary shuttles to and from the airport and ski resorts, as well as their Audi Program, which allows guests to test drive the electric Audi e-tron during their stay. Other amenities include:
Complementary hot breakfast
An outdoor pool and hot tubs
Pet-friendly rooms
A plaza area complete with lounge chairs and cocktail tables
Ski and snowboard services in winter
Bike rentals in summer
Zenergy Health Club and Spa
Fitness room
Bedside Reading Program
The hotel also has its own restaurant called The Lounge, complete with occasional live music and a happy hour as well as a full menu. And, if you're looking to host in Ketchum, you may want to check out the Limelight Hotel's wedding and event venues, complete with catering options.
Considering a Visit to Idaho?
These lavish hotels in Idaho offer both luxury and comfort. Whether you're looking for elegance, great service, or beautiful surroundings, these hotels have it all. Idaho might not be the first place that comes to mind for luxury travel, but it has surprises waiting to be explored. So, if you're ready for a memorable and indulgent getaway, let these exceptional hotels be your guide as you create memories to last a lifetime in the unique landscapes of Idaho.
The image featured at the top of this post is ©Jef Wodniack/Shutterstock.com.