Hawaii has become a favorite family vacation destination over the years. The state offers stunning beaches, warm weather, and plenty of activities for kids of all ages. If you want to take advantage of these benefits, you should consider visiting some of the best family-friendly resorts on Hawaii (The Big Island).
There are hundreds of hotels and resorts in Hawaii, but only a handful offer great amenities for families. These include kid-friendly restaurants, pools, playgrounds, and other attractions. Here are our top picks for Hawaii's best resorts for families with kids.
78-128 Ehukai Street, Kailua-Kona, HI 96740 • (866) 419-2601
Outrigger Kona Resort and Spa (previously known as Kona's Sheraton Kona Resort & Spa) is situated about 10 miles north of Kailua-Kona, Hawaii, and 25 miles southwest of the airport. It offers guests access to some of the best activities on the Big Island, including:
Snorkeling
Hiking on nearby trails
Surfing lessons
Golfing at the Jack Nicklaus Signature Golf Course
Horseback riding
Fishing
Boating
The hotel itself boasts a tropical feel with its lush gardens, palm trees, and tropical foliage surrounding the property.
For dining options, guests can enjoy a breakfast buffet, lunch, dinner, and snacks throughout the day. There are also several restaurants within walking distance as well, such as the Tiki Bar and Grill serving American cuisine, the Beach House Restaurant offering Hawaiian fare, and the Lava Lounge featuring live entertainment.
72-100 KA'Upulehu Drive, Kailua-Kona, HI 96740 • (808) 325-8000
The Four Seasons Resort Hualalai sits on the Big Island's North Kona coast, about a half-hour from Kailua-Kona. This resort offers guests a variety of activities, dining options, and amenities.
Lavish and extremely popular among kids and parents alike, the Four Seasons Resort could easily be considered "the" best place to stay on the big island for families.
Apart from fantastic snorkeling, a host of tide pools to check out, and movie nights under the warm Hawaiian sky, you'll find 7 (yes 7!) swimming pools on site, including one just for the tots, and an excellent kids club — all significant draws for families with toddlers, guaranteed to keep your kids busy.
There is also a golf course within walking distance, and for those looking to relax, there are several massage therapists on site. Plus, this resort is home to the world-famous Kona Grill restaurant and bar, which serves up some of the most creative food in Hawaii.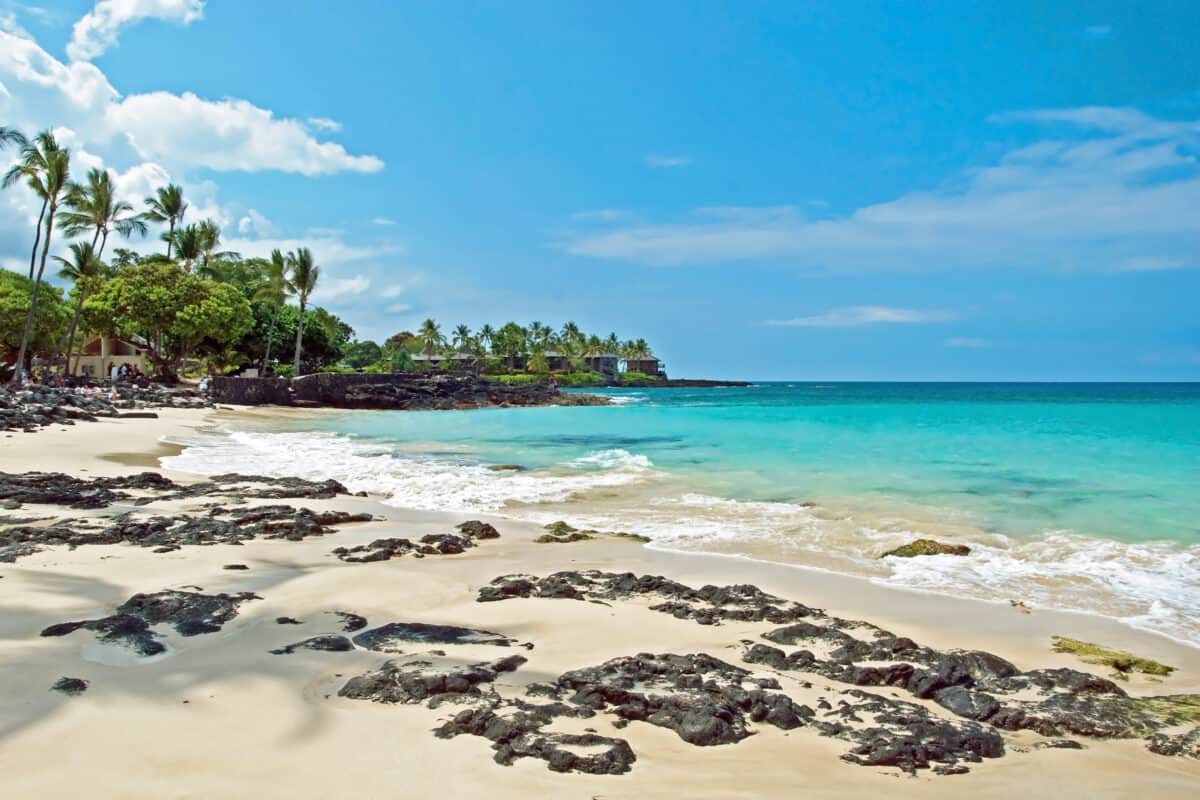 The Mauna Kea Resort Area is located on the northwestern shoreline of the Big Island of Hawaii. This location is considered to be one of the best hotel areas in Hawaii. There are two excellent hotels here: the Mauna Kea Beach Hotel and the Westin Hapuna Beach Resort. Both hotels offer amazing views of the ocean and the lush green landscape of the Big Island.
While the Mauna Kea Beach Hotel focuses on an elegant, historical feel, the Westin Hapuna Beach Resort strives for a more modern appeal.
62-100 Mauna Kea Beach Drive, Waimea, HI 96743 • (808) 827-7222
The Mauna Kea Beach Hotel prides itself in having a timeless appeal, offering swimming with manta ray experiences. The resort sits on one of the best beaches on the Big Island, opening to flat, turquoise water. Families will appreciate the soft-sand entry and the width of the beach, which allows groups to spread out with ample space. Guests are also able to enjoy art showcases and tennis by the sea.
62-100 Kauna'oa Drive, Waimea, HI 96743 • (808) 880-1111
The Westin Hapuna Beach Resort stretches across the shoreline and offers manicured gardens and four dining venues on-site. The 18-hole Hapuna Golf Course has won numerous awards and is a great place for adults to relax and practice.
No matter the branch you choose, the Mauna Kea Resort Area remains one of the best for easy northern beach access and amenities.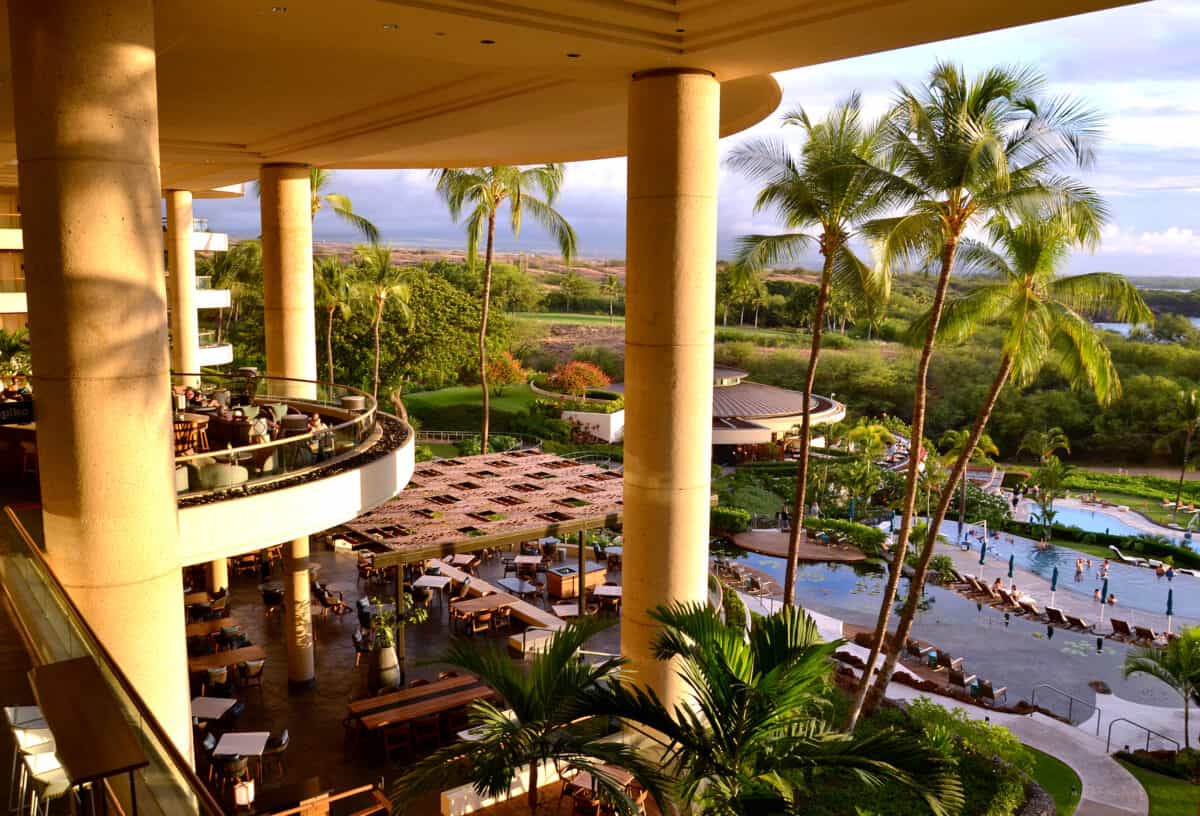 93 Banyan Drive, Hilo, HI 96720 • (808) 969-3333
This Hawaiian resort offers a number of amenities, including a spa, fitness center, pool, restaurant, bar, and concierge service. Guests can enjoy a variety of outdoor activities, such as:
hiking
golfing
fishing
surfing
scuba diving
The resort is also a 10-minute drive from Wailuku River State Park, where you can explore geological wonders along the Wailuku River. While the Boiling Pots area of the park contains connected pools, Rainbow Falls is a famous 80-foot waterfall. So if you're lucky, you might catch the early morning rainbow through the mist!
69-425 Waikoloa Beach Drive, Waikoloa, HI 96738 • (808) 886-1234
Immaculately mowed lawns and sprawling grounds are just some of the amenities you'll find at the Hilton Waikoloa Village. This tropical paradise offers kids plenty of things to do while staying there, including hula lessons, swimming lessons, and dolphin encounters. There are even special kid-friendly activities like lei making and hibachi cooking!
The resort also has a ton of pools to splash around in. You'll find one main pool area where guests can enjoy the views of the lagoon and another smaller pool for younger children. For adults, there are three Jacuzzis, a waterfall shower, and a hot tub. Plus, the hotel offers spa treatments such as massages and facials!
There's no shortage of restaurants on-site either. Guests can dine at the Beach House Restaurant, which serves breakfast, lunch, and dinner daily; the Island Bar & Grill, serving burgers, sandwiches, and salads; or the Ocean Terrace Cafe, which offers light snacks and drinks.
Find more amazing family travel destinations here.
The image featured at the top of this post is ©Tada Images/Shutterstock.com.