Heading to Hawaii for some family fun? Lush landscapes, beautiful beaches, and crystal clear waters make Maui a dream destination for many families. One of the key factors in planning your family vacation to Maui is picking a fantastic, family-friendly resort. From waterparks to kids clubs, there are a ton of Maui resorts ready for the keikei – the Hawaiian word for "kids" – and they're ready to welcome your family to the island. Instead of searching what seems like forever to find the perfect place for your family to stay, we've put together our list of the best resorts for families in Maui.
The Best Resorts for Families in Maui
The Westin Maui Resort & Spa, Ka'anapali sits on the beautiful shores of Ka'anapali Beach, a popular area of West Maui. The property has been there for some time but recently completed a $120 million renovation at the end of 2020. 
After reopening in 2020, the resort welcomed back guests to 87,000 square feet of pools, a newly designed kids playground, five restaurants (plus a Starbucks), and their exclusive Hokupa Tower.
Key highlights include…
Kawaiola Aquatic Playground: six pools, including an adults-only infinity pool for parents
Keikei Splash Zone: The interactive splash pad includes a dozen spray jets, a 270-foot waterslide, and a waterfall
Private Beach Cabanas: If you need an intimate space of your own to hang beachfront with your family
Visit marriott.com to book now.
Fairmont Kea Lani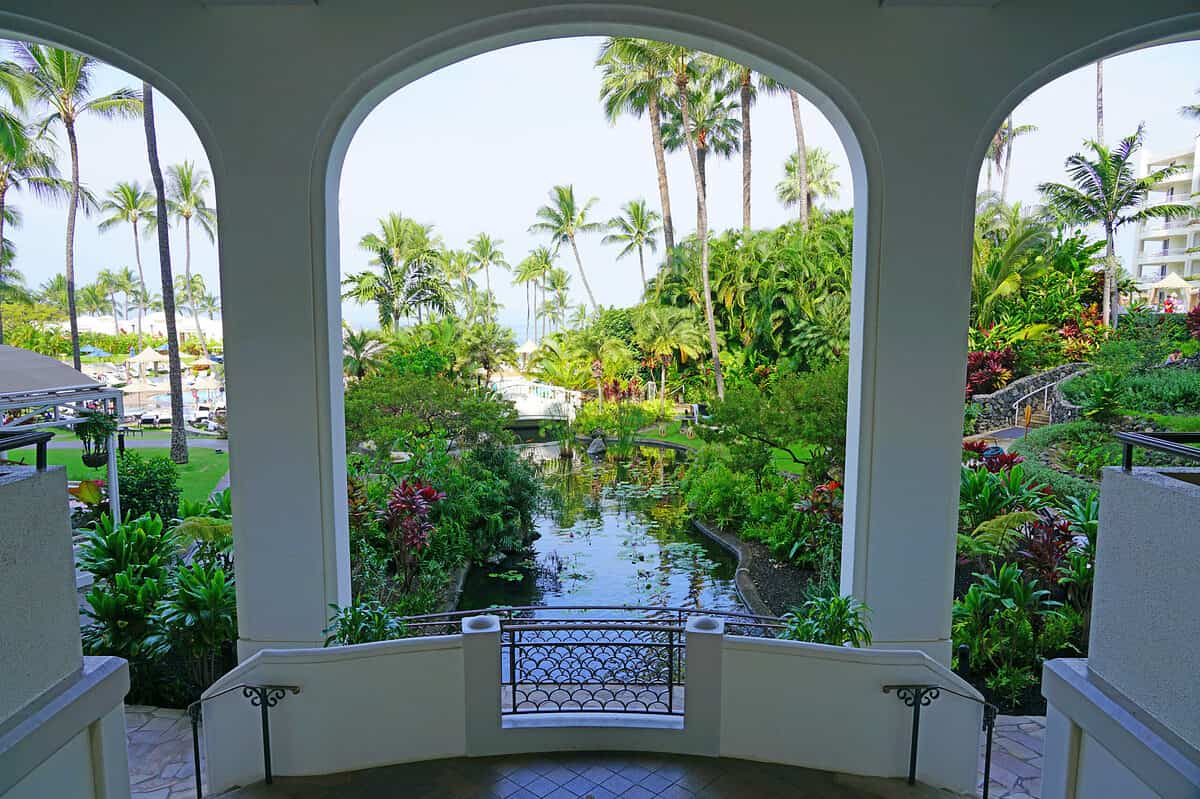 The Fairmont Kea Lani Maui is located steps from Polo Beach on Maui's coveted Wailea coast in West Maui. It's Hawaii's only luxury all-suite and villa resort, with families getting to choose between one-bedroom suites by the pool or two- to three-bedroom oceanfront villas that sleep up to 8 people. 
The resort features three main swimming pools, two of which are connected by a 140-foot waterslide, along with a kids' pool, basketball hoop, and whirlpool. The fun doesn't stop there though, with activities like magic shows, stand-up paddle boarding, and hula lessons being available throughout the day. 
Key highlights include…
Villas: The resort's 2-3 bedroom, family-friendly villas offer up to 2,200 square feet of residential living space, including a full kitchen, personal grill, and private plunge pool.
Babysitting Services: Parents can enjoy a night on their own while the concierge arranges babysitting services for the kids.
Complimentary Sunscreen: Nothing ruins family fun like a bad sunburn – sunscreen is offered at all pools to be sure the kids have a safe time soaking up sun.
Visit fairmont.com to book now.
The Grand Wailea Maui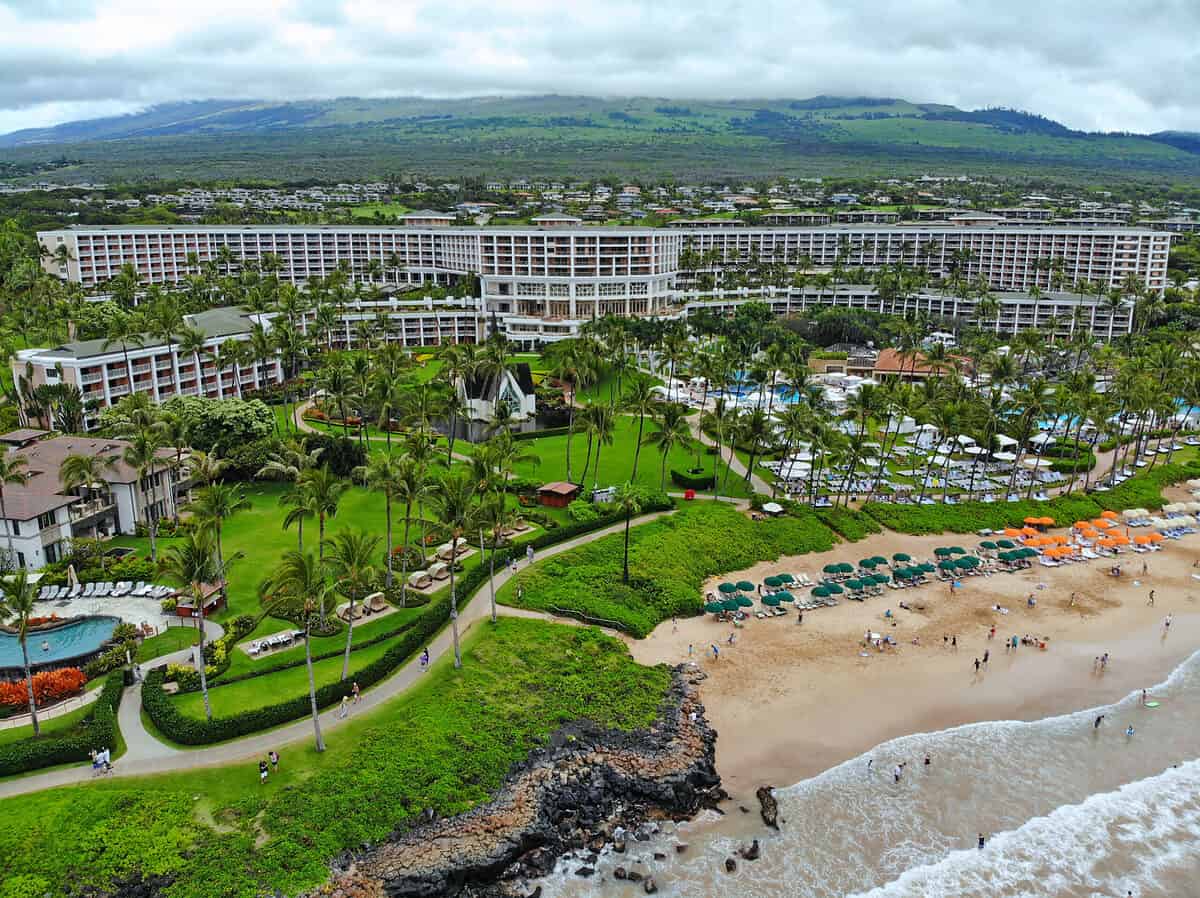 The Grand Wailea, A Waldorf Astoria Resort, sits on the beautiful Wailea Beach, is surrounded by 40 acres of tropical landscape, and has two huge pools designed for family fun in the sun. You can expect your family to be immersed in luxury from top to bottom in one of the poshest parts of Maui.
The resort is a major hit for families due their attention to detail when it comes to the keiki: Children get a Grand Passport that maps out activities around the property and have access to the robust Wailea Canyon Activity Pool. They even have the world's first water elevator! And don't worry parents – while the kids are having the time of their lives, you can find yourself at the adult pool or swim-up bar.
Key highlights include…
Grand Passport: Kids can stay entertained all vacation long with their interactive passport that outlines educational activities around the property. Plus, they get a sticker for each activity they complete!
Wailea Canyon Activity Pool: This is one big 770,000-gallon pool, split up into nine different pools across six different levels, all connected by a lazy river. And that's not all, this fun-filled pool also has five waterslides, six waterfalls, caves, a Tarzan rope that swings into the pool, and a water elevator.
Activities: From bracelet weaving and hula dancing, to beach yoga and astrology readings, the array of activities offered by the resort are anything but boring.
Visit grandwailea.com to book now.
The Ritz-Carlton Kapalua is nestled on the northwest shore of Maui, surrounded by an expansive natural preserve and two marine sanctuaries. It's no secret that The Ritz is known for its unparalleled luxury, and their Kapalua property is no different.
The resort's 20,000-square-foot pool deck includes a 3-tiered pool with cabanas and daybeds available for rental daily, two championship golf courses, and a variety of dining options. The area is home to six different bays and is ideal for a family snorkeling session.
Through the resort's Ritz Kids program, younger members of the family can spend their days searching for sea turtles or learning all about volcanoes. They also have an Ambassador Program for kids that offers guided, family-friendly excursions focused on an appreciation for nature and our environment.
Key highlights include…
Ritz Kids: Kids receive a welcome package complete with coloring and scavenger hunt, along with a card and toy when they get to their room.
Ambassador Program: Guests of all ages can take part in an array of fun and educational activities including tracking sea turtles, tide pool exploration, and cooking classes.
Activities: Ziplining, ATV tours, and horseback riding are just some of the amazing activities offered by the resort.
Visit ritzcarlton.com to book now.
**********
Find more amazing Maui vacation planning pointers in our Maui guide!
The image featured at the top of this post is ©EQRoy/Shutterstock.com.